"Cosmic ray particles accelerated to near the speed of light can shoot into our solar system and can hit the Curiosity rover camera images leaving a bright spot."
— Doug Ellison, NASA Technician with Curiosity rover camera
"The first step to understanding the ultimate question — what is the origin of the Martian methane? — is to understand where it is released."
— Planetary scientist Marco Giuranna, Ph.D., Italian National Institute for Astrophysics
June 25, 2019 Pasadena, California – The Raw Image below of an unexplained light or bright white spot was caught in a Curiosity rover image "taken by Navcam: Right B  on Sol 2438 at 03:53:59UTC, 2019-06-16."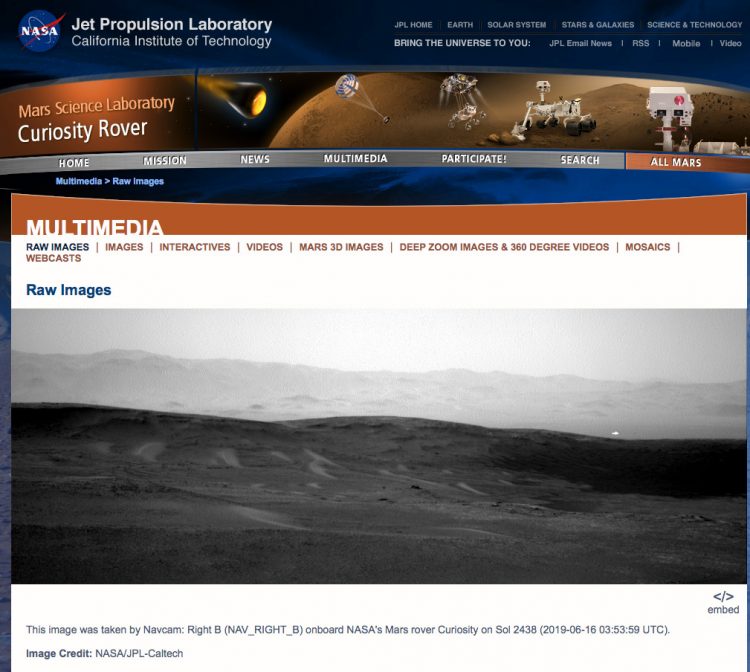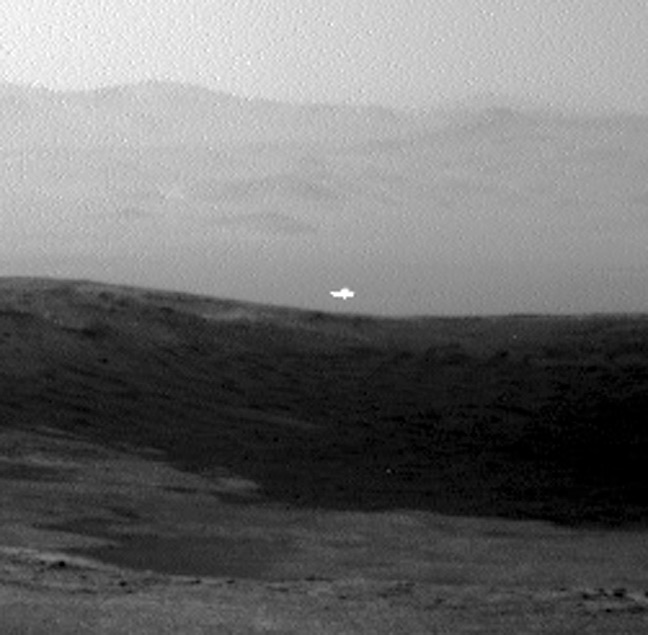 In the sequence of raw images taken by the NASA/JPL/Caltech Curiosity Rover at Teal Ridge in Gale Crater on Mars on June 16, 2019, the odd light or bright, white pixels in the odd shape, do not appear on any other Curiosity images that day taken about 13 seconds apart. So if it is an unidentified flying object in the Martian sky, it moved quickly.
NASA scientists did not provide any definite answer about the source of the white anomaly, but JPL's Curiosity Rover technicians offered that cosmic rays or sunlight glinting from rocks might have interfered with Curiosity's image. Doug Ellison, NASA Curiosity technician said, "cosmic ray particles accelerated to near the speed of light can shoot into our solar system and can hit the Curiosity rover camera images leaving a bright spot."
June 22, 2019 – NASA Curiosity Rover On Mars Detects Methane Gas Spike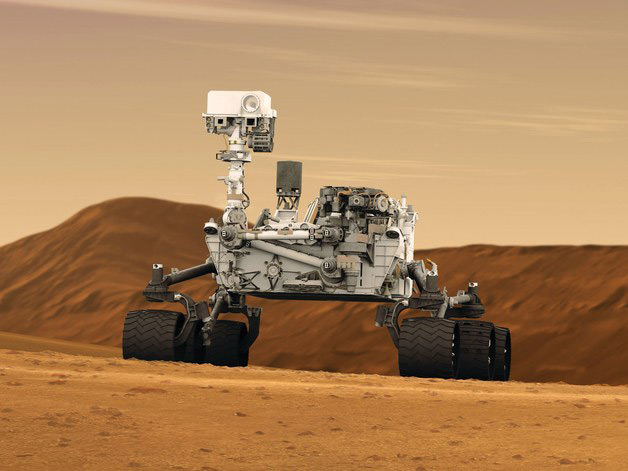 Then on Wednesday, June 22, 2019, NASA's Curiosity rover was at Teal Ridge in Gale Crater on Mars when it detected the highest concentration of methane gas found to date in the red planet's atmosphere: 21 parts per billion. That is three times another mysterious, sudden methane spike detected in 2013 by Curiosity — also in Gale Crater — that was 7 parts per billion methane. Methane was also detected in 2003 by the European Space Agency's Mars Express and a few times since.
The next day on June 23, 2019, Principal Investigator Paul Mahaffy of NASA's Curiosity Rover methane Sample Analysis at Mars (SAM) tweeted: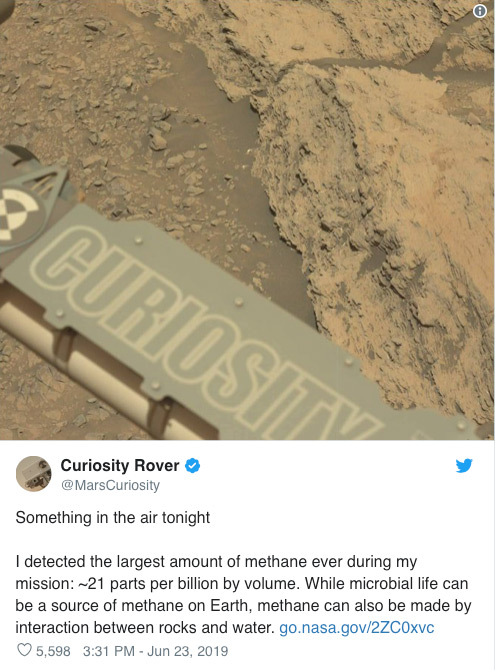 Methane on Earth is now close to 1,860 parts per billion methane and is usually linked to microbial life known as methanogens. Those bacteria thrive where there is no oxygen such as in rocks deep underground or digestive tracts of animals where the microbes release methane as a waste product. But methane on Earth also comes from geothermal reactions of heat in rocks. So on Mars, is it life? Or geological chemistries?
In Earth's early atmosphere history, methane and carbon dioxide dominated.  CO2 would have come from volcanoes and methane from ancient bacterial life that converted hydrogen and carbon dioxide into methane and water. Oxygen did not emerge as a major player in Earth's atmosphere until plants evolved.
How do we find out if Martian methane is coming from life forms? Planetary scientist Marco Giuranna at the Italian National Institute for Astrophysics says, "The first step to understanding the ultimate question — what is the origin of the Martian methane? — is to understand where it is released."
In a recent April 2019 paper published in Nature Geoscience before the June 22nd Gale crater 21 parts per billion methane spike, Dr. Giuranna has already compared models of atmospheric circulation on Mars with independent geological analyses to conclude that Martian methane was coming from an area about 310 miles east of Gale crater called Medusa Fossae Formation.
NASA posted this news update:  "Curiosity's scientists need time to analyze these clues and conduct many more methane observations. They also need time to collaborate with other science teams, including those with the European Space Agency's Trace Gas Orbiter, which has been in its science orbit for a little over a year without detecting any methane. Combining observations from the surface and from orbit could help scientists locate sources of the gas on the planet and understand how long it lasts in the Martian atmosphere. That might explain why the Trace Gas Orbiter's and Curiosity's methane observations have been so different."
Also see:
"November 26, 2018 – NASA Joy and Cheers As InSIGHT Lands On Mars!"
---
More Information — Other Earthfiles Reports Related to Mars:
07-25-2018 – Underground Lake Reported Beneath Martian South Pole.
06-19-2018 – Update: "We're Going to Have A Space Force … And Very Soon We're Going to Mars" – President Trump.
06-13-2018 – One of Largest Storms Ever Seen On Mars Threatens the Opportunity Rover.
06-07-2018 – NASA Confirms Organic Molecules On Mars — Will Life Evidence Be Next?
12-22-2017 – Did NASA/JPL Fudge Xenon-129 Data for Both Mars and Venus?
08-26-2016 – More Evidence of Ancient Thermonuclear Explosions On Mars At American Inst. of Astronautics and Aeronautics 2016 Space Conference
---
Websites:
NASA/Jet Propulsion Laboratory Website, June 16, 2019, Raw Image mysterious light on Mars by Curiosity Rover: https://mars.jpl.nasa.gov/msl/multimedia/raw/?rawid=NRB_613927069EDR_S0760832NCAM00595M_&s=2438.52223036413
"Mars Rover Detects Primordial Signs of Life Under the Red Planet's Surface," June 24, 2019, LIVESCIENCE:  https://www.livescience.com/65782-mars-methane-life.html
Mars Science Laboratory Curiosity Rover by NASA, Jet Propulsion Lab and California Institute of Technology:  https://mars.nasa.gov/msl/

© 1998 - 2019 by Linda Moulton Howe.
All Rights Reserved.