"Our newly discovered FRB is called 180924. We determined it originated in a galaxy about 4 billion light-years away from Earth in the constellation Grus, the crane."
— CSIRO's Australian SKA Pathfinder Radio Telescope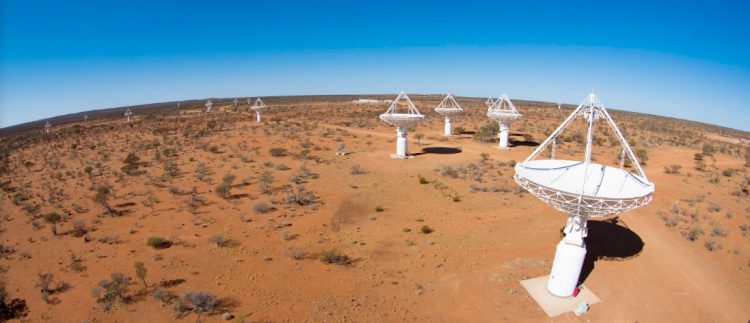 June 28, 2019  Murchison, West Australia – Scientists at the Australian Square Kilometre Array Pathfinder, also known as ASKAP,  in their own words have "managed to locate the home galaxy of another single FRB — the first time anyone has done this. In 2017, another team determined the home galaxy of a repeater, but that's relatively easy job: it repeats, so you get a chance to point other telescopes at that spot on the sky. Our challenge was much harder. Our newly discovered FRB is called 180924. We determined it originated in a galaxy about 4 billion light-years away from Earth in the constellation Grus, the crane."
Since 2007 when the first intense and mysterious radio wave flashes lasting only a few milliseconds from outer space were discovered, astronomers have been trying to confirm what they are exactly and if they are scattered throughout our universe or emit from a certain region. Now in the June 27, 2019, Science journal, ASKAP scientists have published that a brand new FRB called 180924 that is not from the center of a galaxy, as some astronomers have been predicting, but this FRB in the Grus constellation is on the outskirts of a galaxy which is "1,000 times bigger and contains much older stars" than the first discovered FRBs since 2007.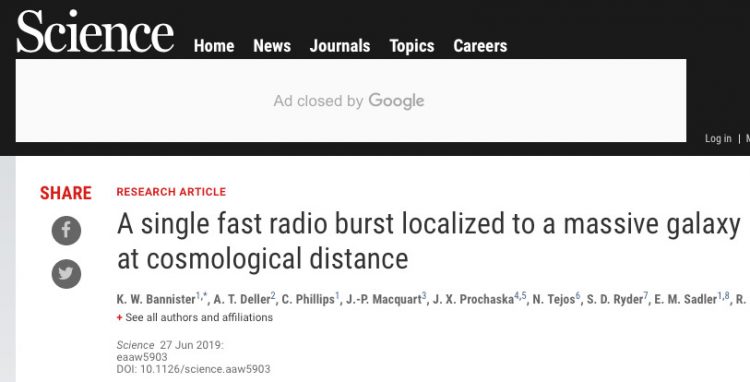 After the ASKAP astronomers found the new FRB intense energy pulse, they used three of the largest optical telescopes in the world — the Keck, Gemini South and European Southern Observatory's Very Large Telescope — to get this detailed image of the galaxy and take spectra to calculate its 4-billion-light-year distance from Earth.
Breakthrough Discovery:  FRBs From Very Different Galaxies
So astronomers can now say with confidence that the Fast Radio Bursts are coming from more than one galaxy and they now know better how to pinpoint search for FRBs. "FRBs interact with matter as they travel through space and are altered by all these encounters. We can "read these alterations, combine them with how far the FRBs have come from, and work out how much matter they've met."
The next step is to keep using the new research tools to find more Fast Radio Bursts and unravel where the intense and mysterious energy bursts fit into cosmic evolution of our 13.8-billion-light-year-old universe.

Also see:
01-31-2019 – 2nd Mysterious Repeating Fast Radio Burst (FRB) Discovered – What Are They?

© 1998 - 2019 by Linda Moulton Howe.
All Rights Reserved.