"This is going to be a major weather event for a huge portion of the state of Louisiana. The more information we get, the more concerned we are it's going to be an extreme rain event for large portions of the state."
— John Bel Edwards, Governor of Louisiana
"We have had high-water events in hurricane season, but we have NEVER had a water elevation forecast like this."
— Spokesman Ricky Boyett, U. S. Army Corps of Engineers,  New Orleans District in Louisiana
UPDATE  July 13, 2019 New Orleans, Louisiana –  Category 1 Hurricane Barry with 75 mph winds made land fall around noon on Saturday, July 13th, at Intracoastal, Louisiana, 125 miles west of New Orleans. It's headed north for Louisiana, Arkansas and Missouri region. National weather forecasters project that as Barry's winds have slowed back to a tropical storm around 60 to 70 mph, Barry is expected to move north at 6 mph and will take three days to reach Missouri. The water Barry is carrying could unload 20 inches moving up the Mississippi River.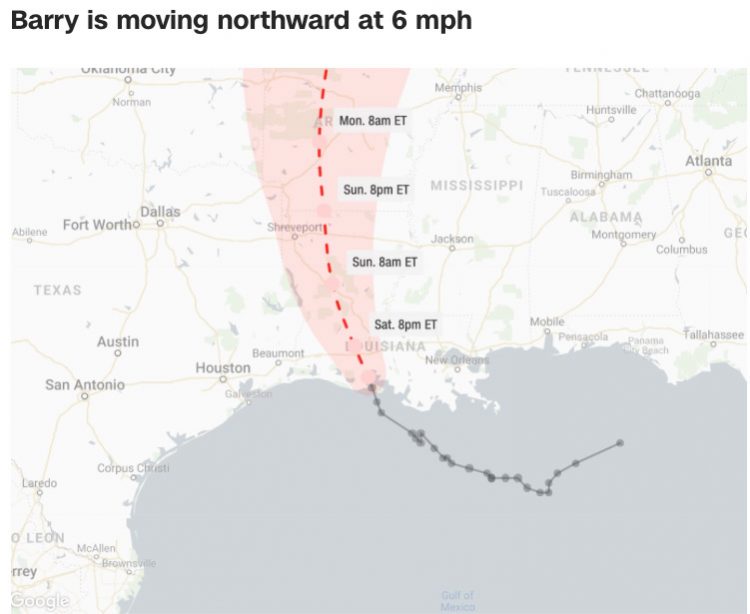 The Mississippi is projected now to stay around 19 feet in the levees Saturday, but flash floods are still a major concern, like Wednesday morning, July 10th, when intense rain and flash flooding were already a weather problem in New Orleans. TV reporters were out in French Quarter where streets had flash floods of a few feet of water from heavy rains that have raised the Mississippi River to 16 feet and rising, expected to hit 20 feet and overflow on Saturday.
Will Mississippi River At New Orleans Crest At 20 Feet On Saturday, July 13th?
The National Weather Service (NWS) Advanced Hydrologic Prediction Service was showing that the Mississippi River at New Orleans could crest at 20 feet on Saturday, July 13.  The levees top out around 20 feet. So far by Saturday, the forecast has now changed to a 19-foot crest for the big river. But tropical storm Barry is still expected to drop at least 20 inches of rain water over the next 72 hours.
The Mississippi levees were built up to 20 feet to protect New Orleans. But spokesman Ricky Boyett at the Army Corps of Engineers in the New Orleans District has been telling reporters,  "We have had high-water events in hurricane season, but we have NEVER had a water elevation forecast like this."
More than 20,000 customers around New Orleans this morning did not have power as of 10 a.m. local time, according to Entergy New Orleans.  Some departures out of Louis Armstrong New Orleans International Airport were delayed by the rainstorms. The New Orleans Regional Transit Authority said all buses and streetcars were at a standstill. And flash flooding was a real danger until late morning.
Normally hurricanes have come late in the summer when the Mississippi River is low. But that's not what is happening now with the historically high river crest of 16 feet above sea level and climbing. A storm surge from a potential Hurricane Barry, even if it's a small hurricane, could cause the Mississippi River to crest so high behind the levees that New Orleans will be flooded.
Why Is Mississippi River So High in Early July 2019?
And why is the Mississippi River in early July 2019 cresting so high in the levees? Global climate change is the likely answer. The Midwest has had so much rain and flooding of farms and all that water has gone into the Mississippi River.
Slate.com reported on Tuesday, July 9th, about the potential New Orleans flooding crisis that: "Already this year, the Bonnet Carre Spillway, the last chance to relieve pressure before the Mississippi hits New Orleans, has been opened TWICE this year for the first time in history."
That means the Bonnet Carre dumped "several rivers worth of fresh water into the Gulf of Mississippi … and it's already too late to use the spillway to lower the river levels downstream ahead of the current storm." So what will happen in New Orleans this coming weekend?
Global Warming Emergency Resolution Introduced in Congress on July 9, 2019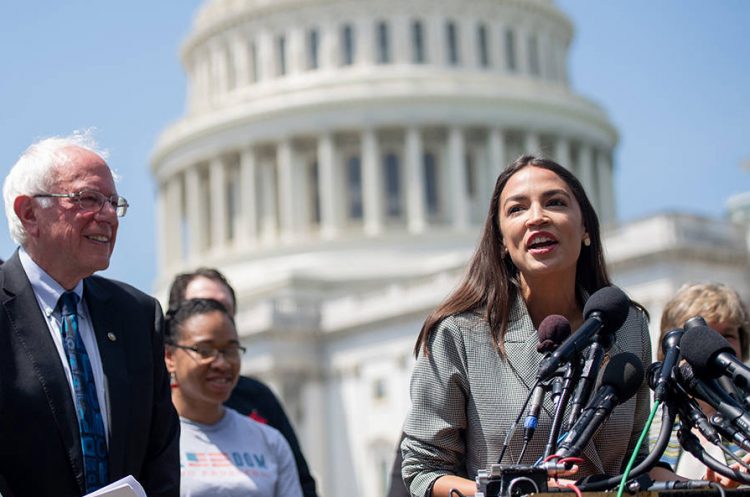 Meanwhile, yesterday on July 9th, U. S. Senator Bernie Sanders and Rep. Alexandria Ocasio-Cortez introduced a resolution asking Congress to declare that global warming is an emergency and there needs to be  "a national, social, industrial and economic mobilization of the resources and labor of the United States at a massive-scale to halt, reverse, mitigate, and prepare for the consequences of the climate emergency and to restore the climate for future generations."
Senator Sanders and Representative Ocasio-Cortez want to see the American public respond to increasing global climate change as the U. S. did when we entered World War II in December 1941.
Only one day before their resolution, on Monday, July 8th, the Nation's Capital was flooded after more than 3 inches of rain came down in a single hour.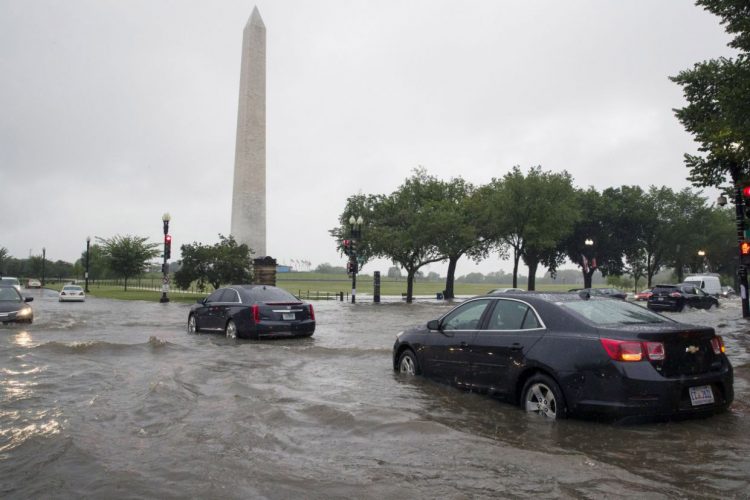 Global Weather Emergencies
Around the world, June 2019 was the hottest month on record. Grape vines in France were scorched in unprecedented 113 degree Fahrenheit heat.

Two days later on June 30, 2019, an unprecedented 4 feet of hail buried cars in Guadalajara, Mexico.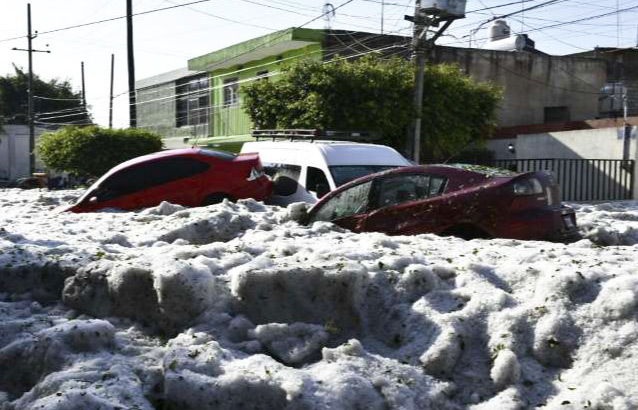 Greenland, the Arctic and western Antarctica are melting at unprecedented rates and all that melting ice water flowing off land will raise sea levels around the planet, submerging more islands and coast lines as climate change continues to take hold of planet Earth.
Also see:
10-30-2018 – New IPCC Climate Report Warns Only Ten Years Left to Slow Down Global Warming Or Face Fire, Water and Storm Hells On Earth.
---
More Information:
04-23-2019 – Without Wild Bees and Bumblebees, No More Apples, Blueberries and Cranberries from Northeast?
04-06-2019 – Part 3:  Mysterious 12,000-Years-Old Gobekli Tepe – Buried to Escape Incoming Comets? Meteorites? Huge Solar Flares?
12-30-2018 – Why Are So Many Earth Insects Dying?
10-30-2018 – New IPCC Climate Report Warns Only Ten Years Left to Slow Down Global Warming Or Face Fire, Water and Storm Hells On Earth.
08-30-2018 – Why Are 2018 Wildfires So Ferocious?
04-26-2018 – 1.8 Trillion Pieces of Plastic Garbage in Pacific Ocean Threaten Marine Life.
03-31-2018 – Is Unusual Low Magnetic Field in South Africa Linked to Future Magnetic Reversal? — Audio Interview
01-26-2018 – Climate Warming Is Turning 99% of Baby Green Sea Turtles Female
---
Websites:
NOAA Mississippi River Crest Levels:  https://www.accuweather.com/en/weather-news/severe-storms-trigger-flash-flood-emergency-around-new-orleans-as-much-more-rainfall-looms/70008778
The Weather Channel:  https://weather.com/storms/hurricane/news/2019-07-10-barry-hurricane-tropical-storm-flooding-forecast
National Hurricane Center:  https://www.nhc.noaa.gov
"Guadalajara, Mexico, Digs Out from More Than 4 Feet of Hail," July 1, 2019, Associated Press:  https://www.msn.com/en-us/weather/topstories/guadalajara-digs-out-from-more-than-4-feet-of-hail/ar-AADH5X4

© 1998 - 2019 by Linda Moulton Howe.
All Rights Reserved.