"There is definitely a difference between the sources, with some being more prolific than others. We already knew from FRB 121102 that the bursts can be very clustered:  sometimes the source doesn't burst for hours and hours and then suddenly you get multiple bursts in a short amount of time."
— Ziggy Pleunis, Ph.D., Physicist, McGill University, Montreal, Canada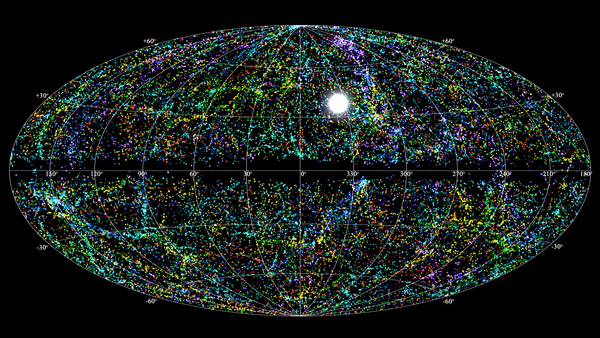 August 14, 2019  Albuquerque, New Mexico – Today brought the Science Alert headline,
Astronomers Have Detected a Whopping 8 New Repeating Signals From Deep Space

Intense flare ups of Fast Radio Bursts since 2007 have emerged randomly in our universe. The FRBs are detected as spikes of radio data that last only a few milliseconds, but discharge energy equivalent to HALF A BILLION SUNS like ours. Adding to the mystery is that some FRBs repeat again, implying whatever's the source of the gigantic energy release, it isn't blowing up in the process.
At the start of 2019, only one FRB 121102 was known to flash repeatedly. In January 2019, scientists reported a second repeating one (FRB 180814). Now, today that total of two has suddenly expanded to ten repeating FRBs with publication in The Astrophysical Journal Letters that describes eight new repeating signals detected by the Canadian Hydrogen Intensity Mapping Experiment (CHIME) radio telescope.
The very mysterious and repeating cosmic signals are called "Fast Radio Bursts, or FRBs." Since their first appearances in 2001, astronomers have discovered at least 85 "FRBs."
The first detected repeating radio bursts (FRB 121102) originated 3 billion light-years from Earth. Those first repeating radio bursts were measured at a frequency of 700 megahertz. Other FRBs have included frequencies as low as 400 megahertz.
The first two repeating fast radio bursts showed a downward drift in frequency. Each burst got successively lower in pitch. Now the newly reported eight repeating FRBs also had frequencies that drifted downward.
One FRB detected in 2016 pulsed nine times and was traced to a different, small galaxy about 1.5 billion light-years from Earth. Could the changing radio frequencies downward in the repeaters be a clue to what the source is?
8 New Repeating Signals from A Far Away Galaxy
Now astronomers working at the Australian Square Kilometre Array Pathfinder (ASKAP) have picked up eight new repeating signals from a Milky Way-sized galaxy about 3.6 billion light-years from Earth.
Scientists studying the baffling phenomenon have not found any detectable gamma or X-rays associated with the flashes. So some astronomers say that would tend to eliminate such source possibilities as gamma-ray bursts, the merger of two neutron stars, merging black holes, or evaporating black holes.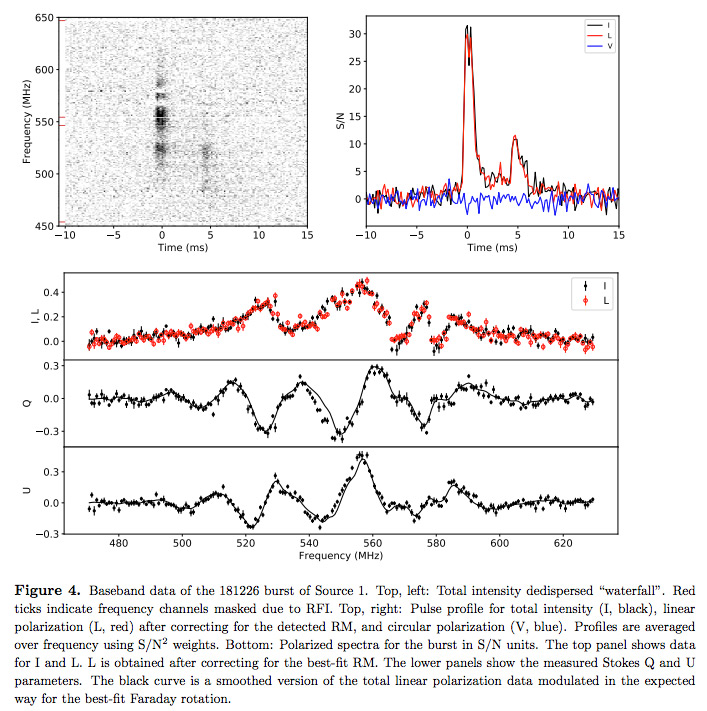 Are All FRBs Coming from Middle Aged Galaxies in Our Universe?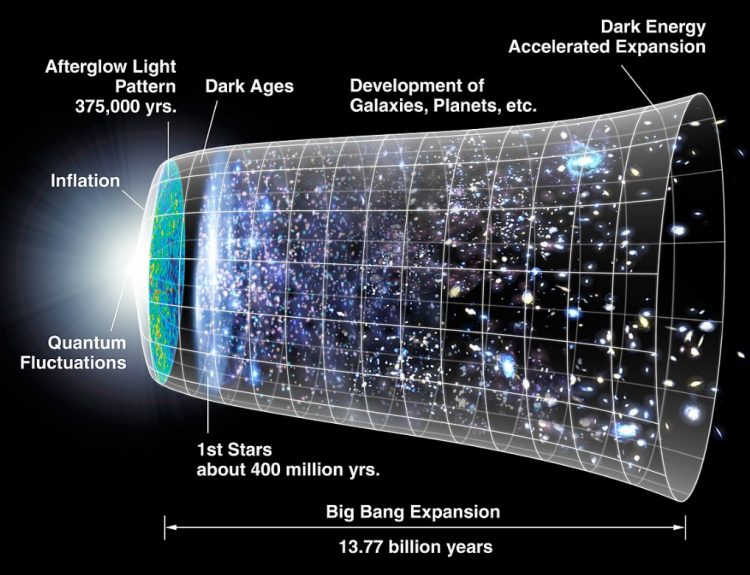 Even more puzzling, the radio bursts are calculated to be coming from 5 to 10 billion lights-years ago in the early to middle age of our universe that is 13.8 billion light-years old. What could be emitting such strong radio bursts so far back in the evolution of our universe.  Maybe there is a chance that much older and more technologically advanced intelligences are Out There as well and that FRBs could be from extraterrestrial life, even though there is no supporting evidence to date — yet.
Quantum physicist Michio Kaku even describes the possibility of different levels of advancement in cosmic civilizations well beyond Earth humans. Would very advanced alien intelligences communicate galaxy-to-galaxy? What kind of energy systems would be involved? Serious astronomers are now asking those questions because of the persistent Fast Radio Burst mystery.
Also see:
06-28-2019 – New Proof That Mysterious Fast Radio Bursts Have Emerged from Two Different Galaxies.
---
More Information:
01-31-2019 – 2nd Mysterious Repeating Fast Radio Burst (FRB) Discovered – What Are They?
06-26-2018 – Are Advanced Cosmic Intelligences Countering Dark Energy Expansion By Harvesting Stars?
08-30-2017 – Distant Galaxy Emits 15 New Fast Radio Bursts
05-26-2017 – Part 1 – Aliens: Scientists Search for Extraterrestrial Life
05-26-2017 – Part 2 – Aliens: Scientists Search for Extraterrestrial Life
03-30-2017 – Repeating Fast Radio Bursts 2.5 Billion Light-Years from Earth — Alien Intelligence?
01-05-2017 – "Fast Radio Bursts" of Intense Radiation from Galaxy Far, Far Away
07-26-2013 – Unidentified Cosmic Radio Bursts Baffle Astronomers
---
Websites:

"CHIME/FRB Detection of Eight New Repeating Fast Radio Burst Sources," The Astrophysical Journal, submitted August 9, 2019: https://arxiv.org/abs/1908.03507
ASKAP:  https://www.csiro.au/en/Research/Facilities/ATNF/ASKAP

© 1998 - 2019 by Linda Moulton Howe.
All Rights Reserved.