"A lot of times, the blue-green algae neurotoxins will kill animals before they can get to the veterinarian."
— Val Beasley, Ph.D. Prof. of Veterinary Wildlife and Ecological Toxicology, Pennsylvania State, State College, PA
August 13, 2019  Albuquerque, New Mexico – The high heat of this 2019 summer everywhere has caused intense blooms of poisoning blue-green algae. Harmful algae can live in both fresh and marine water. Toxic algae often smells badly and can even make humans feel sick. But the Environmental Protection Agency says that animals can be attracted to that same smell and taste that makes people want to gag. The dangerous blue-green algae can grow in large and small freshwater lakes, rivers, reservoirs, ocean coastal areas and estuaries in all 50 states.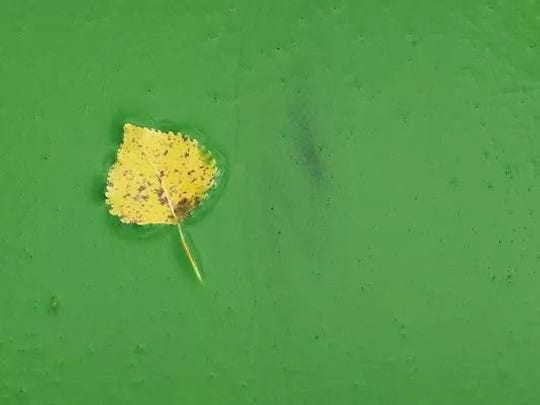 During this 2019 summer, there have been swimming bans from the Pacific Northwest to Indiana, to Ohio, to the entire Mississippi seacoast, to Lake Allatoona north of Atlanta, to Lady Bird Lake in Austin, Texas, to Lake Hopatcong [huh-POT-con], New Jersey, and Wilmington, North Carolina, where three beautiful pet dogs died within hours on Thursday, August 8, 2019, poisoned by toxic blue-green algae in local waters.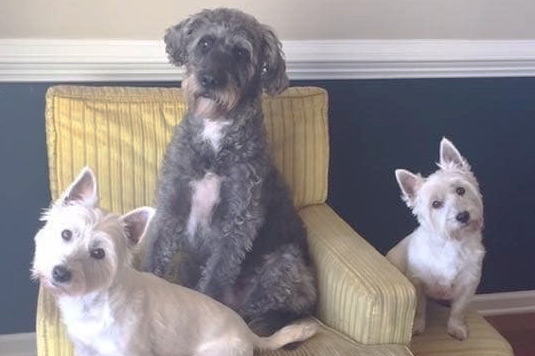 Owner Melissa Martin took her three beloved dogs to a Wilmington pond to cool off and have fun. She said only her white westy, Harpo, jumped into the water. But he got the other white westy, Abby, and their larger poodle hybrid pal, Izzy, wet and muddy, too. Melissa told The New York Times, "When we went home, I started to give Harpo a bath when I heard a shriek from the yard by my partner. Abby was having a seizure. Her back legs were trembling. Her body was curved in the shape of a 'C' and burning with fever to touch."
Frightened, Melissa Martin drove Abby to a local animal emergency hospital where the vet urgently ordered Melissa to get her two other dogs to the hospital. But all three died soon after. Therapy dog Harpo put his paw on Melissa's arm as if to comfort her right before he passed.
Symptoms of Algae Poisoning
Symptoms include diarrhea or vomiting, weakness or staggering, drooling, difficulty breathing and seizures. Dogs are especially vulnerable because they like to play and swim in water they also like to drink. On top of that, dogs lick their fur that can be coated with blue-green algae. That's also why dogs that don't swim in water, but run along the shore, can also become seriously ill after licking their fur. Any of these symptoms mean emergency trip to veterinarian.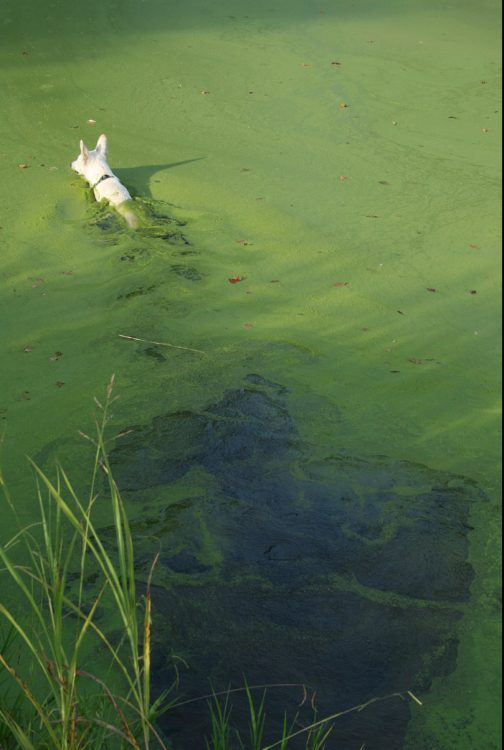 How To Avoid Dangerous Algae Blooms
No one has monitored statistics about how many pets die each year from drinking and swimming in toxic waters infested with dangerous algae. But one way to help avoid the dangerous green waters is to check with your state's Department of Health for toxic algae warnings and interactive maps that show where poisonous algae is showing up before visiting any inland or coastal beach. Harmful algae blooms aren't just vibrant green. Dangerous algae can also be blue, brown or red  —  similar to paint floating on the water. At least the thick, green coating on poisoned lakes and ponds is usually clearly visible like this July 29, 2019, photo taken at Lake Washington, Florida — the largest lake in Brevard County.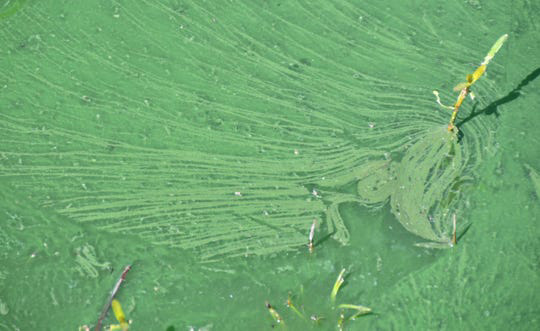 Also see:
01-26-2018 – Climate Warming Is Turning 99% of Baby Green Sea Turtles Female
---
More Information:
03-30-2017 – 93% of Australia's Great Barrier Reef Suffering Coral Bleaching.
04-29-2016 – Global CO2 Rise Is Changing Ocean Chemistry and Killing Marine Creatures, While Rising Ocean Temperatures Are Killing Great Barrier Reef Coral
08-28-2014 – Earth Life Is Dying In A 6th Mass Extinction As Great As Asteroid Hit 65 Million Years Ago – But This Time the Cause Is Humans.
---
Websites:
Toxic Blue-Green Algae:  https://en.wikipedia.org/wiki/Harmful_algal_bloom

© 1998 - 2019 by Linda Moulton Howe.
All Rights Reserved.