"I took my high power laser pointer and shot it up in the direction of the unexplained loud jet sound. … On two separate occasions, I have seen the beam interrupted momentarily —  It seems to me there is a real physical object moving through the air that is simply not visible."
— Scientist in San Diego, California, who has heard loud jet noises in clear sky and two times flashed a powerful laser in direction of unexplained jet noise and saw the beam interrupted by something invisible
August 16, 2019 Albuquerque, New Mexico – On my Wednesday, August 15, 2019, Earthfiles YouTube Channel broadcast, I reported the following high strangeness from a current Boeing Company Production Facility employee in Everett, Washington. In the map immediately below, Boeing centers stretch over some 65 miles from Everett going south to Seattle and Bellevue's Boeing Field operations. Then further south to the Auburn and Tacoma  region's Boeing Company Fabrication Division.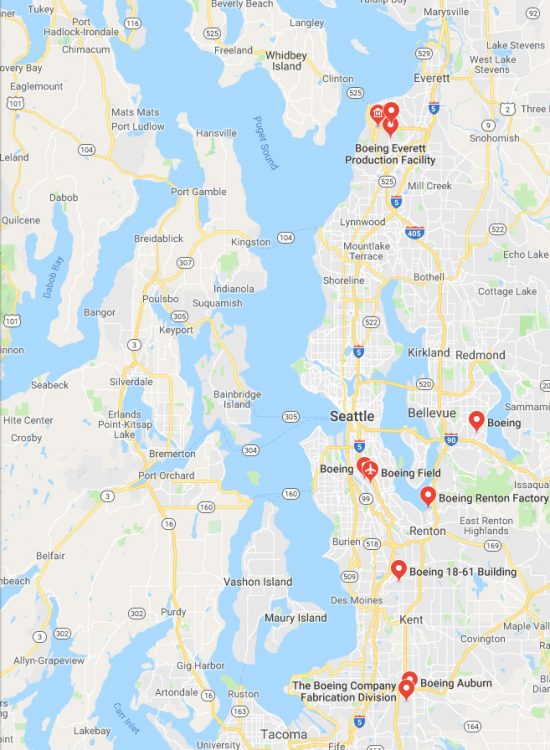 Here is the Boeing employee email to me on August 14, 2019: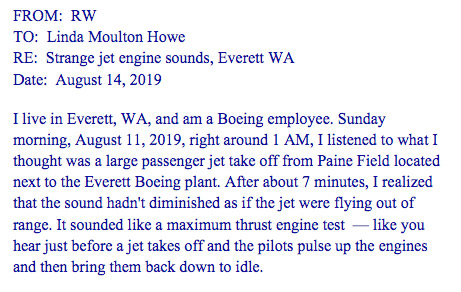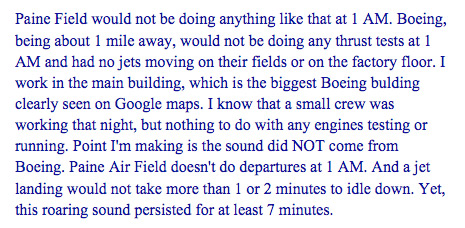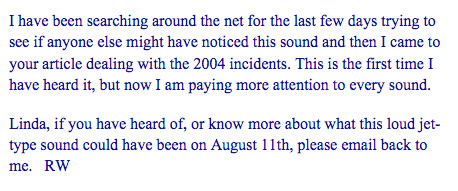 Then on August 16, 2019, I received the following email from a scientist in San Diego, California, 1,283 miles south of Everett, where he, too, has head strange, unexplained, loud jet-taking-off sounds when there were no visible aircraft.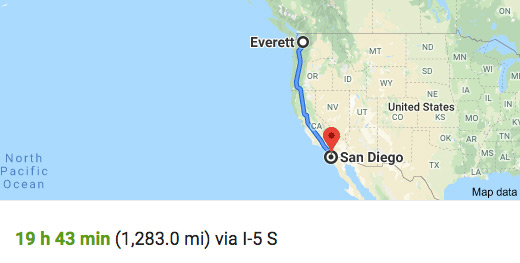 FROM:  S. O., Scientist in San Diego, California
TO:  Linda Moulton Howe, Earthfiles
RE:  Strange jet engine sounds in clear sky
Date:  August 16, 2019
Hello Ms. Howe,
My name is Sean. I have followed your exemplary journalism for many years and would firstly like to thank you for the countless insights that I have gleaned from your work. Being a scientist I am always interested in unexplained phenomena.
I was listening to your August 14, 2019, Earthfiles YouTube broadcast this week in which you spoke about a Boeing employee in Everett, Washington, who had experienced a mysterious jet engine like noise without any craft or other mechanisms apparently present to cause the noise.
I wanted to relate for you my own experiences, which are quite similar. I live in San Diego directly in line with and below the approach flight path for SD international airport. On several occasions, occurring both during the day and at night — with no clouds or fog — I have heard what amounts to the the familiar sound of a large commercial plane on approach. The interesting thing is that there is no plane.
There is no plane that has just passed nor is there one close by on its way toward me. (I have the benefit of being able to see many miles to the east so sometimes I can see at least two aircraft in line on approach coming toward me.
Laser Beam Interrupted — Does That Mean Physical Object in Air That Is Not Visible?
I have one more detail which is that after experiencing this mysterious jet-like noise many times, I did a slightly childish and probably slightly illegal thing. I took my high power laser pointer and shot it up in the direction of the unexplained sound. The laser has a 5 mile range and projects quite far into the night sky. On two separate occasions, I have seen the beam interrupted momentarily — not reflected at all as far as I could tell though it was quite fast. It seems to me there is a real physical object moving through the air that is simply not visible.
Earthfiles would like to hear from others who have experienced the phenomenon of a loud, aerial jet sound, day or night, in which no physical aircraft that could explain the loud sound is visible. Please email: [email protected].  All requests for anonymity are honored.
Also see:
07-31-2018 – What Are White Aerial Triangles Zooming in Earth Skies?
06-14-2018 – What Launched from Whidbey Island, Washington, On Sunday, June 10, 2018?
---
More Information:
04-27-2019 – Singapore Residents Report Loud "Explosion-Like," House-Shaking Sounds On Saturday
04-26-2019 – More Mysterious Booms in Arkansas and Missouri.
02-01-2019 – Part 1: Gigantic Triangular Craft Took Two Campers in Devil's Den State Park, Arkansas
12-18-2018 – Mysterious Explosions Persist in Phoenix and Glendale, Arizona. Listen to audio.
10-31-2018 – Eerie Bizarre Sound Recorded in Montreal October 30-31, 2018 – Listen to Looped Mp3 Here
08-04-2018 – Huge Mysterious Booms in Maryville, TN from July 30 – Aug. 4
11-29-2017 – Mysterious Metallic Wind Sound Wouldn't Record On iPhone
10-26-2017 – More Mysterious Booms and Sky Flashes in North Carolina and Australia
---
Websites:
The Boeing Co., Wikipedia: https://en.wikipedia.org/wiki/Boeing
"Loud Noises, Vibrations Reported Across Singapore," Saturday, April 27, 2019, The Straits Times:  https://www.straitstimes.com/singapore/loud-noises-vibrations-reported-across-singapore
"Officials Are Silent As Unexplained Mystery Booms On the Rise Around the U. S.," Mysterious Universe, February 7, 2019:  https://mysteriousuniverse.org/2019/02/officials-are-silent-as-unexplained-mystery-booms-on-the-rise-around-the-us/
"Mysterious Loud Booms Are Being Heard Around the World and No One Knows Why," November 25, 2017, MNN.com: https://www.mnn.com/earth-matters/climate-weather/stories/mysterious-loud-booms-are-being-heard-around-world-and-no-one-knows-why

© 1998 - 2019 by Linda Moulton Howe.
All Rights Reserved.