"I've been worried about that question — are we alone in this universe? — because I think we're close to finding it (other life) and making some announcements. … I don't think we're prepared for the results. We're not."
— Jim Green, Ph.D., Physicist and NASA Chief Scientist since May 1, 2018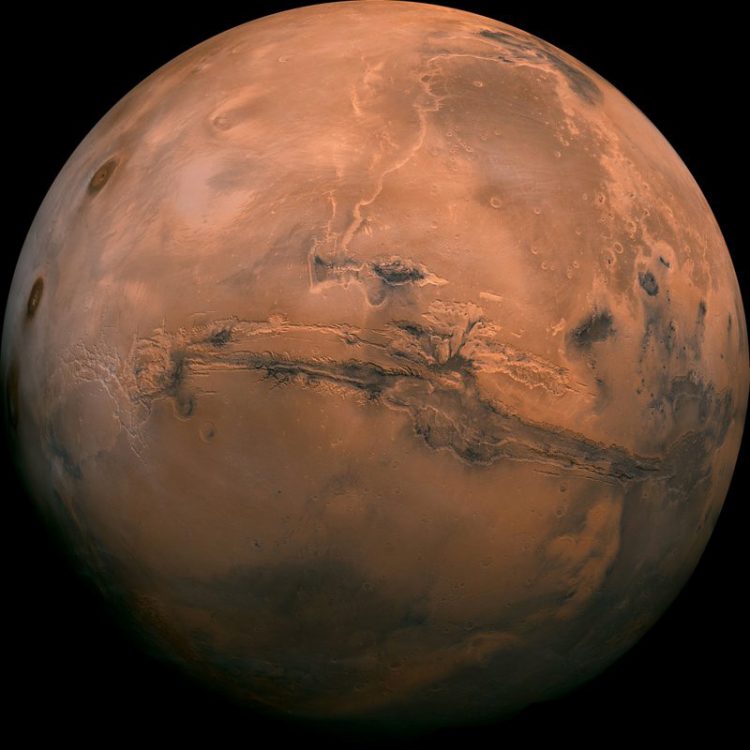 October 2, 2019 Albuquerque, New Mexico – Ten  months from now in the last half of July 2020, two different rovers from America's National Aeronautics and Space Administration (NASA) and the European Space Agency (ESA) will travel to Mars to look for evidence of life. They both go in the same time window of July 17 to August 5, 2020, because that's when the alignment of planets will allow a more straight shot to the red planet for the fastest trip. It will take about 7 months to travel the approximate 140 million miles (225 million km) from Earth to Mars with an expected landing date of February 18, 2021.
NASA Landing:  February 18, 2021, in Martian Jezero Crater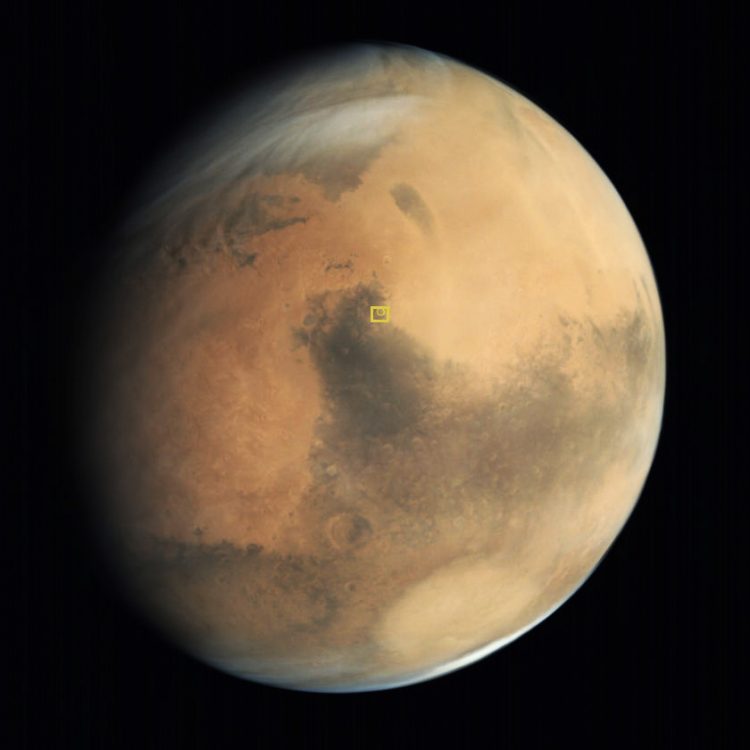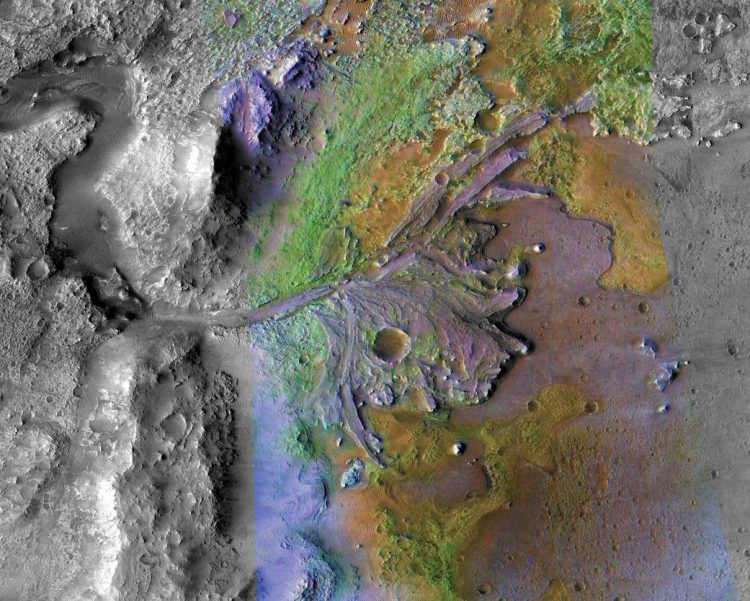 Jezero — is named after a town in Bosnia and Herzegovina pronounced something like "YEH-zuh-doh." It's a 28-mile-wide (45 km) crater that once held a lake. Jezero contains a preserved river delta and the NASA 2020 rover's primary mission is to look for life evidence there. Jezero will explore the ancient crater lake basin and river-delta for water and chemistry history in a search for life past or present.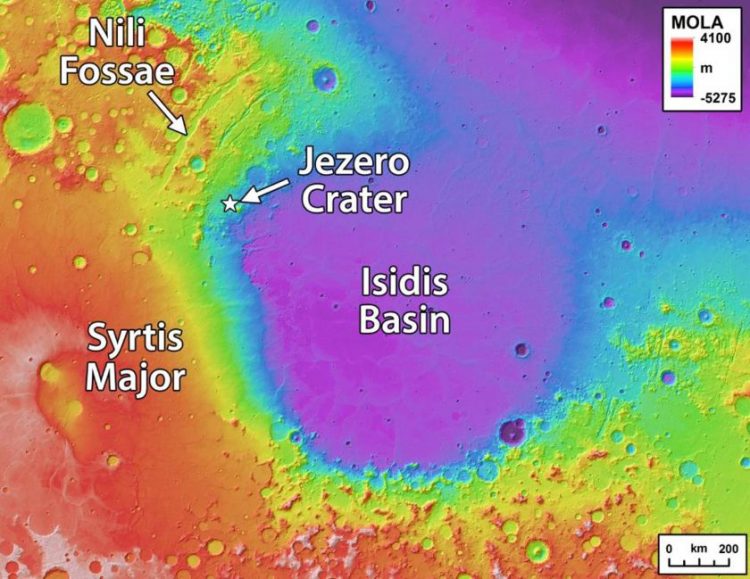 At present, there is a wide variety of minerals exposed within Jezero Crater and just outside it. There are many kinds of carbonates and clay minerals, which typically form in wet environments, in addition to the lava-related minerals that are more common on Mars. Some of those minerals formed from groundwater action; some of them formed when the delta deposits became rock; and some mineral grains might be unchanged from when they were first eroded from the rocks way outside of Jezero, a long time ago. Disentangling which minerals formed where, and what that tells us about the history of the geology and climate at the site, is work for geologists.
NASA 2020 Rover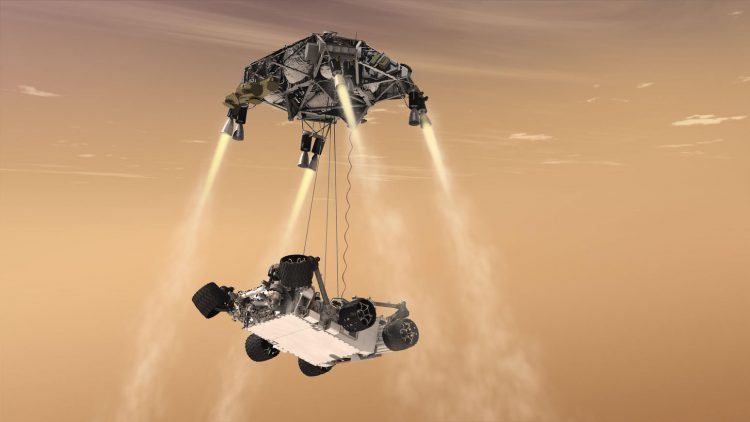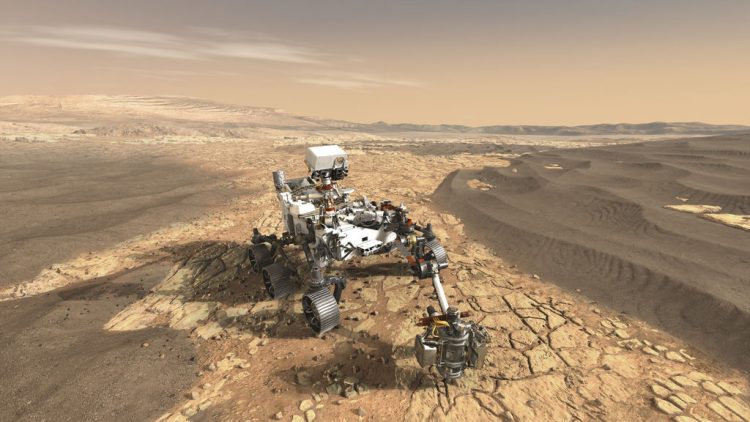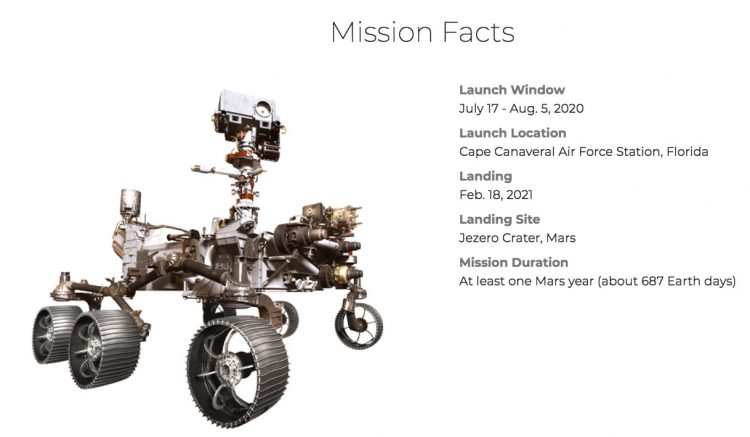 The Mars 2020 NASA rover's long-range mobility system allows it to travel on the surface of Mars over a distance of 3 to 12 miles (5 to 20 kms). The rover has a new, more capable wheel design, and for the first time, the rover carries a drill for at least 6-feet-deep coring samples from Martian rocks and soil. It gathers and stores the cores in tubes on the Martian surface, using a strategy called "depot caching." Eventually preserving samples by caching them could help future missions collect samples and return them to Earth for more intensive laboratory analysis.

NASA will communicate with the Mars 2020 rover from its NASA Jet Propulsion Mission Control at JPL in Pasadena, California.
ESA 2020 Rover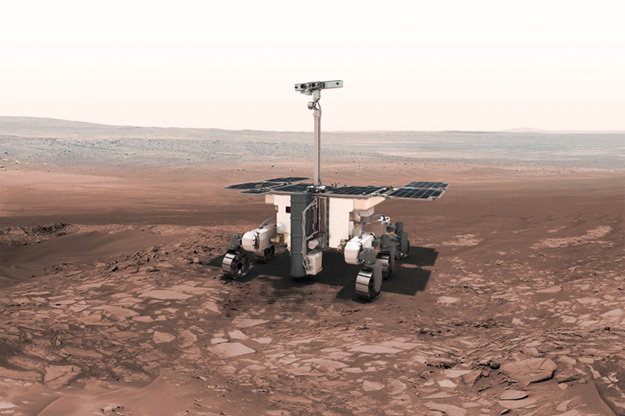 After landing, the ESA ExoMars rover will investigate the physical and chemical properties of Martian samples, mainly from the subsurface below ground. Underground samples are more likely to include biomarkers associated with living organisms, since the thin Martian atmosphere offers little protection from radiation and photochemistry at the surface that could kill microbes, at least those we know on Earth.
The ESA ExoMars rover drill is designed to extract samples from various depths, down to a maximum of 2 meters (7 feet). It includes an infrared spectrometer to characterise the mineralogy in the borehole. Once collected, a sample will be delivered to the ExoMars rover's analytical laboratory, which will perform mineralogical and chemistry determination investigations to look for organic substances. During its search-for-life-evidence missioin, the ESA ExoMars rover is expected to travel several miles.
ESA will communicate with the ExoMars rover from its Rover Operations Control Centre (ROCC) in Turin, Italy. The ROCC commands to the rover will be transmitted through the Mars Orbiter and ESA space communications network operated at ESA's European Space Operations Centre (ESOC) in Darmstadt, Germany.
Searching for Life On Mars
Both agencies would like to answer the question: Are we alone in this universe? NASA's Chief Scientist Jim Green recently told The Telegraph in London:  "I've been worried about that question — are we alone in this universe? — because I think we're close to finding it (other life) and making some announcements. … I don't think we're prepared for the results. We're not."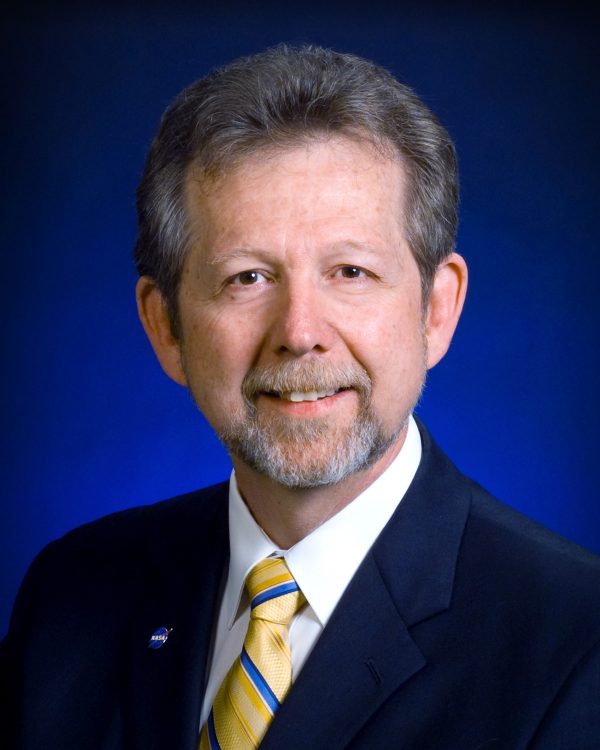 Physicist Green compares this time in history when humans are leaving Earth to explore the moon, Mars and beyond to the 1500s when the Earth paradigm was that Earth was the center of the universe. Then came along Nicolaus Copericus, an astronomer from Poland. By 1532, he had written De revolutionibus orbium coelestium (On the Revolutions of the Heavenly Spheres). His revolutionary concept was that the Earth orbited around the sun — the sun did not orbit around Earth.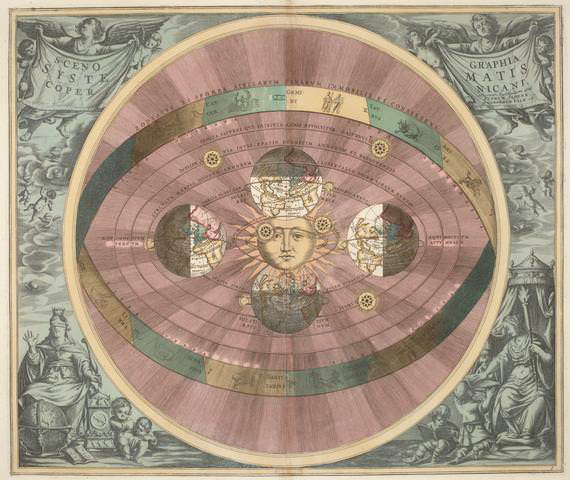 Copernicus was afraid to publish his work because he expected the church would condemn him for heresy. So, he withheld his research until a year before he died. Towards the end of 1542, Copernicus suffered from a brain hemorrhage or stroke which left him paralyzed. It was only as he declined toward death that year of 1542 that Copernicus sent his mathematical treatise to Nuremberg, Germany, to be published. Then on the day of his death, May 24, 1543, at the age of 70, he was given an advanced copy of his book. It is said he smiled and then died.
Another Revolution Upon Us — Active Search Now for Other Life Beyond Earth
That 1500s revolution seems quaint today when we have giant computers that "show" us with digital models how our whole solar system orbits around our sun. And the Hubble telescope estimates there are at least  100 billion galaxies.  Yet, ironically, as we are reaching the middle of the 21st Century, humans still debate whether there is other intelligent life "out there" in this universe.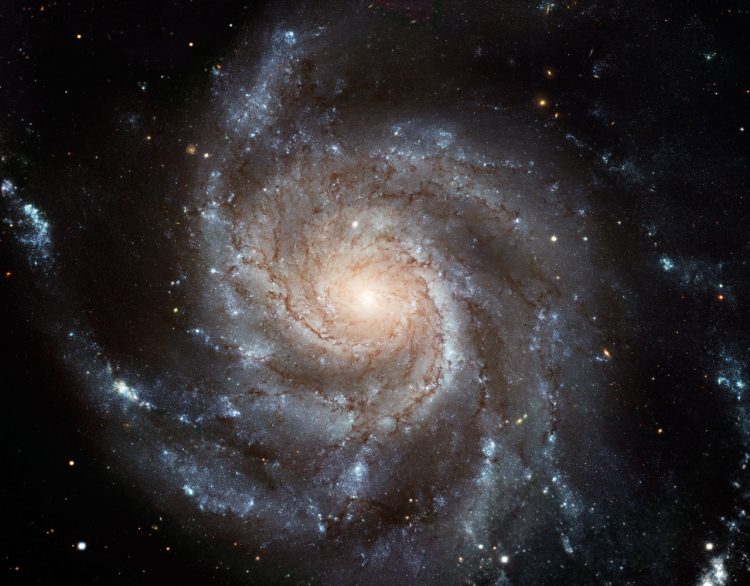 Also see:
06-25-2019 – A Mysterious White Spot in Martian Sky and Surprising Methane Spike On the Red Planet.
---
More Information:
11-26-2018 – Today Nov. 26th – NASA Joy and Cheers As InSIGHT Lands On Mars! See updated report.
11-01-2018 – Mars: Why It's A Strange Cloud and Not Volcano Smoke.
08-08-2018 – Elon Musk's SpaceX Holding Secret Mars Workshop Today
07-25-2018 – Underground Lake Reported Beneath Martian South Pole.
06-19-2018 – Update: "We're Going to Have A Space Force … And Very Soon We're Going to Mars" – President Trump.
06-13-2018 – One of Largest Storms Ever Seen On Mars Threatens the Opportunity Rover.
06-07-2018 – NASA Confirms Organic Molecules On Mars — Will Life Evidence Be Next?
---
Websites:

Mars Jezero Crater for NASA's Mars 2020 landing on Feb. 21, 2010:
https://www.nasa.gov/image-feature/jezero-crater-mars-2020s-landing-site
Mars 2020 Rover Instruments by NASA: https://mars.nasa.gov/mars2020/mission/instruments/
2020 ExoMars Rover by ESA:
https://exploration.esa.int/web/mars/-/45084-exomars-rover
"We're Going to Jezero!" November 20, 2018, The Planetary Society:
http://www.planetary.org/blogs/emily-lakdawalla/2018/jezero-landing-site-mars-2020-rover.html

© 1998 - 2019 by Linda Moulton Howe.
All Rights Reserved.