"Starship is basically an I.C.B.M. that lands. Nothing gets there faster than an I.C.B.M. It's just minus the nuclear bomb and add landing."
— Elon Musk, Founder, SpaceX, to NYT about the Starship rocket he's building in Boca Chica, Texas, to travel to the moon and Mars this coming decade
September 30, 2019 Boca Chica Village, Texas – Space Exploration Technologies Corp, known as SpaceX, was founded on May 6, 2002, by Elon Musk, and was the first Earth company to successfully re-launch and land a first stage of an orbital rocket in March 2017.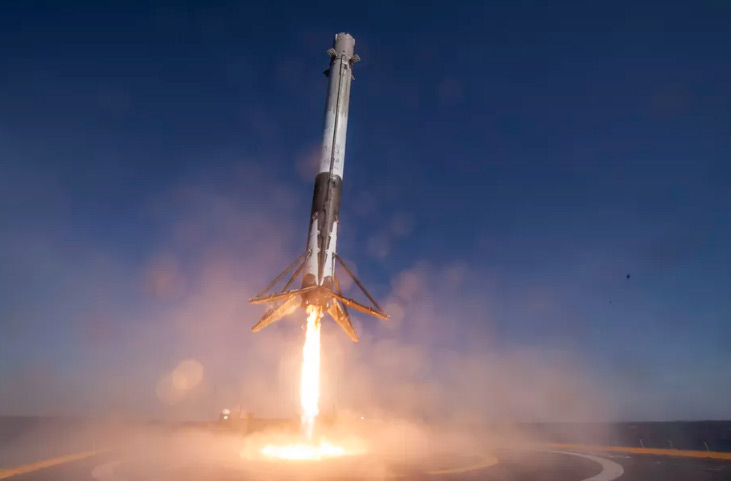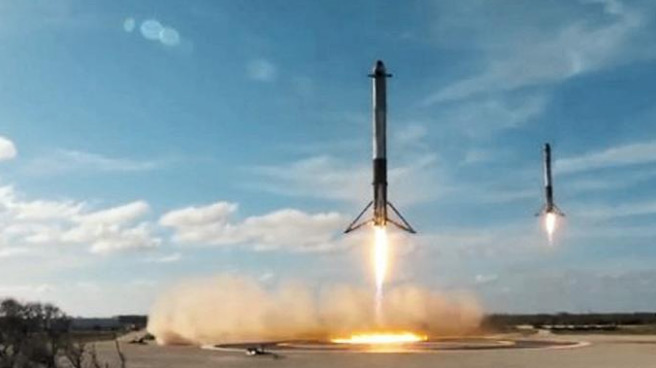 Starship to the Moon and Mars in the Next Decade?
For the past three years, Musk has been refining the rocket, which is now 164 feet high and 30 feet in diameter. If you add the "Super Heavy" booster stage, the ship grows to 387 feet tall. So, Starship will be the largest space rocket ever made by humans and will be able to launch 220,000 pounds into orbit — almost equivalent to the Saturn 5 rocket during the Apollo program in the 1960s-1970s  that first took astronauts to the moon. The difference now is the launch vehicle is not thrown away after each trip, like the Apollo program.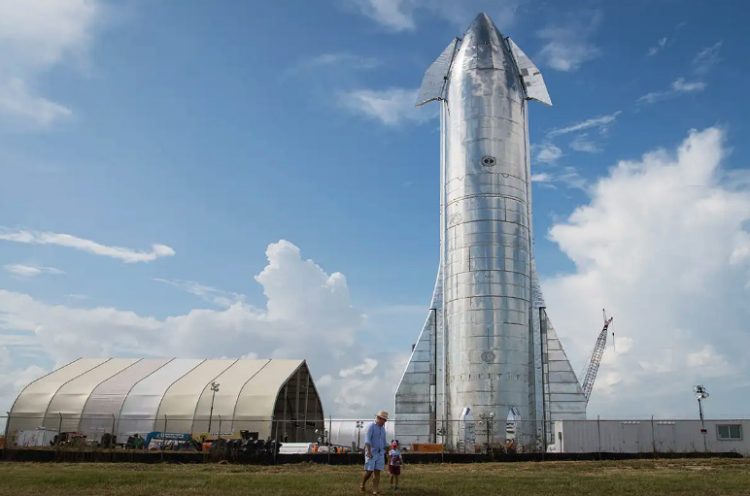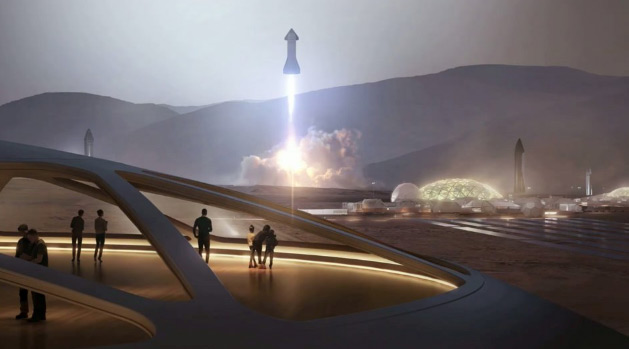 Elon Musk told The New York Times on Saturday, September 28, 2019, that his Starship is "basically an I. C. B. M. (intercontinental ballistic missile) that lands. Nothing gets there faster than an I.C.B.M. It's just minus the nuclear bomb and add landing." Mr. Musk has already sold one Earth-to-moon trip for launch in 2023 to Japanese billionaire Yusaku Maezawa, who has been "providing much of the money for the rapid development of Starship."
SpaceX Starship to Mars?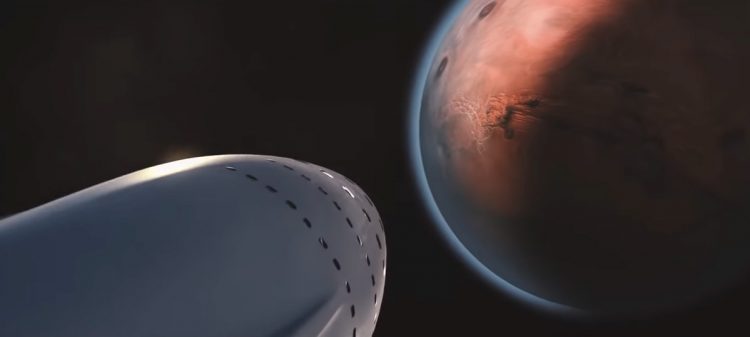 Elon Musk says that his ultimate goal is to fly to Mars and thinks it could happen in this coming decade. But before that, he told the NYT that he would like to see the Starship become fast transportation for people on Earth, who can afford to pay for a 30-minute-trip between New York and Tokyo.
Also see:
08-08-2018 – Elon Musk's SpaceX Holding Secret Mars Workshop 
---
More Information:
06-14-2019 – NASA Mars Orbiter Photo of "Star Trek" Logo-Shaped Dune On Red Planet.
01-05-2019 – Elon Musk Tweet Links Apollo 11 Astronaut Neil Armstrong to Alien Presence
11-01-2018 – Mars: Why It's A Strange Cloud and Not Volcano Smoke.
09-27-2018 – New Brain Chip Enables Telepathic Control of Multiple Aerial Drones or Planes.
---
Websites:
"SpaceX Unveils Silvery Vision to Mars," September 29, 2019, The New York Times: https://www.nytimes.com/2019/09/29/science/elon-musk-spacex-starship.html
SpaceX To Mars Video Illustration: https://www.youtube.com/watch?v=-aGISgOB6n0

© 1998 - 2019 by Linda Moulton Howe.
All Rights Reserved.