"This Oct. 15th, 2018, PNAS report is one of the most disturbing articles I have ever read." 
–  David Wagner, Ph.D., Prof. of Ecology,  Univ. of Connecticut.
"If all humankind were to disappear, the world would regenerate back to the rich state of equilibrium that existed 10,000 years ago. If insects were to vanish, the environment would collapse into chaos."
—  Edward O Wilson, Ph.D., Prof. of Biology, Harvard University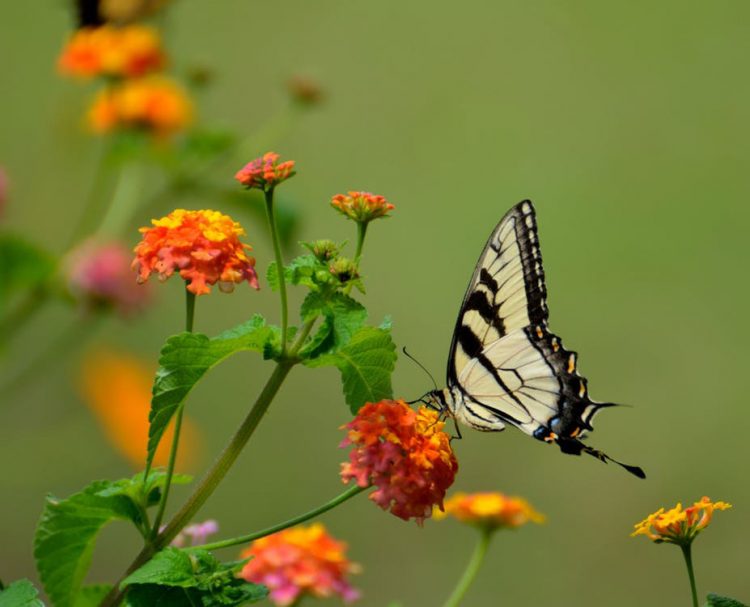 Reprint on September 26, 2019, as concerns about Earth life survival grow in Anthropocene 6th Mass Extinction / Original Earthfiles December 30, 2018  Storrs, Connecticut – A recent news headline from the School of Biological Sciences at Rensselaer Polytechnic Institute in Troy, New York, says it all:  "Two Degrees Decimated Puerto Rico's Insect Populations."
So, what is killing all those insects? Scientists think a lot of the damage is due to global warming. Here is one astonishing fact. The average temperature in northeastern Puerto Rico tropical forests since the 1970s has steadily climbed and is now 2 degrees Celsius warmer. That's a climb of 3.6 degrees Fahrenheit. Those sound like small numbers, but the fragile balance of nature on our planet lives within narrow temperature ranges. Biologists from Rensselaer decided to study insects in a place on Earth not much bothered by humans. They chose the Luquillo forest of northeastern Puerto Rico to see what was happening to the populations of winged insects called arthropods. Think of butterflies, dragonflies, grasshoppers, moths, spiders and beetles.

After a 2-year study, the findings were reported in the recent October 2018 Proceedings of the National Academy of Sciences (PNAS) by lead biologist Brad Lister. He says:  "The insect populations in the Luquillo forest of Puerto Rico are crashing — our results suggest that the effects of climate warming in tropical forests may be even greater than anticipated." The crash is a nearly 60% decline in the number of arthropods in only the past four to five decades.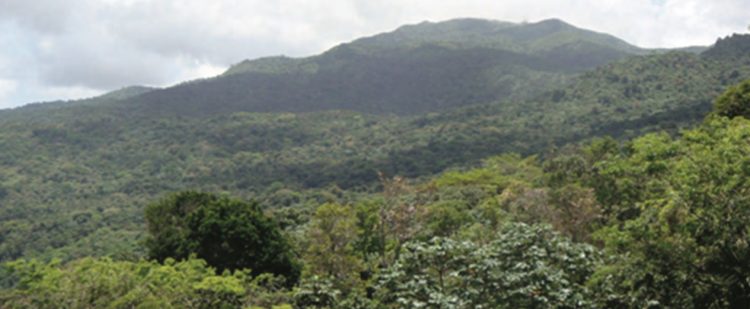 Prof. Lister warns that this severe decline in the Puerto Rico insects will be like dominoes falling for lizards, frogs and birds, who normally eat flying and other insects. Those amphibians and birds no longer have the abundant insect food supply they once had and their numbers are declining as well. And it is not only Puerto Rico. It's happening from North America to Central and South America. And across the globe in Germany, flying insects there have declined 76%!
It's as if the insects are now like the canary in the coal mine, sending us warnings that something is very wrong. The United Nations Intergovernmental Panel On Climate Change (IPCC) has been warning of severe environmental threats to our entire planet if there is a 2- degrees Celsius elevation in average global temperature. Like some other tropical locations, the study area in the Luquillo forest, has already reached or exceeded a 2-degree Celsius average rise in temperature. And the study warns that the consequences are "potentially catastrophic."
Upon reading the October Academy of Sciences report, I contacted Professor David Wagner in the Department of Ecology and Evolutionary Biology at the University of Connecticut in Storrs, Connecticut.
---
Interview: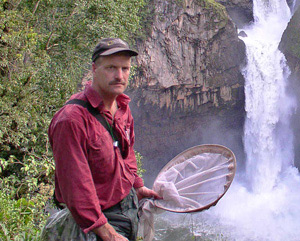 David I. Wagner, Ph.D., Prof. of Ecology and Evolutionary Biology, University of Connecticut, Storrs, Connecticut: 
"PROFESSOR WAGNER, WHAT WAS YOUR REACTION TO THE OCTOBER 15, 2018,  INSECT ABUNDANCE STUDY IN THE PROCEEDINGS OF THE NATIONAL ACADEMY OF SCIENCES?
Well, I thought it was the most alarming study that I've ever read. Up until now, we thought that the insect declines were localized in various places across the planet where there was very high human occupancy. So where the forests were being cut and destroyed and developed, where there are lots of roads, lots of light pollution, lots of pesticide use, lots of agriculture.
Insect Declines in Americas, Puerto Rico and Europe
This is well documented in northern Europe, particularly Germany and England. We're starting to see declines in New England in North America. But what was most alarming about the Puerto Rican study was this was a reserve in the tropics. And if the insect decline was happening there, too, we really had to ask ourselves whether or not this was a global phenomenon. Was this the clarion call that was going to rally us to pay more attention to what's going on with insects, collect more data, and try to find out what the causal factor is for these tremendous losses?
WHEN DO YOU THINK THERE WOULD BE AN ANSWER TO WHAT IS KILLING INSECTS AND HOW THE WHOLE WORLD COULD BE GALVANIZED TO TRY TO HELP RESTORE THEM?
We can't afford to wait any longer. So, I think that there's going to be hundreds of labs across this country, and thousands of labs across the world that are going to start paying attention. We have to find out where the decline is, the nature of the decline. For example, the PNAS paper points the finger at climate change and this two degree increase in temperatures. But some of the declines in Europe, they clearly started earlier. But I can tell you that probably within the year there will be hundreds, if not several hundred labs starting to look for answers. We have to find out what's causing this decline. It's urgent. It's important for the integrity of the planet. It's important for mother nature. It's important for what we put on the table to feed our children.
IS IT FAIR TO SAY THAT IN THE NEXT FIVE YEARS BY 2024, WE SHOULD KNOW IF THESE DECLINES IN INSECTS AROUND THE WORLD ARE PERSISTENT AND MAYBE EVEN BECOMING PERMANENT?
"We have to figure this out!"
Yeah, I think that's right. And I think five years is a good timeline, and ten years is even better. But I think in five years we have to know. We can't wait. This is urgent, and we will be collecting the data, and we will have at least a lot more data points and more spatially extensive data. We'll be getting reports from Australia and Japan and China and the U.S. We have to figure this out! We have to get studies. We have to get data from the tropics, as well as the temperate zone, and I can tell you, things are going to hell in a basket from Arctic areas around the planet. That's where we're probably seeing the fastest changes and some of the most serious. We need data from there, too.
WHERE IT'S MELTING SO FAST?
Yeah, absolutely.
THE IDEA THAT THE INSECT POPULATIONS WOULD BE DECLINING AT THESE KINDS OF RATES IF IT KEPT ON, THIS IS DANGEROUS FOR THE FUTURE?
Absolutely. So, the Entomological Society of America is on high-alert right now. When you and I were kids and we took a trip, we'd have to stop every couple of hours to clean the windshield of all the bugs. That's what you stopped at gas stations for as much as for gas.
RIGHT.
And that just doesn't happen anymore anywhere in North America or Europe. So, that's the windshield effect. That was one of the first things that people pointed out as something that's changed. This is not the same planet I was born on. There's a phenomenon here. It's something that needs to be explained.
Will Insects Die Because of Increasing Earth Warming?
IS THERE ANY DATA ABOUT TEMPERATURE ITSELF AS IT IS WARMING THAT IT WILL AUTOMATICALLY BEGIN TO NOT ONLY KILL BIRDS AND THOSE KINDS OF ANIMALS BUT THAT INSECTS THEMSELVES ARE GOING TO BECOME INCREASINGLY VULNERABLE TO A RISE IN GLOBAL AVERAGE TEMPERATURE?
Well, I think insects are cold-blooded. They heat up from, I don't know, 70 degrees to 100 degrees almost on a daily basis. So, I think they have tremendous capacity for change. It will be a challenge for certain insects that are at their thermal limits, whether it would be in the desert or perhaps in these arctic insects that aren't used to warmer temperatures. They may be driven to the brink of extinction or pushed over the edge. But I do think that things that are correlated with rising temperatures will be catastrophic for all wildlife.
Wild Weather and Droughts
And I think about storm intensity. We all have been seeing hurricanes increase in intensity, and we have the highest recorded winds on the planet. These are more destructive. But more than that, I guess for insects, I'm predicting that it's actually the droughts that are associated with rising temperatures or even two and three degree increases in global average temperatures, it's the droughts that are going to cause massive problems in extinctions. These droughts are going to be of longer duration. They're going to be more intense, and they're going to be more frequent. And I don't think insects and many other animals, plants in particular, have the capacity to evolve different moisture physiology and to deal with these droughts. So, that is going to be catastrophic.
And then just as we saw in the American west this past summer, when we have droughts, we have fires. And there were times when it seemed like more than a hundred fires were burning. Every western state had more fires this summer. We're going to see more of that, and with that, we're going to see losses of our plant and wildlife and nature in general.
WHEN WOULD YOU SEE A SIGNAL THAT SAID TO YOU WE HAVE REACHED AND ARE PASSING A TIPPING POINT OF BEING ABLE TO ACTUALLY LIVE ON THE SURFACE OF THE PLANET LIKE WE HAVE IN THE PAST IF SO MANY INSECTS ARE DYING OUT ALONG WITH OTHER ANIMALS AND CREATURES THAT CAN'T KEEP UP WITH WHAT IS GOING TO HAPPEN WITH GLOBAL CLIMATE CHANGE?
I actually think that no matter what scenario, if we're talking about climate change, there will be winners and losers. Some of the species that are in the tropics now may be up in the temperate zone, may be up in Connecticut and Colorado and what have you. So, I think there will be a great redistribution of species. It will be a very diminished fauna on our planet. It may not be as beautiful with wildflowers, and there may be fewer birds. Much of the nature that we grew up with will be gone.
I think extinction is the fate of all species, essentially. I think 99.99% of all species have gone extinct. What climate change does, especially now with this heating up, is it changes the rate of loss. And we're losing species now as fast as we've ever lost in the entire history of the planet.
Anthropocene 6th Great Extinction — It Is Now
— Every 20 minutes on Earth a species goes extinct.
— The world's largest king penguin colony has shrunk by 88%  in 35 years.
— At least  97% of bluefin tuna that once lived in the oceans are gone.
So, we're entering what we call the Anthropocene or the Sixth Great Extinction. So, there will be a great diminishment of kind, of variety of species. Some of the most dearly loved species, the iconic species will be lost. But there's always something that survives. I hope it's not mosquitoes and cockroaches, but it might be mosquitoes and cockroaches. There will be winners and losers. Mostly losers.
ISN'T THERE A SERIOUS THRESHOLD HAVING TO DO WITH THE POLLINATORS? WE HAVE COLONY COLLAPSE AND THE PROBLEMS WITH HONEY BEES EXTENDING OUT TO OTHER KINDS OF POLLINATORS. BUT IF WE ARE NOW LOOKING THROUGH A LENS FROM THE PNAS REPORT THAT INSECTS ARE DYING AT HUGE RATES UNEXPECTEDLY AROUND THE WHOLE WORLD, WHAT DO WE DO ABOUT POLLINATORS OF CROPS THAT HUMANS HAVE BEEN DEPENDENT UPON FOR FOOD?
We're going to have to maybe look for different sets of pollinators. Basically, the human portfolio is entirely dependent on the honey bee at this point in time, which is sort of ridiculous. We are so dependent on the honey bee. Even to pollinate the almonds in California, I think when those trees are in flower, we have to put 80 percent of North American honey bees in trucks and truck them to California to pollinate. And so, we're going to have to maybe start domesticating some bees or learning how to use other wild bees to do some of these pollination services.
I don't think we're talking about losing all pollinators. I think what we're talking about is losing many. And I know, for example, in northern Europe, they've lost half of their bumblebees in many locations. And so that's what we're talking about in terms of our future if we don't sit up and start paying attention and find out what the cause is. How do we solve this mystery? I mean, it's basically a murder mystery that we have to figure out. We can't solve the problem until we understand what the cause is.
Biggest Insect Killer?
WHAT IS MURDERING SO MANY INSECTS?
It could be pesticides. The very pesticides that we need to protect our food could be killing the animals that we need to pollinate that food. You know, life's not simple. This is a hard problem of huge economic importance.
HOW DO YOU SCIENTISTS FIND OUT WHO THE MURDERER COULD BE?
We have to look at pesticides. There's new systemic pesticides called neonics. I'm think that it's just sort of death by a thousand cuts where it's the light pollution. It's all the roads. It's the land use changes. It's agricultural intensification. And all of these factors combined, which are ganging up on species and making it very hard for them to continue on their journey with us.
PROFESSOR WAGNER, WE'RE RIGHT AT THE END OF 2018, AND WE'RE GOING TO BE ENTERING THE 2020 TO 2030 DECADE SOON. WHAT IS THE WORST CASE IF SCIENTISTS AROUND THE WORLD WORKING WITH POLITICAL FORCES CANNOT UNDERSTAND OR GET SOME KIND OF CONTROL ON THE RAPID DECLINE OF INSECTS?
Worst case scenario is we have spring without songbirds. We have a planet diminished in all wildflowers, and so, we have a very drab, boring nature. We start losing almost all of the small mammals and birds and bats, fish, reptiles, and amphibians that are dependent on insects. We start seeing the unraveling of ecosystems. We see less food available for people. We see carrion building up along roads. We have dung accumulating in our yards. It's not a pretty world. Nobody wants to live in it."
Also see:
11-03-2016 – Latest World Wildlife Report Shows Steep Declines — World's Vertebrate Populations Half of What They Were In 1970.
---
---
More Information:
04-28-2017 – First Time Nicotine-Based Pesticides Found in Tap Water While A Colorado Honey Beekeeper Loses 100% of His Colonies
09-01-2016 – Update – "Unprecedented" Mass Kill of 323 Reindeer in Norway — Why Did Large Antlers Come Off?
09-25-2015 – What Has Killed Nearly A Quarter Million Saiga Antelopes Since May 2015 in Central Kazakhstan?
08-28-2015 – Part 1: Strange Case of "Human-E.T. Hybrid" Secret Agent Found Dead in SUV in Pacific Palisades, CA.
08-28-2015 – Part 2: Where Is Dawn Marie VadBunker Still Missing from Family, Who Believed Secret Agent Was Here to "Save the World"?
06-25-2015 – USDA Reports 2014 – 2015 Honey Bee Colony Losses Hit 42% — Obama Task Force Outlines Help for Pollinators
09-25-2014 – 314 North American Bird Species Face Extinction This Century Because Climate Is Changing Faster Than They Can Adapt
08-28-2014 – Earth Life Is Dying In A 6th Mass Extinction As Great As Asteroid Hit 65 Million Years Ago – But This Time the Cause Is Humans.
11-22-2013 – Monarch Butterfly Migration At Lowest Numbers On Record

---
Websites:
Climate-driven Declines in Arthropod Abundance Restructure A Rainforest Food Web," October 15/30, 2018, Proceedings of the National Academy of Sciences (PNAS): https://www.pnas.org/content/115/44/E1039D
'Hyperalarming' Study Shows Massive Insect Loss, October 15, 2018, The Washington Post:  https://www.washingtonpost.com/science/2018/10/15/hyperalarming-study-shows-massive-insect-loss/?utm_term=.ce7adc44e3cf
Earth's Sixth Mass Extinction Event Under Way, Scientists Warn, July 10, 2017, The Guardian:  https://www.theguardian.com/environment/2017/jul/10/earths-sixth-mass-extinction-event-already-underway-scientists-warn

© 1998 - 2019 by Linda Moulton Howe.
All Rights Reserved.