"This is the largest evacuation that any of us at the Sheriff's Office can remember. Take care of each other."
— Sonoma County Sheriff's Department tweet in both English and Spanish, October 27, 2019
October 28, 2019   Sonoma County, California – Five days ago at 9:30 PM Pacific on Wednesday, October 23, 2019, the Kincade Fire near Geyserville in Sonoma County, California, began to burn rapidly, fanned by wind gusts over 70 mph. Local TV station KTVU reported that PG&E, the California power company, said "there was a transmission tower with a 'broken jumper' cable found around 9:20 PM, Wednesday near the site of the Kincade Fire near Geyserville."
By Sunday night, October 27, 2019, the fire in the beautiful Sonoma County winery region had burned 54,298 acres and was only 5% contained. Ninety-four structures had been destroyed, including the Soda Rock Winery shown above with its outer stone wall on fire. At least 180,000 people have evacuated Sonoma County as the flames are expected to burn all the way to the Pacific Ocean.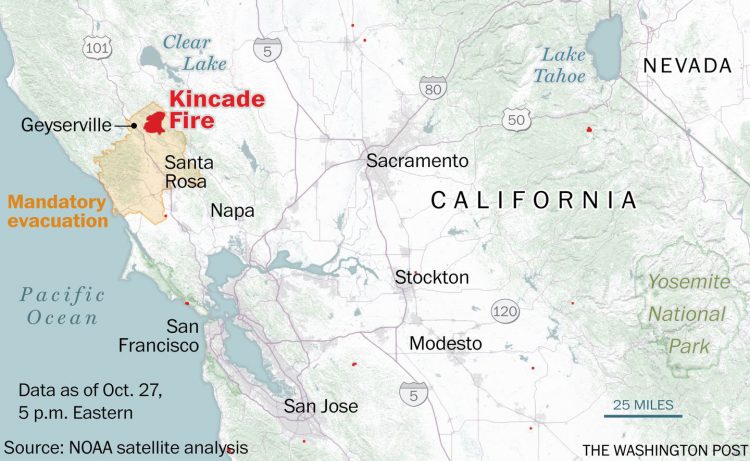 Officials report that so far there have not been any deaths by Sunday evening, but two firefighters were burned. One was transported with minor injuries, while another was flown to UC Davis Medical Center in more serious condition.
PG&E Cuts Power — "Largest-ever Blackout" in California History
By Sunday, October 27th, Pacific Gas and Electric Co. had caused the "largest-ever blackout to prevent wildfires" in Sonoma County history. Adding to the emergency are the hurricane-force winds as high as 93 mph that may force PG&E to keep the power shutoffs for several days. By Monday morning, October 28, 2019, California's largest power utility had cut power to 2.7 million people.
All evacuation orders remain in effect, according to Sonoma County Sheriff Mark Essick, who warned residents on Friday, October 25th, "Please stay home unless you're being evacuated. We'd like you to stay off the roads, stay off the highways," Essick said at Friday's press conference. "Please be vigilant. Stay informed. Be in contact with your neighbors, especially those neighbors that are older, elderly or infirmed."
Geyserville Road closures in Sonoma County include:
All roads east of Hwy 101 in the Geyserville area are closed.
NB Hwy 101 at Hopper Ave
SB Hwy 101 at South Cloverdale Blvd
SR 128 at Geyersville Ave
Pine Flat Road at Red Winery Road
Geysers Road at Red Winery Road
SR 128 at Moody Lane
SR 128 Geysers Road
Geysers Road at River Road
SR 128 at Alexander Valley Road
SR 128 at Pine Flat Road
SR 128 at Railroad Avenue
Lytton Station Road at Lytton Springs Road
Healdsburg Avenue at Alexander Valley Road
Schools closures: 

All 24 schools in the Santa Rosa City School District will be closed on Monday due to dangerous weather and fire conditions, power shutoffs and nearby evacuations, school officials said Saturday.Refer to the Sonoma County Office of Education site for a list of school closures.
Marin County Fairgrounds –10 Ave. of the Flags, San Rafael Opens for evacuees and their small animals at 8am on Sunday, 10/27. People can go there and park prior to 8am and wait.
Napa Valley College – 2277 Napa Vallejo Hwy, Napa, CA 94558 (Now accepting evacuees.)
CrossWalk Community Church Napa – 2590 1st St Napa, CA 94558. (Now accepting evacuees.)
Alameda County Fairgrounds – 4501 Pleasanton Ave, Pleasanton, CA 94566. (Accepting large animals.)
Sonoma County Fairgrounds – 1350 Bennett Valley Rd, Santa Rosa (At capacity, please go to one of the other shelters.)
Santa Rosa Veterans Memorial Building – 1351 Maple Avenue, Santa Rosa, CA 95404 (At capacity, please go to one of the other shelters.)
Petaluma Veterans Building – 1094 Petaluma Blvd S, Petaluma, CA 94952 (No empty beds, but can be a meeting point for evacuees.)
Petaluma Community Center – 320 N McDowell Blvd, Petaluma, CA 94954 (At capacity.)
Petaluma Fairgrounds – 100 Fairgrounds Dr, Petaluma  (At capacity, only accepting large animals.)
Finley Community Center

– 2060 West College Avenue, Santa Rosa (

Evacuated

, please go to one of the other shelters.)
Current Northern and Southern California Wildfires Since October 23, 2019
—  Kincade Fire is in Geyserville, Sonoma County, northwest of San Francisco.
—  Tick Fire is near Santa Clarita north of Los Angeles.
—   Rawson Fire is between Chico and Redding.
—   Sawday Fire is northeast of San Diego.
—   Lafayette Fire  is straight east from Berkeley, California.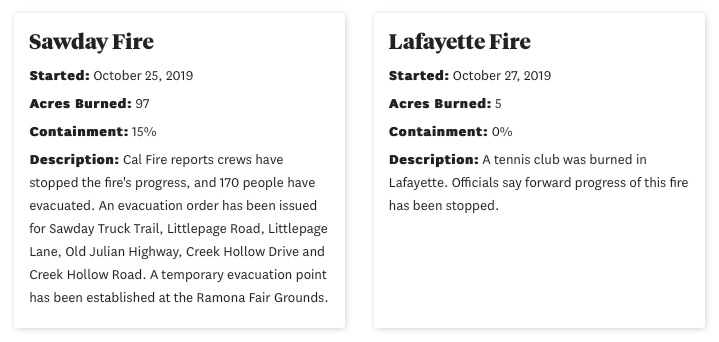 ---
More Information:
10-30-2018 – New IPCC Climate Report Warns Only Ten Years Left to Slow Down Global Warming Or Face Fire, Water and Storm Hells On Earth.
08-30-2018 – Why Are 2018 Wildfires So Ferocious?
---
Websites:
Sonoma County Sheriff's Twitter:  https://twitter.com/sonomasheriff
Sonoma County Sheriff's Office:  https://www.sonomasheriff.org

© 1998 - 2023 by Linda Moulton Howe.
All Rights Reserved.