"It's not a matter of if, but when, we will deal with an asteroid collision threat on Earth."
— Thomas Zurbuchen, Associate Administrator, NASA's Science Mission Directorate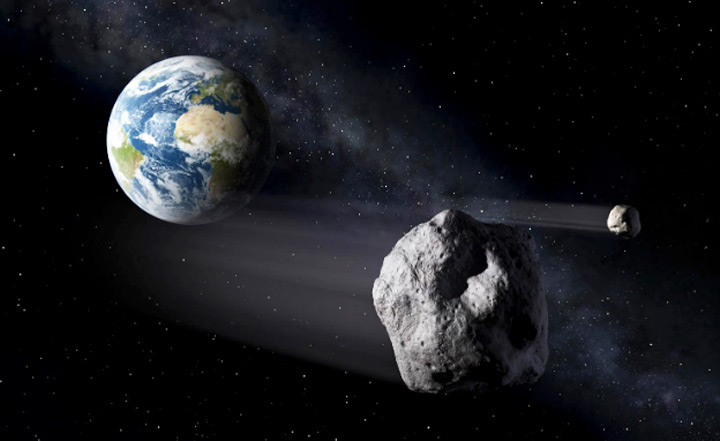 March 21, 2020  Albuquerque, New Mexico – NASA's Center for Near-Earth Object Studies (CNEOS)  has an automated asteroid tracking system that recently detected 4 asteroids approaching Earth this Spring Equinox weekend. Here's the list. Some scientists wondered if 2020 FK might cause an airburst explosion?
1)  2020 FK – 12:05 AM EDT on Saturday, March 21, 2020
The first asteroid, which is likely to hit Earth this weekend, has been identified as 2020 FK. Its diameter is near 43 feet, the smallest of the four incoming objects.  Travel speed is 23,000 miles per hour and some scientists wondered if it would explode in an air burst near Earth like the Chelyabinsk bollide below did in February 2013.
2)   2020 FS – Closest approach at 11:29 AM EDT on Saturday, March 21, 2020
Another asteroid is 2020 FS. This asteroid is trailing behind 2020 FK. The 2020 FS asteroid is 56 feet wide and coming toward Earth at around 9,600 miles per hour. According to the space researchers, the direction of its flow in the space is towards Earth.
3)   2020 DP4 – Closest approach at 2:34 PM EDT on Sunday, March 22, 2020
This is the largest, 180-feet-diameter about the size of Italy's Leaning Tower of Pisa speeding towards Earth at 18,000 mph.
4)  2020  FF1 –  Closest approach at 6:09 PM EDT on Sunday, March 22, 2020
This one has a 49-feet-diameter moving towards Earth and will be far out there at 443,000 miles from Earth when it zips by at 29,000 mph.
Chelyabinsk Bollide Airburst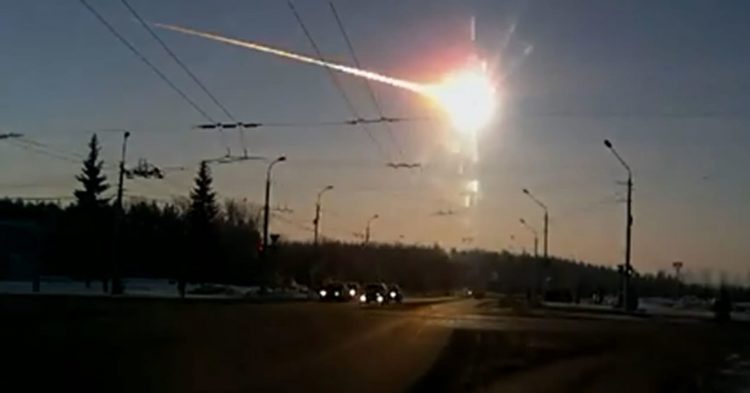 A memorable air burst in recent years was on February 15, 2013, when the Chelyabinsk meteor approached Russia at 42,900 mph. It lighted the sky over the southern Ural region brighter than our Sun. Some people said they could feel intense heat from the fiery bollide. Then it exploded over Chelyabinsk Oblast, Russia, because it was coming in at such a high speed and shallow angle altitude of 97,000 feet. That explosive air burst caused a large shock wave and showers of broken up rocks that were felt and seen over a large area of Chelyabinsk.
Also see:
01-09-2018 – Blast of Light, Huge Boom and Ground Shaking "Over Thousands of Miles in Russia"
---
More Information:
09-15-2011 – What Fell in Western Skies September 15, 2011?
12-27-2006 – Part 7:  Inside Saucer Post …3-0 Blue
12-18-2006 – Part 6: Inside Saucer Post …3-0 Blue
04-13-2004 – Part 7: UFO Crash/Retrievals: The Inner Sanctum – Status Report VI © July 1991 by Leonard H. Stringfield
06-21-2000 – The UFO/FBI Connection by U. S. Navy Physicist, Bruce S. Maccabee – Part 4
---
Websites:
Center for Near Earth Object Studies (NASA): https://cneos.jpl.nasa.gov/
"The Probability of Collisions with Earth by Asteroids": https://www2.jpl.nasa.gov/sl9/back2.html

© 1998 - 2023 by Linda Moulton Howe.
All Rights Reserved.