"It was a little rattle that kept getting bigger and stronger, like when 20 seconds can seem like 5 minutes."
— Andria Williams, Mgr., Jim Butler Inn & Suites, Tonopah, Nevada, about earthquake 051520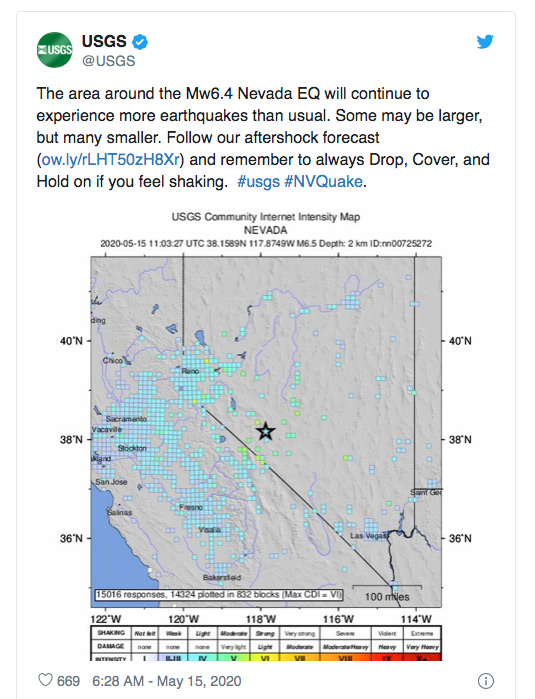 May 15, 2020  Tonopah, Nevada – At 4:03 AM Pacific time, the 6.5 magnitude earthquake struck about 35 miles west of Tonopah, Nevada, a town of about 2,400 people. Some people reported their dogs going "nuts" as houses shook. USGS recorded vibrations further west in San Francisco and the surrounding Bay area.  The quake originated at a depth of 1.7 to 3 miles. Its cause was a strike slip fault where part of the crust slips over another part of the crust.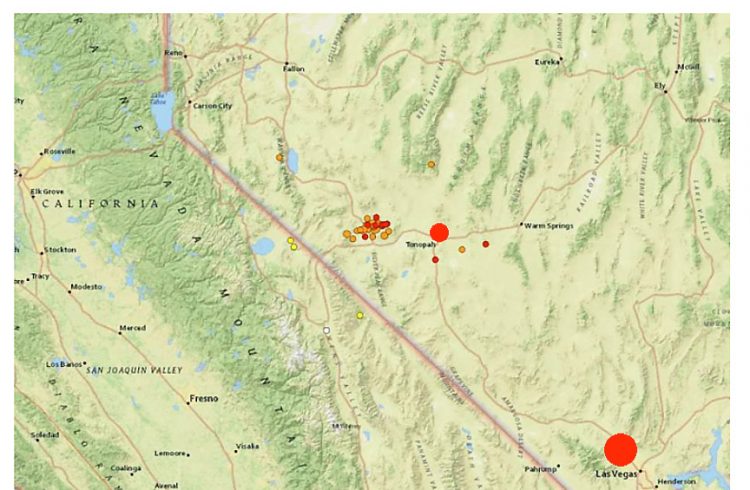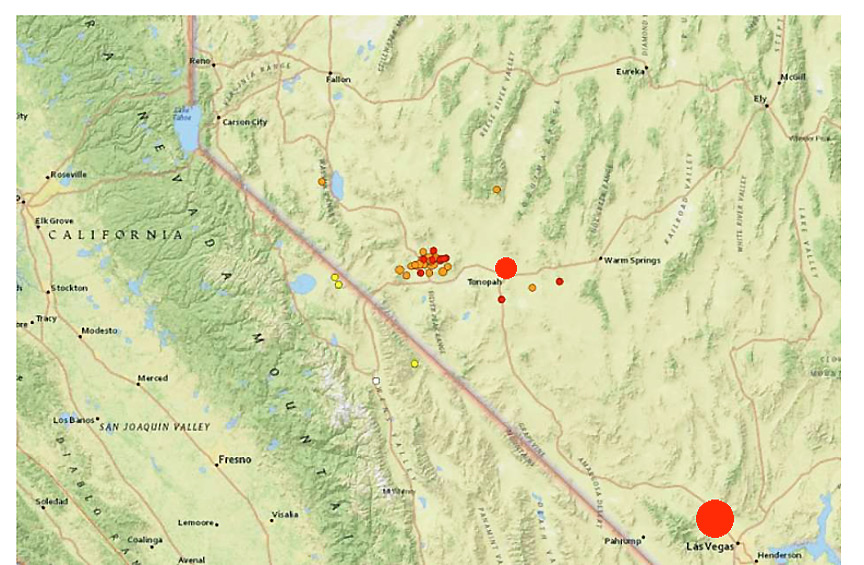 The biggest damage occurred on the Vegas-Reno highway shown in the image above from the Nevada Highway Patrol.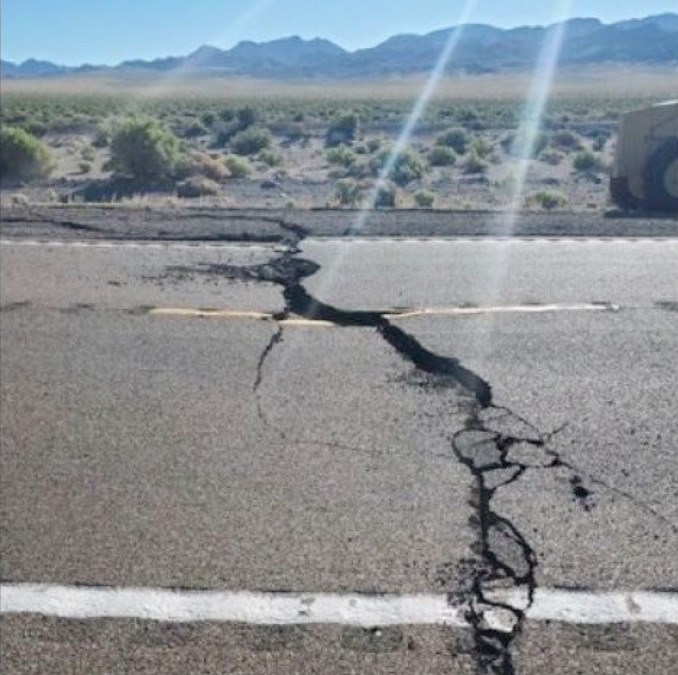 The U. S. Geological Service (USGS) produced a map showing the earthquake location marked by a gold star northwest of Nellis Air Force Base identified as a Nevada National Security Site.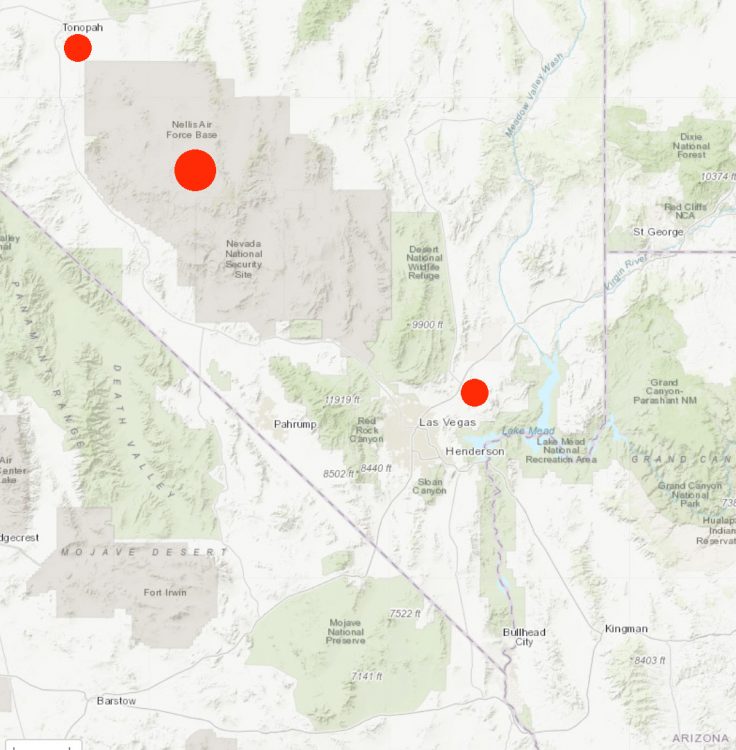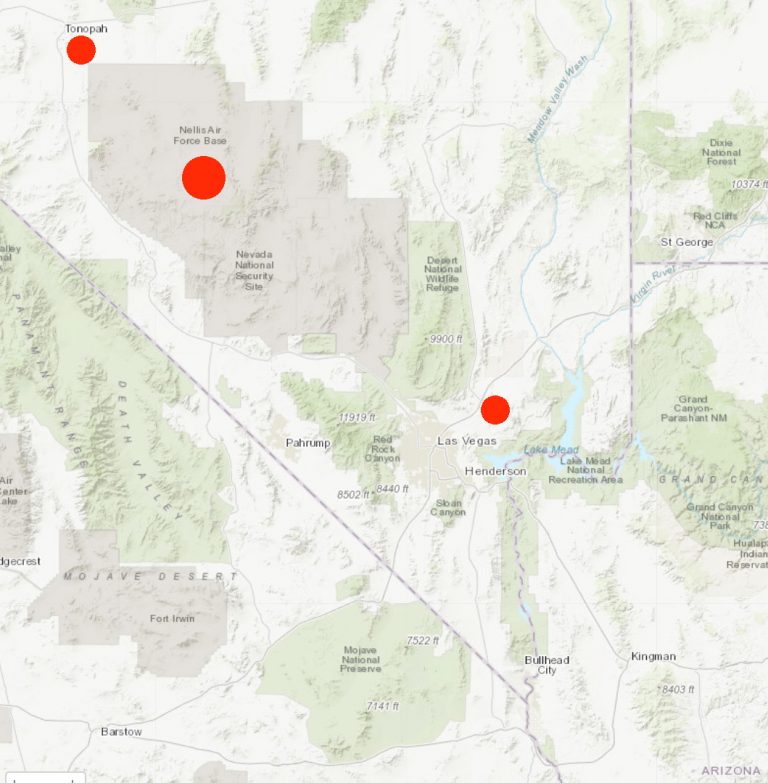 The Director of the Nevada Seismological Laboratory, Graham Kent, told reporters that this is the biggest quake to hit Nevada since 1954, 66 years ago. Back then there were two between 6.8 and 7.1 magnitude near Fallon, Nevada. There might be some aftershocks to this May 15, 2020, earthquake.
---
More Information:

06-26-2015 – More High Strangeness Near Area 51 and A Non-Human Encounter
11-20-2014 – Part 2:  Are the 2014 Seismic Swarms and Strange Rumbles in Cedarville and Surprise Valley Related to the Yellowstone Hot Spot?
09-17-2014 – Part 5:  Dulce and Dropa Stones
06-05-2014 – Viewer Letters About E. T.-Human Hybrids
05-31-2014 – Part 2: Racheal's E. T.-Human Hybrid Eyes
05-30-2014 – Part 1: Racheal's E. T.-Human Hybrid Eyes
02-10-2006 – Crashed Disc Photos, "Ebens," and Area 51 "Anti-Gravity"
---
Websites:
8 Biggest Earthquakes in Nevada History:  https://www.reviewjournal.com/news/nation-and-world/8-biggest-earthquakes-in-nevada-history/
Majestic-12 Documents:  http://www.majesticdocuments.com

© 1998 - 2020 by Linda Moulton Howe.
All Rights Reserved.