"We've never had even one headless seal. And I've lived here my whole life. What could have caused this and why now and not any other time in the past 21 years?"
— Geoffrey Howard, 21, student at Dalhousie University in Halifax, Nova Scotia, April 11, 2020, after finding 27 beheaded and head-damaged young seals on beach near West Pennant, Nova Scotia.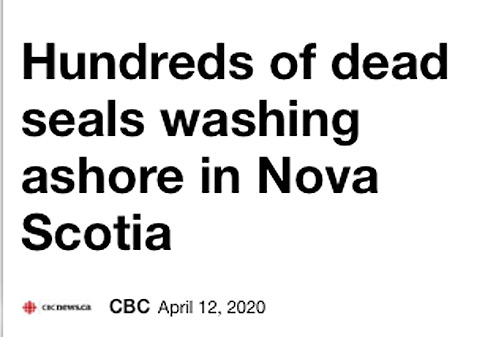 May 11, 2020 Albuquerque, New Mexico – A couple of weeks ago in my April 15th Earthfiles YouTube broadcast, I talked about this sad headline from the Canadian Broadcasting Company, dated April 12, 2020: "Hundreds of dead seals washing ashore in Nova Scotia." Twenty-seven young pups, all beheaded or heads inexplicably damaged or hide pealed off were counted in a stretch of beach 1 kilometer long from Sambro Creek to Fawson Cove near West Pennant, Nova Scotia. Halifax is 18 miles northeast of those beaches. That is where 21-year-old Geoffrey Howard lives with his parents and attends Dalhousie University. But the family frequently goes to their beach house in West Pennant.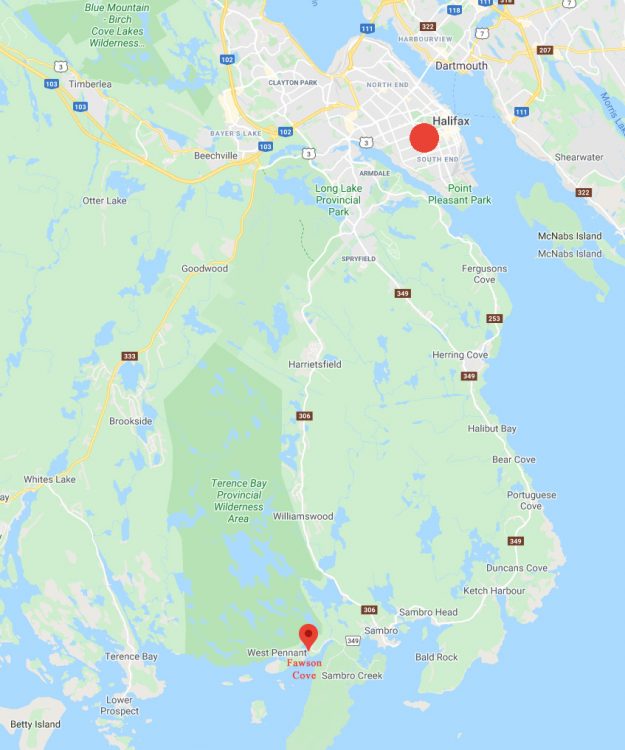 Geoffrey Howard drew the red ink line along the shore facing the North Atlantic Ocean where he walked with his cell phone from Fawson Cove and Sambro Creek past Duck Cove for 1 kilometer to record the dead, beheaded and head-damaged young seals on April 11, 2020, in Nova Scotia. He was shocked and confused about seeing one dead seal after another until he had counted 11 on his property and 16 beyond.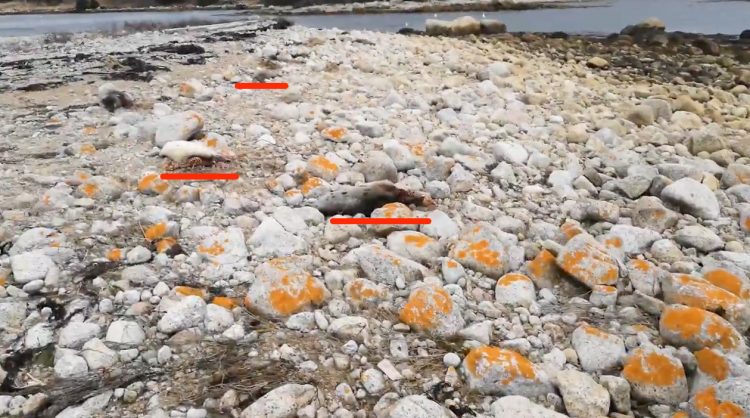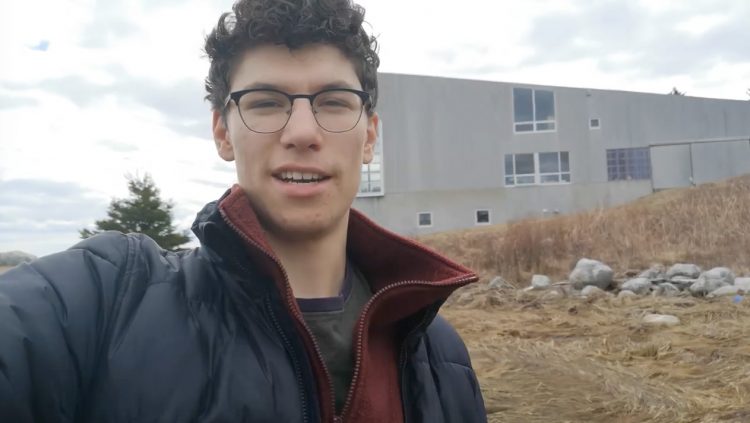 Interview with Geoffrey Howard – mp4  (3:44):
Now nearly a month later, I have been able to interview Geoffrey, about his kilometer walk and the disturbing sight of  11 beheaded or head-damaged young seals on his family's property and 16 more further down the beach, for a total of 27 young, dead seals. I talked with Geoffrey Howard about the mystery on May 5, 2020.
"We had 11 on our property. And then we also walked along the coast line — probably a kilometer down the coastline — and we discovered 16 more in that one kilometer.
SO, IT WOULD HAVE BEEN 27. IT LOOKED TO ME LIKE THEY WERE SORT OF AVERAGING ABOUT 20 FEET APART?
Yeah, I'd say averaging, although on our property, we did have a cluster where it was probably 5 or 6 within 20 feet.
27 YOUNG SEALS, ALL EITHER BEHEADED OR SOMETHING HAD TAKEN HIDE OFF THEIR SKULL, OR SOME VARIATION?
Yeah, correct.
AND THAT THE HEAD APPEARED TO BE THE ONLY WOUND ON ANY OF THESE PUPS.
Correct. Some of them had holes in the side of them, although we believe that was just from seagulls and scavengers pecking at them.
HAVE YOU EVER HEARD OF 27 YOUNG SEALS BEING BEHEADED OR HAVING THEIR SKULL HIDE TAKEN OFF?
We've never had even one headless seal. And I've lived here my whole life. What could have caused this and why now and not any other time in the past 21 years? So it was more just asking questions of experts of what possibly could have caused this?
And the conclusion that we came to, which I don't know, there's no proof of it — but this seems to be the most accepted reason is that the seals are from …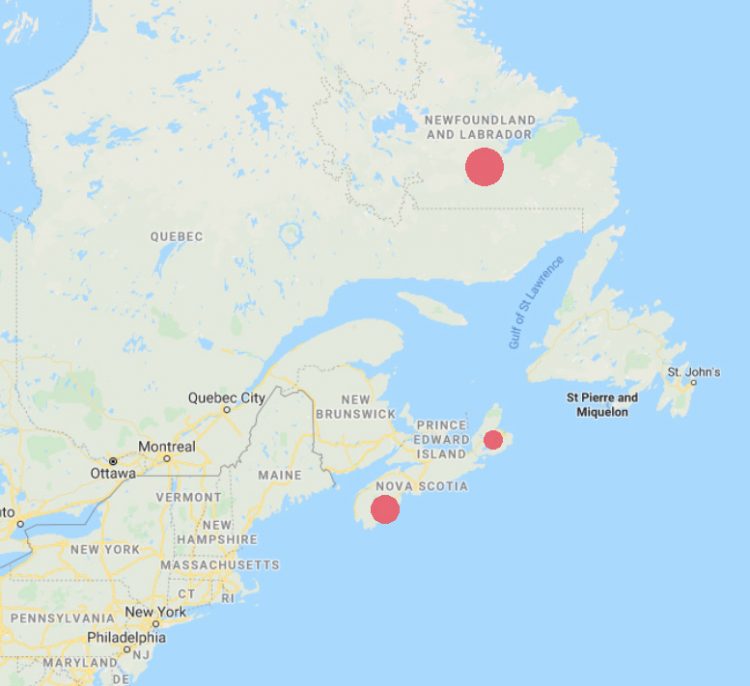 … more northern Canada in a place called Newfoundland and Labrador. And there, there's lots of large icebergs and ice chunks floating around. And this particular season (April 2020), there was over-population of Harp seals. And then when the young seals didn't know how to survive, so they would go up to the surface to get air and the combination of water currents and intense winds pushed the ice together and crushed the seal heads.
But at that time of year, we didn't have any large ice chunks in the ocean and this area, so the theory is that they got killed up in New Foundland, and then strong water currents brought them to the coast of Nova Scotia.
YOU WALKED THAT KILOMETER, YOU SAW THE SPREAD OF EACH ONE APPROXIMATELY 20 FEET APART, AND IN SOME PLACES CLOSER.
Yes.
ANYTHING ABOUT THAT WALK THAT COULD MATCH THE HYPOTHESIS?
It definitely seemed improbable and especially given the fact that it has never happened before — not even once! It still has been sitting in the back of my head that doesn't completely make sense. Yeah.
AND HAS IT STOPPED?
So, April 10th, there was a pretty intense storm here. Lots of waves and intense winds. And then the storm died off that day. And we heard our neighbor from maybe 3 kilometers down the road had alerted our other neighbor that they had over 20 dead seals on their coastline.
DID YOU HAVE ICE IN THE WATER?
No, it would have been too warm for ice in this area.
AND SO THE IDEA OF ICE — IT COULD NOT BE EXPLAINED BY ICE CRUSHING THEIR HEADS.
Yeah.
HAS ANYBODY IN THE SAMBRO AREA NOTICED OTHER FRESH BEHEADINGS — LET'S SAY, IN THE LAST TWO WEEKS?
No, not that I'm aware of.
YOUR KILOMETER IS NOT THE TOTAL UNIVERSE OF THESE BEHEADED SEALS. THERE WERE MORE. THERE WERE OTHERS.
Yeah. Many more. Like altogether, I've probably seen in Sambro over fifty. And a lot of the coastline along here is not very accessible, so I would imagine there are hundreds, if not thousands."
If anyone has more information about the strangely beheaded or head-damaged seals on the Atlantic Ocean beaches of Nova Scotia, Labrador or Newfoundland, please email me at: [email protected] All requests for confidentiality are honored.
---
More Information:
01-28-2011 – New Year 2011 – Bird, Fish, Penguin, Crab Deaths and More Corkscrew-sliced Seals on North Norfolk, England Coast
08-24-2010 – Dead Seals with "Corkscrew" Cuts in Scotland and England
---
Websites:
World Wildlife Fund — Oceans:  https://www.worldwildlife.org/initiatives/oceans?_ga=2.45064548.1966542270.1589222012-503578159.1534539681&_gac=1.90895912.1589222012.CMH1h_-m2aYCFQJvbAodOlWgHw
International Union for Conservation of Nature (IUCN):
http://www.iucn.org/about/work/programmes/species/red_list/
Environmental Defense Fund:  http://www.edf.org/home.cfm
Natural Resources Defense Council:  http://www.nrdc.org/
Greenpeace:  https://www.greenpeace.org/usa/issues/fighting-plastic-pollution/
Sierra Club:  https://www.sierraclub.org/explore-issues

© 1998 - 2020 by Linda Moulton Howe.
All Rights Reserved.