"The best defense against this virus, until there is a vaccine, is physical distance from other people."
— Michelle Lujan Grisham, Governor of New Mexico, May 1, 2020
"I'm glad the Pentagon is finally releasing this (UFO) footage, but it only scratches the surface of research and materials available. The U. S. needs to take a serious, scientific look at this and any potential national security implications. The American people deserve to be informed." 
— U. S. Senator retired Harry Reid (D-Nevada), April 27, 2020
"I don't know of anything that has an acceleration rate like that (UFO).  And there was more than one of them. We were tracking multiple objects."
— David Fravor, November 2004 Commanding Officer of U. S. Navy Strike Fighter Squadron 41, Super Hornet F-18 fighter jets for U. S. S. Nimitz Operations 100 miles southwest of San Diego, CA.
May 3, 2020  Albuquerque, New Mexico –  Monday, April 27th, I went to a nearby grocery store with my thick, tight respirator mask on under a hat, with large sunglasses and rubber gloves on — feeling hot and vulnerable and slightly afraid in this COVID WORLD where everyone now is a potential coronavirus carrier, and possible lethal threat. In that closed up, closed in state of mind, I got out of my car and headed forward disconnected from the world around me on purpose.
Until I got near the front of the store. Boxes of fresh spring pink, white and yellow flowers had been set up right in front of the doors. I love flowers and had to stop and look. And then I saw it.
A beautiful, large Western Swallowtail butterfly was moving rapidly over the pollen tops of the flowers. I haven't seen butterflies around my Albuquerque home since around 2015. Not many bees either. So seeing this large, beautiful butterfly finding sustenance in the middle of a supermarket parking lot suddenly gave me hope. Hope for all of us. Hope that COVID can be defeated as surely as that gorgeous butterfly has somehow survived what seemed like the end of butterflies here.
Think about its resiliency, its determination to live when there are too many asphalt parking lots and not enough flowers. It's there! It's us! It's life in a universe that could have gone either way — matter or anti-matter. So, we can't let COVID get us down.
Hopeful News for COVID Vaccine
We urgently need a good vaccine against the insidious coronavirus and now there is a race on among some 100 medical groups around the world to develop a vaccine that can stop COVID in its awful tracks. On the front page of the April 28, 2020, New York Times was breaking news about an "Oxford Group's Earlier Efforts Provide Edge in Vaccine Race – Promising Results May Lead to Drug by Fall (2020)."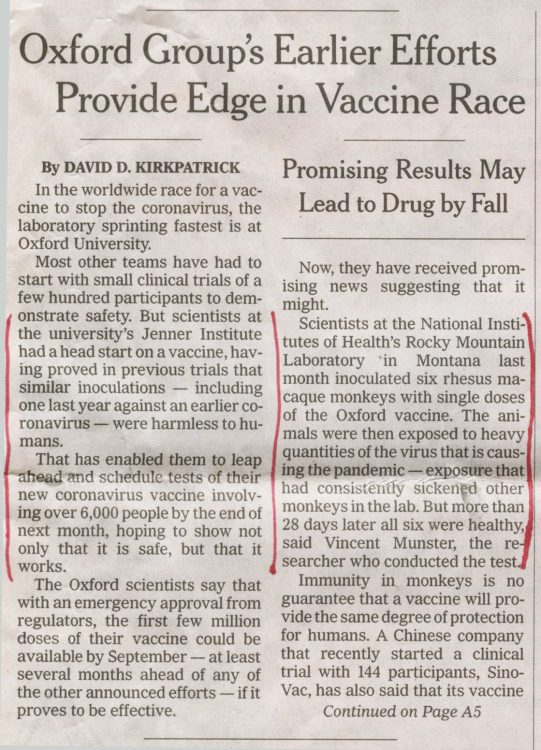 "Scientists at the National Institutes of Health's Rocky Mountain Laboratory in Montana last month inoculated six rhesus macaque monkeys with single doses of the Oxford (COVID-19) vaccine. The animals were then exposed to heavy quantities of the virus that is causing the pandemic — exposure that had consistently sickened other monkeys in the lab. But more than 28 days later, all six were healthy. … That has enabled them to leap ahead and schedule tests of their new coronavirus vaccine involving over 6,000 people by the end of May 2020, hoping to show not only that it is safe, but that it works."
Even though the State of New Mexico on Friday, May 1, 2020, was still in a lockdown mode until May 15th, Governor Michelle Lujan Grisham invoked the state's Riot Control Act to close off all roads into Gallup — a city of about 22,000 people 100 miles west of Albuquerque. Governor Grisham was responding to the Mayor of Gallup's request for help with the "uninhibited spread of COVID-19 in that city" located in McKinley County.
The Governor's press release said that McKinley County on May 1st had 1,027 confirmed COVID-19 cases and 19 deaths — the highest number of cases in New Mexico, which is "more than 30% of the state's total positive COVID-19 cases" that had risen to 3,411.
On Thursday, April 30th, Governor Grisham had already extended New Mexico's COVID emergency public health lockdown order until May 15th. Her press release said, "The best defense against this virus, until there is a vaccine, is physical distance from other people."
Pentagon Officially Declassified 3 UFO Videos on April 27, 2020
On Monday, April 27th, the Pentagon announced that it was officially declassifying three videos of UFOs taken by U. S. Navy pilots in 2004 and 2015. The three UFO videos now officially declassified by the Pentagon have the same names used by Tom DeLonge's To The Stars Academy (TTSA), that originally released these same three videos in December 2017 and 2018 — in collaboration with Lew Elizondo, former Director of the Advanced Aerospace Threat Identification Program in the Pentagon, also known as AATIP.
The videos are called: FLIR-1, which is also the so-called Tic Tac like the white, oval mints. GIMBAL, which refers to a motion stabilizer. And GO FAST, described by the Navy Times on March 12, 2018, as "an authentic DoD video that captures the high-speed flight of an unidentified aircraft at low altitudes."  That release was three months after The New York Times published for the first time on December 16, 2017, the two videos referred to as FLIR-1 (Tic Tac)  and GIMBAL.
But U. S. Navy Confirmed Veracity of Same Videos in September 2019
Since the Navy in above news headlines eight months ago on September 19, 2019, previously acknowledged the three UFO/UAP videos were legitimate UFO/UAP videos, it's  not clear why the Department of Defense put out a further statement this week that says:  "DoD is releasing the (3 UFO) videos in order to clear up any misconceptions by the public on whether or not the footage that has been circulating was real; or whether or not there is more to the videos. The aerial phenomena observed in the videos remain characterized as 'unidentified.'"
Even retired U. S. Senator Harry Reid (D-Nevada) sent out a tweet highlighting an April 27, 2020, CBS News headline that read, "Pentagon formally releases 3 Navy videos showing 'unidentified aerial phenomena."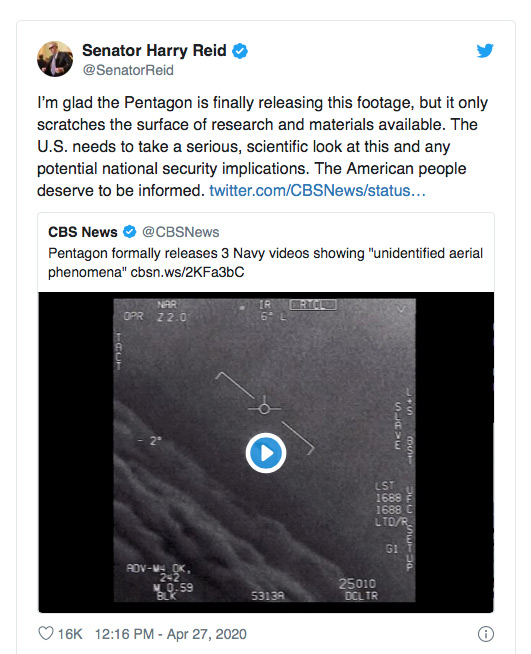 Senator Reid's tweet stated: "I'm glad the Pentagon is finally releasing this (UFO) footage, but it only scratches the surface of research and materials available. The U. S. needs to take a serious, scientific look at this and any potential national security implications. The American people deserve to be informed."
So, in this Earthfiles news report that complements my April 29, 2020, Earthfiles YouTube Channel broadcast, I want to start with the GIMBAL and GO FAST. Then for the third video, FLIR-1 (Tic Tac)  I would like to share with you excerpts of my interview with U. S. Navy Pilot David Fravor about what happened back on November 14, 2004, when he tried to approach a UFO (aka Unidentified aerial Phenomena), in the sky southwest of San Diego, California.
GIMBAL 

34 seconds mp4 Video:

  Gimbal is the first of three US military videos of unidentified aerial phenomenon (UAP) released by the U. S. Navy and TTSA. In January 2015, the plane's infrared camera tracked a saucer-like object flying above clouds as pilots discuss what the UFO/UAP could be.
2.     GO Fast   33 seconds mp4 Video:  A Navy encounter that occurred off the East Coast of the United States in 2015. This footage was captured by a U.S. Navy F/A-18 Super Hornet using the Raytheon ATFLIR Pod that was being operated by an  American government-trained aerial observer and weapons system operator. The UFO object in view remains unidentified. This is the third of three official DoD videos selected for release after official review by multiple government organizations. While To The Stars Academy (TTSA) was the first to obtain a copy, it should be available to any member of the press or public via the Freedom of Information Act.
3.  FLIR-1 (Tic Tac)  1:16 mp4 Video:  On November 14, 2004, the USS Nimitz strike group was stationed southwest of San Diego, California. The Nimitz and its various support ships, including the U. S. S. Princeton — which is a U. S. Navy Ticonderoga-Class Cruiser warship with guided-missiles and passive phased-array radar. The Nimitz was preparing for combat in the Middle East. And the U.S.S. Princeton had an unsolved mystery, beginning in November 2004 and persisting for at least two weeks. UFOs played cat and mouse with the U. S. Navy off the coast of Baja, California.
First, the Princeton's Fire Control Officer and his Senior Chief had detected several puzzling returns on their AN/SPY-1 Navy 3D radar system that includes a ballistic missile defense. Those radar returns came from at least 80,000 feet above. And the source of the radar returns were moving from 80,000 feet down to 20,000 feet where the UFOs would hover for 2 to 3 hours before zipping back up. Some pilots saw UFOs drop down rapidly to only 50 feet above the ocean water in just seconds. Those craft were UFOs, also known as UAPs.
But the Navy Fire Control Officers called them: "Anomalous Aerial Vehicles," or AAVs. Adding to the mystery was the fact that the UFOs were always over the same latitude/longitude spot, roughly 70 nautical milies southwest of Tijuana, Mexico. That's about 80 land miles out into the Pacific.
The Spy-1 radar that was tracking the mind-blowing UFO maneuvers in mid-November, 2004, was at the time the most advanced and powerful radar on Earth. And the military men watching the radar were stunned as the UFO "descended, hovered and then zipped away at speeds and turn rates and accelerations that were faster than any known by friendly or enemy threat aircraft."
By November 14, 2004, at 9:30 AM Pacific time, an Operations Officer aboard the USS Princeton contacted two airborn U. S. Navy jet fighters from the U.S. S. Nimitz. The first Super Hornet F-18 fighter jet was piloted by Commander David Fravor, Commanding Officer of Strike Fighter Squadron 41. His wingman in the second Super Hornet was Jim Slate. They were in routine combat exercises 100 miles southwest of San Diego, when the U.S. S. Princeton's radio operator asked the pilots to change their course in order to investigate an unidentified radar return observed by the Princeton's own radar.
The morning sky was clear and blue over a calm sea. No cloud cover. When the two Super Hornet jet fighters reached the latitude and longitude that the Princeton had given them, there was nothing in the air or on radar. But in the ocean water below them, they could see QUOTE – "a turbulent, oval area of churning water with foam and frothy waves the size of a Boeing 737 airplane. It had a smoother area of lighter color at the center, as if the waves were breaking over something just under the surface. A few seconds later, they noticed an unusual object hovering with erratic movements 50 feet above the boiling water.
The following excerpts are from my June 2018 PHENOMENON Radio interview (KGRA-db) with U. S. Navy Commanding Officer David Fravor, Strike Fighter Squadron 41, 100 miles southwest of San Diego.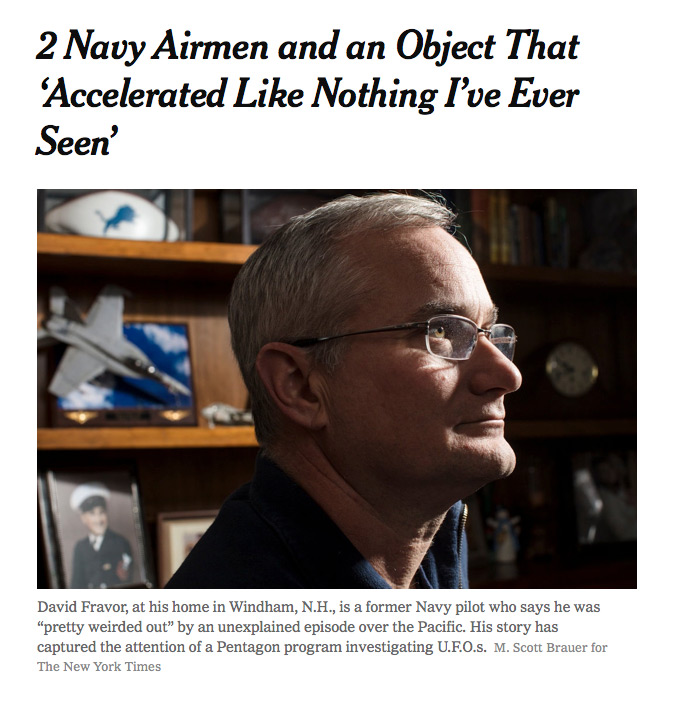 Transcript of U. S. Navy Commanding Officer David Fravor, Strike Fighter Squadron 41, about UFO encounter 100 miles southwest of San Diego on November 14, 2004, in a June 2018 interview with Earthfiles.com Reporter and Editor Linda Moulton Howe for PHENOMENON Radio.
David Fravor:  "Here's what happened. As we press out towards the C.A.P., Combat Air Patrols, a place where we would hold until the ship saw some type of threat aircraft. And then we would get vectored on to it. As we approached the C.A.P.,  they (radio) say, 'We're going to suspend the air defense exercise. We have a real world tasking.'
I said, 'OK.'  They sent us out to the west and they immediately start giving us bearing range and altitude. You know: 270 for 60 miles at 20,000 feet. So that means he (UFO) is west of our position. He is about 60 miles away and he's at 20,000 feet. We don't know what it is. All they are seeing is a blip on the radar.
So, we start moving out to the west. We're telling them that we don't see anything and we've got our radar set up so we are scanning a (big) piece of the sky, both left-right and up and down between the two airplanes. And my wingman is on my left side, or the south as we proceed to the west.
40 miles 270 at 20 miles  — we're still not seeing anything on the radar. As we get out to the same point where our blip and their blip (UFO) merge, we're basically in the resolution cell of the radar. So, to the pilots and the weapon systems operators that are in the backseat, it tells us:  'Get your heads out because now we have to find this thing. It's in the same piece of sky somewhere around us.'
So, as we start looking around, we're looking out the right hand side and I'm like:  WHAT is that?
If you've ever been at sea, if you put something about 10 feet below the water in the ocean and as the waves come up, they'll break over the top of it and you'll get white water.
It was crystal clear. There were light winds. There was no white caps. Quite often off the coast of San Diego, you get some pretty decent white caps. There are no clouds. It's just a perfect day. (But) we notice this disturbance of white water and all of a sudden, we see this little white object. In your mind, imagine — we're going to use a clock now. All of a sudden we see this little white object – at the middle of the clock and we're at the 6 o'clock position – watching the tic tac over the white disturbance in the water.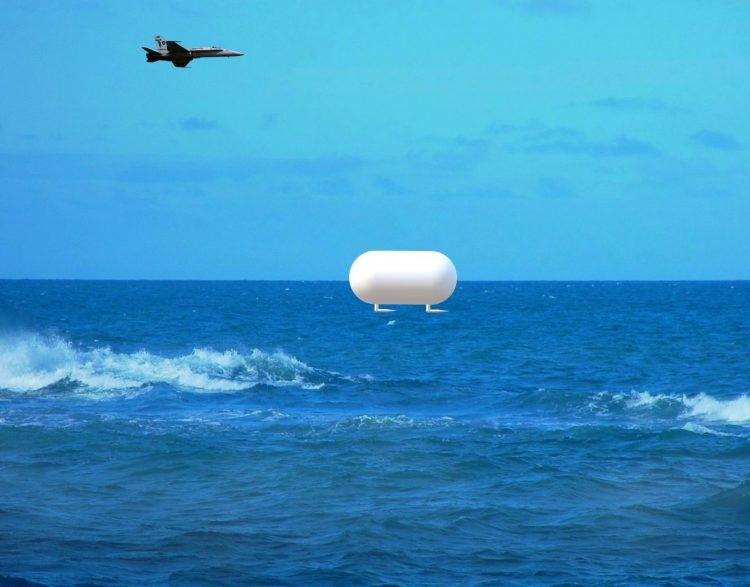 My wingman is just to the south of me and we're watching this tic tac (white oval) and it's over this white disturbance in the water and it's going north, south, east, west, north, south — just kind of moving around randomly.
And what's interesting when we first see it is it's down low to the waters, about 50 feet (above ocean surface). It's almost like a ping pong ball. So, when it goes right, it can stop instantly and goes back left. It can go straight forward or it can go back. It's just kind of randomly moving around.
LMH:  AND SIR, AT THIS POINT, HAVE YOU GONE FROM 20,000 FEET DOWN TO ABOUT 12,000 FEET TO GET A CLEARER VIEW?
Not yet.  We're still at 20,000 feet trying to figure out what it is as we're looking at it. We get to about the 9 o'clock position. We're just going around the circle. And I'm like, 'I'm going to go check this thing out.' I get on the radio and say, 'We're going to check it out.'
The other airplane decides, 'Hey, we're going to stay up high,' which is a good idea because now they are going to separate from us. They are still in visual site. They can see us and the object (UFO).
At the 9 o'clock position, I start to descend and we get around the corner and I get to about the 12 o'clock position. The object is still kind of pointed north-south. It turns. And now it parallels us — kind of points east-west. And it starts coming up. So now, it's mirroring us. It knows we're here and we start our descent. We start coming down and it's coming up.
So, we get all the way around the circle back to about the 8 o'clock position and the object is now about the 2 o'clock position and my wingman is up above. And I decide, 'Well, I want to get close to it.' So, I cut across the circle from 8 o'clock to go to 3 o'clock because at the rate we're moving, if the object is at 2 o'clock and if it maintains its normal velocity, it's going to get to 3 o'clock by about the time I start pointing 3 o'clock and that way I can join on it and see what it is. It's probably 3,000 to 2,500 feet below me and I cut across from the 8 o'clock and I go towards the 3 o'clock position. And as I'm pulling nose on to the object, I get within about a half-mile of it and it goes from left to right across my nose. And as soon as it crosses my nose, it rapidly accelerates and disappears.
So, I asked the wingman, 'Well, where did it go?' And it just literally disappeared. My wingmen, they don't see it at all. They are like, 'It's gone!' Well, that was very odd. The object disappears. So, we're kind of baffled to try to figure out what it is.
So, I decide — because it disappears and no one sees it — so I said, 'Let's turn around and see what was in the water.'
As soon as we turn around pretty much right over the spot where the disturbance was — we just hadn't been watching it — there's nothing. There's no white water to be seen as far as the eye can show. So I'm like, 'That's kind of weird.' So we try again.
As soon as we turn, the controller comes up and he says, 'Sir, you are not going to believe this, but that THING is at your C.A.P. point, Combat Air Patrols.'
THIS IS WHERE YOU WERE GOING TO GO, THE C.A.P. POINT?
Yes! That's exactly right. The C.A.P. point is somewhere around, estimating, 60 miles away. And the whole time that has elapsed is maybe a couple of minutes for us to turn those jets around and this thing (UFO) appears 60 miles away. That's really fast! It's faster than we can go.
IT MUST HAVE FELT EERIE THAT WHAT HAD JUST DISAPPEARED AND THE WATER HAS GONE QUIET. NOW (THE UFO) IS EXACTLY AT THE C. A. P. POINT THAT YOU WERE JUST GOING TO GO TO, BUT NOW THE (UFO) OBJECT IS THERE.
That is 100% correct. As a matter of fact, I remember telling my back seater, 'I don't know about you, but I'm pretty weirded out!'
At this point (on November 14, 2004), I had been flying for 16 years, had 35 hundredish hours, a lot of experience. And never ever seen anything like this. And we never see it again.
We finish our training and we proceed back to the ship. We have to do a debrief. So, usually the junior crew members go down to what we call CVIC, or Carrier Intelligence, and they do a debrief. You know the ridicule is coming.
The next crew from my squadron is getting ready to launch. We're telling them about this while they are putting their gear on. So, the (next pilot) decides that he is going to find this thing. That's his mission for his flight, which ironically, he  does. He launches off. They are driving out to a hold point and he picks up a radar hit on his radar. He tries to lock it and as soon as he tries to lock it, the radar gets jammed. So, he is unable to hold the radar lock. He immediately selects the ?? pod and he obtains a passive track on the object, which is the  (FLIR-1) video that you see. (David Fravor did not record the video, but he was the first eyewitness pilot).
When it goes to a more grey screen and that object in the middle is that kind of darker grey/kind of blackish. That's the EOIR mode — that's the visual light form you would do. It's a TV camera.
AND FROM WHAT WAS VIDEOTAPED, AT THE END IT WAS IN A WHITE MODE WHEN IT JUST SUDDENLY GOES SO FAST RIGHT OFF OF THE SCREEN.
That's correct. The hardest problem is that you have to determine the range between the airplane and the (UFO) object. And if you watch the video, at the very end in the right corner, it says: range 99.9. That means that the radar, which is going to provide the range — cannot get ranging information on the target.
As fast as it went off, to accelerate from holding, and then going off on the left side, is pretty impressive. And for it to leave like that, that's a significant acceleration rate for it to just go off the screen like that.
RIGHT. CAN YOU EXPLAIN TO AN AUDIENCE WHY WHAT YOU GUYS WERE DEALING WITH WAS NOT ANOTHER PLANE?
Oh, yeah. Planes have wings. If you looked at it on an IR (infra red), a plane would usually have a plume on one side where the exhaust is coming out. Planes have control surfaces. This had no control surfaces. It had no known visible propulsion load. On the IR, it had no heat. It was a uniform color throughout.
When you get to the end of the video — we can kind of see it on the YouTube video (but) when we had the original stuff, you could see it quite well. Right before it flies off the screen, he (pilot) is getting relatively close to it. You can see there are two small objects that look like little feet sticking out of the bottom. There is nothing on the top. And then it just accelerates.
I don't know of anything that has an acceleration rate like that (UFO). You've got an object that we tracked back in 2004 that could come from above 80,000 feet, tracked by one of the most sophisticated radars. It comes down and hangs around at 20,000 feet for three or four hours. And then it just goes back up and disappears! And there was more than one of them. We were tracking multiple objects."
[ End of audio excerpts in this report.]
Additional Commander Fravor comments: 
DID THOSE SUBSEQUENT PILOTS, DID THEY TRY TO GO TO THAT SAME LATITUDE/LONGITUDE CAP POINT JUST TO SEE IF IT (UFO) WOULD SHOW UP THERE?
Yeah, that's actually where they found it. It (UFO) was hanging out at the CAP point. … You can display the wave point so if the object is sitting over the wave point, you assume it's at the CAP point.
I've watched the tape a gazillion times. He (next pilot) ends up getting a bunch of jam indications. The radar starts to sense that it's being jammed based on what is being sent back. And it gives you indications to tell you, 'Hey, I'm being jammed.' And as soon as he (next pilot) saw those indications, that's when he took the (FLIR-1) video that you've all seen.
OK, SO THAT JAM IS COMING FROM THE UFO?
Yeah, yeah it is.
SO THAT IS AN ACTIVE INTERACTION BETWEEN THE UFO AND THE PILOT. AND THEN, IT'S NOW CLEAR TONIGHT THAT YOU WERE NOT RUNNING A CAMERA IN YOUR PLANE. IT WAS THE NEXT CREW THAT FOLLOWED UP AND WENT TO THAT SAME LATITUDE/LONGITUDE CAP POINT?
That's correct. We had cameras. We had them on, but obviously we never saw it."
Also see: 
01-04-2018 – The "Juvenile Taboo" Against Telling Truths About An Alien Presence 
04-27-2020 – Medical Experts Say A Second Wave of COVID-19 Is Coming Fall 2020 — And Could Be Worse Mixed with Fall Flu Season. Mp3 Audio Interview with Prof. Jay Couey, Ph.D., Cellular Neurobiologist, Univ. of Pittsburgh.
03-15-2020 – Already-Existing Drugs Such As Remdesivir Might Help Treat COVID-19.
---
More Information:
04-13-2020 – Part 1 – When Huge "Green Orb" Taunted F4s At White Sands Missile Range. With MP3 Audio Interview.
05-30-2017 – Bigelow Aerospace Founder Tells CBS's 60 Minutes On May 28th "There Is An Existing Presence, An E.T. Presence" On Earth Now
05-26-2017 – U. S. Army Infantryman At Ft. Richardson, Alaska, Encounter with Grey Alien
04-05-2020 – Tiger At NYC Bronx Zoo Tests Positive for COVID-19; Six Other Big Cats with COVID Symptoms.
04-04-2020 – End of Coronavirus Worldwide Meditation — April 4-5, 2020 – Everywhere At The Same Time.
04-03-2020 – CIA Says China COVID-19 Total Deaths Much Higher; Whistleblower Tells Earthfiles the Real China Death Number Is At Least 250,000.
03-22-2020 – UPDATE — New COVID-19 Test; Surprise Symptoms; and Scientists Speak Up About Pandemic As Global Cases = 337,533; Deaths = 14,654 and United States Cases = 33,546; Deaths = 419.
03-19-2020 – California's Gov. Gavin Newsom Has Ordered All 40 Million Residents To Stay At Home As Much As Possible Beginning Tonight. 180,000 Unemployment Claims In One Week.
03-15-2020 – Already-Existing Drugs Such As Remdesivir Might Help Treat COVID-19.
---
Websites:
"In Race for A Coronavirus Vaccine, An Oxford Group Leaps Ahead," April 27, 2020, The New York Times:  https://www.nytimes.com/2020/04/27/world/europe/coronavirus-vaccine-update-oxford.html
"Dr. Fauci says drug Remdesivir could get FDA approval 'really quickly,'" April 30, 2020, New York Post:  https://nypost.com/2020/04/30/dr-fauci-remdesivir-could-get-fda-approval-really-quickly/
"All roads into Gallup, New Mexico, are closing over "uninhibited" COVID-19 spread," May 1, 2020, CBS News:  https://www.cbsnews.com/news/gallup-new-mexico-riot-control-act-coronavirus/
"Video shows apparent encounter between Navy pilot and UFO," March 12, 2018, Navy Times: https://www.navytimes.com/news/your-navy/2018/03/13/video-shows-apparent-encounter-between-navy-pilot-and-ufo/
UFO EVIDENCE:  Scientific Study of the UFO Phenomenon and the Search for Extraterrestrial Life:  http://www.ufoevidence.org/topics/Majestic.htm

© 1998 - 2020 by Linda Moulton Howe.
All Rights Reserved.