"In a sense, one can imagine the comet's tail is like a thick-walled hollow tube with its walls impregnated with reflective dust that is being illuminated by sunlight."
— John Bortle, Comet Expert, Stormville, New York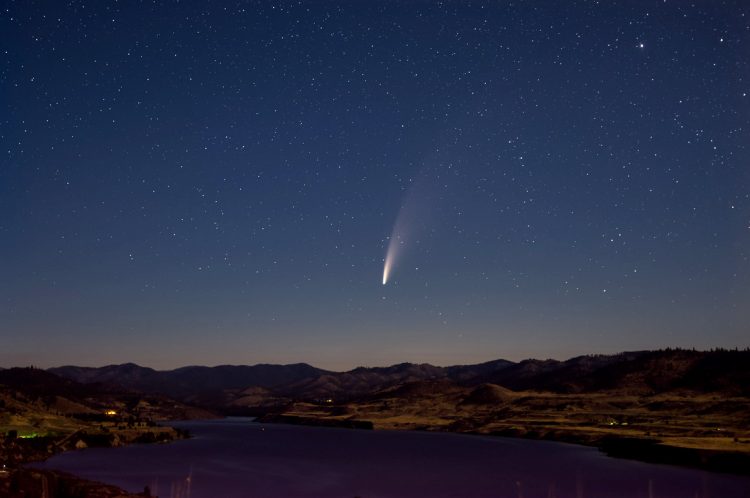 July 13, 2020 Albuquerque, New Mexico – An hour after sunset on July 16th, find the Big Dipper in the northwest and look below the Big Dipper's cup for the light of Comet NEOWISE.  It's named in honor of NASA's Near-Earth Object Wide-field Infrared Survey Explorer space telescope — also known as NEOWISE — which was first to identify the beautiful new comet on March 27, 2020.
Recently, NASA released stunning July 5, 2020, images from the International Space Station of Comet NEOWISE that were produced into this YouTube video by Steve Speleta, NASA/JSC.
---
More Information:
Update: "How to see Comet NEOWISE in the night sky this month of July 2020." 
"NASA's Parker Solar Probe Discovered Comet NEOWISE":  https://www.nasa.gov/feature/goddard/2020/nasa-s-parker-solar-probe-spies-newly-discovered-comet-neowise/
Earthfiles Websites:
12-01-2019 – First Interstellar Comet to Enter Our Solar System Gets Closest to Sun December 7-8th.
12-15-2018 – Christmas Comet Came With Green Glow!

© 1998 - 2020 by Linda Moulton Howe.
All Rights Reserved.