"The roar was also like coming down in circles of about 1-2 km diameter, as if a huge airplane or jet was circling above our heads for 6 to 8 minutes (and then another 6 to 8 minutes with a 5 minute break in between), but compared to airplane noise we know, this was 100 times louder."
— Richard, I. T. Architecture Software Designer, Vienna, Austria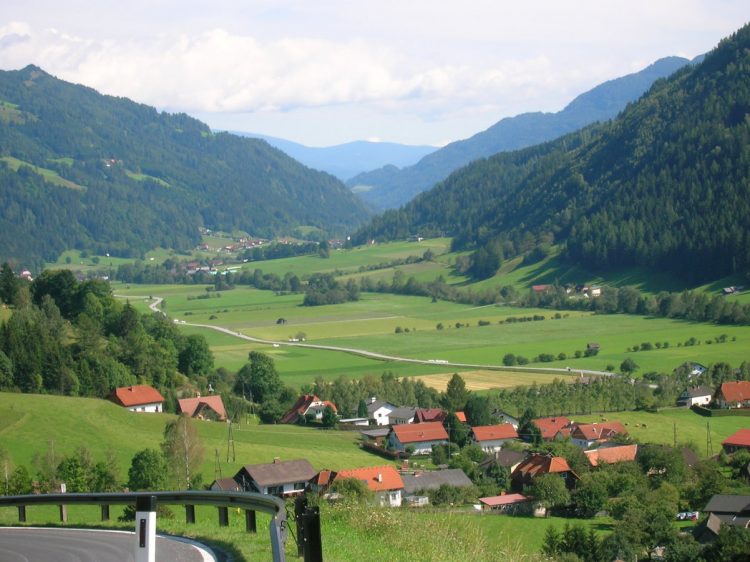 Sankt Peter Am Kammersberg, Austria  July 4, 2020 – The first report I received of specific loud jet sounds emanating from the sky without any human-made jet aircraft visible was in August 2019. See short list from Earthfiles Archive here. That highly strange jet-like sound without any visible aircraft in the sky was heard by a Boeing Company Production Facility employee in Everett, Washington, who was baffled.   
At Earthfiles.com, Jet Sounds of Invisible Aircraft Began in 2019
01-25-2020 – What Force Impacted Mississippi to Alabama On January 24, 2020?
11-10-2019 – UPDATED —  Why Are People Hearing Strange Jet-like Sky Sounds, But Not Seeing Planes?
08-16-2019 – Strange Jet-like Sky Sounds, But No Planes?
05-10-2019 – Part 2: Idaho Hunters Describe Huge Triangle Aircraft Over Their Campsite 
05-09-2019 – Part 1: Idaho Hunters Describe Huge Triangle Aircraft Over Their Campsite 
There have been a few other strange, loud, jet-sound phenomenon without any visible human-made airliners or military air traffic. I hope there might be military or aerospace professionals with insider knowledge about what is happening in these disorienting cases who can contact me.
Recently another case was reported to me on June 25, 2020. I received the following email from an I.T. civil engineer, who asked me to call him simply Richard. He is 56 years old and works in architecture software design. His wife, 59, works in the tourism industry. Both live full time in Vienna, Austria. But in the summer, they travel about 311 miles southwest to the beautiful mountain valley of Sankt Peter Am Kammersberg. The valley is about 8 miles long bordered by high mountains. Their summer house is about 1,200 meters altitude, which is nearly 4,000 feet above sea level, with a clear view of the whole sky.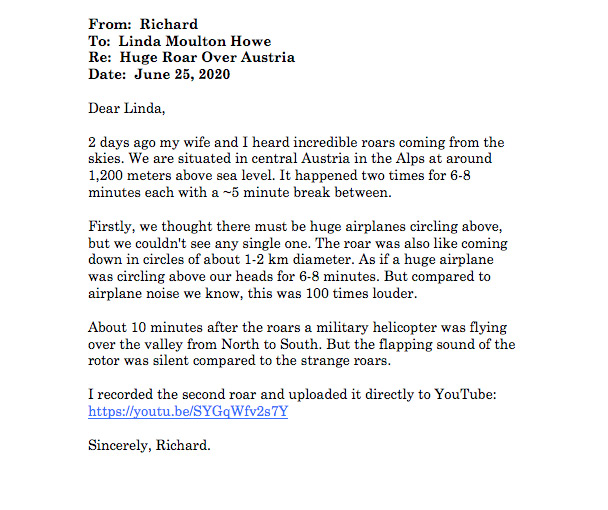 The nearest military base to Sankt Peter Am Kammersberg is 34 miles to the east at the Austrian Zeltweg Air Base, now known as Fliegerhorst Hinterstoisser, a military airfield in the Province of Styria. It is the main airfield for the Austrian Air Force.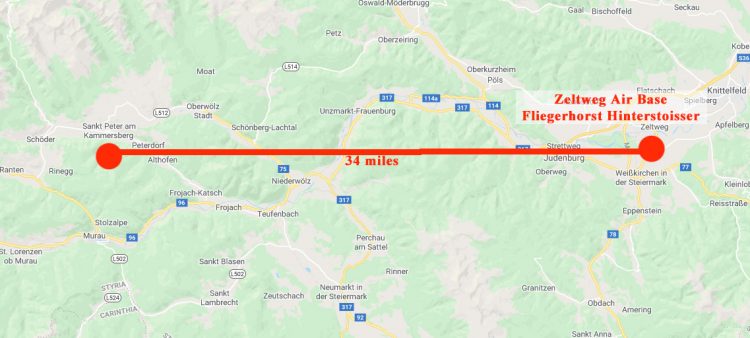 It was lunch time at 1 PM on Monday, June 22, 2020. The couple was in the kitchen when both said it sounded like the sky ripped open with the sound of jets roaring in a circle over their mountain house.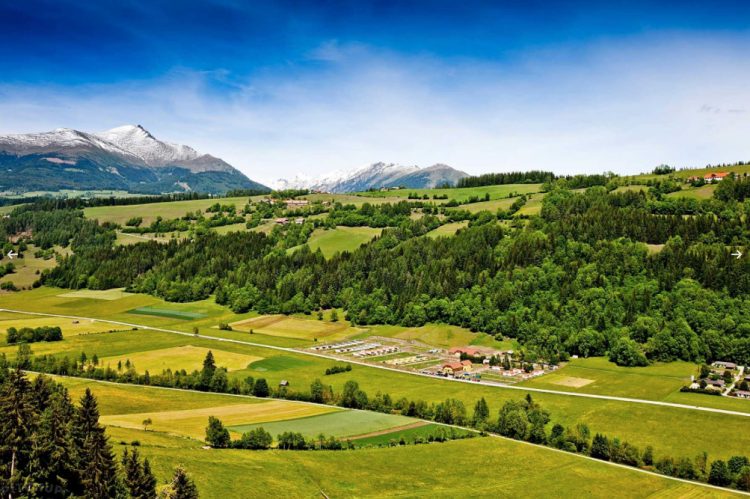 Invisible circling jet sounds recorded by Richard on his Nokia 7 cell phone at 1 PM local time on June 22, 2020, from his summer mountain top home in  Sankt Peter Am Kammersberg, Austria.

Audio Interview with Richard About "Invisible Jet" Sounds for Nearly 20 Minutes
Richard, 56,  I.T. engineer and architecture software designer:  "We heard the roar and we went out from the kitchen out to the terrace and looked up. The sky was blue and a lot of clouds. The sound was not coming horizontally as we expect from planes. But it was almost vertically coming from top downwards. And for me, the most interesting is that it circled around the valley. Jets don't normally do that long coming down in pitch from high to low. So, my impression was that it's coming closer.
LMH:  Did your wife have any intuitive gut sense of what was happening? 
Richard:  Her first reaction was her mouth was open, 'What is that?!' She was looking towards the sound and I saw her face moving as the sound circled above us. So something like a spiral was coming down towards us. That is my impression. And  hers as well.
LMH:  Something that was spiraling down from above?
Richard:  Yeah. Correct. We could hear the first one for about six straight minutes. Then there was a 5 minute break. Something very weird going on because the amplitude of that sound was much bigger than planes sound like in the area. This was much, much louder. Five minutes later, a second one was coming. And it was again coming from top downwards.
LMH:  Why would it have a five minute section that you and your wife heard before you videotaped? Then have a pause. And then have another five minutes that you did record?
Richard:  Yeah, there were two events with a five minute break in between. Maybe two structures entering the Earth at the same place?
LMH:  Did you feel fear?
Richard:  No, actually not. I was more interested in what is this sound? It was not a machine. A machine has a very narrow frequency. This was a very broad frequency range that was coming down. My impression was that something was pressing down the atmosphere down towards the Earth so that a lot of masses of air is going to be compressed all directions. The friction between these layers causing that sound. That would be my explanation. But it could be something totally different.
LMH:  What could do that?
Richard:  I saw clouds being pushed downwards. This happens when you have higher pressure upwards and lower pressure downwards so that clouds move into the lower pressure areas and become diluted and increase in size. I think it was about 2 minutes into the video where I zoomed into some clouds and you could see that those cloud shapes decreased. So, this was an indication for me that something was pressing downwards these cloud formations towards Earth.
I have never experienced something like this. I love to watch the sky and the clouds. So, I'm quite familiar how clouds move and what airplanes are doing. But in this case, it was totally different. I never in my 56 years heard something like that and it was so close to me, but I still wasn't frightened. I was just looking, 'What is it? Why is it coming here? From where is it coming?'
And the interesting thing is that I felt that the roar is circling above us. What is causing that effect? I have no idea. But it has to be serious energy because the amount of sound energy was much more than a normal jet could do. It lasted much longer than a jet could do. There is a lot of energy that is being pressed on Earth, squeezing our atmosphere. What the intention is? I have no clue at all.
LMH:  Did it occur to you while you were listening to those two episodes with your wife that it could be some kind of technology that was also cloaking itself in invisibility?
Richard:  Yeah, not natural. Like a huge spaceship entering our atmosphere would cause things like that. It it's cloaked, it has to be at least 1 kilometer in size in order to move our atmosphere the way that it did and to produce the impression of sound moving in a circle around us."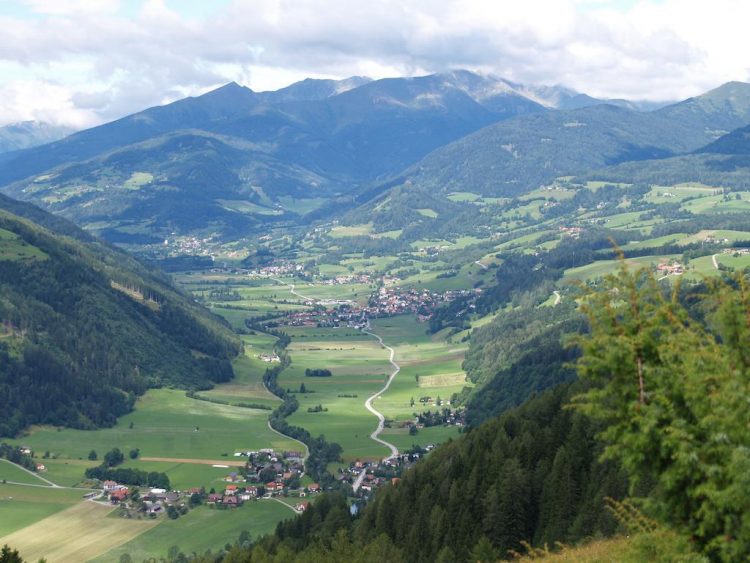 I have been investigating strange sounds around this planet since persistent reports began in 2011. Since then, I have more than 200 reports at my Earthfiles News website and here are some from only that first 2011 year. Next came trumpet sounds and metallic scrapings along with the sound "of two freight trains crashing head on into each other." Police and sheriffs don't find any evidence in case after case.
Boom, Metallic and Trumpet Sound Mysteries Began in 2011
12-31-2011 –  Updated – Part 1: Earthfiles Mail About High Strangeness
11-13-2011 – Updated: More Loud Booms in Virginia and Missouri; More Quakes in Oklahoma
10-27-2011 – More Mysterious Hum Reports from North America to China
10-04-2011 – Updated: What Are Strange "Hums" That Keep People Awake?
10-03-2011 – Part 1:  Viewer Letters About Mysterious, Loud Booms
09-30-2011 – High Strangeness in Australia's Northern Territory.
06-07-2011 – What Are the Mysterious Booms?
05-13-2011 – More Viewer Letters About Mysterious Booms
05-11-2011 – Updated Reprints: Earthfiles Viewers Reports of Strange, Loud Booms
02-08-2011 – More Reports of Strange Booms and Aerial Lights
01-29-2011 – Earthfiles Viewers Reports of Strange, Loud Booms
5  Georgia Counties Reported Loud Boom At Same Time and Date of March 15, 2012
Loud, unexplained boom reports have been heard simultaneously over 5 counties from Brunswick to Athens, Georgia, at 8:28 AM Eastern on March 15, 2012, without ever an explanation. See archived Earthfiles.com report:
https://www.earthfiles.com/news.php?ID=1960&category=Environment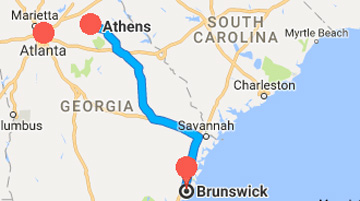 Subject: Powerful Boom in Southeastern Georgia
Date: March 15, 2012
To: [email protected]
Linda, This morning at around 8:28 am, a large explosion or boom was heard over Brunswick GA. This boom shook window and doors throughout the entire county. Upon further reports, it was felt from as far west as 10 miles west of Waycross GA, south to Folkston GA, and north to Savannah GA. A local radio call in show on WGIG, 1440 AM took calls from people that heard and felt this large event. I just wanted you to be aware of what has happened here and maybe help shed some light on this event. If you need any more information, do not hesitate to contact me. Regards, Brunswick, Georgia Resident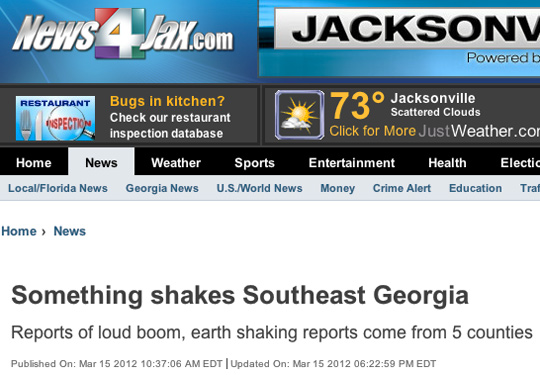 The five southeastern Georgia counties where the very loud, window-rattling boom was heard on March 15, 2012, between 8:15 AM and 8:30 AM were Brantley, Camden, Charlton, Glynn and McIntosh Counties.
Officer Todd Rhodes from Georgia's Brunswick Police Dept. told Channel 4:  "It was a noise that literally shook our home. There was some panic there because you know when you hear that noise as far-reaching as it was – and not only hearing it, but feeling it – you want to know, 'What is this?'"
At Earthfiles.com, you can search for "Strange Sounds" or "Booms" or "Trumpets" or "Invisible Jets."  But what do they all mean? Why so many strange sounds in both hemispheres for a decade? Some ear witnesses have said the sounds they have heard made them wonder if they were hearing frequencies from another dimension?
If anyone has more information about mysterious loud jet sounds from seemingly invisible aircraft that have circled over you, please contact:  [email protected]
Also see:
11-10-2019 – UPDATED —  Why Are People Hearing Strange Jet-like Sky Sounds, But Not Seeing Planes?
---
More Information:
04-26-2019 – More Mysterious Booms in Arkansas and Missouri.
02-01-2019 – Part 1: Gigantic Triangular Craft Took Two Campers in Devil's Den State Park, Arkansas
12-18-2018 – Mysterious Explosions Persist in Phoenix and Glendale, Arizona. Listen to audio.
10-31-2018 – Eerie Bizarre Sound Recorded in Montreal October 30-31, 2018 – Listen to Looped Mp3 Here
08-04-2018 – Huge Mysterious Booms in Maryville, TN from July 30 – Aug. 4
11-29-2017 – Mysterious Metallic Wind Sound Wouldn't Record On iPhone
10-26-2017 – More Mysterious Booms and Sky Flashes in North Carolina and Australia
09-17-2014 – Part 5:  Dulce and Dropa Stones
09-12-2014 – Part 4:  Dulce, LEONID and "Alien Weapon Determinant"
09-02-2014 – Part 3:  Muroc Field Researchers Allegedly Found Eloah Grey Vast Underground Facility in 1940
08-31-2014 – Part 2: Is The Dulce ET Underground Lab Linked to ETs from Zeta Reticuli 1 and Sirius B?
09-23-2010 – Part 6:  Beyond Aztec and Wright-Patterson – John Smith's Sexual Encounter with Black-Haired Female
09-20-2010 – Part 5:  Beyond Aztec and Wright-Patterson – John Smith's Sexual Encounter with Black-Haired Female
09-15-2010 – Part 4:  Beyond Aztec and Wright-Patterson – John Smith's Dream Encounter with Blond Children
09-10-2010 – Part 3:  Beyond Aztec and Wright-Patterson – John Smith's Encounter with "Nordic" Non-Humans
08-17-2010 – Part 2:  Aztec, New Mexico – Was Disc Taken to Building 828 in Wright-Patterson AFB, Ohio?
08-13-2010 – Part 1:  Aztec, New Mexico – Was Disc Taken to Building 828 in Wright-Patterson AFB, Ohio?
10-22-2004 – 1948 Aztec, New Mexico UFO Crash: Policemen, Disk and Humanoids
04-17-2002 – Part 2 – Unidentified Aerial Craft Over Farmington and Aztec, New Mexico, Around Spring 1949
03-16-2002 – Part 1 – "Huge Saucer Armada" Shocked Farmington, New Mexico 52 Years Ago
06-13-2001 – Update on Mysterious Deep Water Sonar Images Off Western Cuba
04-09-2000 – Unidentified Discs Over Farmington, New Mexico On March 17, 1950

---
Websites:
The Boeing Co., Wikipedia: https://en.wikipedia.org/wiki/Boeing
"Loud Noises, Vibrations Reported Across Singapore," Saturday, April 27, 2019, The Straits Times:  https://www.straitstimes.com/singapore/loud-noises-vibrations-reported-across-singapore
"Officials Are Silent As Unexplained Mystery Booms On the Rise Around the U. S.," Mysterious Universe, February 7, 2019:  https://mysteriousuniverse.org/2019/02/officials-are-silent-as-unexplained-mystery-booms-on-the-rise-around-the-us/
"Mysterious Loud Booms Are Being Heard Around the World and No One Knows Why," November 25, 2017, MNN.com: https://www.mnn.com/earth-matters/climate-weather/stories/mysterious-loud-booms-are-being-heard-around-world-and-no-one-knows-why

© 1998 - 2020 by Linda Moulton Howe.
All Rights Reserved.