"I just find it fascinating because you cannot really explain how they happen. It is just a moment where you have something you can't explain when these days everything always has to be explained, it's a thing that pushes the limits of this 'explainer model'  that we have."
— Rainer Bartesch, German visitor to Bavarian 8-fold crop formation between Ammersee (South End), Vorderfischen and Paehl, Germany, southwest of Munich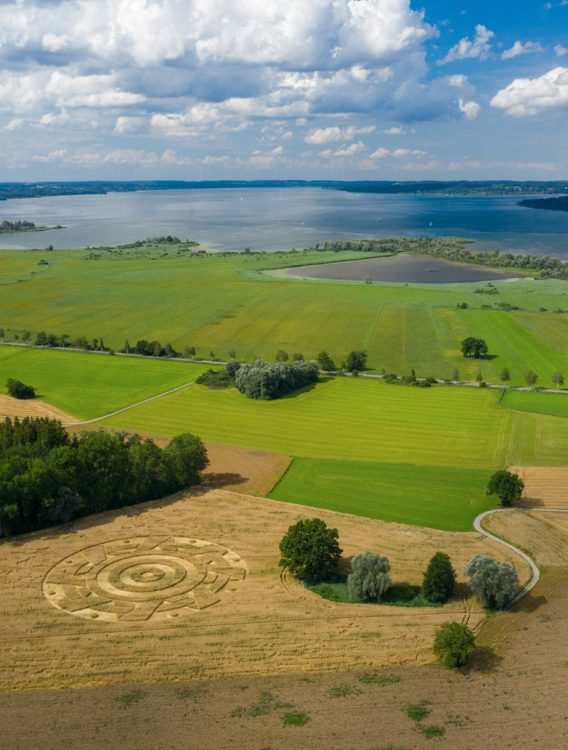 July 31, 2020 Ammersee (South End), Bavaria, Germany — By sunup after a night of rain on Sunday, July 26, 2020, this 8-fold, 100-meter-diameter (328 feet), mysterious crop circle was found in a wheat field southwest of Munich between the Bavarian German towns of Ammersee (South End), Vorderfischen and Paehl.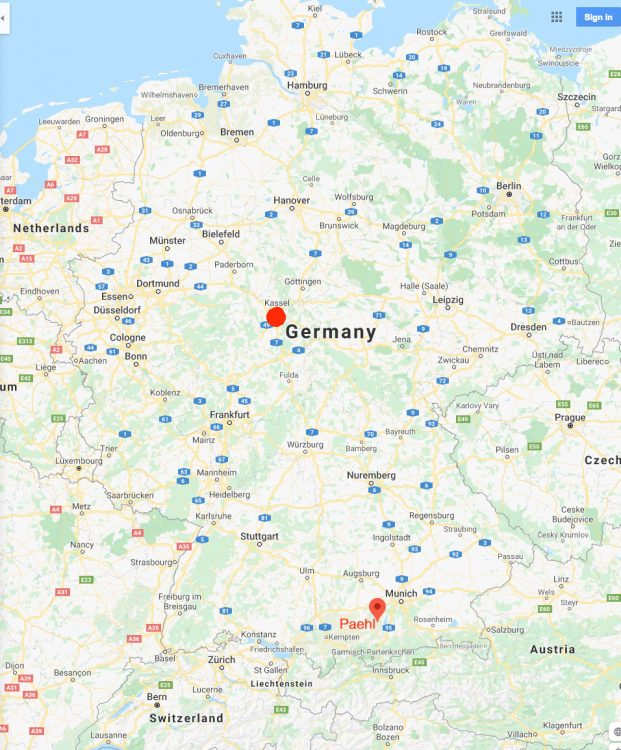 Rainer Bartesch, a German visitor this week to the intricate wheat pattern said, "I informed myself, there in the night to Sunday, it rained. And you have four and a half hours until the sun rises, from midnight to then, and that nobody in the village noticed that 10 or 20 people are doing nonsense here, that's unimaginable!  I just find it fascinating because you cannot really explain how they happen. It is just a moment where you have something you can't explain when these days everything always has to be explained, it's a thing that pushes the limits to explain."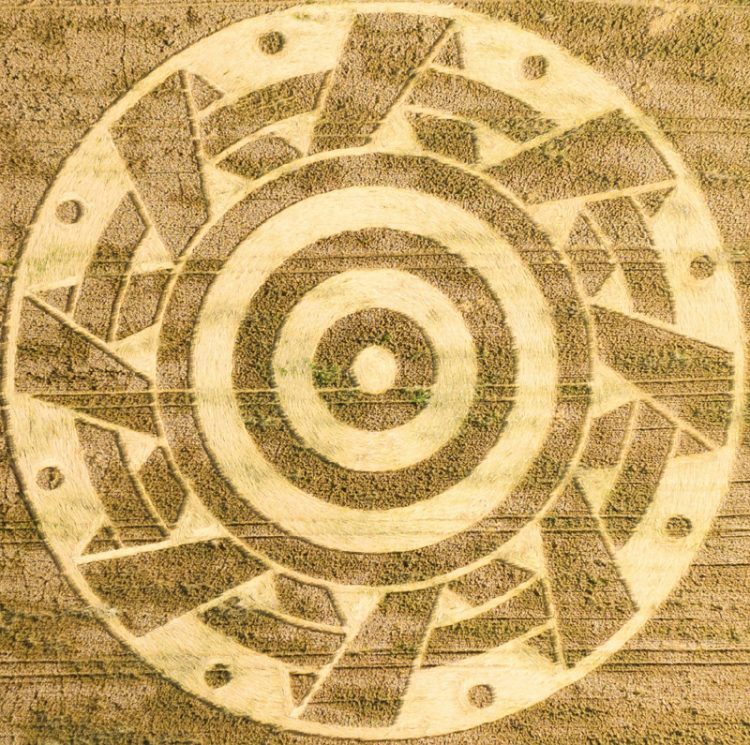 German Crop Formations Began in 1998
While England had dozens of crop formations from the end of the 1980s evolving onward through the next two decades, Germany did not report the mystery until May 1, 1998. Then two years later in 2000, Germany had eighteen patterns with a geographic focus near Kassel in the above map. I asked Michael Hesemann, publisher of Magazine 2000 in Duesseldorf, Germany, who was a long time student of ancient histories and religions why Kassel would play a pivotal geographic role in Germany, as Avebury, Silbury Hill and Stonehenge have in England. He told me:

"In my opinion, it is no coincidence at all that Kassel became the German center for crop circle activities. It is indeed, next to Karlsruhe and Schleswig-Holstein, which have also been frequented by crop circles, the land which comes closest to the sacred landscape design of the sanctuaries of Avebury and Stonehenge.
"Kassel is also the birthplace of Rosicrucianism in the 17th Century and the center of Masonic activities in the 18th Century. In 1614, the Kassel printer Wilhelm Wessel published two books, which became the 'Bibles' of Rosicrucianism. Kassel had a secret society for publishing. At the end of the 12th Century, Kassel became seat of a German chapter of the Knight Templars.
"And in 1717, the very year that Freemasonry went public, one of the first German Freemasons completely changed the design of his residential city of Kassel. With the help of Italian architects, he designed Kassel as 'the city of man,' a model of the human energy body with its seven chakras. For this, he erected a network of fountains and monuments along a straight line ending on top of a mountain. There, he erected an octagonal (8-fold geometry) structure that corresponded with the 8-petalled lotus of the Buddhist model of the Kundalini, crowned by a structure that is half obelisk and half pyramid, with a bronze statue of Hercules on top. That is the God-Man of the Greek/Roman mythology leaning on his club. Hercules stands for the perfect man."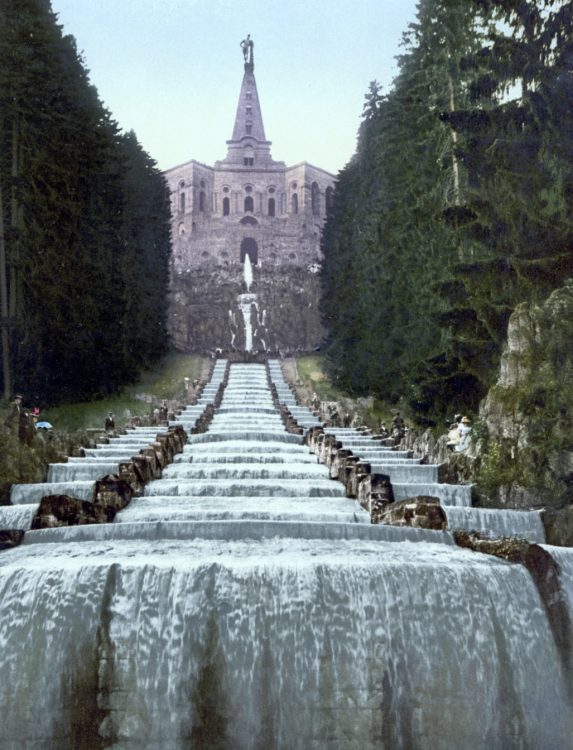 Also see:
12-07-2012 – Astronomer Carl Sagan's Letter to U.K.'s MoD About Crop Circles
08-02-2019 – 7 Mysterious Balls of Light Changing Patterns Above Alton Barnes, U.K., Recorded by Astonished French High School Teacher.
---
More Information:
11-07-2012 – Crop Circle Schematic of Photon Wave-Particle Duality?
10-30-2012 – Part 2: High Strangeness in 43-Circle-Corn Pattern Near Ancient Mounds of Chillicothe, Ohio
10-29-2012 – Updated Part 1: High Strangeness in 43-Circle-Corn Pattern Near Ancient Mounds of Chillicothe, Ohio
10-02-2012 – Crop Circle from Tlapanaloya, Tequixquiac, Mexico
09-02-2012 – Part 2:  "Dark Pyramid" Underground in Alaska
08-31-2012 – Two 2012 U. K. Crop Formations of High Strangeness
06-26-2012 – Part 4:  Mysterious 12,000-Years-Old Gobekli Tepe, Turkey – Interview with Geologist Robert Schoch.
05-27-2012 – Updated:  Latest Italian Crop Formation – A Saros Eclipse Cycle?
08-09-2011 – What A Biophysicist Says About Crop Formations
07-06-2011 – Another Pi Crop Pattern in England?
---
Websites:
U. K. Cropcircle Connector:  http://www.cropcircleconnector.com
CROP CIRCLE Exhibition & Information Centre, Honey Street, Alton Barnes, England:  http://www.cropcircleaccess.com/
Andreas Mueller, Germany:  http://www.kornkreise-forschung.de/  (Cropcirclescience.org)
Lucy Pringle:  http://www.lucypringle.co.uk

© 1998 - 2020 by Linda Moulton Howe.
All Rights Reserved.