"Minks show open mouth breathing, discharge from their eyes and nose … and typically die the next day."
— Dean Taylor, D.V.M., State Veterinarian, Utah Dept. of Agriculture and Food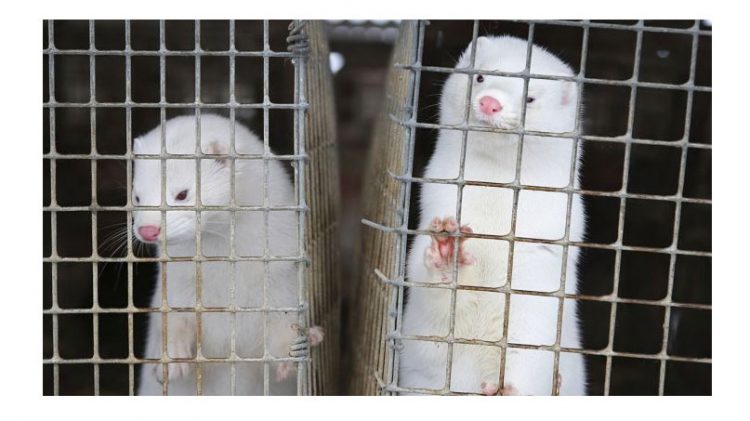 October 10, 2020 Salt Lake City, Utah – The Utah Department of Agriculture and Food confirmed this week that at least 10,000 minks have died since late September in nine fur farms in Utah. When Utah State Veterinarian for UDAF, Dean Taylor, D.V.M., was asked if humans around the minks could contract the lethal coronavirus, Dr. Taylor answered, "All of the research indicates there hasn't been a spread from minks to humans," but the other way around — from humans to the minks. "We genuinely don't feel like there is much of a risk going from the mink to the people." In fact, COVID-19 was discovered in the minks after ranch workers in early August tested positive for the pandemic disease.
Dr. Taylor reports that the mink symptoms begin with "open mouth breathing, discharge from their eyes and nose, and are not sick for several days before they pass away. They typically die within the next day" of symptoms. While young minks have been spared from COVID-19 infections, the pandemic disease has hit hardest 50% of the older breeding minks, which have the most valuable fur. According to the USDA, nearly 3 million mink pelts were manufactured in the United States in 2019. The biggest producers are Wisconsin followed by Utah. Mink farms beyond the United States have also reported COVID-19 deaths in The Netherlands, Spain and Denmark.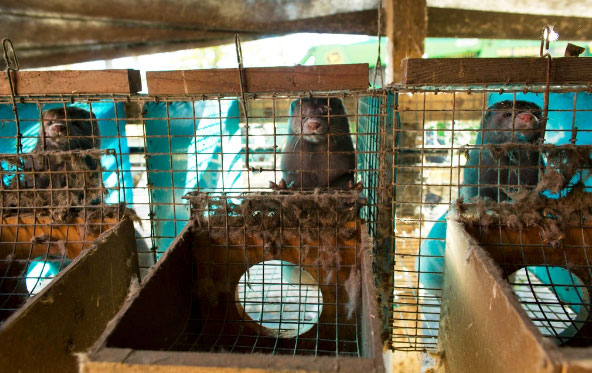 Minks Particularly Susceptible to COVID-19
Why so many mink infections from COVID-19? Scientists think it's because minks, like humans, have ACE2 receptor proteins in their lungs. COVID-19 uses the ACE2 receptors to enter its victims.
Dr. Taylor is working with USDA, the Centers for Disease Control and Prevention and state and federal wildlife services to get more protective gear to mink farmworkers with training how to use it to prevent more spread from humans to the minks.
According to the U. S. Department of Agriculture, a growing list of 50 animals beyond humans have contracted COVID-19 in the United States. In addition to the minks, the list includes lions and tigers, house cats, dogs, pigs, cattle, horses, and birds.
---
More Information:
04-27-2020 – Medical Experts Say A Second Wave of COVID-19 Is Coming Fall 2020 — And Could Be Worse Mixed with Fall Flu Season. Mp3 Audio Interview with Prof. Jay Couey, Ph.D., Cellular Neurobiologist, Univ. of Pittsburgh.
04-05-2020 – Tiger At NYC Bronx Zoo Tests Positive for COVID-19; Six Other Big Cats with COVID Symptoms.
---
Websites:
"Thousands of Minks Dead in COVID Outbreak On Utah Farms," October 5, 2020, Associated Press:  https://apnews.com/article/virus-outbreak-utah-animals-archive-2863345161adeebb318a3276e35e9501
"Coronavirus Outbreaks On Utah Farms Leave 10,000 Minks Dead," October 10, 2020, Fox Business: https://www.foxbusiness.com/lifestyle/coronavirus-outbreaks-on-utah-farms-leave-10000-minks-dead

© 1998 - 2021 by Linda Moulton Howe.
All Rights Reserved.