"Global temperatures are increasing."
— Ahira Sanchez-Lugo, Ph.D., Physical Scientist, NOAA's National Centers for Environmental Information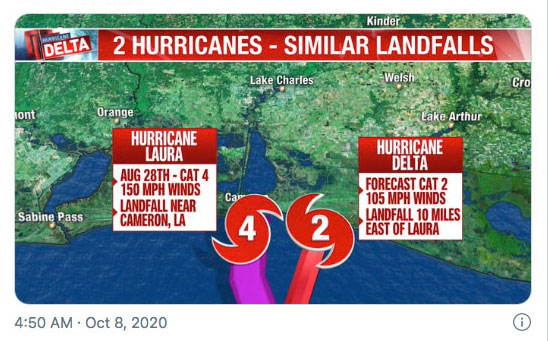 UPDATE:  October 10, 2020 Louisiana – Delta made landfall on Friday, October 10, 2020, as a Category 2 hurricane at near 6 p.m. local time in Creole, Louisiana, with 100-mile-per-hour winds reported by the National Hurricane Center. Delta is the 10th hurricane to hit the United States this year, only six weeks after Hurricane Laura hit Cameron Parish, La. By midnight, Delta's force had fallen to a tropical storm with immense amounts of rain and storm surge flooding.
Hurricane Delta is the 6th named hurricane on a path for Louisiana in 2020. Heavy rains up to 12 inches in some areas of the central Gulf Coast are expected along with flash flooding. By Thursday night NOAA's Hurricane Center was predicting that the center of Hurricane Delta, now more intense again at Category 3, will pass as close as 10 to 15 miles east of Lake Charles, where only tarps protect thousands of roofs and power that has just been restored after Cat 4 Hurricane Laura bashed the area on August 28, 2020."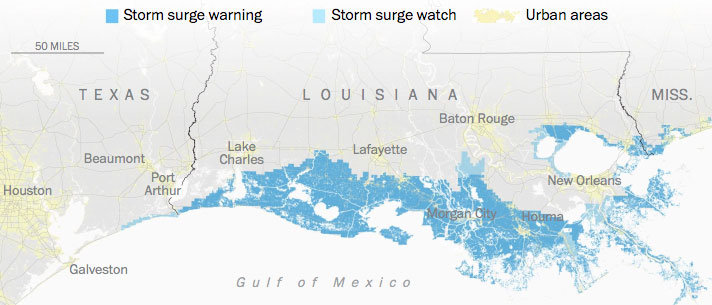 There have been so many hurricanes this year, that in September, meteorologists had used up all their major storm names and had to switch to the 24 letters of the Greek alphabet beginning with Alpha, which became the 22nd named storm since May of 2020.  The need to use the Greek alphabet has only happened once before in 2005, previously the most active Atlantic hurricane season.
There is also more evidence that Earth is getting warmer. The Copernicus Climate Change Service, an intergovernmental agency supported by the European Union, announced this date that September 2020 was the warmest September on record. September also broke heat records in South America, Middle East, Western Australia and Northern Siberia. Currently, this year of 2020 is expected to be one of the top five hottest years on record.
---
More Information:
10-28-2019 – California Governor Declares Statewide Emergency As Hurricane-Force Winds Spread Wildfires Across Sonoma County
09-29-2017 – Storms Keep Getting Stronger With More and More Water
04-29-2016 – Global CO2 Rise Is Changing Ocean Chemistry and Killing Marine Creatures, While Rising Ocean Temperatures Are Killing Great Barrier Reef Coral
12-18-2015 – Will New Paris Climate Agreement Be Able to Limit Global Warming to 2 Degrees C. (3.6 deg. F.) Above Pre-Industrial Temperatures?
02-27-2014 – Warming Arctic Driving Wavy Jet Stream and More Persistent Weather Extremes
07-25-2013 – 50,000-Year-Old Cypress Forest Discovered 60 Feet Underwater Off Mobile, Alabama
11-29-2012 – Climate Change Threatens National Security, Says CIA-Commissioned Study

---
Websites:
AccuWeather:  https://www.accuweather.com/en/hurricane/hurricane-delta-may-make-landfall-in-radar-hole-along-the-gulf-coast/827396
NOAA's National Hurricane Center:  https://www.nhc.noaa.gov/

© 1998 - 2021 by Linda Moulton Howe.
All Rights Reserved.