"… To my surprise, there were no signs of blood in the immediate area or around its wound … and we failed to hear any sounds coming from the cow pen during the night where I keep my seven animals."
— Mzee Paul Kigen, Farmer, Chebagal village, Bureti Sub-County, Kericho, Kenya, Africa, reported September 25, 2020, by Kenya News Agency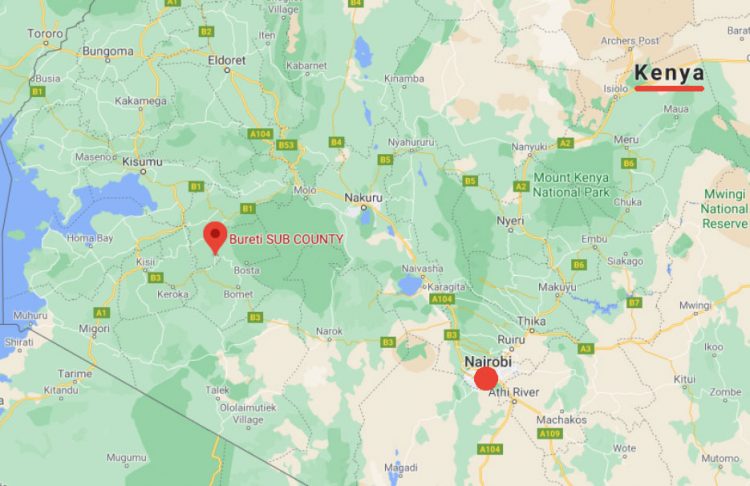 September 28, 2020  Albuquerque, New Mexico – This year there have been reports of bloodless cattle mutilations ranging from Oregon to England, France and Sweden. Now, on September 25, 2020, from The Kenya News Agency  comes the seemingly impossible bloodless removal of an unborn calf from a pregnant cow in Kericho, Kenya, Africa.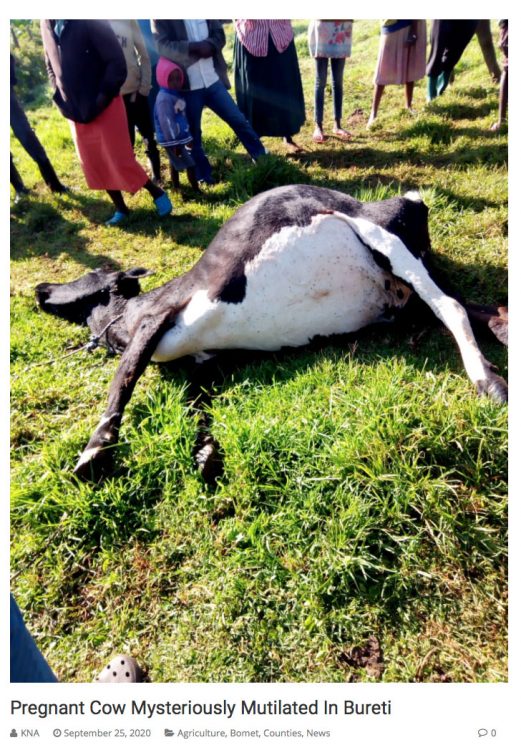 On Thursday, September 24, 2020, farmer Mzee Paul Kigen woke up at 6:30 AM local time to go milk his seven cows. He was shocked to find his 10-year-old pregnant cow lying dead with a clean, precise excision in her vaginal tissue from which the unborn calf had been removed. There was no blood or fluid anywhere on the cow or the ground.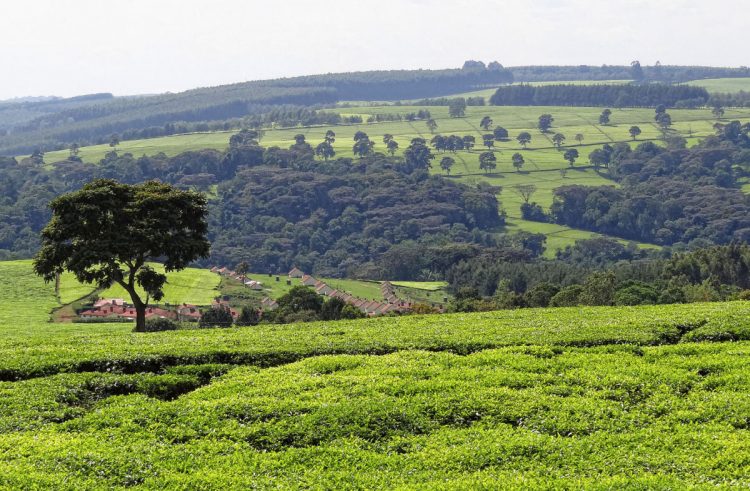 "I was in a rude shock when I found my favorite cow dead. These evil people mutilated my pregnant cow and to my surprise there were no signs of blood in the immediate area or around its wound. We slept soundly and it disturbs me as to why we failed to hear any sounds coming from the cow pen during the night where I keep my seven animals."
Kigen, who has five children to feed, said that the dead and mutilated cow produced 10 liters of milk each day and he had expected her to give birth in another week. He told KNA that her death "was too much to bear since he sold milk to generate income to sustain his family."
The farmer wants police agencies to investigate as fast as possible to find out who, or what, would do this in a livestock farming community where the animals are their only source of livelihood. He stressed that there were no signs of blood in the immediate area or around the cow's vaginal wound and no footprints on the ground where the cow lay dead.
The Kenya News Agency talked with the police security area assistant Chief Lily Cherotich, who said this is the first animal mutilation to have happened in her jurisdiction. Another local authority, Bureti sub-county Police Commander Felician Nafula asked the public to volunteer whatever information they could to help the investigation of the highly strange and disturbing cow and unborn calf deaths.
Other Linda Moulton Howe Investigations – Pathology Confirmation of High Heat Applied At Excision Lines of Mutilations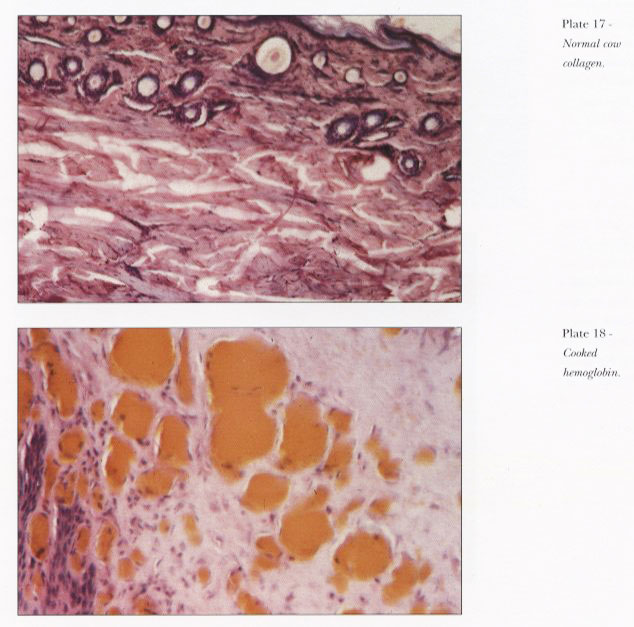 From my investigations of bloodless, trackless animal mutilations beginning in September 1979 onward to date, the issue of laser surgical technology comes up because often the clean, bloodless excisions appear darkened on the edge and feel harder than normal tissue, almost like plastic. In fact, pathologist and hematologist John Altshuler, M. D., confirmed in more than thirty case between 1989 and 1993, that the tissues I collected from mutilated animals in pastures had been cut with high heat. Plate 17 above shows normal cow collagen, the fibrous constituent of connective tissue. Plate 18 shows cooked hemoglobin along the cut in the belly of a cow found dead and bloodlessly mutilated in Hope, Arkansas, in 1989. Both images are in the large Chapter Two Animal Mutilations of my book Glimpses of Other Realities, Vol. I: Facts & Eyewitnesses © 1993. [ Earthfiles Shop. ]

© 1998 - 2020 by Linda Moulton Howe.
All Rights Reserved.