"Looking forward to see how this almost 100,000 kilometer-long new active solar region will evolve!"
— Giuseppe Petricca, November 3, 2020, Northern Scotland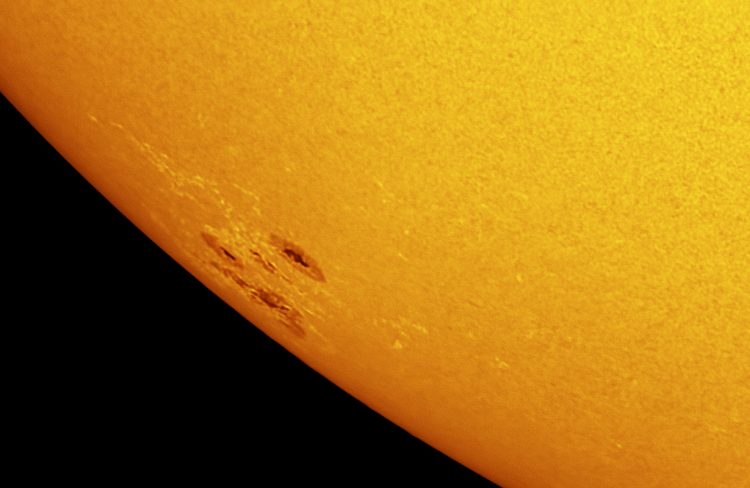 November 3, 2020  Albuquerque, New Mexico – Today Spaceweather.com reported one of the largest new sunspots in months as Americans in the United States wait on this Election Day 2020 to learn who will be President of the United States for the next four years. This new sunspot is measured at 100,000 kilometers long and is expected to remain active for the next two weeks. The photographer, Giuseppe Petricca from Stornoway, Eilean Siar, U. K., wrote this message to go with his image:
"Finally a nice and big sunspot on the visible surface of the Sun! The AR2871 complex was first visible from SDO (Solar Dynamics Observatory)  imagery yesterday, and I was hoping that I would be able to image it today, between a cloud and another. Here in the North of Scotland the Sun doesn't go above +16° of elevation, and this image was taken at ~14°. Seeing was 1-3/5, but I am plenty satisfied of the final result! Looking forward to see how this almost 100000km long active region will evolve! SkyWatcher Evostar 120/1000 – EQ5 Motor – Barlow 5x COMA – ASI 174 MM – Baader Continuum Filter – AstroSolar – 500/5000 frames – AS!3 – Registax 6.1 – Photoshop CC."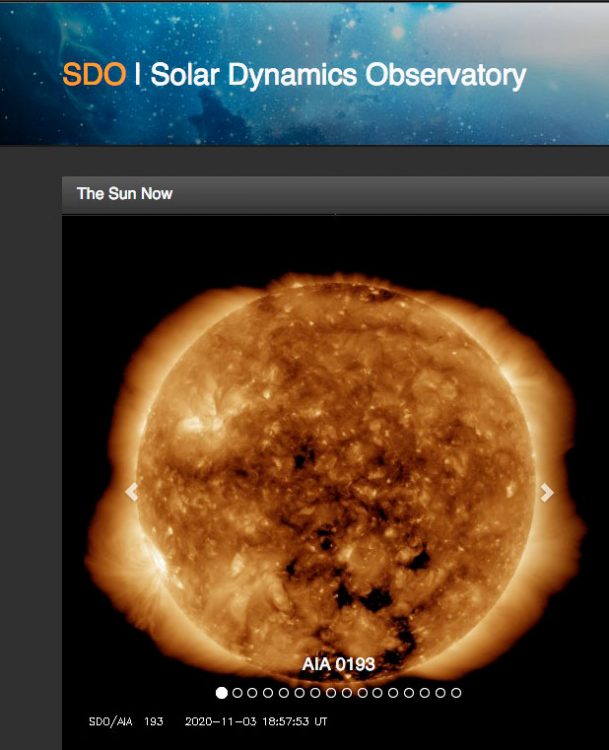 Spaceweather.com reports this new November 3, 2020, sunspot "produced a minor C1-class solar flare. A pulse of UV radiation from the flare briefly ionized Earth's upper atmosphere, causing a low-frequency radio blackout over the Indian Ocean.  Mariners and ham radio operators in the area may have noticed unusual propagation effects at frequencies below ~5 MHz. The +/- polarity of the sunspot group marks it as a member of Solar Cycle 25. This comes as no surprise. Almost every sunspot this year has belonged to the new solar cycle. Solar Cycle 25 is taking a firm hold on the sun."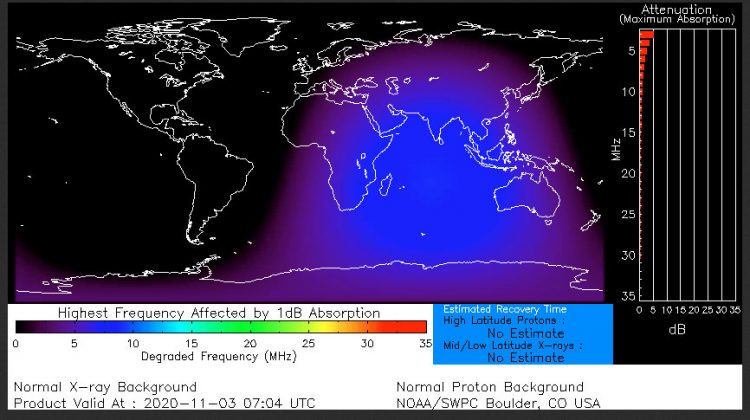 ---
More Information:
09-15-2020 – Today NOAA and NASA Announced Solar Cycle 25 Has Begun; Sunspots Will Increase to 2025 Maximum.
07-17-2020 – New Solar Orbiter Reveals Little "Campfires" On Sun's Surface Never Seen Before.
---
Websites:
Solar Dynamics Observatory (SDO): https://sdo.gsfc.nasa.gov/
Spaceweatheralerts:  https://www.spaceweatheralerts.com
Spaceweather: https://spaceweather.com

© 1998 - 2021 by Linda Moulton Howe.
All Rights Reserved.