"In total, for 2020, we'll have 13 full Moons, including two Supermoons, and a full Moon on Halloween visible in all time zones, which is more uncommon than you may realize."
— The Farmers' Almanac, October 2020.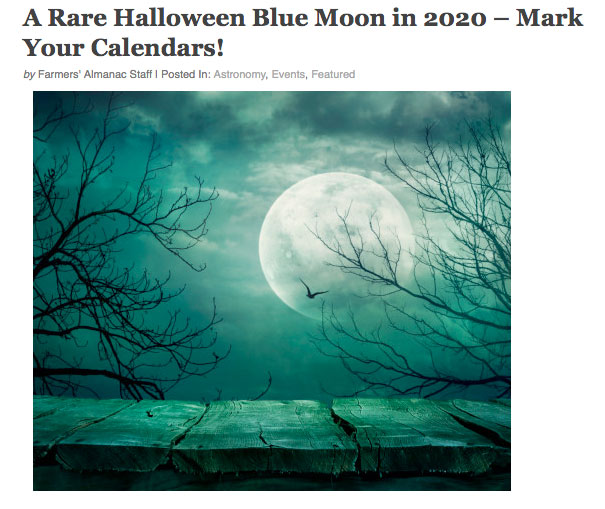 October 31, 2020  Albuquerque, New Mexico –  October 2020 began with a full moon and ends with a full moon — two full moons in the same month. Usually called the Hunter's Moon, this October 31st second full moon of October 2020 is also called a "blue moon" — the second of two full moons that occur in the same calendar month.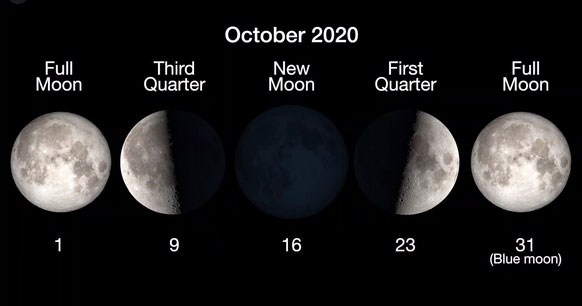 The Farmer's Almanac reports that having a Blue Full Moon visible for all time zones on Halloween is so rare that it hasn't happened since 1944, a year before World War II ended. For Northern Hemisphere moon watchers, this full blue moon will look like it's in the constellation Cetus. But for people in the Southern Hemisphere, the moon will look like it's in the constellation Aries. The reason is that the moon will be 252,000 miles from Earth and that is close enough to cause the moon's position against the background stars to be about a degree different for two different observers 8,000 miles apart on Earth.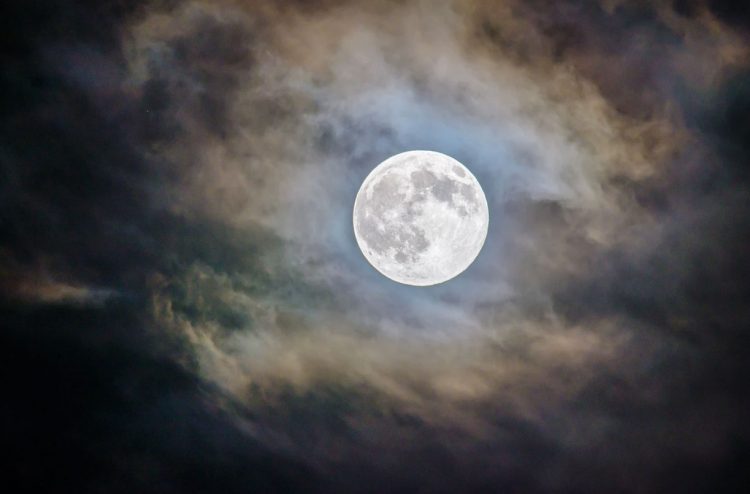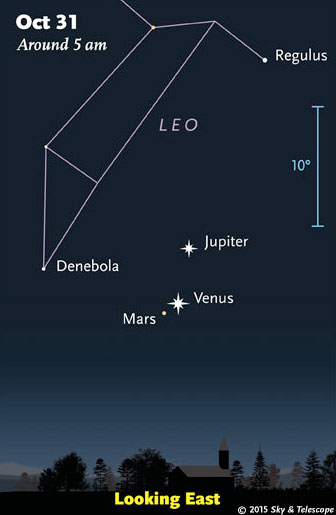 NASA reports, "On the evening of the Full Moon on October 31, 2020, as evening twilight ends (at 7:07 PM EDT for the Washington, DC area), bright Jupiter will appear in the south-southwest about 27 degrees above the horizon with Saturn to the upper left of Jupiter at about 29 degrees above the horizon. Mars will be shining brightly in the east-southeast about 22 degrees above the horizon. The bright star appearing nearly overhead (at 84 degrees above the northern horizon) will be Deneb, one of the three bright stars in the 'Summer Triangle.' The other stars in the triangle are Vega to the west and Altair to the south-southwest."

"Fall Back the Clock" — Sunday, November 1, 2020, Goes Back to Standard Time
Don't forget on Saturday night, November 1st, to set your watch and clocks back one hour to Standard Time. So if you do that at midnight, you'll be resetting the time back to 11 PM. Then you'll get an extra hour of sleep, too! This will give more sunlight to the early morning hours, but it will be darker earlier until March 2021 when clocks will go forward again to Daylight Savings time.
---
Websites:
"October 23 – 31, 2020, This Week's Sky At A Glance," by Sky & Telescope:  https://skyandtelescope.org/observing/sky-at-a-glance/this-weeks-sky-at-a-glance-october-23-31/
"Rare Halloween 'Blue Moon' Is A Spooky Treat for Us All," October 30, 2020, by Space.com:  https://futureplc.slgnt.eu/optiext/optiextension.dll?ID=lPOlPFKHbIYUdOHACevTGfRaiSBi2I8lttvzK6_YKiyAi_2BscU3qT7LP2kGNu%2BqHQx_0OcmQg8hwMLdsVLH7Qwk5VvRuk3tsoK%2Bl4dawEGrrTaSJT

© 1998 - 2021 by Linda Moulton Howe.
All Rights Reserved.