"None of us had ever seen anything like it before, and we had no idea what it was."
— Ray Norris, Ph.D., Radio Astronomer, Western Sydney University in Parramatta Campus northwest of Sydney, Australia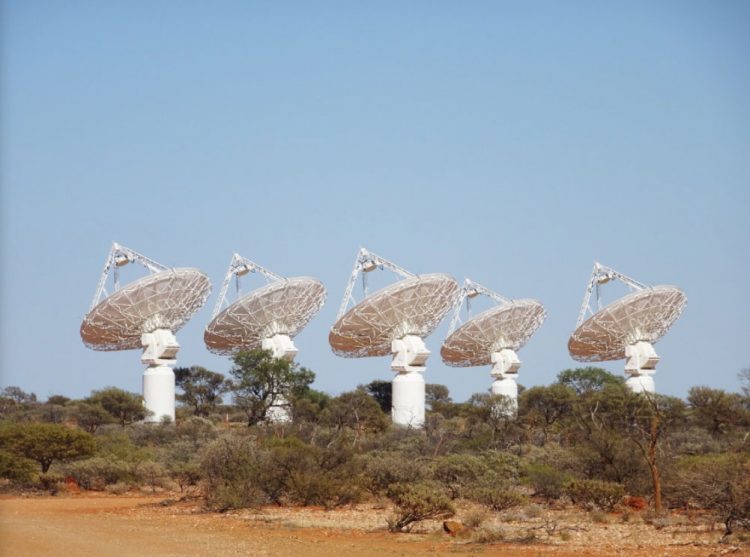 December 4, 2020 – Murchison, Australia – There has been a fascinating and mysterious discovery in radio telescope survey data discovered from a 2013 – 2019 large data archive by scientists studying new radio astronomy data from the Australian Square Kilometre Array Pathfinder (ASKAP) radio telescope in Murchison, Australia. Unlike older telescope surveys, the new ASKAP can rapidly probe the cosmos at huge depths covering large areas of the sky.  ASKAP is being used to collect data for a new project called the Evolutionary Map of the Universe (EMU). EMU's goal is to investigate parts of our universe where visible light telescopes have not looked before.
ASKAP is a 36-antenna radio interferometer located in the remote Murchison Radio-astronomy Observatory in Western Australia, some 800 km north/north-east from Perth.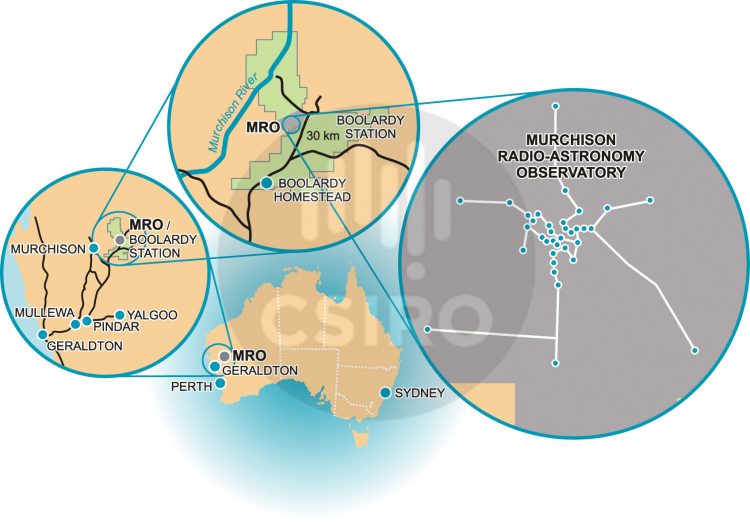 ASKAP dishes are equipped in a state-of-the-art receivers, Phase Array Feeds (PAFs), that allow for instantaneous 30 square degree field of view at 1.4 GHz; each PAF forms up to 36 instantaneous and independent beams. This capability, and the collecting area of approximately 4,000 square degrees make ASKAP particularly suited to fast delivery of large-scale surveys.
ASKAP Radio Telescope Images of Ghostly ORCs — What Are They?
Below is a radio frequency image overlaid in a field of galaxies at optical wavelengths. It's estimated there are at least a thousand of the "very weird shapes" that radio astronomers Anna Kapinska and her colleague Emil Lenc found in EMU data that no one had ever seen before. These "odd radio circles," or ORCs, were found in the ASKAP data, provoking radio astronomer Kapinska to start asking colleagues what the "ghostly circles of radio emissions" could be?
Russian scientists have proposed ORCS might be the "throats of wormholes in spacetime."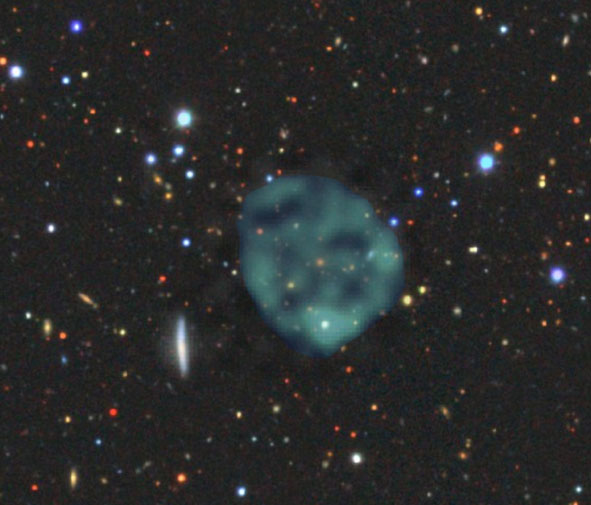 Anna Kapinska and Emil Lenc told the December 1, 2020, The Conversation: "At first we suspected an imaging artifact, perhaps generated by a software error. But we soon confirmed they are real, using other radio telescopes. We still have no idea how big or far away they are. They could be objects in our galaxy, perhaps a few light-years across? Or they could be far away in the Universe and maybe millions of light-years across?"
What ORCs Are Not
— Not supernova debris remnants: there are too many of them.
— Star burst formations: No underlying galaxy for star formation.
— Supermassive black hole electron emissions: ORCS are very circular, not like tangled clouds in radio galaxies.
— "Einstein Rings," distant galaxy radio waves bent by gravitational field of galaxy cluster:  no cluster at ORC centers.
Strong Circular Symmetry of ORCs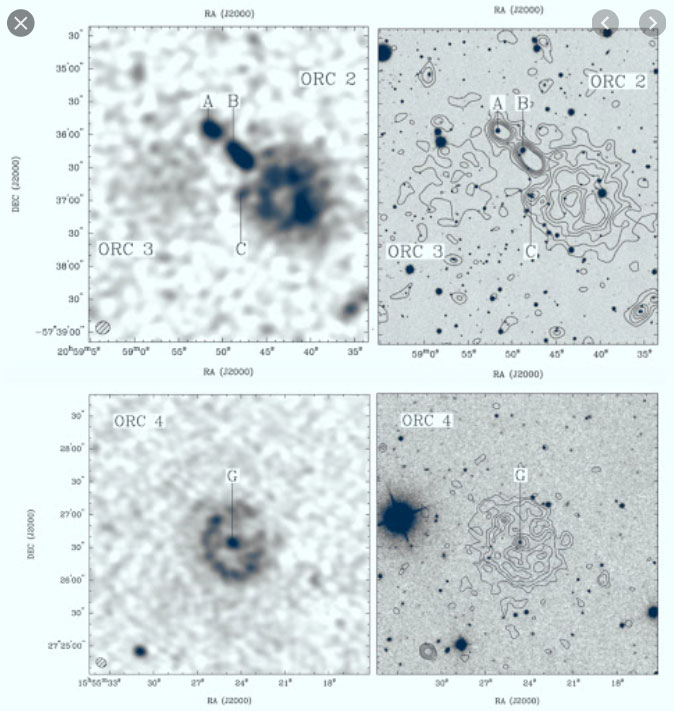 Observations from ASKAP Scientists:
"We consider it likely that the ORCs represent a new type of object found in radio-astronomical images."
"The edge-brightening in some ORCs suggests that this circular image may represent a spherical object, which in turn suggests a spherical wave from some transient event."
"Several such classes of transient events, capable of producing a spherical shock wave, have recently been discovered, such as fast radio bursts, gamma-ray bursts, and neutron star mergers. However, because of the large angular size of the ORCs, any such transients would have taken place in the distant past."
"It is also possible that the ORCs represent a new category of a known phenomenon, such as the jets of a radio galaxy or blazar when seen end-on, down the 'barrel' of the jet."
"Alternatively, they may represent some remnant of a previous outflow from a radio galaxy."
"However, no existing observations of this phenomenon closely resemble the ORCs in features such as the edge-brightening or the absence of a visual blazar or radio galaxy at the center."
---
More Information:
08-26-2020 – Mysterious Fast Radio Burst Has Repeated On A Predicted Cycle — But Why?
06-21-2020 – Energy of Half A Billion Yellow Suns in 1 / 1,000th of A Second — What ARE Fast Radio Bursts?
08-14-2019 – 8 More New and Repeating Fast Radio Bursts – What ARE They?
01-31-2019 – 2nd Mysterious Repeating Fast Radio Burst (FRB) Discovered – What Are They?
06-26-2018 – Are Advanced Cosmic Intelligences Countering Dark Energy Expansion By Harvesting Stars?

---
Websites:
Evolutionary Map of the Universe (EMU):  http://emu-survey.org/askap.html
Australian Square Kilometre Array Pathfinder (ASKAP): https://www.csiro.au/en/Research/Facilities/ATNF/ASKAP
Commonwealth Scientific and Industrial Research Organisation (CSIRO):  https://www.csiro.au
"New Class of Radio-Astronomical Objects Discovered: Odd Radio Circles," July 13, 2020, SCI-News:
"WTF?':  Newly Discovered Ghostly Circles in the Sky Can't Be Explained by Current Theories and Astronomers Are Excited," December 1, 2020, The Conversation:  https://theconversation.com/wtf-newly-discovered-ghostly-circles-in-the-sky-cant-be-explained-by-current-theories-and-astronomers-are-excited-142812

© 1998 - 2021 by Linda Moulton Howe.
All Rights Reserved.