"There were mysterious booms beginning in 2013, then 2017, 2018, 2019 and now December 2020."
— KOLD-TV Channel 13, Tucson, Arizona, December 29, 2020
December 30, 2020 Tucson, Arizona – Beginning yesterday morning, Tuesday, December 29, 2020, Tucson Channel 13 reported  "They're back!," referring to strange, loud, rumbling booms that have periodically shaken houses and ground in the Tucson region since 2013. Then this morning came another report from Tucson resident Steve Paguaga to Earthfiles.com: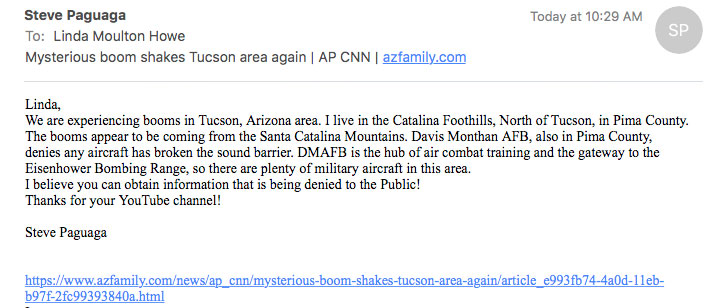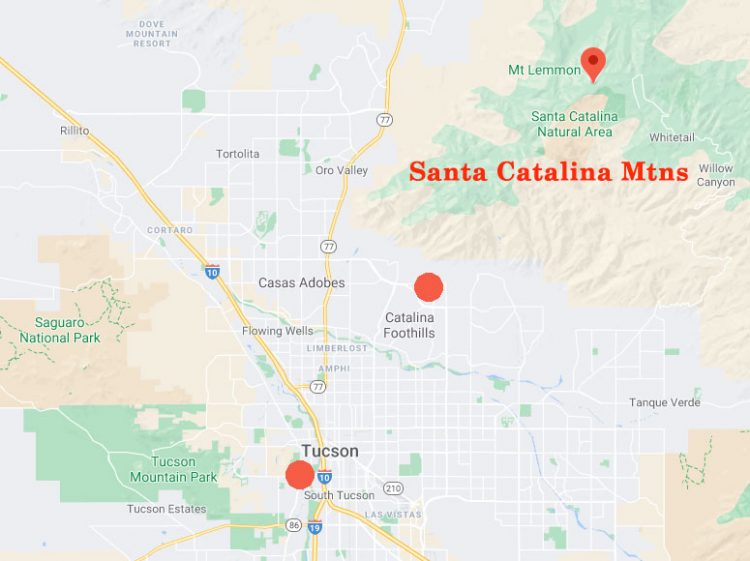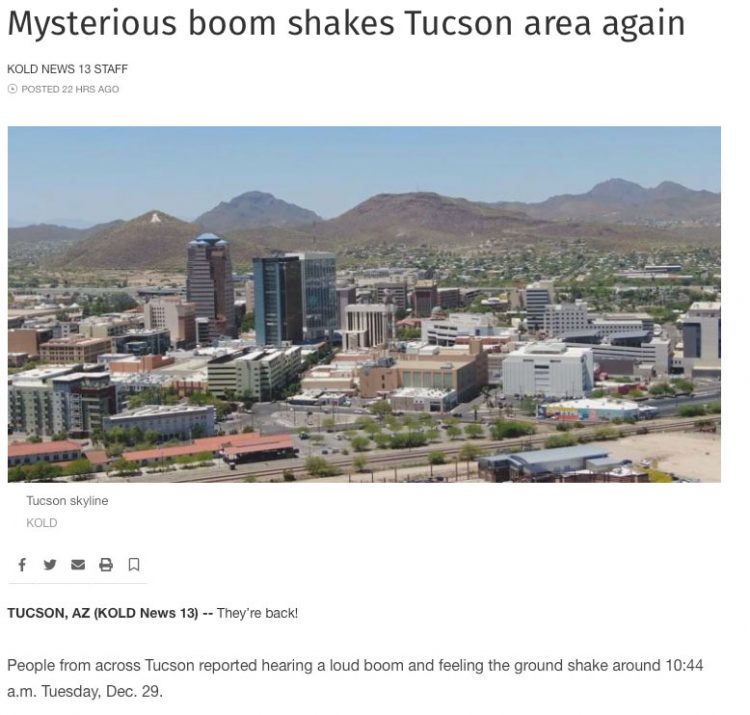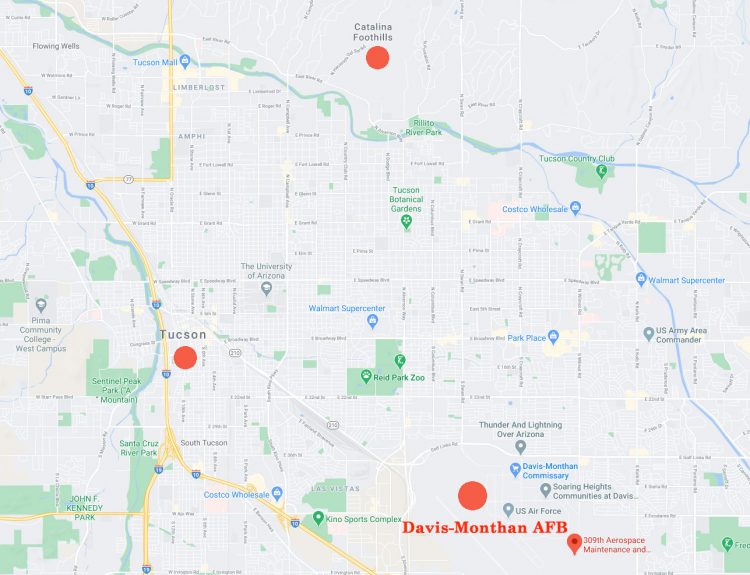 KOLD-TV also talked with staff at the Geosciences Department in the University of Arizona and mine operations in southern Arizona. The United States Geological Survey, USGS, is continually updating interactive maps that show all earthquakes above 2.5 on the Richter Scale. No seismic activity has been recorded on either December 29 or December 30, 2020.
A year ago in January to March 2019, other loud, rumbling, ground-shaking booms were also reported, and during that wave of mystery booms, at least one was strong enough to be recorded by the University of Arizona's Geosciences seismometer. But no source was identified.
In 2017 there were also mystery booms heard in Phoenix —  146 miles northwest — said might have been caused by an aircraft training exercises at Luke AFB, but no confirmation.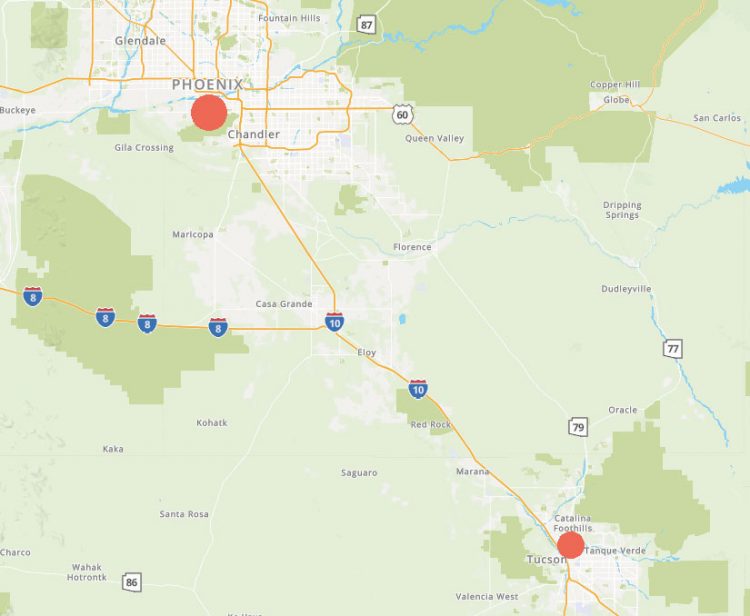 A 2013 Tucson Boom Provoked Dozens of Calls to Police
Tucson News Now – Breaking news February 27, 2013.
— Email from Tucson, Arizona, Feb. 27, 2013:  I live NW of Tucson and for the past couple months we've been experiencing very strange "booms". I don't know how else to explain them. We just had another tonight. I could feel the whole house shake – it was unlike anything I've experienced. There was a low rumble along with it. It felt like 3 or 4 waves of rumbling. My husband had one happen earlier today – but it was much more violent, shorter in duration and he could feel the percussion impact like an explosion had gone off very close by. I called friends who live a couple miles away to see if they experienced it too – and they did. They have witnessed two incidents this week (I don't think they were home when the one happened earlier today). I did call 911 and they said their phone was ringing off the hook and they said they had no idea what was going on and would get back to me. Wanted you to know because this is completely freaking me out.
Same day in San Diego, California:  Just wanted to report that there was a loud boom heard all over San Diego, Calif. at 10:00 AM Feb. 27, 2013. Loud enough to rattle windows. Authorities have no explanation. Military state that they heard it also and that there were no training sessions going on at the time.
If any Earthfiles viewer has more firsthand information about the loud, unexplained booms, light flashes and low-flying military helicopters or new military "sound gun" technology, please email:  [email protected]    All requests for confidentiality are honored.
Also see and hear:
12-18-2018 – Mysterious Explosions Persist in Phoenix and Glendale, Arizona. Listen to audio.
---
More Information:
01-25-2020 – What Force Impacted Mississippi to Alabama On January 24, 2020?
04-27-2019 – Singapore Residents Report Loud "Explosion-Like," House-Shaking Sounds On Saturday
04-26-2019 – More Mysterious Booms in Arkansas and Missouri.

---
Websites:
"Mysterious Boom Shakes Tucson Area Again," December 29, 2020, KOLD-TV Channel 13 News, Tucson":  https://www.azfamily.com/news/ap_cnn/mysterious-boom-shakes-tucson-area-again/article_e993fb74-4a0d-11eb-b97f-2fc99393840a.html
January 5, 2013, 1:30 AM Eastern, Salem, Massachusetts Light Flash and Loud Boom VIDEO:
http://salem.patch.com/articles/mystery-explosion-caught-on-video-video
"Unexplained Strange Booming Sounds Rattle Bowling Green in Plano/Alvaton Area, Kentucky, March 4, 2013":
http://strangesounds.org/2013/03/unexplained-strange-booming-sounds-rattle-bowling-green-in-planoalvaton-area-kentucky-march-4-2013.html
"Mysterious "Explosion" Sounds Alarm People On Flint's East Side":
http://www.mlive.com/news/flint/index.ssf/2013/03/mysterious_explosion_sounds_al.html
"Explosion or Just Noise?," Metropolis, Illinois, near Elizabethville, Illinois:
http://www.wpsdlocal6.com/news/local/Explosion-or-just-noise–Union-Honeywell-clash-on-danger-of-recent-incident-103018264.html?m=y
"Did You Hear the Loud Booms in Evansville, Indiana?," NBC Channel 14-TV:
http://www.14news.com/story/20537321/did-you-hear-the-booms

© 1998 - 2021 by Linda Moulton Howe.
All Rights Reserved.