"The South Africa strain, B.1.351, is the coronavirus variant that scares people the most. There are ten to twelve mutations in the spike proteins. This becomes problematic when you're targeting the spike protein in the vaccines."
— Donald Alcendor, Ph.D., Assoc. Prof. of Microbiology, Immunology and Physiology, Meharry Medical College and Assoc. Prof. Adjunct of Infectious Disease, Vanderbilt University
"That's frightening because the South Africa variant is probably more widespread in South Carolina."
— Krutika Kuppalli, Ph.D., Infectious Diseases, Medical University of South Carolina, Charleston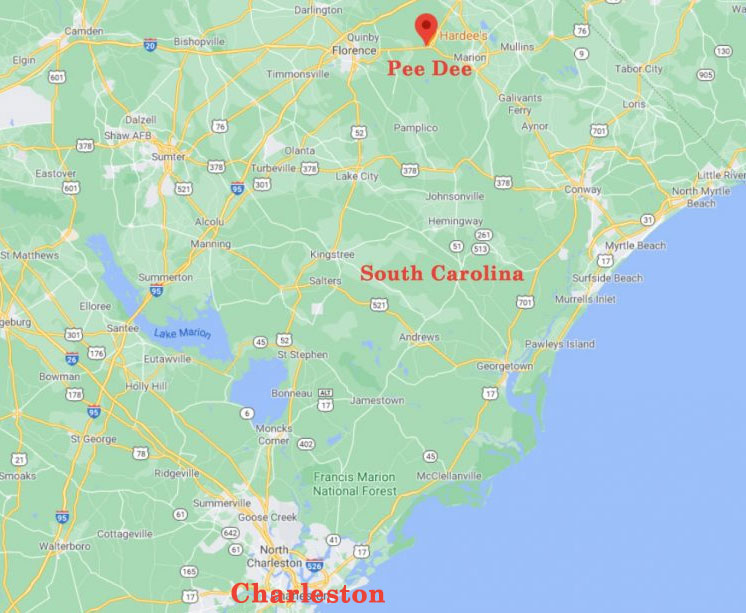 January 28, 2021  Pee Dee Region of South Carolina – Today the South Carolina Health Department in Columbia, S. C. issued this press release after the first two cases of the South African COVID-19 variant were confirmed in two adults — one from the Pee Dee region northwest of Myrtle Beach and the other from the Lowcountry.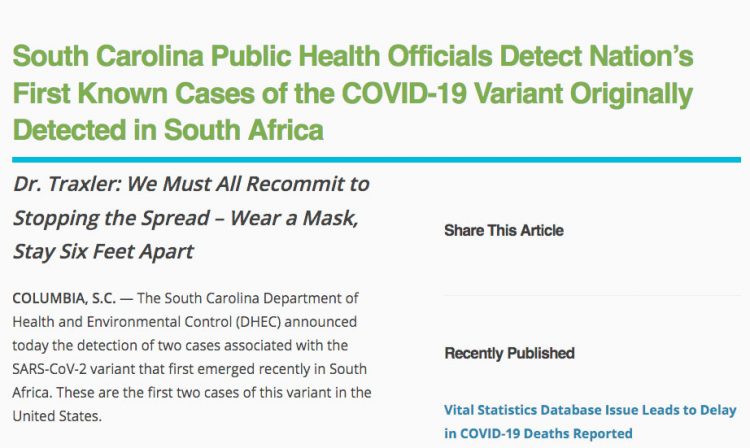 Neither person has a history of travel to countries where the variant has been confirmed, and there is no connection between the two people, South Carolina health officials said Thursday. That indicates there has been some local spread of the variant after it arrived in the United States. One case was found in South Carolina's Pee Dee region, and one in the Lowcountry. Both cases were picked up during routine surveillance sequencing of the two people tested by PCR in early January 2021. But there was no coronavirus confirmation until this week because it takes awhile for proper sequencing to be done.
Dr. Brannon Traxler, the DHEC Interim Public Health Director told Fox News: "The arrival of the SARS-CoV-2 variant in our state is an important reminder to all South Carolinians that the fight against this deadly virus is far from over. While more COVID-19 vaccines are on the way, supplies are still limited. Every one of us must recommit to the fight by recognizing that we are all on the front lines now. We are all in this together."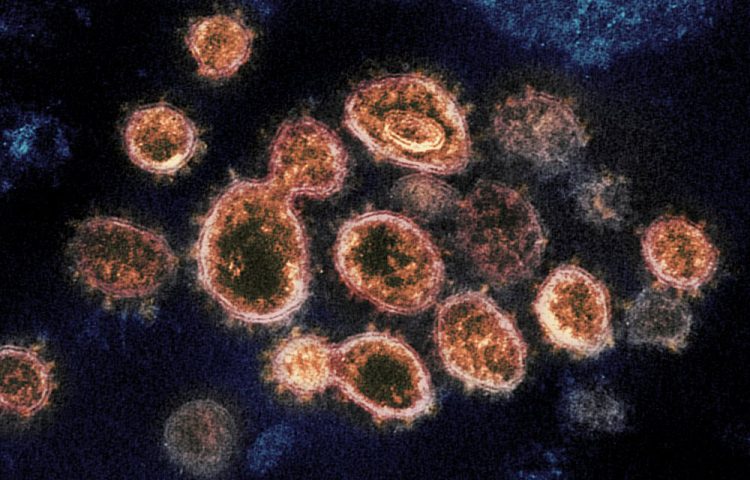 "The South Africa strain, B.1.351, is the coronavirus variant that scares people the most. There are ten to twelve mutations in the spike proteins. This becomes problematic when you're targeting the spike protein in the vaccines." This alarm comes from Donald Alcendor, Ph.D., Assoc. Prof. of Microbiology, Immunology and Physiology, Meharry Medical College and Assoc. Prof. Adjunct of Infectious Disease, Vanderbilt University.
The World Health Organization has reported that the Republic of South Africa has over 1,400,000 confirmed cases of the new COVID-19 variant first discovered in October 2020. And WHO projects that the United States could reach 514,000 American deaths by February 20, 2021.
Dr. Alcendor explains that when a mutated variant emerges, whatever antibodies people developed were protecting against the first COVID-19 round coronavirus with the long protein spikes. In effect, the insidious COVID changes its shape so the human antibodies don't recognize it as well. Compounding the difficulties of fighting off COVID is the hard fact that mutations will keep emerging as long as COVID is getting into people where it replicates and gets coughed out onto other people.
Will the Moderna and Pfizer Vaccines Work Against the South African Variant?
Moderna reports that when its vaccine was used against the South African variant, known as B.1.351, the vaccine produced levels of virus-fighting antibody titers that were near 6 times less effective than when the Moderna vaccine is used against other COVID variants.
Moderna is already working on a separate booster to combat the South African variant because their COVID-19 vaccine doesn't work as well against B.1.351.  Dr. Alcendor thinks the pandemic is so complex that "a drug cocktail" per individual patient might be most effective. He adds, "This virus fooled us in ways we didn't imagine. This virus has killed people while it's 95 degrees outside and we are entering year two and it has gotten stronger."
How Wide Spread Is the South African COVID Variant Now?
In this last week of January 2021, the South African variant, B.1.351 has been detected in more than 30 countries, according to the World Health Organization. And it is up to 70% more contagious than the first round of COVID-19 and might be more deadly. Such a potentially dangerous and much more contagious coronavirus could be horrific in the United States where the daily death rate in January 2021 has been averaging around 3,000/day.
The South African variant is not the only one. There's another similar mutation from Brazil. And then there's the highly contagious Kent strain that has decimated the United Kingdom since its 2020 fall emergence and spread. Viruses and coronaviruses keep changing with each host they live in whether Homo sapiens sapiens or mink or ferrets or bats or other Earth creatures.
Also see:
04-27-2020 – Medical Experts Say A Second Wave of COVID-19 Is Coming Fall 2020 — And Could Be Worse Mixed with Fall Flu Season. Mp3 Audio Interview with Prof. Jay Couey, Ph.D., Cellular Neurobiologist, Univ. of Pittsburgh.
---
More Information:
04-05-2020 – Tiger At NYC Bronx Zoo Tests Positive for COVID-19; Six Other Big Cats with COVID Symptoms.
---
Websites:
South Carolina Dept. of Health and Environmental Control (DHEC):  https://scdhec.gov/news-releases/south-carolina-public-health-officials-detect-nations-first-known-cases-covid-19
"We have to make a stand now" — Infectious disease expert warns of new coronavirus strains:  https://fox17.com/news/local/we-have-to-make-a-stand-now-infectious-disease-expert-warns-of-new-coronavirus-strains-news-covid-19-vaccines-disease-health-doctor-america-south-africa-uk-china-wuhan-brazil-sars-cov-2

© 1998 - 2021 by Linda Moulton Howe.
All Rights Reserved.