"All ten missiles in ECHO Flight at Malmstrom lost strat alert within ten seconds of each other. … The fact that no apparent reason for the loss of ten missiles can be readily identified is cause for grave concern to this headquarters."
– Strategic Air Command to Hill AFB, March 17, 1967
"We've never had something as big as this happen … we've never lost complete command and control and functionality of 50 ICBMs."
– Military officer briefed on October 23, 2010
When 50 intercontinental ballistic nuclear missiles went offline on Saturday morning, October 23, 2010, at Warren AFB near Cheyenne, Wyoming, two men immediately notified were Joint Chiefs of Staff Adm. Michael Mullen and Secretary of Defense Robert Gates. President Barack Obama was debriefed this morning. The Atlantic.com reports that engineers believe, but are not certain, that "the Launch Control Center computer began to 'ping' out of sequence, resulting in a surge of 'noise' through the system. The LCCs interrogate each missile in sequence, so if they begin to send signals out when they're not supposed to, receivers on the missiles themselves will notice and send out error codes."  The increasing error messages provoked a decision to shut down for about an hour the five LCCs containing 50 missiles. The cause of the failure remains unknown. See:  The Atlantic.com.
Emails from Earthfiles Viewers
1)  Malmstrom AFB, Montana
Subject:  UFOs and ICBMs in the 1960s
Date:  October 28, 2010
To:  [email protected]
"Linda,  My father was one of the head techs working for Boeing during most of the events in your article, 20 ICBMs Shut Down by UFOs At Malstrom AFB in March 1967-Updated. As a teenager living with my father during some of those events he told me alot more about what actually happened to those missles besides the electronic problems. And not just the missles and personell were affected. Some of the concrete covering for the missle had been removed and set aside off thier tracks. I didn't see any referances to the "damage" to the warheads. To me that's more interesting than almost everything else! According to what my father told me the warheads were dead. No radioactive material was left usable for anything other than a paper weight."

2)  Davis Monthan AFB and Missiles, Tucson, Arizona
Subject: Hi Linda – Davis Monthan AFB Missiles, 1964-1967
Date: October 24, 2010
To: [email protected]
"My x-husband (now deceased) and I were transferred to Davis Monthan AFB in Tucson, Arizona,and we were there from approximately 1964 to 1967. He worked as a pad chief on one of the underground missile sites.
There was a problem with many of the missiles because they would not hold a destination. That means they all had a programmed target and it
was changed and could not be fixed. My husband said someone thought it was espionage. The AF took 2 or 3 missiles over ground to Vandenberg AFB (Calif).
My husband traveled with the convoy. When they got to Vandenberg and tested the missiles, they would not fire. There was no way to shoot them off. There must be some record of the missiles traveling over ground (Tucson to Vandenberg). There would have to be road closings or such. There must be others that remember this. The 2 people I can remember are both dead. I heard nothing more of this and didn't ask as I was young and really didn't care to put 2 and 2 together."
Malmstrom AFB in Great Falls, Montana, is north of Helena and about 100 miles south of the Canadian border. Malmstrom is one of three U.S. Air Force Bases that maintains and operates modern Minuteman III intercontinental ballistic missiles. From 1960 until 1997, the Minuteman I and Minuteman II were in service, and in 1963, the Minuteman missile was officially designated LGM-30 in the Department of Defense's revised aircraft and missile designation system. The L stands for the launch environment and indicates the missile is fired from an underground silo. G indicates the missile is designed to be directed against ground targets. The M means it is a guided missile, not an unguided rocket. 30 is the sequence number of the Minuteman design in the USAF missile inventory. All the original Minuteman I and II missiles have been retired.
Today, the LGM-30 Minuteman III is a U.S. nuclear missile, a land-based intercontinental ballistic missile (ICBM). The L indicates it is silo-launched; the G means it is designed to attack ground targets; and the M indicates it is a guided missile. The name "Minuteman" comes from the Revolutionary War's Minutemen. Further, the missile can be launched in about one minute. The Air Force planned to keep the Minuteman missiles in service until 2020, but it might be upgraded to stay in service until 2030.
The current Minuteman force has 450 Minuteman III missiles manufactured by Boeing in missile silos around F.E. Warren AFB, Cheyenne, Wyoming; Malmstrom AFB, Great Falls, Montana; and Minot AFB, North Dakota.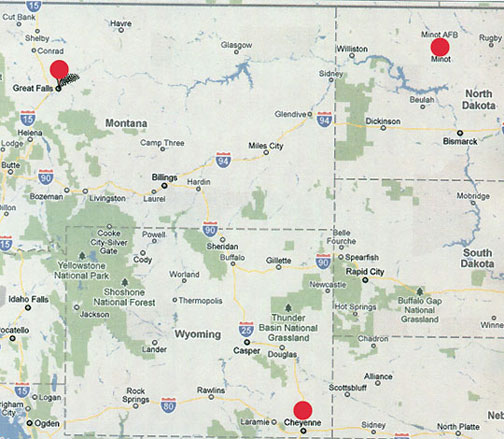 As of 2010, Minuteman III is the only land-based ICBM in service in the United States. It is complemented by the sea-launched Trident missile SLBM and by nuclear weapons carried on long-range strategic bombers.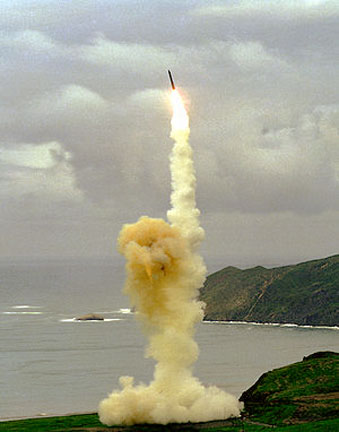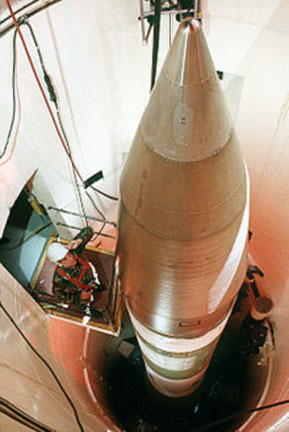 UFOs Shut Down 20 ICBMs at Malmstrom AFB in March 1967
Forty-three years ago on March 16, 1967, at Malmstrom AFB,  the ECHO Flight crew was 60 feet underground in the Flight Launch Control Center (LCC) located 90 miles east of Great Falls. To everyone's astonishment, large, reddish-orange, glowing aerial discs were seen by the Security Alert Teams. Simultaneously, ten Minutemen intercontinental ballistic missiles started going off line, one at a time, every second. That meant TEN of America's most secure military weapons 60 feet underground had been controlled and shut down by a force from above ground.
Then incredibly, the same thing happened eight days later on March 24, 1967, to OSCAR Flight. Ten more ICBMs were shut down one at a time every second. One of the USAF personnel in a missile bunker 60 feet underground was 1st Lt. Robert L. Salas, who had graduated from the U. S. Air Force Academy in 1964. While in the USAF, Bob Salas received his Masters Degree in Aerospace Engineering in 1969. In April 1971, he received an honorable discharge as a USAF Captain and went on to work for Martin-Marietta and Rockwell International as an aerospace engineer working on space shuttle proposals. Then in 1974, Bob Salas was hired by the Federal Aviation Administration (FAA) in aircraft certification and aircraft structures and worked as a structural engineer for aircraft until 1995. Since retirement from the FAA, Bob has taught high school mathematics in Ojai, California, and tutored students in math.
On September 27th, 2010, at the National Press Club in Washington, D. C., Bob Salas joined six other witnesses to the ECHO and OSCAR Flight shut downs in a presentation he had organized with UFO investigator, Robert Hastings. They want the press and public know that it's not true when U. S. government authorities say there never was a UFO threat to national security.
---
Interview: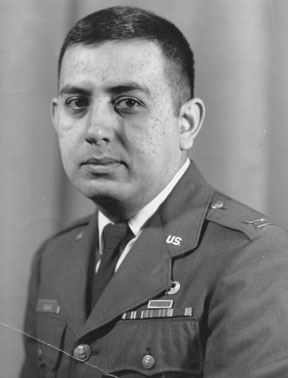 Robert L. Salas, USAF Captain (Ret.), Ojai, California:  "I think the most important outcome of the National Press Club press conference is that we had 7 eyewitnesses who all signed affidavits and we are all saying things that are directly in conflict with what the USAF has claimed these many years since 1969 and the end of the Condon investigation. That conclusion was that no UFO  incident has ever impacted national security, but that is patently false! It's a lie, an outright lie! So we have a confrontation now between us and the USAF. We're going to keep pressing that until we get a response.
NO ONE FROM THE GOVERNMENT HAS EVER APPROACHED YOU OFF THE RECORD TO SAY, 'KEEP YOUR MOUTH SHUT'?
I think they tried to keep my mouth shut. In 1969, I was transferred to Wright-Patterson AFB to finish up my Master's Degree (Aerospace Engineering) and not long after I arrived, I was ordered to go to the base psychiatrist's office. I didn't know why, but I went ahead to the hospital. The base psychiatrist orderly came out and wanted me to talk to the psychiatrist.
I asked him for what reason was I called in there. I hadn't complained about anything.
He said, 'The base psychiatrist will let you know that.'
And I said, 'No, I'm not going to go back and talk to him about anything.' Because I knew it would go on my record.
Later, the orderly comes out and he released me. I suspect they wanted to hear my UFO story so they could put it on the record. That's the closest I got to where they put pressure on me to keep my mouth shut.
IF YOU HAD TALKED TO THE PSYCHIATRIST, THEY WOULD BE ABLE TO HOLD THAT OVER YOU AS A QUESTION OF YOUR CREDIBILITY FOR THE REST OF YOUR CAREER AND LIFE.
That's correct. So, I was happy I made that decision not to go into the psychiatrist's office.
USAF Lt. Salas Ordered to Sign Non-Disclosure Statement
GIVEN THE FACT THAT YOU WERE AN EYEWITNESS ON THE MARCH 24, 1967 OSCAR FLIGHT INTERRUPTION OF PERHAPS TEN ICBMS THAT DATE AND THAT 9 DAYS BEFORE ON MARCH 16, 1967, AT ECHO FLIGHT, TEN ICBMS WENT DOWN IN SEQUENCE WITH IN SECONDS. DID ANYBODY IN THE USAF OR ANY OTHER AGENCY EVER COME TO YOU AND SAY, 'THIS IS WHY WE HAVE TO KEEP THIS UNDER WRAPS'?
No. No one ever talked to me after the next morning when I was debriefed in my Squadron Commander's office. We were told to sign a non-disclosure statement, which I did, by the way. We were told never to talk about the incident again. And nobody ever talked with us about it again and I never spoke about it until 1994 (27 years later).
BUT DID YOU ASK BACK IN 1967, 'WHY ARE WE BEING ASKED TO SIGN NON-DISCLOSURE AGREEMENTS ABOUT SOMETHING AS SIGNIFICANT AS THIS?'
I certainly did. My commander – the first question I asked him when I walked into his office – I said, 'Was this some kind of an Air Force exercise?'
And he said, 'Absolutely not!'
And then the guy from AFOSI (Air Force Office of Special Investigations) said, 'Sign here, and we will never speak of this again.' I even wanted to know why I should sign it because I had Above Top Secret clearance already. But he said, 'No, this specific incident, you have to sign this.'
THE AFOSI AGENT STANDING NEXT TO HIM, HE WAS NOT GOING TO ALLOW YOU TO HAVE ANY DIALOGUE ABOUT THIS? IT WAS, 'SIGN THIS NON-DISCLOSURE IF YOU WANT TO HAVE A CAREER?'
Exactly. In fact, a day or two – maybe a week – later, one or two of the guards called me at home and wanted to sit down and talk to me. They were very upset with this whole thing. They couldn't understand it. And I had to turn them down. I said, 'I can't talk about it because I've signed this non-disclosure thing. I can't talk about it again.'
"Absolutely Not" Terrestrial Aircraft
DID YOU ALL KNOW AT THE TIME THAT YOU WERE DEALING WITH SOMETHING FROM OUTER SPACE THAT WAS NOT HUMAN?
Absolutely we knew it! These were not aircraft. We even discussed this in that first phone conversation I had with the guards. They assured me these were not airplanes! So they knew they were something from elsewhere.
IN FACT IN MARCH 1967, ONE OF THE ECHO FLIGHT SECURITY POLICEMEN – AND I'M QUOTING FROM YOUR 1999 SUMMARY OF ALL THIS BY ROBERT SALAS AND JIM KLOTZ . YOU REPORTED THAT ONE OF THE SECURITY POLICEMEN WAS SO AFFECTED BY HIS ENCOUNTER WITH ONE OF THE BIG, RED, GLOWING OBJECTS IN THE SKY THAT 'HE NEVER RETURNED TO MISSILE SECURITY DUTY.'
That's true. In fact, that happened not only at ECHO Flight, but at OSCAR Flight. I know at least one case where one of the security guards lost control of himself and wandered off. They had to bring people out to pick him up and take him to the base hospital. He was just out of it!
HOW WERE THE SAT (Security Alert) TEAM DESCRIBING WHAT THEY WERE SEEING?
It was a reddish-orange, pulsating object. It was about 30 feet in diameter and it was just sitting there (in the air). It had all the guards out there with their weapons out and they were frightened. Very frightened!
YOU WERE GETTING THESE DESCRIPTIONS DOWN UNDERGROUND ABOUT HOW DEEP?
Yeah, I was sixty feet underground. We were locked in. We were obligated to stay there until we were relieved by another crew – obviously because we were in control of ten nuclear weapons.
Boeing Concluded Electromagnetic Pulses from Outside Silos Shut Down Missiles
THE BOEING INVESTIGATORS CONCLUDED – AND THIS IS READING FROM YOUR 1999 SUMMARY – 'TO REPRODUCE THE EFFECTS ON THE ICBMS THAT WENT DOWN, A 10-VOLT PULSE WOULD HAVE TO BE INTRODUCED INTO THE DATA LINE,' HOW DID THEY REACH THAT CONCLUSION?
One of the Boeing engineers, Mr. (Robert) Rigert, did a bench test on the guidance and control package. We got information when the missiles went down that we had guidance and control system failure and logic coupler failure. The logic coupler is part of the computer system that helps orient the missile in flight on target. So, I think he (Rigert) did a bench test – in other words, he had the equipment on a bench and input a certain signal or wavelength – and was able to shut the system down.
We have a USAF document stating that this signal – they used the generic term of EMP, or Electromagnetic Pulse, would have to have been an external signal. So, this is one of the conclusions the Boeing investigative team came to –  the internal system could not have generated such a signal.
They also said that all the missiles were independent. This signal would have to have been sent to each missile separately!  OK? These missiles are about a mile and a half from the Launch Control Center (LCC) where I was located. There was buried cable that was triple-shielded underground about 60 feet. So this EMP signal would have to have been injected into each of the missiles separately, go through triple-shielded cable and sent to a specific point at each missile.
SAC Telex to Hill AFB, March 17, 1967
"All ten missiles in ECHO Flight at Malmstrom lost strat alert
within ten seconds of each other. … The fact that no apparent reason
for the loss of ten missiles can be readily identified is cause for
grave concern to this headquarters."
BOB, YOUR OWN 1999 SUMMARY SAYS, 'THE TECHNOLOGY OF 1967 MADE GENERATING AN ELECTROMAGNETIC PULSE OF SUFFICIENT MAGNITUDE TO ENTER THE SHIELDED SYSTEM A VERY DIFFICULT PROPOSITION REQUIRING LARGE, HEAVY, BULKY EQUIPMENT. THE SOURCE OF THE PULSE THAT CAUSED THE MISSILE SHUT DOWNS REMAINS A MYSTERY TO THIS DAY.'
Right. And that's why Boeing concluded that they could find no reasonable cause for this. They could not explain it. They could not understand it.
Missile Shut Downs Were Threat to National Security
AGAIN, QUOTING FROM YOU:  'THE USAF HAS CONFIRMED THAT ALL OF THE ECHO FLIGHT'S MISSILES SHUT DOWN WITHIN SECONDS OF EACH OTHER AND THAT NO CAUSE FOR THIS COULD BE FOUND.' HOW COULD THEY MAINTAIN THAT NO REPORTED UFO INCIDENT HAS EVER AFFECTED NATIONAL SECURITY?
Exactly! Exactly my point! That's why we have a standoff here with the Air Force. It's a contradiction. They cannot, on the one hand, say that they can't explain how these missiles went down within seconds of each other, and on the other hand say that national security was not involved. I mean, they are talking out of both sides of their mouths!
AS WE SPEAK ON OCTOBER 12, 2010, WHAT IN YOUR MIND COULD EXPLAIN IN THE 21ST CENTURY NOW A POLICY OF DENIAL IN THE INTEREST OF NATIONAL SECURITY BEING MAINTAINED AND PERSISTING AFTER 60 YEARS?
The only way I can explain it is that there is a very influential small group of individuals within the government – and maybe also outside of government – that are controlling this information, keeping it from (U. S.) presidents and are just not inclined to release it for their own reasons. It's high time it stopped. It's got to stop! The public needs to be involved in this conversation.
E. T. Message:   "Get Rid" of Nuclear Missiles
IF WE ARE DEALING WITH A NON-HUMAN INTELLIGENCE THAT  HAS THE ABILITY TO TAKE DOWN ICBMS IN A FASHION THAT BOEING AT THE TIME SAID WAS IMPOSSIBLE, WHAT IS YOUR PERCEPTION NOW ABOUT THAT INTELLIGENCE AND WHAT ITS AGENDA MIGHT BE ON THIS PLANET?
Well, yes, quite a bit of time has passed since 1967 and nothing terrible from extraterrestrials, I don't think, has occurred. I go back to my original contention that this was simply a message – that They were pointing at our nuclear weapons basically saying, 'You ought to get rid of these things. They will do you no good!'
And it is gratifying to me to see that we are moving forward on a new SALT treaty with Russia trying to reduce the number of nuclear weapons, but we've got a long way to go. We've got to figure out a way of having strong inspections of all countries and having all countries start dismantling all nuclear weapons. That's the objective.
AND, BOB, ISN'T ANOTHER PART OF THE MESSAGE IN 1967, 'YOU THINK THAT YOU HAVE THE ABILITY TO LAUNCH THESE MISSILES AND WE'RE HERE TO TELL YOU THAT WE WILL INTERFERE AND STOP IT.'
They do have the technology to shut down our missiles, no question about it. But will they stop a nuclear war? I don't know that I want to risk that. I'd rather that us (humans) get rid of our nuclear weapons and preclude a nuclear war."
Other UFOs and Missile Events:
– August 1, 1965, Warren AFB, Cheyenne, Wyoming
– August 24-25, 1966, Minot AFB, North Dakota
– March 5, 1967, Minot AFB, North Dakota
– June 6, 1968, Minot AFB, North Dakota
– October 24, 1968, Minot AFB, North Dakota
The interaction of glowing, unidentified, round craft in the skies with American ICBMs did not start or end in March 1967. The following are some other events.
August 1, 1965, Warren AFB, Cheyenne, Wyoming
About eight months earlier on August 1, 1965, beginning at 1:30 AM at F.E. Warren AFB in Cheyenne, Wyoming, various personnel at Warren AFB – including the base commander—telephoned Wright-Patterson AFB, Ohio, to report several UFO sightings at Warren's Minuteman missile sites.
Investigator Robert Hastings summarized some of the Warren AFB August 1, 1965 events in his 2008 book, UFOs and Nukes, this way:
"4:40 A.M. – Captain Howell, Air Force Command Post, called Dayton and Defense Intelligence Agency to report that a Strategic Air Command Team at Site H-2 at 3:00 A.M. reported a white oval UFO directly overhead. Later Strategic Air Command Post passed the following: Francis E. Warren Air Force Base reports (Site B-4 3:17 A.M.) –A UFO 90 miles east of Cheyenne at a high rate of speed and descending—oval and white with white lines on its sides and a flashing red light in its center moving east; reported to have landed 10 miles east of the site.
3:20 A.M. – Seven UFOs reported east of the site.
3:25 A.M. – E Site reported six UFOs stacked vertically.
3:27 A.M. – G-1 reported one ascending and at the same time, E-2 reported two additional UFOs had joined the seven for a total of nine.
3:28 A.M. – G-1 reported a UFO descending further, going east.
3:32 A.M. – The same site has a UFO climbing and leveling off.
3:40 A.M. – G Site reported one UFO at 70′ azimuth and one at 120′ . Three now came from the east, stacked vertically, passed through the other two, with all five heading west."
August 24-25, 1966, Minot AFB, North Dakota
NICAP report:  "Minuteman Site Jammed By UFO, North Dakota, August 24*, 1966 –  A United States missile program supervisor claims that mysterious unidentified flying objects have seriously imperiled national security. The Air Force denies it. Raymond E. Fowler, project supervisor on a Minuteman missile program near Boston, asserts that [UFOs] have penetrated the restricted air space above America's missile sites, jamming vital electronic equipment. He also says the objects eluded fighter aircraft scrambled to intercept them.
Specifically, Mr. Fowler says he talked with an Air Force officer who had been in one of the subterranean Launch Control Facilities [LCFs] of a North Dakota Minuteman site on August 25, 1966, when radar operators picked up a UFO maneuvering over the base at 100,000 feet. The officer declared that the LCF's sophisticated radio equipment, that enables it to receive firing instructions from coordinating centers and transmit them to the silo Launch Facilities [LFs] was blocked out by static when the UFO hovered directly over it. Mr. Fowler recalls the officer saying that he could conceive of "nothing on earth" that could caused the equipment to malfunction from such an altitude, emphasizing that it was working perfectly before the object appeared overhead and after it left."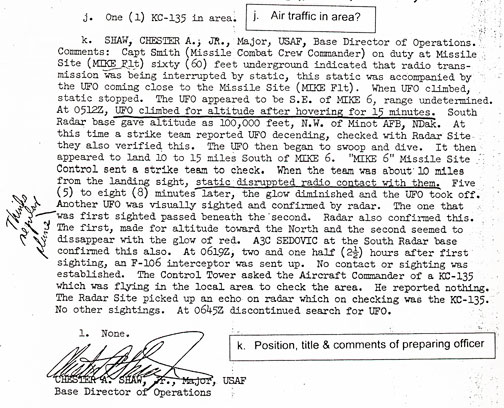 Mr. Fowler reported he was told that communications between F-106 aircraft sent to investigate and armed jeep patrols on the ground dispatched to a spot where the first UFO appeared to land were jammed by strong radio interference. Missile site control also experienced intense static disruptions in efforts to communicate with its strike-teams.
After UFOs left, Ray Fowler reported that Air Force Intelligence teams showed up at Minot AFB and told eyewitnesses to keep quiet. Ray Fowler says that a Joint Chiefs of Staff regulation last updated in 1966 established a system for reporting UFO sightings to the Aerospace Defense Command in Colorado Springs and imposes stiff penalties for unauthorized disclosures of UFO information.
March 5, 1967, Minot AFB, North Dakota
Air Defense Command radar tracked an unidentified target descending over the Minuteman missile silos of the 91st Strategic Missile Wing at Minot AFB, ND. Base security teams quickly converged on the area and saw a metallic, disc-shaped craft ringed with bright, flashing lights moving slowly. The disc stopped and hovered about 500 feet (150 meters) off the ground, as security police held their fire and watched in awe. Suddenly the object began moving again and circled directly over the launch control facility.
F-106 fighter-interceptors were standing by on the flight line, waiting for an order from NORAD to scramble. When the order was not forthcoming, Minot AFB base operations decided on their own to scramble the interceptors. At that moment, the UFO climbed straight up and streaked away at incredible speed.
June 6, 1968, Minot AFB, North Dakota
Nearly two years later on June 6, 1968, southwest of the Minot, North Dakota AFB, a military policeman received a call to one of the missile silos. The Sergeant on duty and two other men traveled to where a UFO was hovering over a missile silo. They found the gate and gate locks to the missile silo were open. The guards were reported to be motionless like statues, as if their bodies were under Something Else's control. The Sergeant contacted officers down in the silo, who were very upset. The officers said the missile had become armed and unlocked in launch mode with an armed warhead.
October 24, 1968, Minot AFB, North Dakota
Missile crews, control personnel and maintenance personnel observed a UFO in the vicinity of the base. This is a transcript of the conversation held between the air traffic controllers and the B-52 crew with call sign JAG Three one.
At 0330 hours, the controllers received information that there was a UFO twenty-four miles to the northwest. A B-52 jet bomber (JAG 31) flying at 2000 feet was on a calibration check and requested a clearance from radar personnel.
At 0334  "MIB (Minot) approach control does JAG 31 have clearance to WT fix at Flight Level 2000?
"JAG 31, Roger climb out on a heading of 290 climb and maintain 5000. Stand by for higher altitude. We're trying to get it from center now.
At 0335, the controller asked, "And JAG 31 on your way out to the WT fix request you look out toward your one o'clock position for the next fifteen miles and see if you see any orange glows out there?"
"Roger, roger glows 31, someone is seeing UFOs again!"
"Roger I see a…….."  (Rest of transmission garbled)
At 0352, the controller then radioed, "Three one, the UFO is being picked up by weather's radar also. Should be at our one o'clock position three miles now"
The pilot said, "We have nothing on our airborne radar and I'm in some pretty thick haze now and unable to see out that way."
At 0358, the pilot then requested an instrument guided approach, and received instructions. The pilot called, and then the transmitter went dead, but they could hear instructions from the ground. The controller asked them to squawk "ident," which meant to use the aircraft's transponder that would paint the controller's radar with a large, glowing blip with the aircraft's identification.
At 0400, the controller then radioed, "JAG 31 if you hear me squawk ident…JAG 31 ident observed. Cleared for the approach attempt. Contact on frequency 271 decimal three and you're cleared for the low approach."  They continued to have radio problems for another couple of minutes.
At 0402, they were able to communicate easily. The pilot said, "Our UFO was off to our left side when we started penetration."
"Roger, understand you did see something on your left side. We had a radar return at about a mile and a quarter, at nine o'clock position for about the time we left 200 to 14…"
They discussed the troubles with the transmission and then, the controller said, "Affirmative. I was wondering how far out did you see that UFO?"
"He was about one and a half miles off our left wing at 35 miles when we started in and stayed with us 'til about 10."
"I wonder if that could have been your radio troubles?"
"I don't know…. But that's exactly when they started."
"At 0413, Jag 31 are you observing any more UFOs?"
"Negative on radar. We can't see anything visually."
"JAG 31, request you have someone report to base ops after you land."
November 1975, Malmstrom AFB, Montana
There are other incidents, including my brother's own experience while stationed as a helicopter pilot at Malmstrom AFB in November 1975, after returning from Vietnam. I was living in Boston, producing medical programming at WCVB-TV, the ABC affiliate. My brother called me excited, "Linda, a UFO has set down over a missile here!" He was attending a Wing Function party when alarms went off. Remote sensors at the Kilo 7 launch facility warned of a site security violation. A Security Alert Team (SAT) was sent to investigate. Soon the SAT team radioed central security control that a football-field-sized, brightly glowing, fluorescent orange disk was low over the missile site and the SAT team refused to go any further.
NORAD picked up on radar an object moving vertically above Malmstrom's Minuteman site and two F-106 jet interceptors were scrambled. But when the jets got over the missile site, the glowing object blinked out, became invisible. After the jets left, the SAT team reported that the bright, orange disc blinked back on and was tracked by radar up to 200,000 feet when it disappeared.
A few days later, my brother learned that the missile's targeting information had been changed, but he never learned what the targeting information was changed to. Next, the entire missile was taken out of the silo and a new ICBM missile was inserted. Another question still unanswered is: where did the UFO-altered missile go and where is it today?
Frustrated over the decades since his traumatic experience underground when the OSCAR Flight ICBMs went down on March 24, 1967, and frustrated by the United States Air Force's insistence there have not been any national security threats from UFOs at Malmstrom AFB or other bases, Bob Salas and his co-author James Klotz released a 2005 book, Faded Giant:  The 1967 Missile/UFO Incidents. "Faded Giant" is a military acronym for an event involving a nuclear reactor or other radiological accident.
Bob has both a website and Facebook link at http://www.spiralgalaxy.org/ where the seven affidavits and video testimonies of the seven National Press Club eyewitnesses to UFOs shutting down ICBMs at Malmstrom AFB in 1967 can be seen.
---
More Information: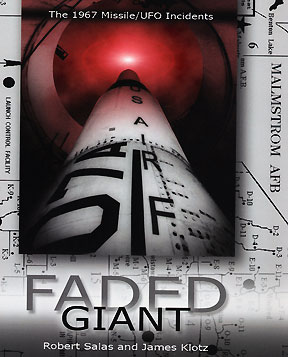 For further reports about UFO interactions with military sites and personnel, please see my 2-volume Glimpses of Other Realities in the Earthfiles Shop. There are also dozens of other reports (examples below) in the Earthfiles Archive.
08/21/2010 —Part 8: 1980 RAF Bentwaters Disaster Preparedness Tech S/Sgt. Monroe Nevels Describes "Top Secret" Investigation
08/21/2010 —Part 9: 1980 RAF Bentwaters Disaster Preparedness TechS/Sgt. Monroe Nevels Describes "Top Secret" Investigation
08/07/2010 —Updated: Aerial Disc Beam Interacted with Nuclear Weapons Bunkers At Whiteman AFB
08/06/2010 —WWII UFO and RAF Plane Encounter Covered Up by Churchill and Eisenhower, MoD Documents Reveal
03/30/2010 —Part 1: Unidentified Beam Technology Near Ft. Stewart, Georgia
03/18/2010 —Huge V-Shaped UFO Emitted Beam On C-5 At Vandenberg AFB
12/20/2007 —Updated: Viewer Letters About Secret American Military Space Program
11/20/2007 —Do Black Budget Trillions Support A Secret American Space Program?
11/03/2006 —Another UFO Retaliation to Radar Lock On – 2003
05/18/2006 —Top Secret UFO Retrieval During 1983 Grenada War
11/09/2002 —UPDATED: Majestic-12 Documents with Ryan Wood About Extraterrestrial Technologies
---
Websites:
Robert Salas Website:  http://www.spiralgalaxy.org/
UFOs and Nukes © 2008-2010 by Robert Hastings:
http://www.ufohastings.com/BookPage.html
NICAP on Minuteman II ICBM Deployment to SAC Bases in 1966
and the UFO Sightings:  http://www.nicap.org/waves/6604minuteman.htm
Minuteman ICBM, Wikipedia:  http://en.wikipedia.org/wiki/LGM-30_Minuteman
Malmstrom AFB UFO/Missile Incident:
http://www.cufon.org/cufon/malmstrom/malm1.htm
Minot AFB UFO/Missile Incident:  http://www.unexplained-mysteries.com
/forum/index.php?showtopic=180422
Warren AFB UFO/Missile Incident: 
http://www.nicap.org/fewarren660415dir.htm
Malmstrom AFB UFO/Missile Incident, UFO Evidence:
http://www.ufoevidence.org/cases/case1017.htm
Do Nuclear Facilities Attract UFOs?  http://www.cufon.org/contributors/DJ/Do%20
Nuclear%20Facilities%20Attract%20UFOs

© 1998 - 2023 by Linda Moulton Howe.
All Rights Reserved.