"As I zoom in on the star, I started to see an image of a craft. It looks like a UFO craft."
– Tony Velez, 61, retired NY Park Police Officer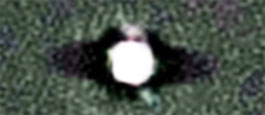 Reposted August 25, 2023 – October 26, 2017 Montgomery, New York – In October 1979, my TV documentary crew and I were in Bosler, Wyoming, to interview a rancher who had several bloodless animal mutilations. We had arrived at twilight and could see a large plateau silhouetted against the darkening sky that the rancher said had a pasture on top where he had lost several cows to the mutilators. All of our attention followed his hand as he pointed at the plateau. At that same moment, a red glowing "star" rose over the hilltop.
The rancher said, "That's not really a star. It's one of the UFOs."
I remember thinking that could not be true. And then a few minutes later, that rising red "star" stopped and went straight back down behind the plateau. All of us yelled at once, "That can't be a star!"
Later that night, the crew and I also watched an orchid-colored "star" move rapidly and come to a stop directly above us right at the zenith moving back and forth for a few seconds before stopping as if to show us that it wasn't a star either. That orchid-light stayed in that position unmoving the rest of the night.
On October 2, 2017, Bill Skywatcher who works for KGRA in New York, called me about a retired New York park police officer, who had some unusual video frames of what had been a flashing "star," but when blown up, there was a black silhouette of a disc shape around the light. That officer is 61-year-old Tony Velez from Montgomery, New York, who worked as a New York park police officer for 25 years between 1985 and 2010.  During his police career, he had a dramatic close-up UFO experience along with several dozen other police officers and commuters on the Taconic Parkway in New York.  As public as the dramatic encounter was for everyone there on the Parkway at 11 PM Eastern in the fall of 1989 — Tony Velez says  nothing was reported in the local Big Cities media.
Then a year ago in November 2016, Tony's daughter, Laurie — now 42 — ended up with sixteen minutes of iPhone video and some still images of what Laurie first thought was a strangely bright and pulsing star. But when her dad downloaded the video and frames on his computer to zoom in and enhance, what emerged around the "bright star" was the black silhouette of a disc, as if trying to disguise itself as a star.
Tony Velez wanted to share some of those images with me and on October 2, 2017, we talked on the phone about his park police career and the video that his daughter had taken a year ago.
Then he sent an email with frames from Laurie's iPhone that included a wide shot of the "bright star" and another frame in which Tony had zoomed in and enhanced on his computer.
From: Tony
Sent: Monday, October 2, 2017 1:12 PM
To: [email protected]
Subject: Possible UFO sighting pics
Hi Linda, nice speaking with you today. These pics that I zoomed in on are from a video my daughter took with her phone on 11/4/2016 approx 6:30 am Eastern. We reside in Montgomery, New York.  As I zoomed in, this is what resulted. Thank you, Tony Velez
Since Laurie is a professional massage therapist, I wanted to find out why she was up so early on November 4, 2016, taking iPhone video and still images of what she thought was a weird star?
---
Interviews:
Laurie Velez, 42, Massage Therapist, Montgomery, New York: "I felt the urge to wake up at 5:30 AM in the morning, and I just felt the need to go outside for whatever reason. For me to wake up that early and even go outside is really unusual for me. And I see this bright star object, and I said, you know, 'this is not a usual star in the sky.'
It was still pretty dark out, and I was comparing it to the other stars around. I'm like, this is definitely not a star. So as I started looking at it, it started blinking at me, like flashing at me like it knew that I was looking at it.
WAS THERE A PATTERN TO THE BLINKING?
If I can describe it through sound, it would have been like dit-dit-dit    dit-dit-dit
dit-dit-dit. Something like that.
OK, SO IT WAS PULSING IN TRIPLETS?
Right. And then not exactly triplets all throughout, but sometimes four or five. And then go back to mainly triplets. So I decided to videotape it.
At first, I was pretty amazed. I had about maybe 15-16 minutes of footage. And I also took snapshots of that ("star"). When my parents woke up, I told my father what happened.
And he said, "Oh, let me put this downstairs on my computer." So we zoomed in on the image, and he's like, "Do you see that around it?" And I said, "Yeah, I do. It looks maybe like a spaceship."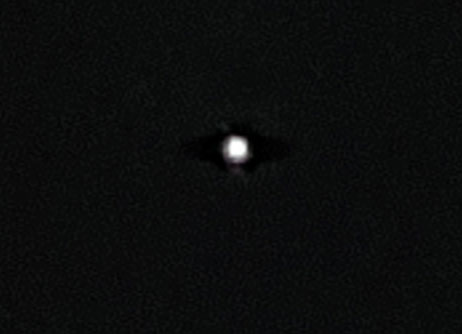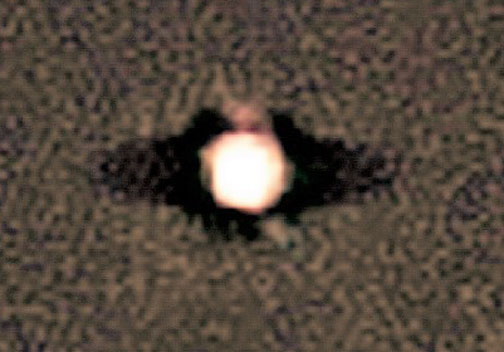 DID YOU GET ANY TELEPATHIC EXPLANATION OR IMAGES IN YOUR MIND OR SYMBOLS OR NUMBERS THAT SEEMED TO BE COMING FROM THAT STAR THAT ACTUALLY WHEN IT WAS ENLARGED LOOKED LIKE A DISK?
I think that maybe it wanted to show me, yes, we are here."
Tony Velez, Retired NY Park Police Officer
THEN I ASKED LAURIE'S DAD, TONY VELEZ, ABOUT HIS ENLARGING AND ENHANCING LAURIE'S IPHONE VIDEO AND IMAGES ON HIS COMPUTER. TONY, YOU LOOKED AT THE 16 MINUTES, AND WHAT ARE THE FRAMES YOU DECIDED TO BLOW UP? WHAT WAS THE REASON?
You know, I don't know. It's something—I said, "Well, wait a minute. This thing is moving, but it looks like a star in the sky." So I was kind of trying to debunk it, you know, but I said, "Let me send it to my computer." When I looked at the video, I said, "Well, let me pause it and let me just zoom in on the light." As I zoom in on the star, I started to see an image of a craft. It looks like a UFO craft.
Tony Velez's Dramatic Encounter With Lots of Other Police On Taconic Parkway, N. Y.
Laurie Velez's video of the black disk shape around the bright star light reminded Tony of another shocking UFO that he and maybe 50 other police officers encountered in the fall of 1989. That's when he was working as a New York park police officer. His shift was 1:30 PM day to 11:30 PM night. His duties involved patrolling New York state parks, state property, historic sites and the Taconic Parkway that is New York's longest parkway, running north-south between Manhattan and Albany.
So, I was making my last patrol around close to 11:00 PM Eastern at Baird State Park, which is like the beginning of Duchess County. So I drove the police car into the park. There were no cars. There was nobody around. And I started to exit the park. Going up the ramp to the exit, there's a stop sign before you get on the parkway going southbound, and as soon as I reached the top to get on the parkway, I noticed something up in the sky. So I went onto the shoulder of the Taconic Parkway, and I got out of the car, the police car. And I look up, and I see this huge craft hovering, and it appeared to be the size of a football field. And there was lights around it, and I couldn't see through the lights. In other words, I couldn't see the sky when I looked at the center of this unidentified object.
WHAT SHAPE WERE YOU SEEING, AND WHAT COLOR OF LIGHTS?
The lights were kind of — they weren't really bright. They were kind of dimmed, and they were something in between LED and fluorescent-looking. I was amazed at the size of this object, so I was trying to kind of, you know, with my eyes take pictures for more detail.
WERE THE LIGHTS OUTLINING THE SHAPE, AND WHAT WAS THE SHAPE?
The shape could have been more on the round side, but slightly triangular also. It looked like came to kind of like a point.
IT'S 11 PM AT NIGHT?
Right. I remember the time because it was my last check before going to sign out at 11:30. It takes me about 20 minutes to get to the station from that point, which is right on the Taconic Parkway.
WHAT WAS THE FIRST THING THAT CAUGHT YOUR ATTENTION THAT MADE YOU LOOK AT THE SKY?
Probably the lights. They weren't really bright, but out of curiosity, I just, I looked at the lights, and they looked kind of big to me, the lights themselves.
WERE THE PATTERN OF LIGHTS MOVING OR STILL?
It was just hovering, like engulfing part of the highway, my police car. When I got out and looked up, I said, "My God, this thing is like it was a giant hand that could just grab me, you know?"
AND YOU ESTIMATED THAT IT WAS ABOUT THE SIZE OF ABOUT A FOOTBALL FIELD, WHICH WOULD BE 300 FEET IN DIAMETER.
Yes. It was huge!
NOW, WHAT HAPPENS? WHAT UNFOLDS? DO YOU DO A RADIO CALL?
OK. So I'm mesmerized by this, I'm listening to my police scanner, and in these jurisdictions, they have many different police departments. So you have the State Park Police, we have the State Troopers, and the local police departments in all the towns and villages. So my police scanner goes bonkers. I hear a lot of different police departments talking, "Did you see that?" "Oh my God! We're going to try to catch up with it!" "Yeah, we've got hundreds of call on the UFO sighting!"
So before I get into my car again, I hear them talking that they're going to try to catch up with this thing. I'm facing southbound on the Taconic, and from a distance I looked north, and I see, it's probably got to be like a good 20-30 cars, police cars with their lights on driving southbound on the Taconic. And they're talking about trying to catch up with this. So I get in my car, and I say, "Well, I'm going to join this chase." But as those police cars got closer, and I put my lights on in my police car, the thing just took off like instantly. Just took off and headed like south. And I hear the police, the other units, go, "We're never going to catch up with this thing," you know?
DID ANYBODY TAKE PHOTOS?
You know, it's possible, but I don't know. I didn't take photos back then. We didn't even really have cell phones and things like that. I think in my police car I probably had a Polaroid camera in the trunk, but I didn't even think about taking that out because I was just so mesmerized by what I was looking at, but it was possible because I know I saw something years later. I was talking to my friend about this. And it was a Yorktown Police detective who was based out of Westchester County, and he was being interviewed in his office, and he was confirming, "Yeah, we got a lot of calls, I saw it myself." You know?
No Police Briefings and No Media Coverage
NOW, FOR THERE TO BE 30 OR 40 POLICE CARS ALL MASSED TOGETHER TO CHASE SOMETHING ON THE FREEWAY THAT IS SO HUGE IN THE SKY, I WOULD THINK THAT THERE WOULD BE SOME KIND OF A FOLLOW-UP BRIEFING. DID SOMEBODY FROM WASHINGTON GET IN TOUCH WITH ANY OF THE POLICE OFFICES TO DISCUSS WHAT HAD HAPPENED?
I wouldn't know that. I don't know how far they reported it. I didn't—aside from me talking to my fellow officers the next day about it — I didn't follow-up on anything with that myself. I don't know if other police departments did. I wasn't really into what I call this whole "hype" about UFOs, but I did see it for myself, so I just kind of kept it to myself.
WELL, YOU WOULD THINK THAT SOMETHING THAT WOULD INVOLVE THAT MANY POLICE CARS, THAT IT WOULD HAVE MADE THE FRONT PAGE OF THE NEW YORK TIMES.
I agree.
AT THAT TIME, THERE WERE LOTS OF HUDSON VALLEY SIGHTINGS. SO MUCH SO THAT A BOOK WAS WRITTEN ABOUT THE SIGHTINGS. DID YOU AS A POLICE OFFICER WITH THE OTHER POLICE WHO ASSEMBLED TO CHASE THIS OBJECT — WERE YOU EVER BRIEFED ABOUT THESE HUGE BOOMERANG, TRIANGULAR, V-SHAPED CRAFT THAT FOR A YEAR OR TWO WERE BEING SEEN ALL UP AND DOWN THE HUDSON VALLEY?
Not at all, not at all. No. I never heard it.
DID YOU HAVE ANY DISCUSSIONS WITH ANYBODY, EVEN UNOFFICIALLY, ABOUT THE BIG OBJECT OVER THE TACONIC FREEWAY AND CHASE BY THE POLICE?
At the time, I mentioned it to some of the guys who came in and worked the day shift, but you know, they laughed about it, and I just left it alone. So I didn't personally follow-up with any reports because it's not — it wasn't — I think, according to my department — like a reportable thing unless we had the FBI involved or whoever handles these things.
So I did speak to co-workers about it, but like I said, they were kind of, 'Oh, yeah, right. You're crazy.' —  You know?"
Viewer Feedback
This morning on October 25, 2017, I received the following email from an Earthfiles viewer who gave me permission to use her real name and town. So, here is what Darlene MacFarland from Leander, Texas, experienced.
"Hi, Linda!
I am writing about your Earthfiles headline  "How Many UFOs Pretend to Be Stars?"
Oddly enough, I saw a UFO this morning, and that's exactly what it was doing! Here's what happened:
I woke up especially early this morning, and went outside to see if my morning paper had been delivered. It was around 5:30 AM, dark, cool, and clear. Whenever I go outside early in the morning, I always take a few moments to look up at the sky and give a brief prayer of thanks for another day. This time of year, Orion and Sirius are always high in the sky early in the early morning hours. Today I looked up at Orion, and saw a bright, star-like light in the upper part of Orion's torso. I thought it might be an airplane, but it soon disappeared, re-appearing in another area of the torso, then disappeared again, re-appearing for a last time, then becoming much dimmer. At that point, I thought maybe it was a satellite, but then the very tiny speck of a light began zipping around back and forth and in circles and finally disappeared completely.
Of course, this is not the first time for me to have one of these experiences.  After I came back into my house, I just said out loud, "Thanks for the show!".  No fear, just excitement, and as the morning has progressed, a strong feeling of joy. You know what? I don't even care if anyone believes me or not! 🙂   I live in Leander, TX, near Austin.
Many thanks!   Darlene MacFarland."
If Earthfiles viewers and listeners have more information about UFOs camouflaged as stars, please email: [email protected]. All requests for anonymity are honored.
---
More Information:
For further information about strange, unexplained aerial phenomenon, please see reports in the Earthfiles Archive organized in chronological order from 1999 to 2016 ongoing of which a few are listed here.
---
Websites

:
Majestic Documents: http://www.majesticdocuments.com
USAF Regulation 200-2, Aug. 12, 1954, by Order of the Secretary of the Air Force, Gen. Nathan Twining: http://en.wikisource.org/wiki/Air_Force_Regulation_2002,_
Unidentified_Flying_Objects_Reporting
SOM1-01 website by Bob and Ryan Wood: http://www.specialoperationsmanual.com

© 1998 - 2023 by Linda Moulton Howe.
All Rights Reserved.