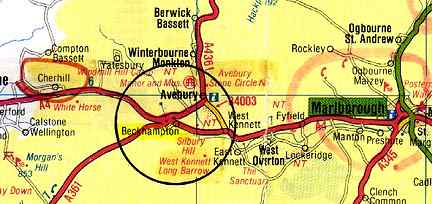 May 11, 2002 Beckhampton, Wiltshire, England – Crop circle investigator, Charles Mallett, reports that the first formation in the British county of Wiltshire, famous as a crop circle hot spot since the 1980s, was discovered on May 6 in flowering yellow oilseed rape. Charles wrote a report for the cropcircleconnector.com website which began, "After a hellish struggle through a saturated field of Rape-Seed, near Beckhampton, Wiltshire, we came across the formation laid out high on the slopes of Cannings Down, very close to the spot where in 2000 a large and impressive eleven fold design had appeared in a field of wheat."
Charles reports this new "eclipse" formation spans about 135 feet at its widest in 5-foot-high rape (canola). Outside the main formation are three grapeshot flattened circles of three different sizes and separated by about 30 feet from each other in a triangular pattern. The smallest of those circles seemed pristine and untouched by any visitors when Charles investigated.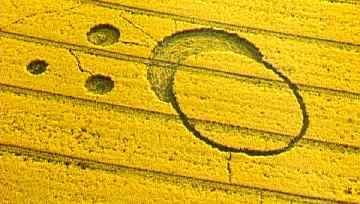 On the ground inside the formation, Charles and Frances said much of the downed crop was badly broken, either from visitors prior to their investigation and photography on May 8 or perhaps by human hoaxers in this one. However, it had rained in the May 6-8 period the formation was found and Charles was overwhelmed by the water when he investigated. The huge physical effort he needed to simply work his way through the rape's thick yellow pollen and crisp, tangled stems made him wonder who, or what, could make any pattern in the wet rape field.
---
Interview:
Charles Mallett, Crop Formation Investigator and new Co-Owner with Frances Mallett of the Silent Circle Cafe, Cherhill, Wiltshire, England: "It's set back from the road a good half mile or so and I had a half mile walk through this 5-foot-high rape seed to get to the formation and by the time I got there, I was absolutely soaked as if I had just jumped into the bath with all my clothes on. It's a hellish medium to operate in. Unbelievable! Whole buckets of water (in those flowers)! I was carrying a 20-foot camera pole and all my equipment. I had to hold them high because the plants were kind of bristling around my face and you can't see far in front of you at all. The tramlines are overgrown and if you can't part the plants with your hands, it's like a tangled ­ you need a machete to get through it. It's a tangled mess and you are really fighting the plants to get through it. You are covered with the yellow flowers. I ended up in the formation completely yellow, completely saturated, and luckily I chose the right tramline and ended up in the middle of the formation.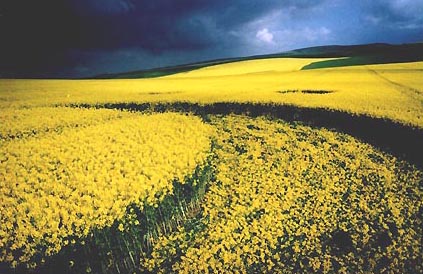 It's an absolutely kind of surreal experience. It's entirely different from walking into a wheat field formation where you actually see the formation as you approach it. In this stuff, you actually ­ you are looking at the plants 6 inches in front of your face and you kind of fall into the formation and Wow! It's a huge open space in this 30 acres of yellow. It is kind of pretty surreal. It's a crop circle experience that has to be had really, but you don't get it any time of the year except early spring.
Unfortunately, we weren't there from the day it happened, so a lot of the evidence on the ground we had to pretty much dismiss because we don't know how many people have been there, what they had been doing once they got there. So, I stumbled into the formation. It looked quite neat on the ground at a glance.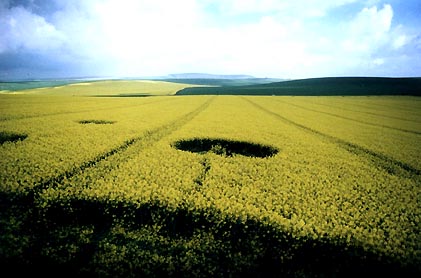 At a closer look, at least half the plants were quite badly broken, kinked or broken. It must be remembered that oilseed rape is a kind of succulent with hollow stems. I've tried it myself ­ if you do bend them over, they do ­ if you have human body weight on them ­ they snap off cleanly or have a real ugly kink. There was a lot of that going on in this formation, but as I said, because we weren't the first people down there ­ we didn't find it day one in the morning ­ we can't rule out that the damage was done by prior visitors in the course of that day.
Clearly people had been in there because there were tracks leading off to two of the outlying satellite grapeshot circles, so somebody had been there.
The question is whether it was a hoaxer's operation, or something truly mysterious which people went into it afterward?
Yes. It's extremely difficult to walk around in that medium without doing severe damage to the plants. I'm looking at the aerial shot on my computer screen right now, and I can see the tracks I made walking in the standing crop trying to find the grapeshots. You know, it's bizarre that these three outlying satellites ­ they were all pretty close to the formation. But I mean, it's such an unbelievable medium, we couldn't actually, you could only find one of them and they are only about 30 feet apart.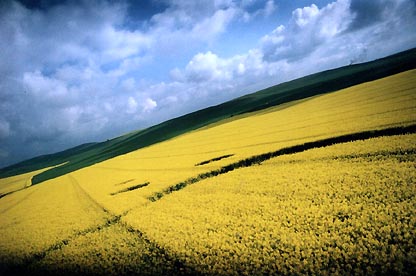 Interestingly one of these grapeshots had no tracks leading to it. So, also, make of that what you will. I personally can't walk in a rape field without causing damage to the plants. It's just human body weight on a delicate stem will snap, crush, break or leave ugly scars on the plants. It's an unforgiving medium for crop circles.
That said, anyone who could go out into a field in these plants and make a formation, they would have to be really determined because it is horrible stuff to operate in. It really is! Bending over a large armful of that stuff is really hard work. If people went out there and did that, they must be quite motivated.
But I would like to make a comparison of how this formation was on the ground to other new formations we have found in oilseed rape in the past, most notably in 1999 at Milk Hill at Alton Barnes, Wiltshire. We were sure we were the first ones down there. There were no tracks leading into that formation, no kind of disturbance at the perimeter of the field. And we knew it had arrived the previous night and were down there pretty early. (For more about the Malletts' 1999 experiences in the oilseed rape field at Milk Hill, see Mysterious Lights and Crop Circles © 2000 in Earthfiles Shop.)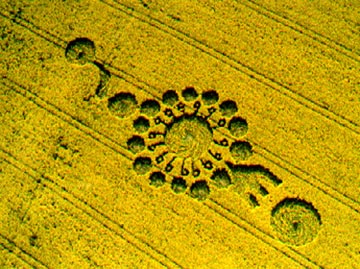 We walked into that formation and the plants there were about one foot taller than this stuff (at Beckhampton 2002). This stuff at the moment is some kind of hybrid. But the rape at Milk Hill in 1999 was about 6 feet high, so the stems were a quarter of an inch thicker, maybe. We walked into that formation and every single stem was neatly bent over, no kinking, no breaking, no damage, no board marks, nothing like that. Everything was pristine, clean. That arrived under similar conditions in terms of weather conditions. There is a kind of interesting comparison, really, in that we walked into one that we know was completely fresh and we knew we were the first people down there and every single plant was perfectly bent over, And as soon as we stand on those plants, we are crushing and causing really ugly dramatic trauma to the plants.
In this (new Beckhampton) formation, all of that had already happened. So, either lots of visitors had been there, or it was a human-made formation.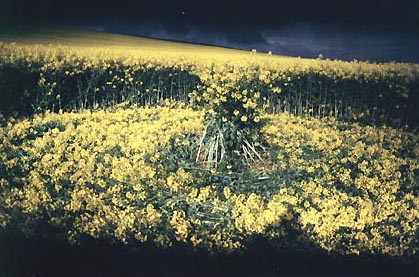 With the peculiarity of a grapeshot that you couldn't even find and which has no evidence of trails in and out when seen from the air, except for your tracks.
Yes, that particular aspect of this formation of the circles and crescent kind of baffles me. I don't have any answers for that at all, which is worrying because I like to have answers. But the crop circle phenomenon doesn't really give us that many answers. It just gives us a big mystery really, that we try to figure out in our little way.
It's kind of telling in a rape field that we can't find one circle, one 15-foot-diameter circle, when people say they can go in there and make a geometrically coherent pattern. I mean, it's almost beyond belief in some ways because you can't see over the tops of the plants. So, how are you supposed to take down a coherent pattern. That is kind of beyond me.
It also may be worth noting that we have visited formations in the past which have been pristine and then we've re-visited them a day or two later and they have been deliberately for whatever reason vandalized and kind of roughed up. The edges have been roughed up, someone has whacked post holes into it or made stuff just to create the impression that it's another hoax. We can't rule out that this is a genuine event, but also we can't rule out that it's a possible hoax. It looks good from the road, that's for sure.
Just to be in one of those fields in a flattened area is a real surreal experience, especially under the circumstances we found ourselves ­ the high pressure, the stormy sky. It had a real atmosphere about it. That generated it's own kind of magic.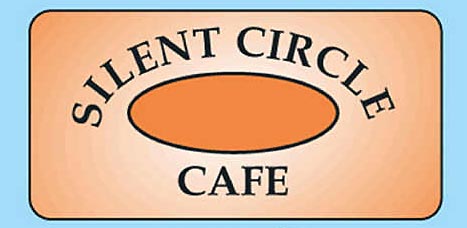 The Silent Circle Cafe
I understand that you and your wife, Frances, are embarking on a new business venture that will be tied to the crop circles and the people who love to go into Wiltshire and search for them.
What we are about to do is open at Cherhill, Wiltshire, a cafe, The Silent Circle Cafe, which is going to provide a selection of fine foods, cakes, soups, bread rolls, real wholesome English food. We are also going to have an entire corner of the cafe dedicated to the crop circle phenomenon. This area receives thousands and thousands of tourists every year and essentially there is no place for these people to go to find unbiased, up-to-date, accurate information about where the crop formations are and what the condition of them is and imagery. Also we are going to have an internet access point. So essentially as well as having the cafe and fine foods and all of that, we are going to have the crop circle information center which is freely available to anybody who comes to southern England to look at crop circles.
Cherhill's White Horse is a real enigmatic spot. We have this huge Egyptian-style obelisk standing on top of the hill near the White Horse and the cafe is down below the obelisk. You can see it from the front garden of the cafe where we will have outside seating. And we open the first of June."
---
More Information
You can e-mail Charles and Frances Mallett for more information about The Silent Circle Cafe and crop circle information center at: [email protected].
Telephone in Calne, Wiltshire, England: 07810-825-185

---
Websites
http://www.cropcircleconnector.com

© 1998 - 2019 by Linda Moulton Howe.
All Rights Reserved.