"We were the first to reach the formation at 4 AM (July 7, 2007) after seeing a very bright flash of light. The wheat circles were raised 6 inches above the ground so when we stepped in, the plants crunched under our feet like we were stepping on delicate crystals."
– Gary King, Cardiff, U. K. Paralegal
4 AM digital images added below.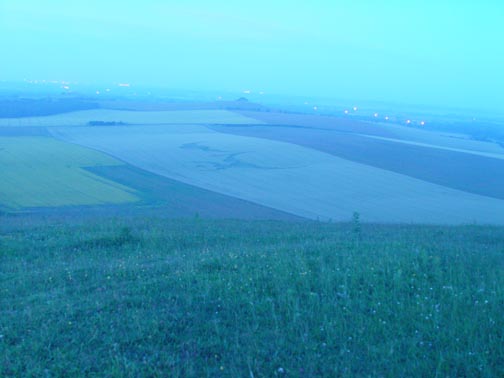 July 19, 2007 / Updated  July 27, 2007  Alton Barnes, Wiltshire  –  Gary King is 41-years-old and currently a Linguistics student at Cardiff University in Wales, U. K. Between 1985 and 1987, he had worked as a paralegal in London and then moved on to form his own private investigator company to trace missing persons and investigate cases of matrimonial discontent. He was doing private-I work until July 1997, when he walked into his first English crop formation "and life has changed considerably ever since," Gary told me in a July 11, 2007, phone interview. He explored Navaho reservations in Arizona, studied the dance traditions of West Africa, increased his knowledge of Tai Chi and other martial arts. He began to realize that he was becoming increasingly sensitive to the seen and unseen.
"On a couple of occasions, I've had intuitions about crop circles like you would have before a phone is going to ring. I've had intuitions where I've gotten up in the morning and driven down to Wiltshire from my home in Wales and been lucky enough to walk into a fresh formation."
On Friday, July 6, 2007, he woke up in his Wales home around 3:30 AM and could not go back to sleep. So, he got up, had some coffee and toast, watched the sunrise and decided he had to go to Wiltshire to see if any new crop formations had emerged. Traveling with him was his girlfriend, Paula Presdee-Jones.
---
Interview:
Gary King, Former London Paralegal and Private Investigator; Currently Linguistics Major at Cardiff University, Cardiff, Wales, U. K.:  "I've always looked at the East Field and went there first, but there was nothing.
Then I went to the Silent Circle Café around mid-day and somebody mentioned there might be a formation in the East Field, which we went back to investigate. It was just wind damage at one end of the field because the night before it had been particularly windy. When I got there, I met up with some Dutch researchers from Holland that Janet Ossebaard had brought over and also some American people that Denni Clark had as a tour group. We were looking at the wheat and saying it was just wind damage. I decided to spend the night on top of Knap Hill, which is directly in front the East Field.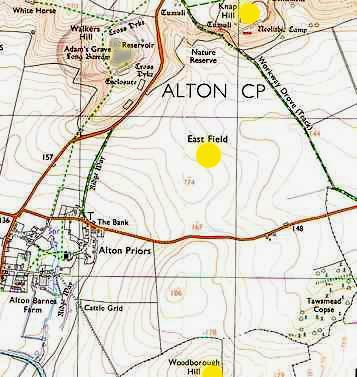 So, that evening I borrowed a sleeping bag off Charles Mallett at the Silent Circle Café to go up and do my vigil with Paula. When we got up there, we met up with a man called Winston ('Win') Keech, who is a UFO investigator. He had three cameras set up on the hill and two cameras set up on his car (jeep), which was parked a little way down on the hill. So, he had five cameras in all.
On top of the hill, he had three cameras set up on tripods. One was a Sony digital still camera. Another was a Sony VX2100, which he told me is much more sensitive to light than the human eye. He also had an image-enhancing camera, which was hooked up to a JVC D-700 recorder, so that every time he scanned the field with the image enhancer, it would record what was scanned.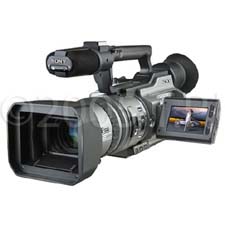 THE TWO CAMERAS IN WIN'S JEEP WERE MOUNTED HOW?
They were mounted on the roof. They were infrared and visible light capacity. One was aimed at East Field and one was aimed at Milk Hill. And they were hooked up to VHS/VCR video recorders with 4-hour tapes in them.
WHY WAS MR. KEECH ARMED WITH SO MANY CAMERAS ON THE NIGHT OF JULY 6 TO JULY 7, 2007?
I met up with him for the first time at the Silent Circle Café during that day. I put Janet Ossebaard's Contact video on the TV set and he saw somebody in the video give a personal testimony about a ball of light they had seen forming a crop circle some years ago and Winston Keech got quite excited. So, I asked him what happened and he said, 'Oh, I saw that ball of light make that formation some years ago, but I didn't know anyone else had seen it!'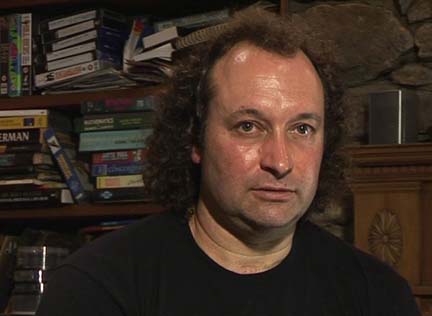 Win told me he was going back to Yorkshire on Monday (July 9) where he lived and he was going to do one more night watch on Friday to Saturday night (July 6 to 7, 2007). I don't remember him telling me he was going to be Knap Hill – but he just said he was going to do another night. And off he went.
So, on my own when I ended up going to the top of Knap Hill with Paula, I immediately recognized Win as he came over to us. We sat down where he had all his cameras set up. He picked up his image-enhancing camera and scanned around the East Field which we could see very clearly through his equipment. We could see the tramlines. He scanned across (the wheat) and we could see there was a field of rapeseed next to (the wheat) and we could see the road and everything very clearly. That was recorded and indexed at 1:35 AM, Saturday, July 7, 2007.
THERE WAS NOTHING IN THE EAST FIELD AT THAT POINT?
Absolutely nothing, no.
1:35 AM, July 7, 2007
Three Light-Sensitive CCTV Camera Frames of East Field, Dark without Lights or Human Activity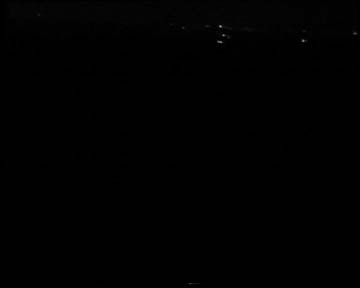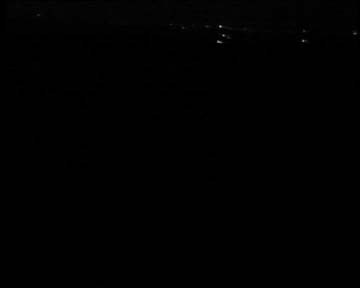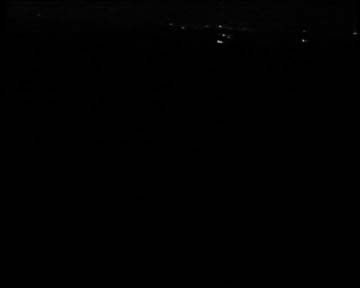 WHAT HAPPENED?
We all sat there and talked about the universe and all the possibilities of how wonderful this world could be. Then, just around 3 AM, (video analysis shows 3:08 AM – first report was 3:13 AM for flash and then refined in analysis to 3:08 AM), we saw a great big flash of light, which I can describe was almost like lightning, but covered the whole land and was like a big camera flash going off everywhere.
YOU DID SEE THAT FLASH WITH YOUR HUMAN EYES?
With our eyes, we registered a great big flash, all three of us.
SUCH A BRIGHT FLASH SHOULD HAVE BLASTED OUT THE INFRARED CAMERA. WHAT DID THE INFRARED CAMERA SHOW?
It was the infrared camera that just shows the EMP pulse."
Norwegian Video Producer Joins Winston Keech
to Analyze Infrared Camera Video
Terje Toftenes, Video Producer and Managing Director of Strat and Toftenes in Sandvika, Norway, got a call on Tuesday, July 10, from a colleague in Wiltshire telling Terje that not only had one of the biggest crop formations in Wiltshire history appeared early in the morning on Saturday, July 7, 2007, in the East Field, but there had been cameras running when a very bright flash of light was seen from Knap Hill by three eyewitnesses. Terje studied electronic engineering in a Norwegian university and later worked as a TV producer for the Norwegian Broadcasting Corp. until 1978, then managed an Audio-Visual Department for a Norwegian public relations company until 1986. That year, he founded his own video company to produce industrial films. Today, Strat and Toftenes produces for major clients in the offshore oil, gas and shipping industries.
But like Gary King, after Terje stepped into his first English crop formation in 2003, he was haunted by their beauty and the mystery of what they could mean. He ended up producing a documentary for Norwegian television that was translated into an English version in 2006 as Crossovers From Another Dimension. (See More Information below.) He's now working on a follow up documentary.
So when Terje received the phone call about a massive pattern of circles estimated to cover 96,600 square feet, or 2.25 acres, with more than 95 circles (final count was 150) in a very strange design spread across 1,033 feet and 490 feet wide – plus three eyewitnesses who saw a bright flash of light while light-sensitive and infrared cameras were set up – he got on the first plane out of Norway and headed for the East Field. Terje went over in detail with Winston Keech what the camera equipment had recorded. For everyone, it was a sad irony that the exciting human conversation distracted attention from periodically videotaping the East Field and changing tapes. Terje and Winston discovered only two frames in the infrared camera had recorded an electromagnetic pulse of some kind that left a 4 milliseconds trace of what Terje thinks are the trees atop Woodborough Hill in the distance, but nothing else from the East Field itself.
However, if you start with:
– the 1:35 AM Sony light-sensitive videotape that Win Keech shot while panning the East Field that was so dark in the frames above;
– add the three eyewitness naked eye sighting of the bright, flash of light that came at 3:08 AM, according to the infrared camera;
– view the infrared video frames leading up to the last two seconds before the videotape ran out of that camera right after the 3:08 AM electromagnetic disturbance (first report was 3:13 AM for flash and then refined in analysis to 3:08 AM);
– consider that the trees atop Woodborough Hill are in 4 milliseconds of a flash in an otherwise dark frame;
– include the approximate 3:20 AM viewing of all three eyewitnesses through the Sony light-sensitive camera in which all three could see a shadow in the East Field they assumed must be a new formation;
– then look at the approximate 3:20 AM Sony still digital frame camera at the top of this report that clearly shows the astounding wheat formation.
Analysis by Terje Toftenes

Terje Toftenes, Video Producer and Managing Director, Strat and Toftenes, Sandvika, Norway:  "At 1:35 AM, (July 7, 2007) it was so dark, so totally black in the field. The only thing you can see from the video recording was the horizon and some lights from houses in the distance in the horizon. But in the field, it was totally black and I've tried to enhance, or amplify, the video frames. But all I get is recording noise from the recording device.
YOUR IMPLICATION IS THAT IF THERE HAD BEEN ANYBODY HIDING IN THE FIELD OR TRYING TO WALK THE TRAMLINES OR EVEN HAD A HIDDEN FLASHLIGHT, THE INFRARED AND STARSCOPE CAMERAS WOULD HAVE SHOWED THAT VERY CLEARLY?
Oh, yes. Any lights would be visible on those recordings and we have examined them back and forth during the 1:35 AM time period and there is absolutely no sign of any lights or people or activity in the black parts of the East Field where the formation appeared later.
TERJE, WHAT IS YOUR UNDERSTANDING ABOUT WHY WINSTON KEECH HAD 5 CAMERAS ON KNAP HILL IN THE COLD AND RAIN FROM LATE FRIDAY, JULY 6, TO SATURDAY, JULY 7, 2007?
Fifteen years ago in 1991, Win Keech had a close encounter with a ball of light that created a crop circle right in front of his eyes. And it happened in just 3 seconds. Win was standing in one of the corners of the East Field. A ball of light the size of a human fist appeared right in front of him and suddenly expanded to be like a big, floating pancake.
Then it was about 20 feet in diameter. Then the wheat beneath this kind of golden, floating pancake, started to wave around and lay down in a perfect circle. Then this pancake goes back to the size of a fist and slowly drifts away into some bushes and disappears. It took three seconds. He had one single-reflex camera and a very old video camera. But he did not have the time to push the recording button. [ See: 060999 Earthfiles for another "floating pancake" that produced crop circle in Hoeven, Holland.]
Win Keech felt that this light ball, or whatever it was, was kind of teasing him and telling him, 'I'll show you what I can do. But you cannot catch me on film. But I'm here.' That's the feeling Win had.
And every single summer since then, he has been down here in Wiltshire for a couple of weeks setting up his equipment focused on the fields at night, trying to catch this phenomenon on video. And every year, he has gotten better and better equipment, and finally after 16 years, he is able to have a new contact with it in the East Field.
YET, FOR WHATEVER REASONS, HE WAS NOT OPERATING THE CAMERA EQUIPMENT WHEN THE FLASH OF LIGHT OCCURRED.
Right. Well, he also explained he had a feeling that if he had been very actively filming the field all the time, it probably would not have occurred. Again, he felt that the phenomenon was kind of teasing with him because the minute that the big light flashed, the three people – including Win – were in the middle of a discussion and had their focus somewhere else other than on what was happening in the field. He said, 'If I had been there totally alone focusing on the field the whole time as I have done for the last 16 summers since the incident in 1991, this time probably would not have happened. 'I have a feeling,' he says, 'that this phenomenon is dancing with me. It invites me to dance. It's invisible and it shows up when I least expect it. It will not show itself when I ask for it. It just shows when I'm not aware.
So, again, he felt this was an answer to his questions and encouragement to continue on his path, developing himself as a human being.
DO YOU HAVE AN EXACT TIME FOR THE FLASH OF LIGHT?
Yes, the exact time for the flash seems to be 8 minutes past 3 AM (3:08 AM Wiltshire, England local time).
TO SUMMARIZE,  AT 1:35 AM WAS THE LAST TIME THAT THE SONY LIGHT-SENSITIVE AND INFRARED CAMERAS SHOWED DEFINITIVELY THAT THERE WAS NOTHING IN THE EAST FIELD?
1:35 AM it is – that's the last pan over the East Field where you see nothing in the field.
THEN, AT 3:08 AM IS WHAT THE INFRARED CAMERA SHOWS WAS THE MOMENT OF THE LIGHT PULSE?
Yes.     [Post-interview and post-press conference editorial note by Terje:  "There actually is an uncertainty whether the Light Flash happened at 3:08 or 3:13. This because of the fact that the VHS timecode was slightly unprecise. But this makes no practical difference, so no use to mention I believe. Only thing is that in my video-interview with Win, he mentions 3:13, but later he corrected this to 3:08 when analyzing the tapes. The English papers therefore refer to 3:13 as presented in the videotaped interview. But again, probably a minor difference irrelevant to the total picture." ]
WHAT HAPPENED TO THE CAMERAS IMMEDIATELY AFTER THAT LIGHT PULSE?
At that particular moment, only two cameras were running. And in one of those cameras, the tape had run out. On the other camera, the tape ran out only two seconds after the light pulse.
THAT WAS THE INFRARED CAMERA.
Yes. The cameras ran out of tape because the three people were in the middle of such an interesting discussion about metaphysics that Win Keech forgot to change the tapes. So when the light struck, he said, 'Oh, gosh, that reminds me. I have to change the tapes.' So, he ran down to the jeep and changed the tapes and afterwards, we see that one of those removed was recording the light pulse two seconds before that tape ran out. So, that was really lucky!
Flash of Light: 4 Milliseconds Image On Infrared Videotape
I have analyzed all this frame-by-frame. On the first frame where the flash happens, there is an electronic kind of shock. You have to remember that the camera was connected to a video recorder by a cord because this particular camera was on the rooftop of the jeep. The recorder was inside the jeep. So, the cord picked up the light pulse because the cord was like an antenna to electrical impulses. So, I think what I can see is that the first kind of shock on the first video frame is from the electromagnetic shock from the flash of light.
3:08 AM – Infrared Camera Frame 1 After Light Flash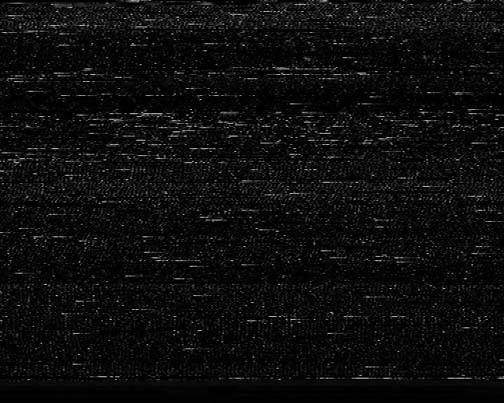 On the next second frame, you see the actual flash of light (4 milliseconds) on the tiny part of the frame. Then, for the next 6 or 7 frames, the camera obviously had sync trouble because it's trying to regain its synchronization. The EMP pulse from the light flash was so hard that it shocked the electronics.
Infrared Camera Frame 2 After Light Flash
Upper 4 Milliseconds of Frame Show Trees Atop Woodborough Hill.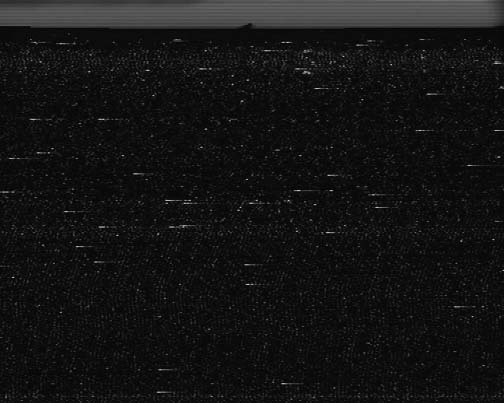 SO, WE HAVE FOR SURE AT 3:08 AM THE BIG FLASH OF LIGHT THAT EFFECTS THE CAMERAS AND THEIR SYNC AND YOU HAVE 4 MILLISECONDS ON ONE FRAME OF WHAT YOU THINK ARE THE TREES ATOP WOODBOROUGH HILL?
Yes. That's correct.
NOW, WE HAVE 1:35 AM AND NOTHING IN THE EAST FIELD.  AT 3:08 AM THERE IS THE BIG FLASH OF LIGHT AND THE ELECTROMAGNETIC DISRUPTION. WHAT IS THE NEXT TIME YOU HAVE ON VIDEO THAT SHOWS SHADOWS THAT MIGHT RELATE TO THE FORMATION BEING IN THE EAST FIELD, EVEN IN THE DARK?
OK, what happens after the flash is that Win runs down to the car and changes the tapes. That takes approximately five minutes. He gets back to the top of Knap Hill and Gary King suggests that flash of light could have meant something. 'Maybe that's it!' they kind of joked. So, why not try to pan the field again even though it was totally black?
Win took the most light-sensitive camera he had (Sony VX2100) which was on a tripod at the top of Knap Hill and this again was connected to a camcorder, so it was recorded on mini-DVD tape. He pans over the field and then they saw in the viewfinder a shadow in the field which was in the place where the crop formation was later seen as a full formation. But in that pan after the flash of light, there was only a shadow.
3:20 AM – First Shadow of Crop Formation Seen and Photographed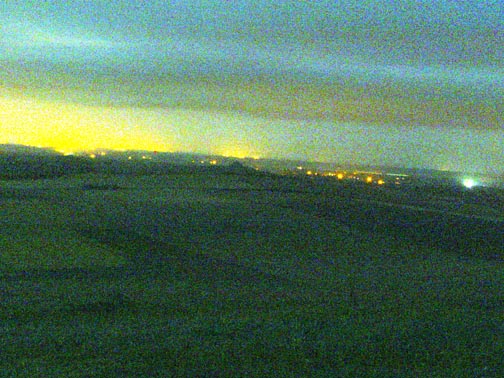 "And this was approximately 12 to 13 minutes after the light pulse. We are now talking about 3:20 AM. That's when they saw the first shadow and then some light came as clouds began to drift away from the moon.
After that, they could also see with their naked eyes that there was a shadow there and took a picture with the digital still camera. Then they could see that the formation was there. From that point, the (light-sensitive) Sony video camera was also able to pick it out as well. So, from 3:20 AM (July 7, 2007), you've got the crop formation there. And about a half hour later (about 3:45 AM), they could see with their eyes.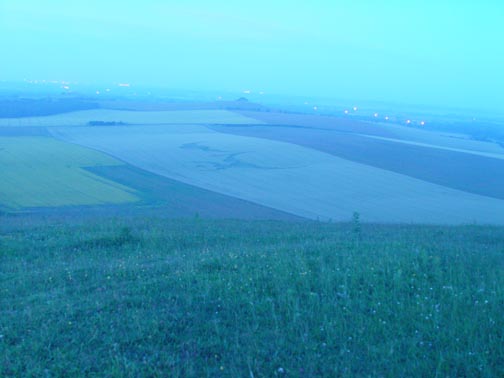 DID THEY VIDEOTAPE AT THAT MOMENT IN INFRARED OR STARSCOPE?
They videotaped with the normal, light-sensitive Sony camera and also the infrared camera was running. So, we have that on three different sources. Also from the Sony digital still camera. So, actually four of the cameras were working at that time.
THE EYEWITNESSES ARE STILL ON TOP OF KNAP HILL. NOW THEY ARE SEEING AND VIDEOTAPING AND RECORDING WITH VIDEO AND CAMERA EQUIPMENT IN INFRARED, STARSCOPE AND ON A STILL FRAME THAT THERE IS SOMETHING IN THE FIELD. WHAT DO THEY DO NEXT?
First of all, if you listen to the audio from the recordings, you can hear they are cheering and yelling because of their excitement, of course. They told me they thought it was sort of an answer to the discussion they had been having about the existence of other realities and the nature of consciousness. This intelligence, or whatever is making the crop formations, just wanted to show them, 'Aha! You might be on the right track.' That was their feeling.
After they had done more recordings, then they were also able to see it with their own eyes. At that time – and now we have come to about 4 AM – then Gary and his girlfriend decide to go down and have a look at the crop formation. So, they get in their car and drive around the East Field to the small parking place (silage pit) and they walk into the formation as Win is still videotaping them from the top of Knap Hill. We have the video of them coming into the formation and dancing! They were extremely excited to get into the crop formation when they knew they were the first people on this planet entering that particular formation.
4 AM – Gary King and Paula Presdee-Jones 
Take First Steps into East Field Circles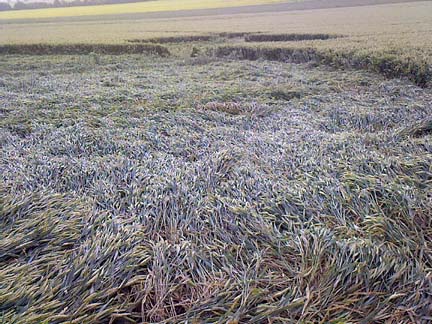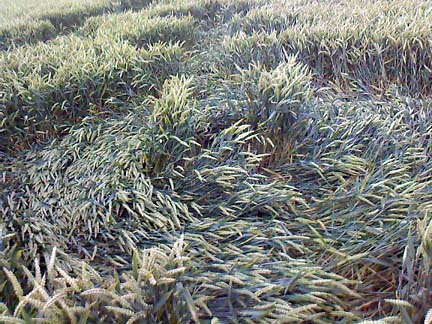 Gary King:   "Yeah, I was fortunate to be the first one who walked into it with my girlfriend from Cardiff, Paula, while Win Keech continued to videotape us. We drove down the road just after 4 AM and walked into it just as the light was coming up. Walking through the formation, we could see some of the circles were very low to the ground. Then the next circle you would walk into, the lay would be like 6 inches above the ground and as you would try to walk on it, it would crunch, like breaking glass.
Some of the centers were beautifully laid out in nests. Other centers were actually broken, so there were indications that some of them had very strong energy on them and others were put down with very great care and beautifully laid. It was a very contrasting formation in terms of differences in each individual circle.
I HAVE BEEN IN FORMATIONS IN THE U. K. OVER THE LAST 15 YEARS IN WHICH THE PLANTS SEEMED TO BE SLIGHTLY RAISED ABOVE THE SOIL AND WHEN YOU PUT YOUR FOOT ON THEM, IT IS ALMOST LIKE STEPPING ON SOMETHING THAT WOULD BE CRYSTALLINE OR GLASS …
Exactly!
…SO THAT IT CRUNCHES.
You are describing exactly what was happening to us. It felt like a sacrilege to tread on them. It felt like we were breaking something so beautiful as the plants crunched underneath our feet.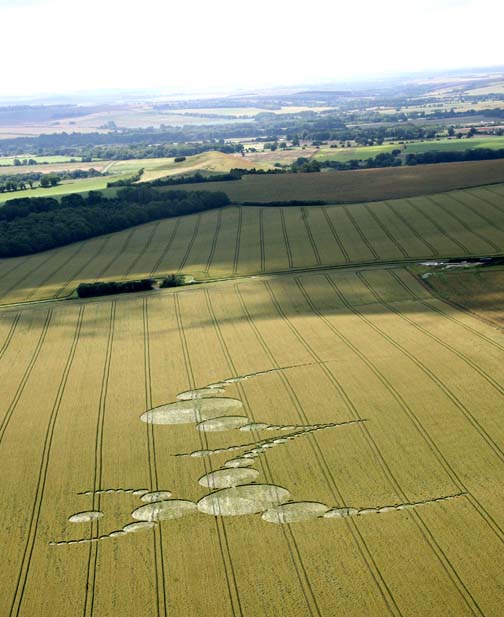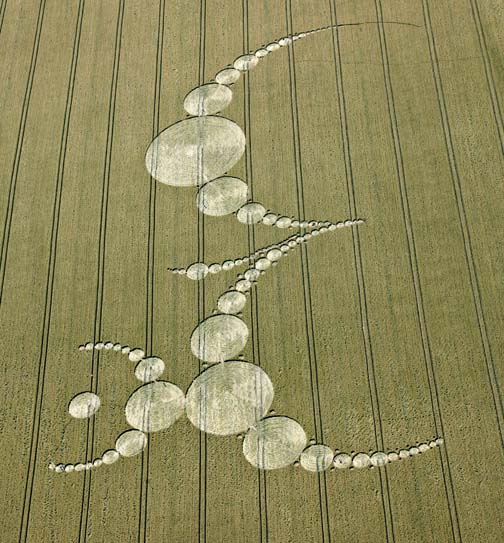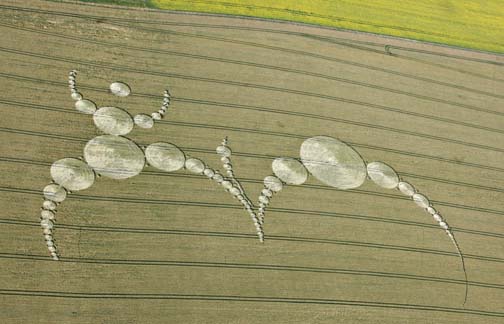 COULD YOU DESCRIBE FROM YOUR PHYSICAL EXPERIENCE OF BEING THE FIRST PEOPLE IN THE EAST FIELD CIRCLES, WHAT WERE THE SMALLEST SIZES OF THE CIRCLES UP TO THE LARGEST?
I'd say the smallest circles were maybe 2 to 2.5 feet wide. Then as you would walk a line of them, they would get progressively bigger and bigger. And then the big one as you got closer to the center, I would say was about 150 feet across at least, I'm guessing. (Largest was 160-foot-diameter). The formation was just massive and vast.
DID YOU HEAR ANY SOUND IN AND AROUND THE FLASH OF LIGHT?
No, no sound. It was very windy.  We had our hoods up. It was a very windy evening.
SO THIS FORMATION AND THAT FLASH OF LIGHT OCCURRED WHEN THERE WAS A STRONG WIND?
Oh, yeah.  It was a strong windy night.
WHICH ALMOST MAKES IT THAT MUCH MORE REMARKABLE THAT IT WOULD BE THAT PRECISE ON THE GROUND.
I think so, yes.
THE CRYSTALLIZATION MIGHT HAVE BEEN ON PURPOSE TO PRESERVE IT IN THE WIND?
That's a good observation. It sounds reasonable to me.
Physical Impact of East Field Circles On People
From our own experience being there, witnessing it, and feeling the energy that we felt, it was very electric! We were dancing on the top of Knap Hill when we saw it, too.
Since then, a number of people who have gone in the formation, including myself, we have had dry throats and headaches. And we've had kind of tired feelings and some of the symptoms you can get from going in formations that I've experienced over the years.
WHICH W. C. LEVENGOOD, THE BIOPHYSICIST, ASSOCIATES WITH THE PRESENCE OF MICROWAVE ENERGIES, OTHER COMPLEX ENERGIES AND AN ANOMALY IN THE MAGNETIC FIELD.
Yes.
THERE IS DEFINITELY MEDICAL EVIDENCE THAT NEGATIVELY CHARGED IONS VERSUS POSITIVELY CHARGED IONS – ASSUMING IT WAS SOME KIND OF SPINNING PLASMA THAT CREATED THE ENORMOUS AND AMAZING FORMATION – THOSE DIFFERENCES IN THE CHARGE OF THE PLASMAS CAN AFFECT HUMANS IN A VARIETY OF WAYS.
Yes."
Terje Toftenes Stepped into Formation On Wednesday, July 11
Terje Toftenes:  "I also had that experience when I stepped on the outskirts of the formation that if you are used to stepping on very cold snow, it kind of cracks under your feet. It was the same sound.
These stems were not broken. They were just gently bent and people who have been doing crop circle research over the years, they have found this is how it usually is in genuine formations – that the stems are not broken. They are gently bent so the crop is not dying. It's growing and if the crop is young, it will kind of straighten up again.
I also felt there was a strong radiation from the formation. Gary told me the first morning that he was in there that pretty soon he had a bad headache. I experienced the same myself when I was in there four days later. Inside this crop formation, I had been there for half an hour when I had a terrible headache. It lasted until I left the formation. When I got into the car and drove away, the headache was gone.
East Field Is Not Flat
Something Knew How to Make Ovals On the Ground
That Would Look Like Perfect Circles from the Air
The East Field is not a totally flat pancake field. It actually curves up and down. When you look at the formation from up above from an aerial photo, you see that the circles are absolutely 100% correct circles. To make circles look 100% from the air in a field that has up and down hills, you cannot create 100% perfect circles on the ground. You have to create ovals. And that's the case here. All the circles that are lying on a hilly surface more than a flat surface, they are ovals.
To construct 100% correct ovals in total darkness – everything you do is extremely difficult because you can't see anything. So, to construct not just one, but several ovals and large ones – the largest one is like 50 meters, or 160 feet. Under those dark conditions, I would consider that impossible and everyone I have spoken to among the researchers down here and also civil engineers who are used to land surveys – they say that to do that under those conditions and also within that limited time frame (90 minutes to 1 hour and 45 minutes), they regard that as absolutely impossible for humans to do."
Extraordinary Non-Human Intelligence Behind Crop Formations
We are thrilled about what has happened and feel the public should know, the world should know, that something is going on in these fields that – well, I just can't describe it. I get goose bumps all over my body when I'm talking about it, you know?
IN YOUR GUT INTUITION, WHAT DO YOU SENSE IS BEHIND THE CROP FORMATIONS?
I'm absolutely convinced it is a very intelligent entity, or whatever it is. To me, I have a feeling that what we perceive with our five senses is just a part of the real reality. Our 5 senses are constructed to perceive reality in the 3-dimensional reality. I have a strong feeling that there is life going on within us and around us that we do not perceive.
I think there are other intelligences in this universe visiting and monitoring us. And I have a very strong feeling that our governments know a lot more about this than they will tell us. So, I think it is either something projected on the ground from an alien source. Or it is projected on the ground from an inter-dimensional source that we are not able to perceive with our senses. But definitely, this source has decided to present itself in a way that is so beautiful and that is not hostile that creates the most thrilling feelings within us and invite us to explore the unknown and invite us to start discussions about realities, consciousness … and it is an invitation to start growing as people again because we have for so long been stuck in our materialistic world view and it's probably time to take the next step in the evolution of humankind. That's my opinion.
TERJE, WHAT DO YOU THINK ABOUT THE IDEA THAT CROP FORMATIONS OVER THE PAST QUARTER CENTURY ARE A KIND OF 3-DIMENSIONAL SYMBOL LANGUAGE BASED ON MATH THAT HAVE SOME KIND OF FUNCTION IN RELATIONSHIP TO THE SURFACE OF THIS EARTH THAT WE DON'T UNDERSTAND?
If the circle makers are trying to pass through messages to humankind, why do it in such a difficult way? Why not spell it out in letters in the fields? I think it's like when you educate children. If you tell children to do this, not do that, that's not real education. Real education is when you lead your children to explore things on their own. Then they really learn. That's what I think these formations do. They invite us to start a learning process where we have to be the active one. They are helping us on the way, they are giving us signs, they are giving us wonders to explore – but we have to do the work ourselves. That's how we are going to evolve and grow and learn.
Why Are Governments Threatened by Crop Formations?
SO, WHY WOULD CROP FORMATIONS AROUND THE WORLD THREATEN GOVERNMENTS AND MILITARY?
Because it threatens our world view. It threatens our belief systems. To feel secure in society, you have to feel that you have control. These crop formations tell us that the governments do not have control. They are apparently appearing in our fields at night and I guess the military is pretty frustrated – well, I KNOW the military in England is very frustrated because their job is to control the airspace of England and something is invading this airspace almost every night! I'm not just talking of crop formations, but also of UFOs of which there are many reports here every summer and during the whole year actually. So, I guess the government is very concerned about letting the situation get out of control. You can just imagine what would happen if some government said, 'OK, we just have to inform you that we are aware of Something fiddling around in our fields every summer. We don't know what it is, but it is certainly there and much more intelligent than us. So, just watch out.'
What kind of situation would that create? What would our churches say? How would they define God? It's like opening an enormous box of possibilities that you can't control and that's why the government does not want the people to be aware of this.
WHAT IS IT GOING TO TAKE TO MAKE GOVERNMENTS AND LEADERS ON THIS PLANET FINALLY TALK IN TRUE LANGUAGE AND FACTS WITH THE REST OF THE CITIZENRY ABOUT THE FACT THAT WE'RE NOT ALONE AND THERE ARE PHENOMENA RELATED TO ADVANCED INTELLIGENCES?
That's the major question, Linda. I don't have a proper answer to that. I'm afraid what it's going to take is a crisis, just like the environmental situation. We have to have a crisis before we start reacting. We are very conservative in the way we conduct our lives. We don't want change, even though we say we are open to change, deep down we don't want it. We want to live our safe, predictable lives as we always have done. And these phenomena are kind of opening a door to Something we cannot control. We do not know what it is. It's risky. It might be dangerous. I don't know what it takes, but I would say it takes some kind of crisis before we really open our eyes and before the government is willing to establish some type of organized investigation.
But I think the destruction of Earth will also affect not only this planet, but will have an effect outside our planet. That's why I think the concern is rising and Some Other force, or Intelligence, is trying to give us some hints that we should start opening our eyes now and see that we are not alone.
DO YOU THINK THE CROP CIRCLE MYSTERY IS HEADED TOWARD SOME KIND OF RESOLUTION IN WHICH THE INTELLIGENCE BEHIND THE CROP FORMATIONS OVER ALL THESE YEARS WILL MAKE ITSELF PUBLIC TO HUMANS ON THIS PLANET?
I have a feeling it is. I have a feeling you can see that very clearly from the way it is accelerating. The phenomenon is growing. It's definitely taking us somewhere. We are headed toward crisis in the energy systems on this Earth. We are headed toward environmental crisis. I mean, for just talking about energy – in like 40 years, we will run out of gas. And we will run out of the energy that drives 80% of all our systems on the Earth. So, in 50 Earth years, we will have some pretty big troubles on our hands.  If we don't wake up and do something about that pretty soon, then this planet is going down, this civilization is on its way down.
I think this crop circle thing is a wake up call and the reason it's accelerating is because this crisis we are onto is also accelerating pretty fast. So, it's a wake up call and a sign that we are full speed towards a crisis."
To be continued in Part 2: Unmarked Black Helicopters Over East Field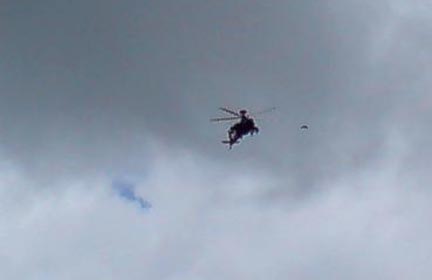 ---
More Information: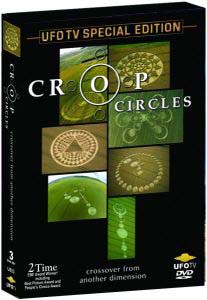 If viewers have more information about other crop formations in your area, please email me at [email protected]
For further reports about crop formations, please see reports below in the Earthfiles Archives and my book Mysterious Lights and Crop Circles in the Earthfiles Shop:
07/23/2007 —070707 East Field Wheat Formation: Viewer Comments
06/06/2007 —Part 2: Yatesbury, England and Madisonville, Tennessee – A Mayan Link?
06/05/2007 –Part 2: U. S. Crop Formations, Two Mysterious Grass Circles in Mission, Kansas
06/04/2007 — Part 1: Yatesbury Spiral – Viewer Comments on Spiral Math
05/27/2007 — Part 1 – U. S. Crop Formations Near Indian and Ancient Earth Mounds
04/12/2007 — First 2007 Crop Pattern in United States
03/14/2007 — Part 5: Mysterious Events At 2005 Tawsmead Copse "Insectogram" Crop Formation
03/13/2007 — Part 4: Mysterious Events At 2005 Tawsmead Copse "Insectogram" Crop Formation
03/06/2007 — Part 3: Mysterious Events At 2005 Tawsmead Copse "Insectogram" Crop Formation
03/04/2007 — Part 2: Mysterious Events At 2005 Tawsmead Copse "Insectogram" Crop Formation
02/27/2007 — Part 1: Mysterious Events At 2005 Tawsmead Copse "Insectogram" Crop Formation
06/11/2006 — Updated: Two Mysterious Circles in Wheat Baffle Kansas Farmer
09/02/2005 — Part 1: New York and Ohio Corn Circles "Flattened 2 to 5 Feet Above Ground"
08/02/2005 — Part 1: Anomalies Confirmed in Pennsylvania and Arizona Randomly Downed Crops
07/23/2005 — Mystery of Six Grass Circle Formations in North Carolina
05/26/2005 — Phoenix Barley Mystery: Apparently Irrigation and Wind
05/09/2005 — Mysterious Lights and 2003 Serpent Mound Soybean Formation
04/20/2005 — Outer Space Impact At Serpent Mound, Ohio, 256 Million Years Ago
10/17/2004 — American Crop Formations: 1880-2004
09/22/2004 — Miamisburg and Serpent Mound, Ohio Crop Formations: Geometries Compared
09/17/2004 — Updated: Part 1 – High Strangeness in Canadian Cattle Corn
09/12/2004 — Part 2 – High Strangeness in Canadian Cattle Corn
09/10/2004 — Update on Miamisburg, Ohio, Corn Pictogram – Balls of Light?
09/05/2004 — Part 2 – Hillsboro, Ohio Corn Plant Anomalies
09/04/2004 — Hillsboro, Ohio Corn Formation – High Strangeness in Soil and Plants
09/02/2004 — Updated Photos: Big, Impressive New Corn Formation in Miamisburg, Ohio
08/09/2004 — Pictograms in Poland
07/25/2004 — 2004 Canadian Crop Formations: Scorched Soybeans and "Dirt" Pattern in Barley
07/24/2004 — Part 3 – Crop Formations and Mysterious Lights in Wiltshire, England, July 2004
07/06/2004 — Mysteriously Downed Oat Plants in Eagle Grove, Iowa; Downed Corn in Hillsboro, Ohio
04/08/2004 — FBI Is Investigating Animal Deaths in Johnston County, North Carolina
11/01/2003 — Another Soybean Formation in Ohio
10/10/2003 — Updated – Ohio Hunter's "Deer Camera" Photographs Mysterious Glowing Disk
10/05/2003 — Part 3 – Paint Creek Island, Ohio Crop Formation Photographs
10/03/2003 — Part 2 – Military Interest in Serpent Mound and Seip Mound Formations?
10/02/2003 — Part 1 – Another Soybean Formation Near Seip Mound in Ohio
09/12/2003 — 2nd Ohio Soybean Crop Formation is Manmade. USAF Investigation Unit Involved?
09/06/2003 — Part 2 – Unusual Soybean Formation Near Serpent Mound, Ohio
09/05/2003 — Part 1 – Unusual Soybean Formation Near Serpent Mound, Ohio
11/30/1999 — A New Crop Formation In Marion, New York and Crop Research Updates
09/05/1999 — Delphos, Kansas Ring Mystery – More Analyses
---
Websites:
English Crop Circles, Current and Archived:  http://www.cropcircleconnector.com
American Crop Circles, ICCRA:  http://www.cropcirclenews.com/
Canadian Crop Circles, CCCRN:  http://www.cccrn.ca/
German Crop Circles:  http://www.kornkreise-forschung.de
Dutch Crop Circles, DCCA:  http://www.dcca.nl
http://www.lucypringle.co.uk
http://www.members.iinet.net.au/~bwratten/ccc.html
http://www.cropcircleresearch.com
http://www.CropCircleAnswers.com

© 1998 - 2019 by Linda Moulton Howe.
All Rights Reserved.