Further Update August 21, 2007 -  On August 20, 2007, Lucy Pringle received an anonymous email which she copied for me to share with Earthfiles viewers in Earthfiles082107. According to this anonymous emailer, the Woodborough formation appeared at 4 PM on Tuesday, August 14, 2007, after hard rain and shocked musicians working on a music video in the nearby Carson farm owner's barn. If this email is correct, it means the money paid to the farmer was for the music video crew to work at Woodborough Hill and the musicians had nothing to do with the appearance of the wheat formation at 4 PM on August 14, 2007, after heavy rain had stopped.
Updated  August 18, 2007 - U. K. crop formation investigator and photographer, Lucy Pringle, emailed August 18, 2007, that the Woodborough Hill formation below was allegedly made for a commercial purpose, but no details are known. Australian scientist's analysis of the Woodborough pattern, which Lucy sent to me yesterday as a new August 17th crop formation, is still a valuable contribution to study in the context of geometric patterns and the scientist's effort to understand evolution of mathematical calendars seemingly embedded in many crop formations and the implication of countdowns to August 18, 2007, and December 2012. But countdowns to what is not known.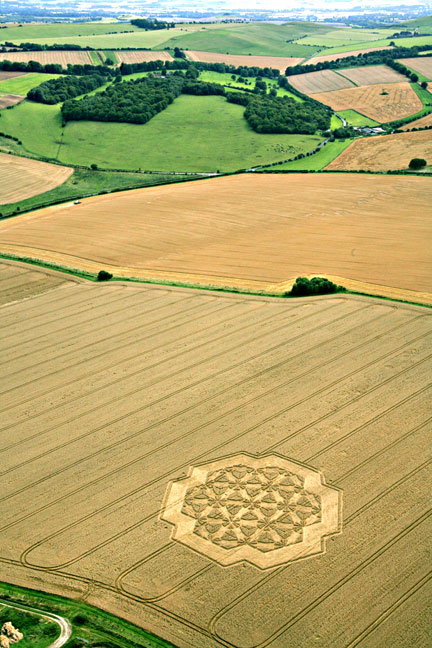 Click here to subscribe and get instant access to read this report.
Click here to check your existing subscription status.
Existing members, login below:

© 1998 - 2023 by Linda Moulton Howe.
All Rights Reserved.