"I think what will be suggested is a temporary embargo on Australian bees coming into the United States."
– Jerry Hayes, Pres., Apiary Inspectors of America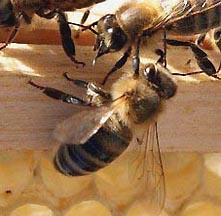 September 7, 2007   Gainesville, Florida – A year ago in October 2006, Pennsylvania beekeeper David Hackenberg, Hackenberg Apiary in Lewisburg, discovered that thousands of his bees were disappearing. Soon beekeepers all over the United States were reporting massive disappearances – some losing 90%. By the end of summer 2007, officials estimated that at least 25% of American honey bee colonies had disappeared and the cause was still unknown.
One of the first scientists to be called into study Dave Hackenberg's emergency was Diana Cox-Foster, Ph.D., Professor of Entomology at Penn State in University Park, Pennsylvania. Dr. Cox-Foster told me in an Earthfiles interview that she was very surprised by the number of viruses – some unidentified – she was finding in the honey bee bodies given to her to study in what is now called Colony Collapse Disorder (CCD). She contacted W. Ian Lipkin, M.D., Professor of Epidemiology in the Mailman School of Public Health, and Director of both the Laboratory for Immunopathogenesis and Infectious Diseases, and the Center for Developmental Neuroscience, at Columbia University. He agreed to study the DNA of dead honey bees from four CCD-affected colonies and two healthy colonies to see if genome sequencing could find a culprit.
That's how they discovered that 96% of the CCD-affected honey bees also had a virus dubbed "Israeli Acute Paralysis Virus (IAPV)." Their research was published for the first time on Thursday, September 7, 2007, in Science Express, the online version of the journal, Science. After the media embargo was lifted late Thursday afternoon, I talked about the virus research with Jerry Hayes, Director, Apiary Division, Florida Department of Agriculture, and President of the Apiary Inspectors of America.
---
Interview:
Jerry Hayes, Chief, Apiary Section, Florida Dept. of Agriculture, and President, Apiary Inspectors of America, Gainesville, Florida:  "The Colony Collapse Disorder research by our colleagues Diana Cox-Foster, Ph.D., lead author on the Science journal report released on September 6, 2007, in association with Ian Lipkin, M. D., Columbia University, has found a new virus called "Israeli Acute Paralysis Virus (IAPV)" that is now correlated with Colony Collapse Disorder (CCD). It's an association – not the single cause.
THE VIRUS PARALYZES THE HONEY BEES?
Yes, after it causes tremors, shaking, and neurological problems. In other countries where this is found – in Israel in particular – the bees crawl out from the colony and tremble and shake and twirl in circles and show signs that are clearly neurological problems.
96.1% of CCD Honey Bees Have Australian IAPV Virus
WHAT PERCENTAGE OF CCD HONEY BEES HAVE THE IAPV VIRUS?
It's 96.1% correlation. The scientists checked the genetic sequences for bees collected over the past three years from 30 colonies that suffered Colony Collapse Disorder compared with 21 healthy colonies. There was a 96.1% correlation of the IAPV virus with the CCD-infected colonies.
The virus seems to have come from Australia on packaged bees that were probably imported into the U. S. without proper oversight. The question is: why doesn't Australia suffer from massive amounts of CCD? Does it mean this IAPV virus has evolved with the bees in Australia? Or as the varroa mites, as it feeds on bees, might activate viruses that are already in the bees, so is the varroa mite activating the virus that is already in the bees?
Then you have to add other stressors of chemicals (pesticides) and diet and other things, so this is still going to be an interplay or mix of many different things, I think.
DID THIS VIRUS ORIGINATE FROM ISRAEL? AND HOW OLD ON THE PLANET IS IT?
As far as we can tell, it did not originate in Israel, but it was found in 2004 when the Israelis went through the problems that everyone else had when the parasitic varroa mite was introduced and they lost all their wild colonies and a high percent age of their managed colonies. So, Israel purchased bees from all over the world and it's thought that is how the IAPV virus entered Israel.
DOES ANYONE KNOW WHAT THE ORIGIN OF THE VIRUS IS?
It seems to be similar to another honey bee virus called the Kashmir bee virus (northern India) which caused neurological disease in bees as well, but this IAPV seems to be distinct enough that it is either a variant on the Kashmir, or a new species all its own. We're still trying to figure that out.
WHAT TIME PERIOD IN KASHMIR?
In the late 1970s.
SO BETWEEN THE LATE 1970S AND 2006, THAT VIRUS HAD NOT CAUSED MASSIVE DISAPPEARANCES LIKE COLONY COLLAPSE DISORDER BEFORE?
Yes, and I don't think the IAPV or Kashmir viruses cause Colony Collapse Disorder. I think the virus is a component of the disorder, but you have to understand there are a lot of components to CCD and to think this particular IAPV virus is what is causing bees to fly out of the colonies and not come back or disappear is not the case because where the virus is found active, the bees crawl out of the colony and their are dead bodies all around the colony. So, the IAPV virus is certainly interesting, but I don't think it's the smoking gun.
It's important to point out that Australia has not had verroa mites, so this IAPV virus was existing for whatever reasons in Australian populations of honey bees and not being activated into neurological disease as it has apparently here in the United States.
SO, IN THE UNITED STATES, WE'VE HAD INTENSE VARROA MITE INFECTIONS, FOLLOWED BY THE AUSTRALIAN BEES COMING INTO THE UNITED STATES WITH THE ISRAELI PARALYSIS VIRUS AND THAT ONE TWO PUNCH MIGHT BE WHAT HAS WEAKENED NORTH AMERICAN HONEY BEES?
I think it's a 1, 2, 3 and maybe 4 punch because we have a new Nosema ceranae (protozoan) that we've talked about before. I've had some Israeli colleagues here visiting  the U. S. Dept. of Agriculture U. S. the past couple of days and they always find the new strain of Nosema along with the IAPV virus that has been activated. So, maybe there is some type of synergism between the Nosema (protozoan) and the IAPV virus and the varroa mites. Then you add on the stress of pesticides and the bee's immune system is overwhelmed.
IS THERE ANY WAY TO GET RID OF THIS IAPV VIRUS?
No, humans get viruses and we can take some medicines to slow down virus reproduction. But in insects such as honey bees, it's almost impossible – there are no virus medications.
Embargo To Keep Australian Honey Bees Out of United States and Canada?
I think what will be suggested is a temporary embargo on Australian bees
coming into the United States.
Then, as I'm President of the Apiary Inspectors of America, we've been asked to participate with the USDA in a sampling survey to see how widespread this virus is? Are there any honey bee populations out there already that might be resistant to this IAPV virus that we could selectively breed bees from?
WHEN WILL AN EMBARGO AGAINST IMPORTATION OF AUSTRALIAN HONEY BEES BEGIN?
I don't know for certain that it will begin, but I think the bee industry is probably going to contact the Animal, Plant Inspection Service (APIS) in the U. S. Department of Agriculture, who will contact the Agriculture Research Service (ARS – USDA) and push for the embargo, at least on a temporary basis. We certainly don't want to hurt the bee industry in Australia, but we need to have a break (in North America) in re-infection for awhile until we all understand it more clearly.
IF YOU WERE GUESSING WHEN AUSTRALIAN HONEY BEES WILL BE KEPT OUT OF NORTH AMERICA, WHEN DO YOU THINK THAT WILL OCCUR?
It has to happen sometime between now and October to November because that's been the time period in the past couple of years when Australian bees were allowed in and when they were shipped in. So, hopefully, if the bee industry decides this is the direction they want to go, it will be just a matter of weeks.
WHO IS RESPONSIBLE FOR HAVING THE EMBARGO PUT IN PLACE?
That would be APIS. They would consult with ARS and ARS will give their opinion on the situation. But in the past, ARS stood up very strongly and said we've got too many problems and we don't need bees imported from other countries. Then APIS ignored that suggestion.
But with everything happening with the data behind what we have now (on the Australian IAPV virus), APIS will probably listen more closely.
North American Honey Bees Still Weak and Unhealthy
WE ARE STILL FACING WEAKENED HONEY BEES IN NORTH AMERICA CURRENTLY, AREN'T WE?
Absolutely.
WHAT IS THE CURRENT STATUS IN THE U. S. OF COLONY COLLAPSE DISORDER?
Bees will be arriving in Florida for the winter in about 30 days. Last year, the bee disappearances began in October 2006.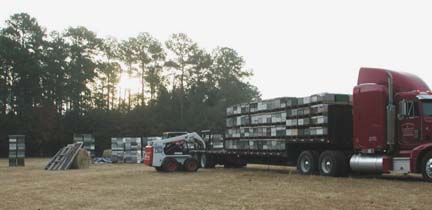 We know the North American honey bee health is not getting better. The IAPV virus is a factor, but not the smoking gun answer to Colony Collapse Disorder. Bees are still disappearing. Alberta, Canada, has lost at least 100,000 honey bee colonies in the past several months. There is great concern that there are not enough pollinators now for the almond growers and other farmers dependent upon honey bees for pollination. So, we're all worried about 2008."
---
More Information:
For further news about Colony Collapse Disorder (CCD), please see reports below in the  Earthfiles Archive:
06/28/2007 —Hackenberg Apiary, Pennsylvania – 75-80% Honey Bee Loss in 2007. What Happens If Colony Collapse Disorder Returns?
05/04/2007 —Environmental Emergency Updates: Part 1 – Spreading Honey Bee Disappearances – Nosema ceranae Not the Answer?
04/06/2007 —Collapse of Honey Bees in U. S., Canada and 9 European Countries
03/17/2007 —Honey Bee Disappearances Continue: Could Pesticides Play A Role?
02/23/2007 —Part 1: Earth Life Threats – Alarming Disappearance of Honey Bees
---
Websites:
AAAS Science Journal:  http://www.sciencemag.org/cgi/content/summary/317/5843/1304
Mid-Atlantic Apiculture Research and Extension Consortium (MAAREC): http://maarec.cas.psu.edu/
Colony Collapse Disorder (CCD): http://www.ento.psu.edu/MAAREC/pressReleases/CCDSummaryWG0207.pdf
Biology of Honey Bees: http://plantphys.info/Plants_Human/bees/bees.html
Varroa Mites: http://www.uky.edu/Ag/Entomology/entfacts/struct/ef608.htm
Honey Bee Tracheal Mites: http://creatures.ifas.ufl.edu/misc/bees/tracheal_mite.htm
National Bee Loss Survey:  http://beealert.blackfoot.net/~beealert/surveys/index.php
American Beekeeping Federation:  http://www.abfnet.org/
American Honey Producers Assoc.:  http://www.americanhoneyproducers.org/
The Xerces Society (Pollinators At Risk):  http://www.xerces.org/Pollinator_Insect_Conservation/pollinators_at_risk.html
American Assoc. of Professional Apiculturists:  http://entomology.ucdavis.edu/aapa/aapapubs.cfm
Bee Culture, The Magazine of American Beekeeping
http://www.beeculture.com

© 1998 - 2018 by Linda Moulton Howe.
All Rights Reserved.