"Can remote viewing locate Osama bin Laden? Yes. A former trainer of the U. S. Army's remote viewing Psi Spies unit was in New York on the morning of 9/11. Needless to say, he was quite upset with what had happened. He told me personally that he contacted people deep within the government and told them, 'You give me the word and I will locate Osama bin Laden.' And he was told, 'No, no, no, don't do that. We don't want that.'"
– Jim Marrs, Author, Psi Spies © 2007.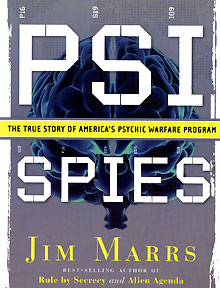 September 14, 2007  Wise County, Texas – Jim Marrs was born and raised in Fort Worth, Texas. Jim has been tracking down facts and trying to make sense of political stories in America since his college days as a journalism major at the University of North Texas in Denton. He graduated in 1966 and began a newspaper reporting and editing career first at the Denton Record Chronicle and then Lubbock Avalanche Journal. Later at the Fortworth-Star Telegram, he was an investigative reporter and cartoonist, and earned photography awards.
By 1988, he decided that he had to put his big file about President John F. Kennedy's assassination into a book. The result was an instant classic called Crossfire. Two months after its release in 1989, Jim received a call from Hollywood film director, Oliver Stone, who wanted to option Crossfire for the movie that became JFK.
Jim Marrs began asking book editors and others what each thought was the next big, dark, secret government cover-up beyond the JFK assassination. Unanimously, he says, the answer was UFOs. As Jim began to nose around for more UFO information, he stumbled onto the government's efforts to produce "psychic spies" who could remote view anywhere in the world – in the skies, underwater and even on Mars and Jupiter – and return with facts beyond the field intel of normal agents trudging through streets, alleys, fields, agencies and corporations. I remember the depressed telephone call I received from Jim after he thought his "psi spies" manuscript had been accepted for publication and then was cancelled for mysterious reasons. As a celebrated and successful author, Jim suspected a deliberate government block to keep his reporting about the remote viewing "enigma files" about UFOs away from the public and media.
Frustrated by the block, but determined to keep going, Jim completed his second book, The Alien Agenda, which was successfully published in 1997. Alien Agenda raised the question: Who would speak for Earth if non-humans finally arrived in public?
Trying to answer that question lead Jim to write Rule By Secrecy published in 2000. In that important book, Jim Marrs made links between the money-power elite of America with the money-power elite of Europe, with all linked back to the money-power elite of Mesopotamia, which might have been under the control and manipulation of non-human entities with their own agendas on this planet. By then, Jim realized he had produced his own unplanned "trilogy" about government secrecy, cover-up, manipulation and control.
The next year, the Trade Towers in New York City, and the Pentagon in Washington, D. C., were attacked. After 9/11, the world has never been the same and the horror of it all provoked Jim to ask questions about who exactly was behind the September 11, 2001, attacks and why the government prefers to keep remote viewing secret.
---
Interview: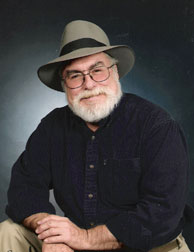 Jim Marrs, Investigative Journalist and Author, Crossfire © 1989; The Alien Agenda © 1997; Rule By Secrecy © 2000; The War On Freedom © 2003, retitled 9/11 Inside Job © 2004 and re-published as The Terror Conspiracy © 2006; and Psi Spies: The True Story of America's Psychic Warfare Program © 2007, Wise Town, Texas:  "And I jumped on top of 9/11 and produced a book called, The War On Freedom © 2003 which again was mysteriously cancelled. And yet I was paid all of the advance. It's like, 'Take the money and go away. We don't want to hear about this.'
That book was eventually published as Inside Job © 2004 and then that was picked up by another publisher and published as the book that is currently available, The Terror Conspiracy © 2006.
You can see how it all kind of flows together.
AND COMES UP AND CULMINATES SO FAR WITH PSI SPIES © 2007.
Right. Finally getting the word out about remote viewing. And I'll give you a scoop. I have a book in now to Harper Collins and if it doesn't go the way of suppression and censorship, it will be out next year (2008) and we won't go into this one, but my working title is:  The Rise of the Fourth Reich.
IN THIS COUNTRY, I'M ASSUMING?
Yes.
AND ITS ASSOCIATION WITH THE HISTORIC NAZI PAST.
That's right. I've heard all the way back to the 1960s and the hippies that were talking about the fascism and 'Amerika' with a 'k.' I used to think that was just radical rhetoric. But when I did the research, I find the very same people, companies, corporations that were behind Hitler are now running this country.
JIM, I THINK IT'S FAIR TO SAY THAT HITLER HAD AN OBSESSION WITH A BLUE-EYED, BLOND-HAIRED SUPER RACE.
Yes.
AND BRITISH INTELLIGENCE REPORTED SILVER DISCS RISING UP OUT OF PENEMUNDE, GERMANY, FROM THE 1920S ONWARD. THAT FUELS THE QUESTION:  WAS HITLER IN ASSOCIATION WITH SOME NON-HUMAN GROUP THAT HAD ADVANCED NON-HUMAN TECHNOLOGY?
Well, I actually address that. And here's some information you might not be aware of. Beginning in the 1920s, and we all know from books and movies the connection between the Nazis and occult practices. They were heavily involved in the occult.
Nazi Germany Had "MAJIK" Advanced Technology Group U. S. Has "MAJIC"
Of course, we know any science that is not clearly understood can be assumed to be magic or occultism. But during the 1930s and through the wars, within the German military was an umbrella organization simply known as 'Dr. Greenbaum,'  or 'Dr. Greentree.' That was apparently a reference to the Tree of Knowledge in the Garden of Eden. And within this 'Dr. Greenbaum' was a group known as 'MAJIK.' Apparently MAJIK had to do with advanced propulsion technology and I can't help but wonder if that was brought over here (after WWII) and was the genesis for our Majestic 12, or MAJIC 12, as it was originally called. That's the group in the United States that has been in charge of sequestering and keeping control over UFO technology, but also under Dr. Greenbaum was psychic studies.
In my new book, Psi Spies, I was trying to deal strictly with the U. S. Army's functional and operational group of military intelligence officers who were trained in the methodology of remote viewing. Remote viewing is not necessarily psychic ability. We all have psychic ability. Remote viewing was an attempt to control and bring on the psychic ability on demand through a structured series of protocols.
Basically what it did, Linda, was to allow the very psychic right hemisphere of the brain to communicate with the not-at-all-psychic left hemisphere of the brain.
CIA's SCANATE Remote Viewing Program
COULD YOU EXPLAIN THE TRANSITION FROM THE STANFORD RESEARCH INSTITUTE WITH HAL PUTHOFF, RUSSELL TARG AND INGO SWANN TO A PROGRAM CALLED 'SCANATE' THAT WAS UNDER THE CIA?
Let's go back to about 1970, when a book was published called Psychic Discoveries Behind the Iron Curtain © 1970   by Sheila Ostrander and Lynn Schroeder. It achieved some level of popularity, but it particularly rang alarm bells in the halls of Langley, Virginia (CIA) and in the halls of the Pentagon. Now, the attitude there was, 'We don't believe in this stuff. But, if the Commies are doing it, by God, we've got to do it to!'
So, they began to throw some money at psychic research simply as a reaction to studies that were being done behind the Iron Curtain.
SCANATE was simply an acronym for Scanning By Coordinate. They still use the term, 'coordinates.' But then it was actually latitude and longitude for coordinates and they (CIA) would pick a random set of coordinates, have a viewer say, 'What is at this location?' For example, if the coordinates were for the North Pole and the viewer says, 'I see all white and it's cold and the wind is blowing and I see a bear and it's white.' Then they knew he was on target.
But they moved away from that fairly rapidly. They still use coordinates. In fact, there is a protocol called 'Coordinate Remote Viewing.' But the coordinate is not a true coordinate. It's simply a set of numbers representing the target. The problem is that if I want you to remote view the Eiffel Tower – if I tell you to go remote view the Eiffel Tower, you've automatically got a picture in your head of the Eiffel Tower because you've seen pictures, films or you've been there. So, you can't frontload the viewer. That's why they are given simply a set of numbers that represent the target. Then since at some point whoever wrote those numbers down knows what the target is, then psychically they are able to pick up from those target numbers the target. And if they are good and practiced, they can actually go right to that target.
So, from there, they did all the experimentation out at Stanford Research Institute and it was repetitive, testing over and over again. Remote viewing has been termed the most severely scientifically studied experiment in history. I think that could be true because there are literally hundreds of people involved and for a period of years, it was just unremitting test, test, test. What they did was on statistics, if nothing else, prove that yes, something was going on and statistically it went way above the law of averages on guessing.
CIA Handed Over Remote Viewing to U. S. Army
So, at this point, the CIA which was already beginning to get into trouble because of assassination plots and drug running and a few other things, decided they better get rid of anything that could cause them a public relations problem and the U. S. Army was standing there ready to take over.
So, the Army moved remote viewing into their Intelligence and Security Command out of Fort Meade, Maryland, and that is where the original unit, which went through a variety of code names:  CENTER LANE, GRILL FLAME, STARGATE, SUN STREAK – and that's where the Army's remote viewing unit started and this is where they were using remote viewers operationally to go spy on potential enemies of the United States.
THAT WAS IN THE 1980S?
That would have moved up into the late 1970s and that persisted well up into the 1990s. By the early 1990s, the Defense Intelligence Agency (DIA) had gotten involved and was also getting information. In fact, a lot of agencies and organizations came to get information from the Psi Spy unit, but according to them the big problem was that nobody would ever take it seriously.
When one of our CIA officers was kidnapped over in the Middle East, the remote viewers were asked to find out where he was and they did find out where he was. But nothing was done about it because of the mindset of the people in control, which is you and I grew up in the 1950s to 1960s when there was space launches and the 'woo woo' of psychic stuff just did not exist. It's been a tough climb (for remote viewing) to get over that mindset.
Although, recent advances in quantum mechanics and quantum physics tend to show us that the entire universe is nothing but one big mass of energy of which we are all part. Obviously, if someone has a thought or if something exists in the universe, then it's in this universal energy grid. And if anyone is sensitive enough, psychic enough, intuitive, they can access the universal grid. To me, that provides the framework for understanding how remote viewing works.
Remote View Location of Osama Bin Laden?
JIM, WE ARE NOW IN 2007 IN WHICH THE SUBJECT DRIVING THE ENTIRE PLANET CRAZY IS TERRORISM. HAS IT BEEN APPLIED BY SOME INTELLIGENCE GROUP TO FIND OSAMA BIN LADEN?
Excellent question! First, let me preface my response, which I think is going to raise your eyebrows. Osama Bin Laden has been blamed by the U. S. government for being the mastermind and instigator of the horrendous attacks on September 11, 2001, but Osama has yet to be charged with anything! In fact, the FBI on his Wanted posters do not even list 9/11 as one of the crimes they want him for.
When I asked about that, an FBI spokesman said, 'Well, frankly, we don't have any hard evidence that he was behind 9/11.' That is the absolute gospel truth! No charges have been filed against him. In fact, in mid-2002, not even a year before the first anniversary of 9/11 at a press conference, President Bush was asked about Osama Bin Laden and he said, 'We haven't heard from him in awhile and frankly, I'm not that concerned about him anymore.'
HAVE YOU TALKED WITH ANY PROFESSIONAL REMOTE VIEWERS WHO HAVE TALKED WITH YOU OFF THE RECORD ABOUT LOOKING FOR OSAMA BIN LADEN AND SAYING THIS IS WHERE HE IS?
OK, can remote viewing locate Osama bin Laden? Yes. A former trainer of the U. S. Army's remote viewing Psi Spies unit was in New York on the morning of 9/11. Needless to say, he was quite upset with what had happened. He told me personally that he contacted people deep within the government and told them, 'You give me the word and I will locate Osama bin Laden.' And he was told, 'No, no, no, don't do that. We don't want that.' THAT is what is going on.
WHEN HE SAID, 'WHY NOT?' WHAT DID THE AUTHORITIES SAY?
He didn't ask them why not. He knew better. They don't want bin Laden caught because bin Laden is the boogey man they (government authorities) have to have to hold over our heads to keep everybody fearful and divided and under tight control.
I WOULD AGREE WITH THAT CONCLUSION, BUT I ASSUME THERE ARE PROFESSIONAL REMOTE VIEWERS WHO HAVE TRIED TO REMOTE VIEW WHERE HE IS?
You have to understand there is no cohesive remote viewing unit anymore. So there is not one group you can go to and say, 'Go find him.' It would be a variety of individuals. Now, whether they have individually gone out and tried to find Osama bin Laden, I'm not aware of that.
Remote Viewing "Enigma Files"
LET'S MOVE TO WHAT I THINK IS THE MOST FASCINATING PART OF YOUR BOOK CALLED 'THE ENIGMA FILES.'
Right!  I think the reason they had to suppress my book was because after laying a very credible foundation for the science and history of remote viewing, I then went into the Enigma Files, which is that every single one of these military and government-trained remote viewers, at one time or another, had direct, personal knowledge of UFOs. That's what the authorities could not allow to get out in a credible manner.
Ingo Swann, Remote Viewer

YES, INGO SWANN TOLD ME ABOUT HIS OWN PERSONAL EXPERIENCE IN THE PENTAGON OF DOING A REMOTE VIEWING TARGET THAT WAS ONLY LATITUDE AND LONGITUDE. WHEN HE BEGAN TO DRAW, IT WAS A SUBMARINE THAT HAD A DISC OVER OR TO THE SIDE OF THE SUBMARINE.
Yes.
WHEN HE WAS ASKED BY THE MILITARY AUTHORITY SITTING ACROSS FROM HIM AT A DESK, 'YOU CAN'T MEAN A UFO.' AND INGO RESPONDED, 'YES, I DO.' AT THAT MOMENT, THE AUTHORITIES GATHERED UP THE PAPERS, PENCILS, EVERYBODY LEFT THE ROOM LEAVING INGO SITTING THERE BY HIMSELF.
That's right! And that was a good illustration of several things. Ingo was not tasked to go see a UFO. He was tasked to go see a submarine. Yet, when he remote viewed the submarine, there was a UFO nearby, obviously his attention was drawn to the UFO. This is why each and every one of these Psi Spies had personal knowledge of the UFOs.
I have been told, and I assume this is true, that they were never at any time tasked to go look at UFOs. Now, Linda, that only makes sense because how could the government, which for 60 years has tried to tell us that there is no such thing (as UFOs) and then order their official remote viewers to go look at something  that they (authorities) say does not exist?!
But when they went out looking for other things – for example, if they were tasked to go and look in the upper atmosphere for high performance and high flying aircraft to see what the Russians or Chinese or somebody else might be testing, they would go up there (in atmosphere). They would see these things flitting through the atmosphere. The remote viewers would take a mental look at them and this one remote viewer told me, 'They were not us and they were not the Russians. Those guys were not even from our neighborhood.'"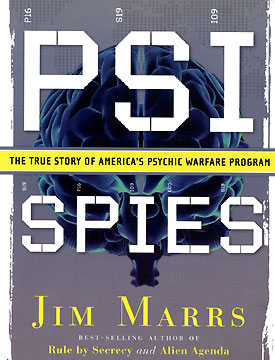 Books are also available from your local bookstores.
To be continued in Part 2:  Alien underground bases and remote viewing Jupiter.
---
More Information:
For further reports about Jim Marrs, government cover-ups, non-human intelligence, technology and interactions with Earth life, please see reports below in the  Earthfiles Archive   and my four books:  An Alien Harvest; the 2-volume Glimpses of Other Realities; and Mysterious Lights and Crop Circles in the Earthfiles Shop:
09/11/2007 —Part 4: Military Insiders Comment About Zeta Reticuli and EBENs
09/07/2007 — Part 3: Military Insiders Comment About Zeta Reticuli and EBENs
09/05/2007 — Part 2: Military Insiders Comment About Zeta Reticuli and EBENs
08/31/2007 —Part 1: Betty and Barney Hill: Captured!
08/31/2007 — Part 2: Betty and Barney Hill: Captured!
08/30/2007 — Part 1: Military Insiders Comment About Zeta Reticuli and EBENs
01/02/2007 —Grey Aerial Disk Reported by Chicago O'Hare United Airlines Pilots and Mechanics
06/08/2006 —Part 2: Unexplained Phenomenon of Sudden Human-to-Reptile "Replacement"
06/02/2006 —Part 1: Unexplained Phenomenon of Sudden Human-to-Reptile "Replacement"
02/27/2006 —Part 4: Military Voices Reply About Government Interaction with UFOs
04/14/2005 — "Battle of Los Angeles" On February 25, 1942: When America's 37th Coast Artillery Brigade Fired Off 1,430 Anti-Aircraft Shells At A UFO
12/07/2004 —Part 2: "Peculiar Phenomena," V-2 Rockets – and UFOB Retaliation?
10/29/2004 —Part 1: Update On Shag Harbour, Nova Scotia, UFO Case. See Upcoming Crash Retrieval Conference in Las Vegas, November 12 – 14
10/23/2004 —1948 Aztec, New Mexico UFO Crash: Policemen, Disk and Humanoids
10/10/2004 —Part 1: Texas Case of Shape-Shifting Human-to-Reptilian
10/10/2004 —Part 2: Texas Case of Shape-Shifting Human-to-Reptilian
07/17/2004 —Inside Job – Unmasking the 9/11 Conspiracies by Jim Marrs
03/14/2004 —Part 5: UFO Crash/Retrievals: The Inner Sanctum – Status Report VI © July 1991 by Leonard H. Stringfield
02/12/2002 —JFK, MJ-12 and Outer Space
---
Websites:
Jim Marrs:  http://www.JimMarrs.com/
Joe McMoneagle Remote Viewer:  http://www.mceagle.com/
Lyn Buchanan Remote Viewer:  http://www.crviewer.com/
David Morehouse Remote Viewer:  http://www.remviewtech.com/
Paul H. Smith Remote Viewer:  http://www.rviewer.com/

© 1998 - 2018 by Linda Moulton Howe.
All Rights Reserved.