"We have already seen in 2007 a drop in pH of 0.1,  which equates to ~30% increase in acidity. By the end of this century  the models predict a total drop in pH of 0.4 which is actually more  like a 150% increase in acidity. For ocean chemistry, this is very dramatic –  a bigger change than we've seen for at least the last 5 million years on planet Earth. And it's more than 100 times faster rate of change than we've seen over that period."
- Christopher Sabine, Ph.D., NOAA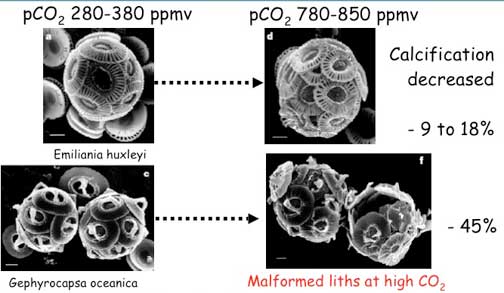 June 21, 2008  Corvallis, Oregon and Shelton, Washington - None of the global warming climate models saw open oceans increasing in acidity by 30% or more until the end of the 21st Century. But a new study published in the June 2008 journal, Science, shows that Pacific ocean water only four miles off the northern California shore, is already 30% more acidic than normal. When I did my first Earthfiles.com report about the acidification of the world's oceans [ 081304 Earthfiles ], computer models were projecting that open ocean acidity might seriously increase by at least 30% or more at the end of the 21st Century - not by 2008.
Click here to subscribe and get instant access to read this report.
Click here to check your existing subscription status.
Existing members, login below:

© 1998 - 2023 by Linda Moulton Howe.
All Rights Reserved.