"An unidentified spacecraft came toward Ranger 3 at twice Ranger 3's speed,
blew Ranger 3 to smithereens and then proceeded away at 10,000 mph."
– Retired NASA JPL Flight Controller
"Avoid negative public reaction."
– U. S. Government Policy of Denials
about UFO-Related Events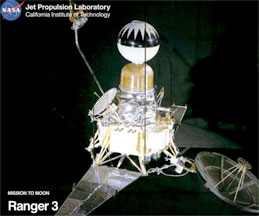 December 22, 2017   Denver, Colorado -Fifty-five years ago on January 26, 1962, the United States attempted its first effort to launch a Ranger 3 spacecraft toward the moon with the goal to study radar reflectivity of the lunar surface. Ranger 3 was also expected to transmit pictures of the moon in the last 10 minutes before deliberately  smashing onto the lunar ground, an impact that would be studied with a seismometer dropped before impact.
But two days after launch on January 28, 1962, NASA announced  that "a series of malfunctions, principally with the spacecraft's guidance system, sent Ranger 3 hurtling past the moon at much higher speeds than planned."  So that was the official reason why the January 1962 Ranger 3 mission failed.
But in this report, I am going to share other information from a retired NASA/JPL flight controller that is supposed to be the truth about what really happened. Beginning in October 2017, I received a series of emails from a source I will call "Amy" about important matters related to policies of denial concerning UFOs and solar system research that affected people working for NASA/JPL. Amy told me that in the summer of 1990, when she was 19-years-old, she was able to talk with a retired NASA/JPL flight controller three times over a few weeks. She was shocked by some of what he told her and she even made diary entries that she still has about some of what he said.
---
Interview:
"Amy," 46, Denver, Colorado: "The summer of 1990, I was with a group of friends at a store, like a gas station where they had snacks, and they actually had a little sit-down area. And I went off to meet with them there, you know, just to discuss things in the news. And I just happened to bring a copy of An Alien Harvest and was showing my friends that.
WHICH IS MY BOOK. [ See Earthfiles Shop.]
Yes. And they're really finding it fascinating, and we were just talking about different items in it. And I started showing them the papers from Bill Cooper that were published in the book and reading some of them to them.
And what happened is the clerk, the cashier of that store, came over and he said, "You better be careful about talking about these top-secret things. You don't know who's listening."
And it was like, "Oh, OK," and we just kind of laughed it off.
After my friends had left, I went up to him and said, "That's kind of interesting that you would say that. How do you know about these things?"
And he says, "Well, back in the 1960s, I was a JPL flight controller." And he says, "It's really sad what they've done to conceal various things from the public," and that's when he proceeded to tell me about what happened to him when he was a flight controller for the Ranger 3 spacecraft. And that spacecraft launched January 26th, 1962 from Cape Canaveral, Florida on an Atlas LV-3B Agena-B rocket.
Ranger 3 Mid-Course Correction Failure — CIA and FBI Show Up At JPL
And it was about 30-some hours into the mission when they were doing a mid-course correction, he was looking at the telemetry from this spacecraft, and it started to come out as a bunch of gibberish patterns that didn't make sense. And his bosses basically told him just to ignore it, don't worry about it. And he did just that until the signal went silent. And then after it went silent, they knew that something was very wrong with the mission, and they freeze all their data like they normally do. And within a matter of hours, the CIA, FBI, in suits, showed up and started grilling them alone and in groups and asking them every possible third-degree question. It almost seemed normal for the loss of a 20-million-dollar spacecraft.
WHERE WAS THIS THAT THE FBI AND THE CIA SHOWED UP?
This was at the Jet Propulsion Laboratory in Pasadena, California.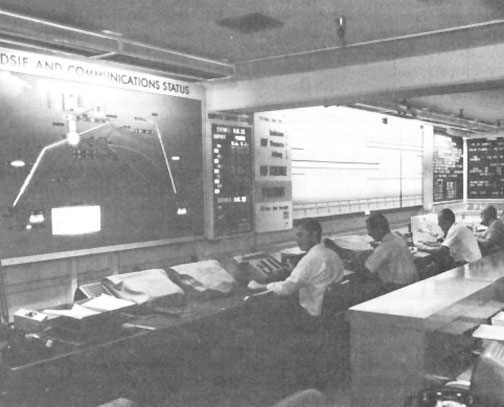 SO THE CIA AND THE FBI SHOW UP IN SUITS AND TIES, AND THEY COME TO WHERE? WHO ARE THE TYPE OF PEOPLE IN THE ROOM WHERE THEY GO, AND WHAT HAPPENS?
Well, the flight controllers themselves and everybody that was working all the backrooms of that mission. Everybody who had any involvement with that mission at JPL were brought in in various combinations, sometimes with bosses, sometimes in groups, sometimes individually, and they were grilling them about each and every conceivable aspect of that mission and what went wrong.
Secret Classified Information About Ranger 3 Learned Later
"An unidentified spacecraft came toward Ranger 3 at twice Ranger 3's speed,
blew Ranger 3 to smithereens and then proceeded away at 10,000 mph."
– Retired NASA JPL Flight Controller
WHAT DID THE JPL FLIGHT CONTROLLER WHO IS TELLING YOU THIS IN LAFAYETTE, COLORADO IN THE SUMMER OF 1990, WHAT IS IT THAT HE SAID THEY LEARNED HAPPENED WHEN RANGER 3 WENT SILENT?
He didn't learn this until later. He learned this under a higher clearance several years later that what had happened was an unidentified spacecraft came in at twice Ranger's speed at that point, blew Ranger to smithereens, and then proceeded away at 10,000 miles per hour.
A UFO BLEW RANGER 3 TO SMITHEREENS, COMING AT RANGER 3.
He said it approached at twice Ranger's speed.
WHAT WOULD THAT HAVE BEEN, DO YOU THINK?
Oh, I would assume that area of about 20,000 miles an hour.
SOMETHING CAME IN AT TWICE THE SPEED OF THE RANGER 3 CRAFT THAT WAS TRAVELING AT MAYBE 20,000 MILES AN HOUR BETWEEN EARTH AND THE MOON. TWICE THAT WOULD BE 40,000 MILES AN HOUR.
Right. I don't know the exact speed at the mid-course correction. And that course correction was designed to get the spacecraft on a deliberate collision course with the moon. And that is where everything was lost, where the data ceased transmission.
WITH THE FBI AND THE CIA INVOLVED IN THIS INVESTIGATION, AND HIS FINDING OUT LATER THAT IT WAS SOME KIND OF UFO COMING AT A VERY RAPID SPEED AND BLOWING UP RANGER 3 TO SMITHEREENS, AND THEN TAKING OFF AT 10,000 MILES AN HOUR, WHAT DID HE TELL YOU THAT THE CIA/FBI'S POLICY WAS ABOUT ANNOUNCING THIS TO THE WORLD?
When they were being grilled and debriefed, one of the things they drilled into them very heavily was that this was a mid-course correction error and to say nothing more about it other than that it was a mid-course correction error.
AND WHEN HE OR ANYBODY ASKED THEM WHY, WHAT WAS THEIR ANSWER?
That was the only thing that they were allowed to say. As time went on, NASA elaborated on it to cover for the fact that they were being sequestered at JPL. And that included a long song and dance story about the spacecraft getting a mixed signal and basically a mixed command that made an error in the trajectory and that it went behind the moon, and they gathered some engineering data anyway.
ALL OF THAT WAS A LIE.
All that was a lie, a cover.
"Avoid negative public reaction" — U. S. Government Policy of Denials About UFO-Related Events
WHAT DID HE TELL YOU ABOUT WHY OUR GOVERNMENT HAS A POLICY OF LIES AND DENIALS ABOUT UFOS?
Well, the general term he used was to "avoid negative public reaction."
"AVOID NEGATIVE PUBLIC REACTION." WHICH MEANS THEY'RE MAKING UP STORIES AND HAVE BEEN MAKING UP STORIES FOR 70 YEARS TO COVER THE INTERACTIONS OF AN ALIEN PRESENCE.
Did NASA/JPL Alter Inert Gases Data On Mars and Venus?
And further, he told me he learned later that the Ranger 3 loss was actually due to an unidentified spacecraft — that NASA JPL had altered data about inert gases, xenon, krypton, argon, and so forth. He didn't name any specific gases or even any specific isotopes of those gases. He just said those quantities were altered and they were found in significant quantities on both Venus and Mars.

[ Editor's Note: 129Xe is produced by beta decay of 129I, which has a half-life of 16 million years. 131mXe, 133Xe, 133mXe, and 135Xe are some of the fission products of 235U and 239Pu, and are used to detect and monitor nuclear explosions. ]
And I didn't really think about any of this story much until Dr. John Brandenburg gave his testimony about what he had learned about the xenon-129 (129Xe) isotope that actually was found in a certain pattern on Mars that would specifically link the 129Xe data to a nuclear explosion. See next Earthfiles report.
SO WHAT YOU'RE SAYING IS THAT THE JPL FLIGHT CONTROLLER WHO HAD WORKED ON RANGER 3, AND I THINK LATER RANGER 7 UP TO VIKING …
Yes.
… THAT IN 1990, THAT SUMMER IN LAFAYETTE, COLORADO, YOU WERE ABLE TO TALK WITH HIM THREE TIMES, AND YOU LEARNED FROM HIM THAT HE KNEW FOR A FACT THAT INERT GASES MEASURED ON MARS AND ON VENUS WERE IN THE CATEGORY OF WHAT WOULD BE THE RESIDUE OF NUCLEAR EXPLOSIONS?
Precisely. But he did not state it in that way. He just stated that they had altered the inert gases.
AND THE "THEY" IS?
Ostensibly, that would be whoever controlled NASA's data about these inert gases.
WHO DO YOU THINK CONTROLS NASA'S DATA ABOUT GASES ON VENUS AND MARS?
Presumably, NASA does under normal circumstances, but if there's a kind of problem like this, the Deep State, whoever's in control of the UFO cover-up and the larger cover-up in general, would actually tell them and dictate to them what they can say and what kind of data they can put out.
NASA Was Created Secretly As An Arm of the CIA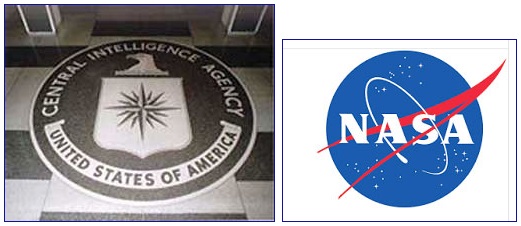 A WHISTLEBLOWER TOLD ME THAT WHEN NASA WAS BROUGHT INTO BEING, EVEN THOUGH THE PUBLIC WASN'T TOLD THIS, THAT ESSENTIALLY IT WAS SET UP SO THAT THE CIA WOULD BE THE ONES RESPONSIBLE FOR RESTRICTING WHATEVER NASA WAS DOING. THAT NASA WAS BORN UNDER THE THUMB OF THE CENTRAL INTELLIGENCE AGENCY.
That makes sense from what he said about who came in and sequestered the entire team for three days.
WHAT DID HE SAY ABOUT THE SEQUESTERING OF FLIGHT ENGINEERS, MECHANICAL ENGINEERS, AEROSPACE PEOPLE FOR THREE DAYS BY AGENCY PEOPLE FROM THE CIA?
The flight controllers at the time did not know why the spacecraft suddenly ceased transmission. They were obviously looking at more prosaic explanations, but they didn't know why. It was only after my friend who was the controller here actually knew from his advanced clearance exactly how that happened. They can move people around. They did. After this flight, they created what was called The Ranger Project Office. They shuffled a bunch of managers around. They can send them any direction they want.
IN ORDER TO DIVIDE THEM SO THAT PEOPLE WON'T BE TALKING TO EACH OTHER?
Precisely.
YEAH. AND SO THAT SEQUESTERING OF JPL/NASA ENGINEERS AND FLIGHT CONTROLLERS IN 1962, IN FACT, THE RANGER 3 LAUNCH WAS JANUARY 26TH, 1962. SO THIS IS A SEQUESTERING THAT WOULD HAVE HAPPENED IN JANUARY OF 1962 AT THE MID-COURSE CORRECTION DATE.
Yes, until the beginning of February.
DID THE JPL FLIGHT CONTROLLER WHO WAS TALKING TO YOU IN THE SUMMER OF 1990 SAY THAT THEY LEARNED ANYTHING ABOUT UFO/ALIEN PRESENCES ON MARS AND VENUS AT THAT TIME WHERE THEY FOUND THAT THE AMOUNT OF INERT GASES ON MARS AND VENUS WERE FUDGED DELIBERATELY BY THE HANDLERS OF NASA?
He did say they were fudged deliberately. He did not say why. Again, that phrase came up, "to avoid negative public reaction."
After my recorded phone interview with Amy, I played back excerpts with nuclear physicist John Brandenburg for his feedback. In the next Earthfiles report, John says: "It's very much confirmatory of what I understand. You must remember that NASA, especially JPL, which does a lot of classified defense work, both together are viewed as part of the defense intelligence establishment. The idea that they're a civilian space agency is just a fable that they've put out to the public. They're actually part of the Department of Defense for the intelligence community. And they're expected to follow orders. Almost all of the astronauts are either active military or ex-military. And they just consider it part of their job to avoid any negative public reaction."
Continued in Earthfiles report: Did NASA/JPL Fudge Xenon-129 Data for Both Mars and Venus?
Also see:
---
More Information:
For further information about policies of denial and misinformation concerning UFOs on Earth, please see the many reports since 2011 in the Earthfiles Archive. This is only a sampling:
---
Websites:
Majestic-12 MAJIC Documents: http://majesticdocuments.com
Majestic-12 MAJIC and Project Sigma: https://www.bibliotecapleyades.net/sociopolitica/esp_sociopol_mj12_32.ht

© 1998 - 2018 by Linda Moulton Howe.
All Rights Reserved.