"26 February 2016 – Pentyrch – Llantrisant, Wales: Multiple witnesses of a huge UFO and other lights. Military planes and helicopters, a chase, explosions, physical effects such as shaken buildings, damaged trees and wreckage on the ground."
– Web archive, Swansea UFO Network (SUFON), southern Wales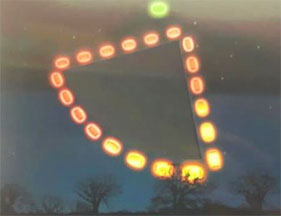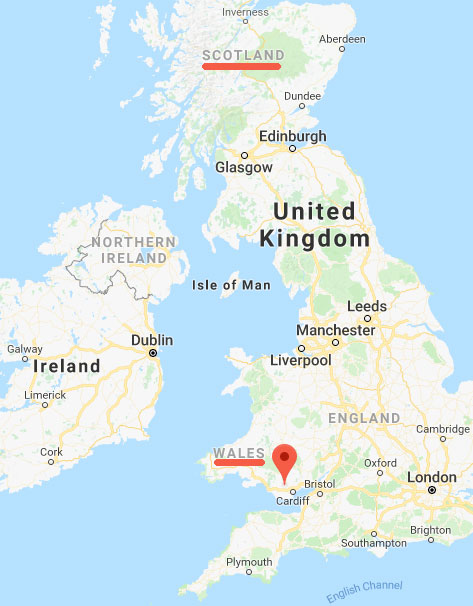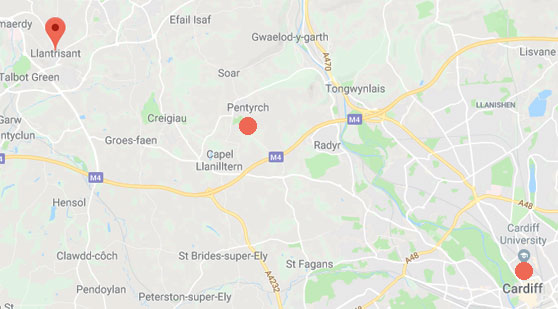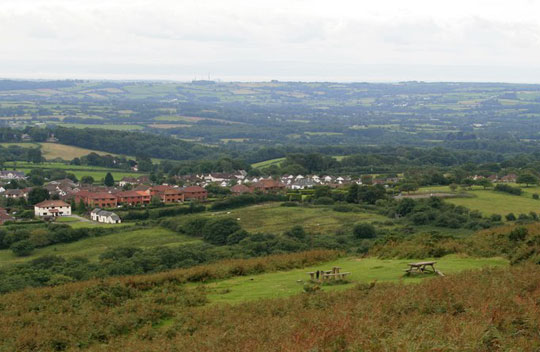 December 28, 2017   Pentyrch and Llantrisant, Wales, U. K. – The village of Pentyrch with 3,000 residents in South Wales near Cardiff has been inhabited for over three thousand years since the Neolithic and Bronze Ages. The region has long had UFO reports. Back in the 12th Century year of 1113, religious pilgrims in southwest England reported seeing a glowing fire-belching "dragon" emerge from the sea, fly into the air, and disappear into the sky. By the 20th Century, there were increasing reports of silver discs flying or coming out of the water around St. Bride's Bay in far western Wales. Some eyewitnesses even described encountering strange beings not considered human and linked to the UFOs. Then investigators began calling southwestern U. K. the "Welsh UFO Triangle."
A year ago in February 2016, Welsh residents living northwest of Cardiff in the Pentyrch region were puzzled by a grey-colored, twin-propeller-driven airplane that began flying in figure eights over their houses at mid-day on February 24, 2016.  Periodically the plane would fly out and do a big circle and then return to repeat the figure eight pattern over and over.
According to 53-year-old Caz Clarke, for the past twenty-five years she has lived in western Pentyrch and for the past twelve years only two to three miles from Llantrisant, the site of The Royal Mint. She knows the region well, but she and her next-door neighbor, "Dave" — who wants to remain anonymous — have never seen a twin-propeller plane do figure eights and large circles over their houses before. And it didn't end on February 24th. The figure-8 plane persisted for three days. Dave called the Ministry of Defense and also emailed the MoD to ask why the plane kept flying in patterns over their Pentyrch homes. However, no official admitted they even had an airplane over Pentyrch.
Frustrated that they could not get any answers from authorities about why the plane was there, Caz and Dave decided on the early morning of February 26, 2016, to go into Caz's garden to watch the persistent plane that had been flying for hours from daylight into night. Then at 2 AM, a huge AWACs plane and helicopters showed up and what unfolded after that seems to fall into the category of some kind of military attack on a UFO.
All of this caught the attention of the Swansea UFO Network (SUFON) based further west of Llantrisant and Pentyrch. SUFON has been investigating what happened that night and one of their members, Gari Jones, sent me emails about the dramatic events that SUFON has reported at its website (see at end of this report), but have not been reported much by local media to the general public. I wanted to learn more and recently he and Caz Clarke joined me in a recorded phone interview.
---
Interview:
Caz Clarke, 53, Pentyrch, Cardiff, Wales: "At midday on the 24th of February, I looked up, and I could see this small grey twin-propeller driven plane flying in figure eights. Then it would fly out into a big circle and come back and repeat the pattern. And this went on day and night then for three days.
DID YOU OR YOUR NEIGHBOR CALL THE POLICE OR A MILITARY OFFICE? WHAT WAS HAPPENING?
Yes. My nextdoor neighbor ("Dave") called the Ministry of Defense and emailed them and asked them about the plane, and nobody said they had a plane in the area.
THAT WOULD SEEM STRANGE THAT A U.K. CITIZEN WOULD BE CALLING THE MoD TO ASK ABOUT A PLANE AND SIMPLY GET,""WE DON'T HAVE ANYTHING IN THE AREA," WITHOUT SECURITY, POLICE, SOMEBODY COMING TO INVESTIGATE.
Right.
AND NO ONE CAME TO INVESTIGATE WHERE YOU ARE LIVING IN PENTYRCH?
No. Nobody.
I WOULD THINK THAT IF THERE WAS SOMETHING GOING ON FOR THREE DAYS, 72 HOURS, OF A PLANE DOING FIGURE EIGHTS OVER A NEIGHBORHOOD, THAT THERE WOULD BE THE ABILITY TO CALL POLICE AND HAVE THEM COME.
Well, in my opinion, the police and the military were both involved in this. It wasn't an exercise. After the second day (February 25, 2016) of the plane continuing flying backwards and forwards, I actually discussed it with my neighbor, and we went out in the garden and watched this plane going backwards and forwards for several hours.
2 AM, February 26, 2016: AWACS Shows Up
AWACS: "Airborne Early Warning and Control System"
"The multinational crews of AWACS aircraft come from 15 NATO nations.
AWACS stands for 'Airborne Early Warning and Control System' and is NATO's
early warning system, popularly known as the 'eye in the sky.'"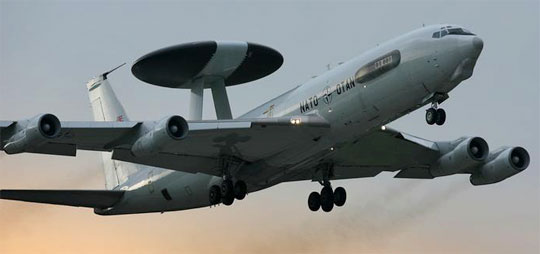 Now, it got to about 2 AM in the morning of February 26, 2016, and just as I was about to go back into my house, a big E3 Sentry plane turned up — AWACS plane with the big mushroom on its back.
And the small propeller-driven plane left the area immediately. This AWACS plane started to do big circles. I live on top of a mountain, so you can see all the way round for miles. We estimated that it took about five minutes to do one revolution. The plane circled seven times before the first light appeared.
And it was just one single red light to begin with, high above the trees behind my house. So I called my neighbor, and we jumped over the small fence and ran to the field behind us because there's nothing behind my house at all. And by this time, there are three red lights in a triangular formation.
Now, the whole thing became visible. First, one red light, then three, then five, then the whole thing was there. And it was this big pyramid-shape with a curved bottom to it, and a green object.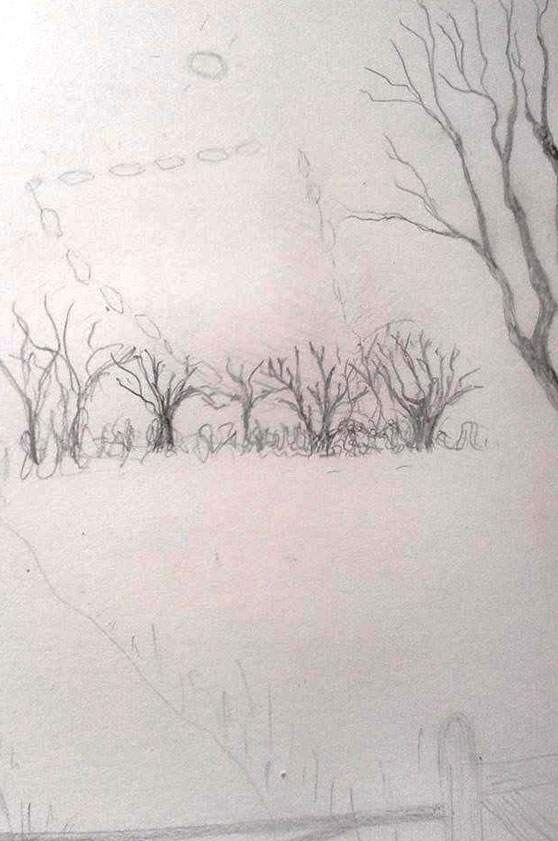 I couldn't tell you what shape it (green object) was because it was so bright. That green object shot out of the top of that pyramid and then rocked back and forth like a leaf falling in the wind on a still day. Just rocking backwards and forwards. And the AWACS plane was still doing big circles. And the big red pyramid, which was outlined by these red lights around the outside of it, started to drift to the right and turned towards me.
So spinning anticlockwise slowly, it came down into the field into the corner. And the lower it got to the ground, the brighter it lit up. The bottom lights became bright, yellow-white-orange, and the whole string of lights on the righthand side of the ship lit up really brightly.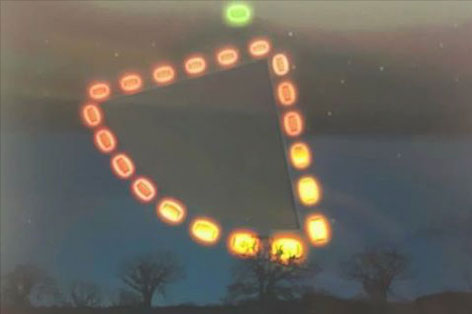 And as it got down to the ground, this hand of lightning, fire colored, extended and reached out to touch the ground. That's what it looked like.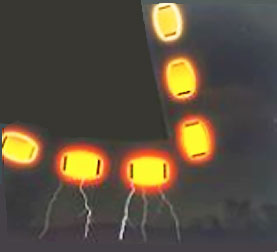 My neighbor was watching the top of the ship, he saw lots of orbs coming out the top of it.
WHAT COLOR WERE THE ORBS THAT YOU SAW?
They were red.
SO THERE WERE MOVING RED ORBS COMING OUT OF SOMETHING THAT WAS TRIANGULAR OR PYRAMID-SHAPED IN THE SENSE THAT YOU COULD SEE RED LIGHTS THAT OUTLINED TWO SIDES?
Right, but when it came down to the ground and that righthand string of lights lit up really brightly, the lights lit up so brightly that it illuminated parts of the side of the ship. Not all of it, just around the lights you could see that it was a solid craft, pyramidal-shaped. And I saw the green object, which was still up there. But as it came down to the ground, it got really bright. Then like that, the lights had switched off and the orbs — I only saw two of those afterwards and they were both red.
THE DISTANCE FROM WHERE YOU AND YOUR NEIGHBOR ARE WATCHING THIS TO THE PYRAMIDAL-SHAPED CRAFT?
It was approximately 200 meters away from me.
SO 200 METERS IS ABOUT 700 FEET, APPROXIMATELY.
Yes.
SO THAT'S YOUR DISTANCE. NOW, DO I UNDERSTAND THAT SIMULTANEOUSLY THE ENTIRE TIME THERE IS AN AWACS PLANE THAT IS DOING LARGE CIRCLES IN THE SKY ABOVE ALL THIS?
Absolutely.
THE GREEN THAT WAS COMING OUT OF THE TOP OF THE PYRAMID HAS DISAPPEARED LIKE IT BLINKED OUT?
The pyramid did (blink out), but the green object still stayed there. Other planes turned up, and it flashed three really bright green strobes at these planes. Then all four of these military aircraft followed it. It didn't seem to be in a hurry. It just bobbed from side to side and moved at will in and out of the treetops heading toward Llantrisant from here with the four planes behind it.
WHAT WERE THE TYPES OF THE OTHER THREE PLANES THAT SHOWED UP IN ADDITION TO THE AWACS?
They were propeller driven planes. They were larger than the ones before. I would say they were C-130s. It was 2:40 AM on the 26th of February 2016. They just flew straight over the houses and straight toward the green object.
WOULDN'T THAT HAVE BEEN AN ENORMOUS AMOUNT OF SOUND, SO WOULDN'T EVERY NEIGHBOR FOR MILES AROUND BE COMING OUT OF THEIR HOUSES?
Unless you were up, by the time you got up to see the planes, they would have already gone.
SO STARTING AT MIDNIGHT AND GOING TO 3 AM AND BEYOND ON FEBRUARY 26TH 2016, THIS IS WHEN THE RED LIGHTS SHOWED UP IN THIS PATTERN OF SOMETHING TRIANGULAR OR PYRAMID-SHAPED OUT OF WHICH CAME THIS BRIGHT GREEN THING. THEN THAT AFTER THE RED LIGHT PYRAMID DISAPPEARED, ABOVE THE AWACS PLANE WAS STILL CIRCLING, AND PERHAPS THREE C-130S SHOWED UP AS IF THEIR INTENT WAS TO INTERACT WITH THE BRIGHT GREEN OBJECT.
Follow it, yes. I believe the green object did its best to get their attention to follow it by strobing at the planes.
TO DEFLECT THE PLANES AWAY FROM WHERE THE RED PYRAMID OR TRIANGULAR OBJECT DISAPPEARED?
Yes. After the green object skipped away and the planes were following it, the AWACS plane was still above us. We walked down to the next gate to see where the pyramid had come down. So when we walked back to the first gate again 200 yards away and looked up, there were two red barrel-shaped objects.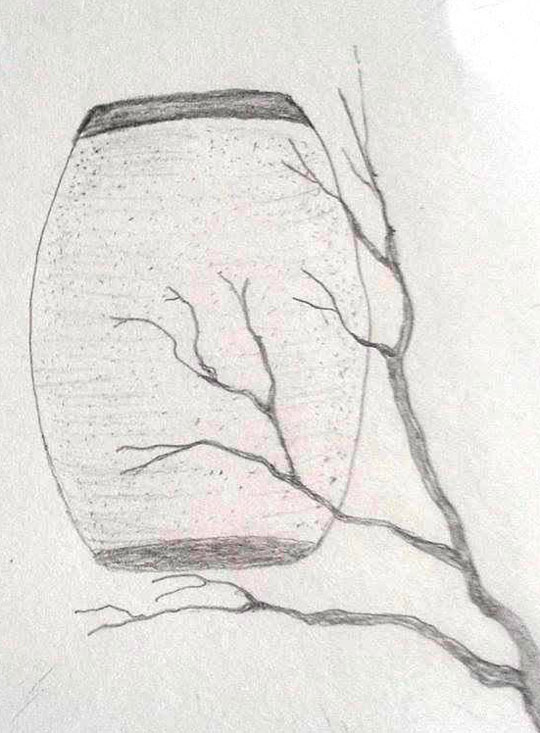 BARREL-SHAPED. WHAT SIZE AND COLOR?
OK. They were red and they were about the size of a small car.
THEY ARE SUSPENDED HOW HIGH ABOVE THE GROUND?
30 feet.
HOW FAR APART ARE THEY?
About the same, 30 feet.
ARE YOU HEARING ANY NOISE OR FEELING ANY AIR MOTION?
Nothing. No noise, no air motion, nothing. There were just these two lights that were barrel-shaped, that were flattened off on the top and on the bottom with black, and when you looked at them close up — as a kid, you got too close to the TV and you could see all those little black dots jumping around?
That's what it was like, but red, and you could see all these little black dots jumping around, and one of them, the one that was closest to me, it turned green. Went from taillight red to traffic light green in an instant, like somebody flicked a switch.
HOW CLOSE ARE YOU AT THAT MOMENT?
It's just above the oak tree next to me, so 20 feet.
Were the Barrel Craft Scanning Caz Clarke and Dave?
DID YOU HAVE THE IMPRESSION THAT THIS COULD BE A HOLOGRAM? OR WAS IT SOME 3D MATTER?
This was solid, and I felt like I was being scanned.
CAN YOU DESCRIBE WHY YOU WOULD FEEL LIKE YOU WERE BEING SCANNED?
It's difficult to put into words. These two objects came to look at my neighbor and I, and that was the object that turned green. Now, both of those objects stayed exactly where they were until that object turned green. And when it turned green, they both moved on.
IN THAT PERIOD OF TIME WHERE YOU FELT THAT THESE TWO RED BARREL GLOWING OBJECTS, ONE OF WHICH TURNS GREEN, WERE SCANNING YOU, WERE YOU GETTING IN YOUR MIND'S EYE ANY NUMBERS, SYMBOLS, HIEROGLYPHS OR THOUGHT WORDS?
No.
Three Apache Helicopters Show Up in Triangle Formation
YOU'RE FEELING SCANNED, AND THEN WHAT HAPPENS?
These two objects moved off. My neighbor and I, our silence is broken by three Apache helicopters flying in a pyramid formation with their big red flashing lights in front of them really low across the fields going towards Llantrisant from the left of us.
IS THE SKY NOW FILLED WITH THREE APACHE HELICOPTERS, THREE C-130S, AND AN AWACS THAT IS ROTATING IN A CIRCLE ABOVE ALL OF IT?
The C-130s followed the green object towards Llantrisant, so they were already gone. The Apache helicopters were coming at ground level across the fields toward Llantrisant, and the AWACS was still above us, yes.
WHAT HAPPENS NEXT?
4 AM Feb. 26, 2016: Explosion in Llantrisant's Smilog Forest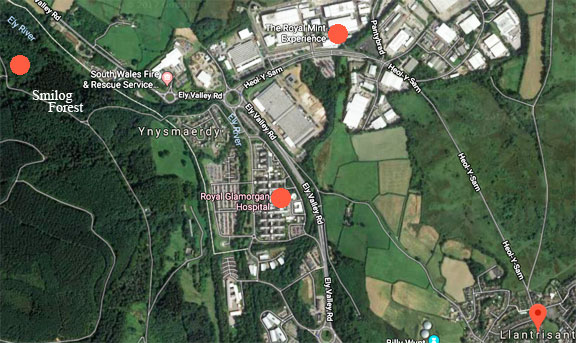 I can only surmise what happens next because I heard an almighty explosion, and I'm about two miles away from Llantrisant, but only through witness testimony do I now know what happened afterwards. But I'd have to pass it over to Gary Jones for that because he's an investigator for Swansea UFO Network (SUFON). So if you wouldn't mind if I could pass you over to him?
YES. THANK YOU.
Gari Jones, SUFON Investigator: "And what they've described after the explosion is about four or five seconds later, there was another smaller explosion. Not as loud as the first one, but it was like something, I guess you could describe, hitting the ground. One minute there's this massive explosion that's shaking buildings and homes and hospitals (Royal Glamorgan Hospital). And then a couple of seconds later, the other explosion shook like it was impacting the ground, like some thud or boom in Smilog Forest." (Map above.)
Continued in Part 2, including "Dave's" statement and Update.
Also see:
---
More Information:
For further information about Earth's "secret war" with an alien presence, please see related reports in the Earthfiles Archive. This is only a sampling:
---
Websites:
Swansea UFO Network (SUFON): http://www.sufon.co.uk/index.php?page=13
The Welsh Triangle of Persistent UFO History:
https://www.bestofwales.co.uk/the-welsh-triangle
Reported UFO Sightings in the U. K.: https://en.wikipedia.org/wiki/Reported_UFO_sightings
_in_the_United_Kingdom#2000s
The Secret Files: The Welsh Triangle:
http://www.uk-ufo.org/condign/secfilwelsh2.htm
Majestic-12 MAJIC Documents: http://majesticdocuments.com
Majestic-12 MAJIC and Project Sigma: https://www.bibliotecapleyades.net/sociopolitica/esp_sociopol_mj12_32.ht

© 1998 - 2018 by Linda Moulton Howe.
All Rights Reserved.