— "It was now around 4 AM (Feb. 26, 2016) and there was one almighty explosion
come from the direction of where the Apaches were flying around, followed
by another huge explosion about 4 or 5 seconds later."
- Caz Clarke's Pentrych neighbor, "Dave," February 26, 2016
— "I heard an extremely loud explosion which sounded like it was right outside the hospital. This was then followed by a smaller explosion which also sounded a little distance away from the hospital. ... I have combat experience in the British armed forces and can tell the difference between a bang and an explosion. I then went outside the hospital to the entrance and the smoke that was around resembled a very foggy night and it is correct that the smell of sulphur was all around."
- Male Nurse working Feb. 26, 2016, in the Royal Glamorgan
Hospital, Llantrisant, South Wales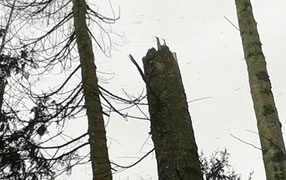 Return to Part 1.
Dec. 31, 2017 Update: Since my December 21, 2017, Earthfiles news updates on Coast radio and my Part 1 Earthfiles report that links to this Part 2, I received the following December 30, 2017, email from a South Wales, U. K., resident who was working as a male nurse inside the Royal Glamorgan Hospital in Llantrisant during the early morning hours of February 26, 2016, when there was "an extremely loud explosion, which sounded like it was right outside the hospital."
Click here to subscribe and get instant access to read this report.
Click here to check your existing subscription status.
Existing members, login below:

© 1998 - 2023 by Linda Moulton Howe.
All Rights Reserved.