— "It was now around 4 AM (Feb. 26, 2016) and there was one almighty explosion
come from the direction of where the Apaches were flying around, followed
by another huge explosion about 4 or 5 seconds later."
– Caz Clarke's Pentrych neighbor, "Dave," February 26, 2016
— "I heard an extremely loud explosion which sounded like it was right outside the hospital. This was then followed by a smaller explosion which also sounded a little distance away from the hospital. … I have combat experience in the British armed forces and can tell the difference between a bang and an explosion. I then went outside the hospital to the entrance and the smoke that was around resembled a very foggy night and it is correct that the smell of sulphur was all around."
– Male Nurse working Feb. 26, 2016, in the Royal Glamorgan
Hospital, Llantrisant, South Wales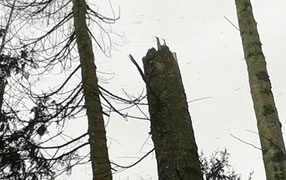 Return to Part 1.
Dec. 31, 2017 Update: Since my December 21, 2017, Earthfiles news updates on Coast radio and my Part 1 Earthfiles report that links to this Part 2, I received the following December 30, 2017, email from a South Wales, U. K., resident who was working as a male nurse inside the Royal Glamorgan Hospital in Llantrisant during the early morning hours of February 26, 2016, when there was "an extremely loud explosion, which sounded like it was right outside the hospital."
To: Linda Moulton Howe <[email protected]>
Re: Llantrisant Booms A Year Ago On Feb. 26, 2016
Date: December 30, 2017
Hi Linda, I was listening to the very recent (Dec. 21, 2017) Coast to Coast radio show which included yourself talking to Gareth Jones from the Swansea UFO Network about the incident of high strangeness in and around Llantrisant, South Wales. I was on duty as a nurse at the hospital that night (Feb. 26, 2016) and I can explain what I experienced.
I must add that I no longer work at that hospital anymore and am in fact no longer working in the NHS (National Health Service) and it is only now that I can contact you regarding this matter.
I believe it was around 02.00 (Editor: others say it was later than 2:00 AM) when I heard an extremely loud explosion, which sounded like it was right outside the hospital. This was then followed by a smaller explosion, which also sounded a little distance away from the hospital.
I was on duty with two other people who heard exactly the same as myself. I have combat experience in the British armed forces and can tell the difference between a bang and an explosion.
After hearing these explosions, I automatically thought that it was a terrorist attack as this is a sign of the times that we are unfortunately living in. I also contacted hospital security to find out if they were aware of what was going on. Suffice to say they had no idea what I was on about.
I then went outside the hospital to the entrance and the smoke that was around resembled a very foggy night and it is correct that the smell of sulphur was all around. I didn't see any lights, but there again I wouldn't have seen them due to the smoke. I did however hear a lot of noise sounding like aircraft and also helicopters. I had to go back to my workplace very shortly afterwards and that was where it ended for me. I phoned security again and asked them if they had any information concerning what had happened and they told me that there had been a military exercise and that was it.
I don't believe it was a military exercise at all basically for the same reasons as Gareth Jones. A member of staff informed me that all the roads in the local area were closed by the police and I can assure you that they must have drafted in police from outside the area because with the cutbacks in the police force there are not many on duty at night and they number around 10 constables and a sergeant in that area.
The only mention in the media was of a military exercise and this was on the Wales On Line news app. The media here is the same as the rest of the UK in that it has its own narrative and agenda. I don't believe we will ever get the truth about this incident.
To give you an idea of where I was that night — if you go to Google maps and find the Royal Glamorgan Hospital — go to satellite view and you will see the round about just outside the hospital. As you come off the round about into the hospital there is a left turn which you follow and I was in the end building of the first three."
December 31, 2017 Pentrych and Llantrisant, Wales, U. K. – For Caz Clarke and her neighbor, "Dave," the persistence of the AWAC, other planes and the appearance of Apache helicopters in the early morning hours of February 26, 2016, all seemed to be connected to the pyramid-shaped UFO, its many red orbs and the bright green object that shot out of the top of the triangular craft — followed by the appearance of the two barrel-shaped aerial objects near Caz's gate. The two neighbors stayed outside until the Apache helicopters arrived and then decided to go inside their respective homes. That's when around 4 AM local time, Caz and Dave both heard an enormous, explosive first boom followed in a few seconds by a less intense boom coming from the direction of Llantrisant.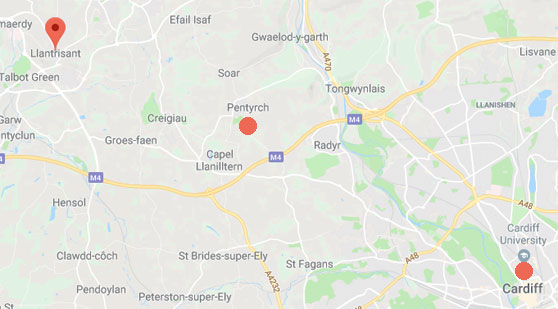 The Welsh word Llantrisant means "Parish of the three saints." Those three saints are SS. Illtyd, Gwynno, and Dyfodwg. Llantrisant is within the historic county boundaries of Glamorgan along the River Ely and the Afon Clun. Llantrisant has been the location of the U. K.-owned Royal Mint since 1971 when the British system of pounds, shillings and pence was changed to the decimal system of the modern western world.
Swansea UFO Network investigator Gari Jones, along with other SUFON members Emlyn Williams and Mike Maunder, over the past year have talked with other people who were earwitnesses to the first loud explosive boom followed by a less intense boom around 4 AM local time on February 26, 2016, apparently in Smilog Forest on the northwestern outskirts of Llantrisant, Wales. SUFON also got a statement from Caz Clarke's neighbor, "Dave," which is reprinted at the end of this report. But first, Gari Jones continues with what he and his fellow SUFON investigators have learned.
---
Interview:
Gari Jones, Investigator, Swansea UFO Network (SUFON), South Wales, U. K.: "With the booms, this is where it gets interesting because the secondary boom may have been something hitting the ground from an explosion that took place in the air.
We've been at the Smilog woods, we've done quite an extensive search of the area, and we've found a place in a straight line. We found a lot of snapped trees and canopies that were damaged. Some of these trees are like 20 feet up, snapped off. Trunks of really big grown pine trees, which have just snapped off, laying around the area. It looks like something has crashed into that Smilog forest.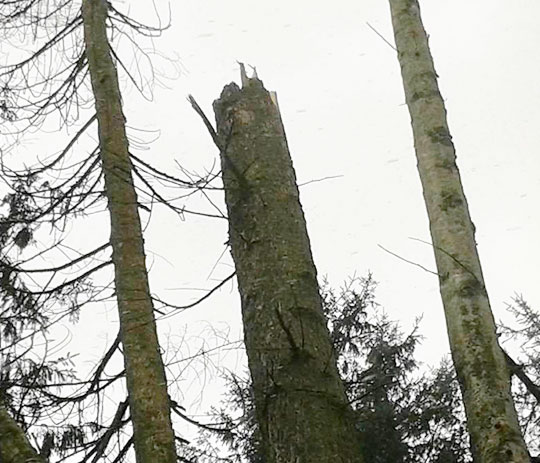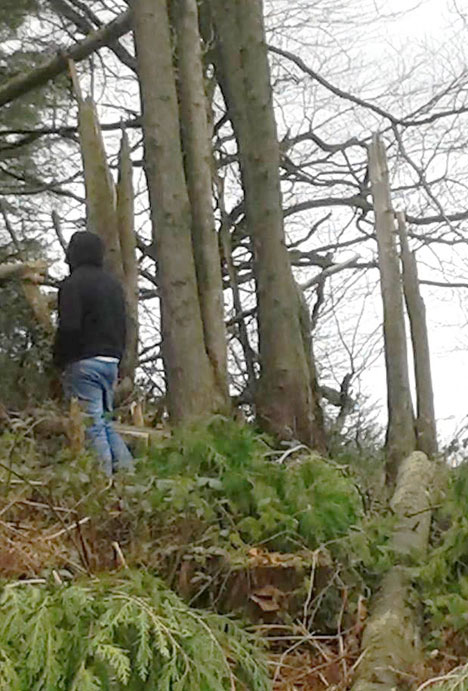 Also, it looks like the area's irradiated. The trees look like they're dead. The leaves look like they've been burnt a bit, or some of the areas look like the trees have lost all their leaves altogether. They've been scorched. Two of the trees show scorch marks, like burns. It has that sort of singed look to it.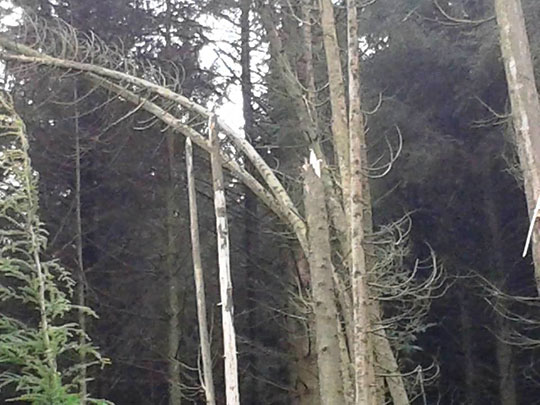 BLACK OR WHITE?
White. Silvery-greyish color, you could also describe it as, that goes from the center of this white-silvery patch area, it turns into more of a light brown, orangey kind of color.
We do believe now that the second boom may have been this thing, whatever it was they were chasing, the light green barrel-shaped object, which was chased by the military and the Air Force, as Caz and her neighbor have seen, that may have been what may have caused the damage at Smilog wood.
Smoke and Smell of Sulfur in Smilog Forest, Llantrisant
And I should also mention where the first loud explosion followed by the second one after like say four or five seconds, there was smoke seen rising from the area itself right over Smilog, lots and lots of smoke.
And we've got some witnesses who have spoken to us and written down a testimony as well. They smelled something like sulfur. It was like in the air and you could smell it. It was like a sulfur kind of smell. There's a chance it's like the military chased it (UFO), opened fire, brought it down, and may not have actually destroyed it, but caused it to, I guess, lose altitude and it ended up in this area of Smilog woods.
The other thing that we've also managed to find out through people who've written blogs who like to keep track Air Force bases and plane spotters and things like that. They're describing Chinooks coming to and from the base called St. Athan's Royal Air Force Base.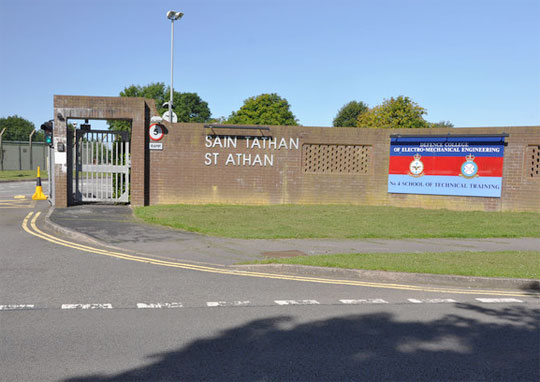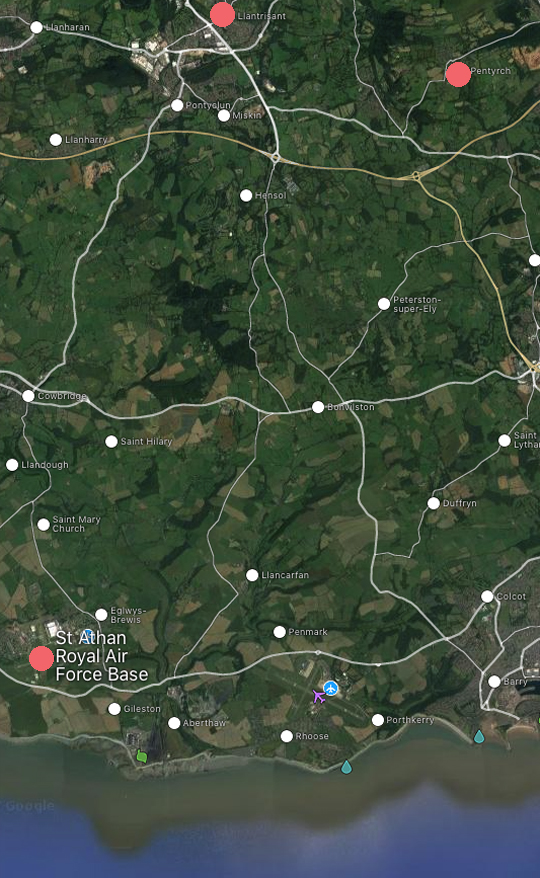 NEAR THE ROYAL MINT?
It's not too far from this area in Smilog woods that we're talking to you now. The military were making a number of trips behind The Royal Mint, and that seems to indicate to us that they were making airlifts, dropping something off at St. Athan's, and then coming back to The Mint.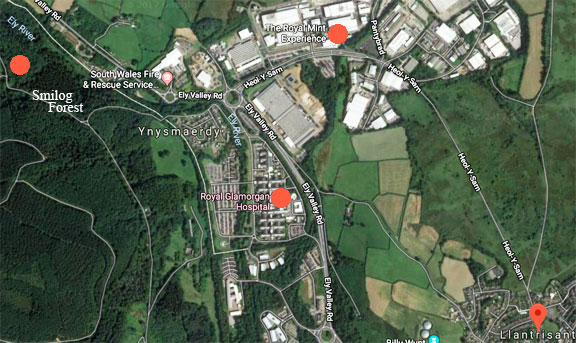 The other thing I just want to say besides the air lifts and the helicopters circling — and yes, the smoke but no fire that is very strange along with the smell of sulfur — is that not long after the explosion took place, whatever caused the explosion, all the roads, lanes, even the back roads, were closed off.
Mysterious Closing of Roads
Nobody could get anywhere near this Smilog forest place because the Army or the military or someone gave an order to shut down roads to the area. They didn't seem to want anyone going near Smilog woods. And we've got a number of people who've testified to this. They were trying to get home on their normal roads that they would take. They were closed off. They had to find some other means of getting home. It just seems very strange if this was what they call a military exercise, why are they going to so much trouble to shut down all the roads that would normally be open? It's never like them to do something like that. In fact, there was no reason given that the roads were closed.
WHAT WAS POSTED AT ALL OF THE CLOSED ROADS?
Nothing. The only thing that we know is that there were police with their cars standing by the road telling people they couldn't go this way or go another way when they got there.
WERE THE POLICE FROM LLANTRISANT OR PENTYRCH?
I think they were part of the South Wales police force.
SO THE SOUTH WALES POLICE FORCE WAS ORDERED BY SOMEBODY TO GO TO SEVERAL ROADS LEADING INTO SMILOG FOREST, AND THEY SIMPLY PARKED AND TOLD PEOPLE TO TURN BACK, THAT THEY COULDN'T GO THROUGH THE ROADS.
Yes.
IN FEBRUARY 2016, WOULDN'T THIS NEWS HAVE TO HAVE REACHED SOCIAL MEDIA IN BRISTOL AND CARDIFF AND ALL OVER THE PLACE THAT THERE WAS ALL THIS MILITARY ACTIVITY OVER PENTYRCH TO LLANTRISANT?
Project CHAMELEON
Well, the one story that we did find comes from Wales Online. They posted a story about 7 AM the very same day of February 26, 2016, calling it a military exercise named Project Chameleon. But there seems to have been no other explanation for the loud explosions, which were reported by several people on the Wales Online article reported these loud explosions. We've since spoken to one or two of them, and that's how we got their statements. At the same time, a station called 101, is it?
Caz Clarke: 101 is a non-emergency telephone number to the police. Hundreds of people telephoned 101 to find out what was going on because nobody had been told anything about this exercise that wasn't even listed as an exercise!
In fact, Exercise Chameleon was supposed to be in Durham in the North of England. You can't go any further north before you're in Scotland. And there was absolutely nothing written about low-level flying, especially in the early hours of the morning, and Chameleon did not include South Wales at all.
SO HOW DID THE MILITARY AND THE POLICE GET AWAY WITH EXPLAINING SOMETHING IN SOUTH WALES AS RELATED TO A EXERCISE CHAMELEON SO FAR NORTH THAT IT WAS NEAR THE SCOTLAND BORDER?
That was the military cover story.
Gari Jones: As Caz has said, the original area where the exercise was going to take place would have been in Durham, England, to the north. But, it was unannounced. They didn't give any notice to people of this South Wales area whatsoever.
A. They didn't warn anyone it was taking place.
B. They seemed to be very quiet about actually explaining why this exercise took place.
C. It took place in the early hours of the morning over a populated area and that really irritated a lot of people.
"Military Exercise" Is A Frequent Catch-All Explanation Used to Cover Up High Strangeness Phenomena
IT'S MY EXPERIENCE AS AN INVESTIGATIVE REPORTER FOR A LONG TIME TRYING TO GET TO THE BOTTOM OF HIGH STRANGENESS THAT MILITARY EXERCISE IS A COMMON EXPLANATION, EVEN THOUGH IT NEVER IS THE ANSWER IN THE BOOMS AND THESE STRANGE SOUND EVENTS. IT SEEMS TO ME THAT WHAT WE HAVE IS SOMETHING THAT IS IN THE HIGH STRANGENESS CATEGORY THAT THE MoD THEN TRIED TO COVER UP WITH MILITARY ACTIVITY THAT IT COULD TIE TO A MILITARY EXERCISE SO THE GUARDIAN AND THE BBC WOULD ACCEPT WITHOUT DOING ANY INVESTIGATION.
That's exactly what that means.
Secret War Between Humans and Alien Presence?
I HAVE BEEN TOLD BY MORE THAN ONE WHISTLEBLOWER THAT THE EARTH IS IN A SECRET WAR, AND THAT HOMO SAPIENS SAPIENS HAS ALLIES, BUT ALSO THERE ARE SERIOUS ENEMY THREATS.
AND NOW THE ISSUE IS— HAS ANYBODY TALKED WITH EITHER OF YOU, CAZ AND GARI, ABOUT WHAT THE TRUE NATURE OF THIS WAR WAS ON FEBRUARY 24TH TO 26TH, 2016, BETWEEN PENTYRCH AND LLANTRISANT?
Caz Clarke: "One thing that troubles me personally is that the military knew that the UFO vehicles were coming. They didn't know exactly when, but they knew that they'd be coming here. So they watched the sky for three days until that pyramid-shaped vehicle arrived, and it was enormous, Linda.
We estimate 280 meters or 900 feet wide. And the smoke thing that filled the corridors in that Royal Glamorgan Hospital. They're saying it was smoke. It came through the vents from outside into the hospital and filled the air like fog. It was falling from the air. So there was some kind of explosion. I did hear the explosion from here in Pentyrch, and I'm about two to three miles away from Llantrisant. So whatever it was, the explosion was enormous. And they removed it (whatever was attacked) from Smilog woods using Chinook helicopters.
ARE THERE EYEWITNESSES TO CHINOOK HELICOPTERS PHYSICALLY LIFTING SOMETHING OUT OF SMILOG WOODS?
Well, witnesses have seen the Chinooks taking big trucks into there and removing something. From Smilog, it takes about five minutes flight time to get to St. Athan's Air Base where they landed and took off immediately. And this went on for three hours.
SO THE CHINOOKS WERE CONTINUING TO OPERATE IN THE SMILOG FOREST EVEN AFTER IT WAS DARK?
Caz: Yes.
Night Video of Helicopter Lights in Pentyrch
Gari Jones: Yes. I do have videos for myself. Not long after Caz and her neighbor had seen this pyramid-shaped craft appear in the fields of Pentyrch, about half past two, Chinook helicopters appeared in several areas. And I do have a video where it was flying not too far from my house where it was like making a circling pattern every three or four minutes for about 35-45 minutes (until near 4 AM.)

And then the Chinooks were taking off through Smilog woods. There was yellow police tape on the commons. When we went there, we could see 50 feet on either side of a debris trail that we followed that took off the tops of trees. These were conifer trees, and all the tops were off the trees and laid right through the woods in a straight line. When we got to the top of the ridge, trees had been snapped off at the midway point 20 feet in the air.
SUFON's EMF Data in Pentrych
And we've since looked at the EMF readings in the Pentyrch fields near Caz's and Dave's residents. We took an EMF reader up there. We went around the area, and we've got a number of readings above what you would have in the normal background."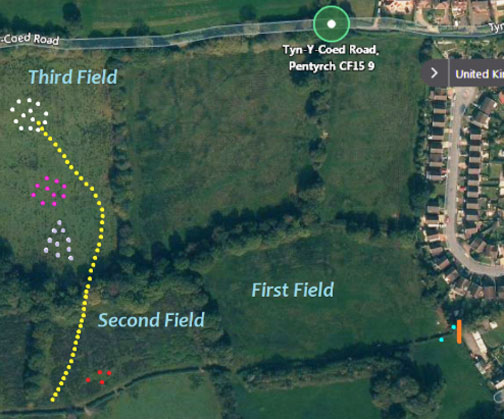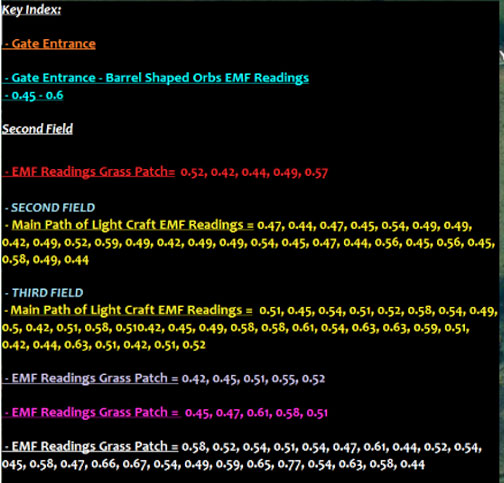 Statement by "Dave," Caz Clarke's Pentrych Neighbor
RE: FEBRUARY 25/26, 2016. Started 23rd Feb with a prop plane circling our area all day and all night.
24th February, 2016, woke up to the same noise as we all went to sleep hearing. Once again, stayed circling all day. I did start to wonder — are we under some sort of threat with world tensions as they are?
I spoke to the neighbour (Caz Clarke) and asked, 'Have you heard that plane circling for 2 days?'
My neighbor said, 'Yes I think something's going on.' But what? We just never knew.
That night I went to bed with the sound of the plane echoing over our houses. By 11:45 PM, I was pissed off with it, so I decided to email local M.o.D a shitty email about their plane keeping me and my neighbors awake. They didn't reply to my email at all. I put a pillow over my head and tried to get to sleep. Eventually did about 2 AM, February 25, 2016.
February 25th, I woke up to the same drowning noise from the plane above. Dinnertime I spoke to my neighbours and we decided if it was still up tonight, we would go and do a bit of sky watching to see if we could make any sense of what was going on.
February 25, 2016 – 8 PM – still over us. We watched from the neighbour's(Caz Clarke) rear garden. Lit a fire to keep warm as it was chilly, but we watched for hours. But nothing happened until about 1:30/1:45 AM (early on February 26, 2016). We were just calling it a night as nothing was going to happen — or that's what we thought anyway. Until another plane joined the circle (in night sky above). Then we thought this is interesting. We watched for 10 or so minutes, with them both circling and then another turned up and joined the circle.
But one left and headed off. We thought to refuel as it had been up so long. Then 2 more planes joined the circle whilst the other one was gone. But 15 minutes after it leaving, he was back there above where now 5 planes were circling.
So we watched on in amazement as to what's going on. Then in the centre of the circle, a red circle light appeared. We both reached for our phones and as I put mine to camera, the phone just turned off. I tried to turn it back on, but it said battery drained.
The same happened to the neighbour's phone (Caz Clarke). So we had no way of getting any pics of what was happening. With that we jumped the fence and ran over to the gate of a nearby field for better viewing. The red light turned to 2 and then 3 red lights. It then became clear this thing was triangle-shaped.
It (triangle) very slowly came down towards the ground over in the field across from where we were watching. The closer it got to the ground, more smaller very bright red lights lit up around its perimeter until it was fully lit up around the outside. It then tilted to the right and showed a curved bottom semi-circle.
It just paused for a second with planes still circling overhead. Then about 15 to 20 red orbs all came out from it as if they were floating around protecting it, intermingling with each other. Some started to turn green whilst others stayed red.
The large craft started to slowly move west without gaining any height. As it drifted away slowly, it turned to darkness and the lights all went off. The orbs remained, but some also went to darkness and invisible to the naked eye. One of the red orbs slowly went up into the centre of where the main craft came in. It stopped, turned to green and flashed very fast and slowly moved off towards the southwest bobbing along. Slowly 3 of the aircraft from the circle pulled out of formation and followed it. Although it wasn't going fast, these planes weren't going to catch it for sure.
I jumped the gate and was heading over towards where the remaining orbs could still be seen when my neighbor (Caz) shouted, 'Where you going over there?'
I shouted and the neighbour said, 'No, stay here. Don't be silly.' So I listened as I was in a state of shock and awe of what I had seen.
2 red orbs started to come across to the right of the gate where we were standing. One of them came closer just above us and stopped. It turned green as if we weren't a threat to them and carried on towards the east with the red one. We watched them until they also went to darkness.
We then both decided to walk the path through the field to have a look as by now you couldn't see any orbs or lights. We walked to the next gate along, but couldn't see anything. The 2 other planes were still above us as if they were still watching something that we couldn't see.
We hurried back towards home with one of the planes just above us like they were watching our every move. It stayed above us right back to the house. We hid behind the shed as it carried on passed. Stupid really. They probably were laughing at us and could see us clearly.
We decided to go down to the other field which looks over at St. Athan Royal Air Force Base. We could hear very heavy choppers in the distance.
As we listened, 3 Apaches (helicopters) were heading in our direction, flying in pyramid formation with one red light on each. We then decided we had seen enough and it was time to both go home.
I went home and I was full of adrenaline, so wasn't going to sleep anytime soon. So I sat in the window looking across at the fields where these Apaches were scanning by zig zagging back and forth across the field where we had seen the craft and orbs. The Apaches slowly ended up over Llantrisant area.
You could see them almost five bombing—  whatever they were doing, it was now around 4 AM and there was one almighty explosion come from the direction of where the Apaches were flying around, followed by another huge explosion about 4 or 5 seconds later.
I could only see 2 Apaches after this, but could hear twin rotor Chinooks coming from RAF St. Athens in the distance. There must have about 5 or 6 Chinooks heading to the same place as the Apaches. For the next 3 hours, they were flying back to start at Athens and then back to Llantrisant as if they were transporting something. This was very loud and went on for hours! And yes, I knew they were Apaches as they have a very heavy distinctive sound to them. That's all I can recall from that night, but one never to be forgotten.
Computer Tampering?
Then further on 26th Feb, 2016, I took a drive over to Llantrisant common just to have a look around. I came across a huge pile of white metal all precision cut and neatly stacked in a pile. I did have these pics, but they disappeared off my laptop along with all my FB conversations from about 23rd Feb up until about 5th March.
All my personal pics of my son and myself just vanished off my lap top. They did return about a week later, but missing certain pics — the ones I took of the piles of white metal never returned. A short time after this, a large group set up camp in the fields behind us where we were watching the activities. I took a walk over the fields to have a look.
There were tents and a lot of equipment there. They had satellite dishes, huge aerials and lots of other tech with screens and wires. I did try and ask this one bloke what they were doing, but he was very hesitant to tell me anything and kept looking around behind him as if he was making sure nothing was in my sight. After realizing this man didn't want to speak, I walked on. I looked back and he was staring as if to make sure I had left the field.
They arrived in Enterprise (rented) vans and land rovers they were there the best part of a week. You could hear them calling out in the middle of the night as you can hear a pin drop here.
Saturday, 27th February 2016, a couple of us went up to Smilog woods for a look around after hearing reports of explosions being heard coming from the woods early on the 26th February. We looked around and the neighbour who I was with that night was also with us when the neighbour went to Smilog woods on the 26th with a friend to look around. So knew the way and they showed us what they found. I could clearly see myself a perfect straight line through the trees to Pentyrch.
There were fresh canopies from the tops of the trees strewn in a feet up — very fresh smell of pine like it had just happened. There were scorch marks on a couple of trees high up — looked like when I used to make genies out of bangers as a kid. It would leave that white burn mark.
There were huge tire marks around the gravel path, which looked like some huge vehicles had been there. Also yellow tape around this area which I also saw the day before up on the common. Felt very eerie being up there and felt like we were being watched.
Also on the 26/27th, we took a walk over the fields where we had seen this craft. We were looking for any signs of something landing. There was a flat patch in the field with singed bushes around it — not sure if this is due to this craft or not, but one very strange thing in this field was that it was snowing, but not like snow. All I can say is it was like small plastic pellets about 2mm in size. As we left the field to cross into the next, there was nothing, no "snow." But you could still hear it landing in the field. You could even see it was not white, but more like transparent plastic — yet only in that field and nowhere else."
"Earth's Secret War"
Back in the late 1980s, I was first introduced to the words "Earth's Secret War" by an Army intelligence operative, who told me he had been in a high-level meeting with real scientists, pretend-scientists that were from the alphabet soup spying on each other, with a real General and a couple of pretend-officers, who were also alphabet soup spies on each other. But he was impressed and disturbed by the discussion with the real scientists in the room.
He told me the subject was UFOs, genetic manipulation and hybridization. He told me he did not understand the conversation, but when the meeting was over and they were heading out the door, he overheard the General ask one of the real scientists, "How do you think the Earth's Secret War is going?" He heard the scientist answer, "It's futile."
Maybe what happened in Wales a year ago is a signal that whatever conflicts human military are having with an alien presence that human efforts are not futile? In fact, in Llantrisant's Smilog forest, it would seem that something violent happened in the trees and that Chinook helicopters might have lifted out an object.
I want to thank Caz Clarke, Gari Jones, Mike Maunder, and Emlyn Williams for their help to bring this report to my Earthfiles news updates on Coast to Coast AM and these Earthfiles reports.
I would like to make an appeal on behalf of Earthfiles.com and the Swansea UFO Network — if anyone has any firsthand information about the February 26, 2016, events over Pentyrch and Llantrisant — or know more details about a "secret war" on this planet with an alien presence, please email me:  [email protected]. And contact the Swansea UFO Network website: www.sufon.co.uk
Return to Part 1.
Also see:
Parts 1 – 18: Maze of Deception
---
More Information:
For further information about Earth's "secret war" with an alien presence, please see related reports in the Earthfiles Archive. This is only a sampling:
---
Websites:
Swansea UFO Network (SUFON): http://www.sufon.co.uk/index.php?page=13
The Welsh Triangle of Persistent UFO History:
https://www.bestofwales.co.uk/the-welsh-triangle
Reported UFO Sightings in the U. K.: https://en.wikipedia.org/wiki/Reported_UFO_sightings
_in_the_United_Kingdom#2000s
The Secret Files: The Welsh Triangle:
http://www.uk-ufo.org/condign/secfilwelsh2.htm
Majestic-12 MAJIC Documents: http://majesticdocuments.com
Majestic-12 MAJIC and Project Sigma: https://www.bibliotecapleyades.net/sociopolitica/esp_sociopol_mj12_32.ht

© 1998 - 2018 by Linda Moulton Howe.
All Rights Reserved.