UPDATE September 20, 2018: Alamogordo's Otero County Sheriff Benny House told El Paso ABC-TV:  "I think it's chicken sh– the way the FBI handled it.  Is there a bomb threat? Is there an active shooter? Is it chemical? We need to know so we know what kind of man power to send up there, and without knowing, it's dangerous for everybody. We've asked and asked (the FBI) and they will not tell us anything."
Now on September 20, 2018, comes the shocking revelation that "a federal search warrant reveals that Sunspot Solar Observatory was shut down as FBI agents conducted computer forensic searches for child pornography," reported by KTSM-TV Channel 9, September 20, 2018, El Paso, TX
Also see important questions about truth of child pornography explanation in Earthfiles Report:  Update September 20, 2018 – 11:30 AM Mtn from Peter Levenda, author, 3-volume Sinister Forces; Unholy Alliance and co-author of To The Stars non-fiction trilogy: Gods, Man, War.
KTSM-TV reports that "The source of child pornography was traced to an IP address used at the observatory and a source within the building observed a computer with 'not good' images on it, the warrant states." The federal court documents state that Wifi and a personal laptop in the National Solar Observatory were used to download child pornography.
Update September 20, 2018 – 11:30 AM Mtn from Peter Levenda, author, 3-volume Sinister Forces; Unholy Alliance and co-author of To The Stars non-fiction trilogy: Gods, Man, War.
Peter Levenda, September 20th:  "First, child pornography and child pornographers exist. There are networks of pornographers who communicate with each other largely through the internet and encrypted systems. We know that. And they can be anyone, anywhere.  That said:  files can be hidden on any computer by an outside agency to discredit a target.
It is the worst kind of evidence that can be planted, and the most difficult to refute. If it were sensitive documents, they could be identified and analyzed, and redacted if necessary for public examination. But child pornography will not be disseminated or "declassified" and made available to the public (reporters, etc) due to its very nature. Basically, we have to take their word for it: first, that it exists and second that it exists on the offending computer or server.
This is the thing, though:  You don't evacuate a building due to child pornography. Child pornography, as hideous as it is, doesn't explode. It doesn't combust. It doesn't send out spores that attack the nervous system. It's not a carcinogen, except maybe spiritually.
And since when do you remove possible suspects from a crime scene (the observatory staff) without having them sequestered so they can't compare stories? We have to assume that, in a case of child porn, anyone who was at the observatory had to be a possible suspect as a co-conspirator, etc.
And why would you not be forthcoming about a child porn case with the local authorities?
If the janitor was disseminating child porn through the observatory's internet system, then why close down the post office? I can't imagine he was shipping child porn on DVDs.
Why tape off the entire site? Was the porn contagious? According to the FBI, the janitor became alarmed when he couldn't find his laptop (which evidently was taken by the FBI) and became anxious and ran through the observatory complaining about the lack of security and that there was a serial killer in the area.
Yet … the janitor has not been arrested. There have been no charges against him so far.
So … like … what?
Sorry, but that dog don't hunt.
There has to be more to the story … or a different story altogether!"
Monday, September 17, 2018, official AURA Press Release:  In spite of still looking like a ghost town with boarded up houses, the National Solar Observatory in Sunspot said it reopened Monday, September 17, 2018 — see Press Release below from AURA,  Association of Universities for Research in Astronomy, the organization that oversees operations at the Observatory. Residents and NSO employees were to return after an "investigation of criminal activity that occurred at Sacramento Peak," the Observatory site  by the FBI. Here is entire AURA Press Release of Sunday, Sept. 16, 2018: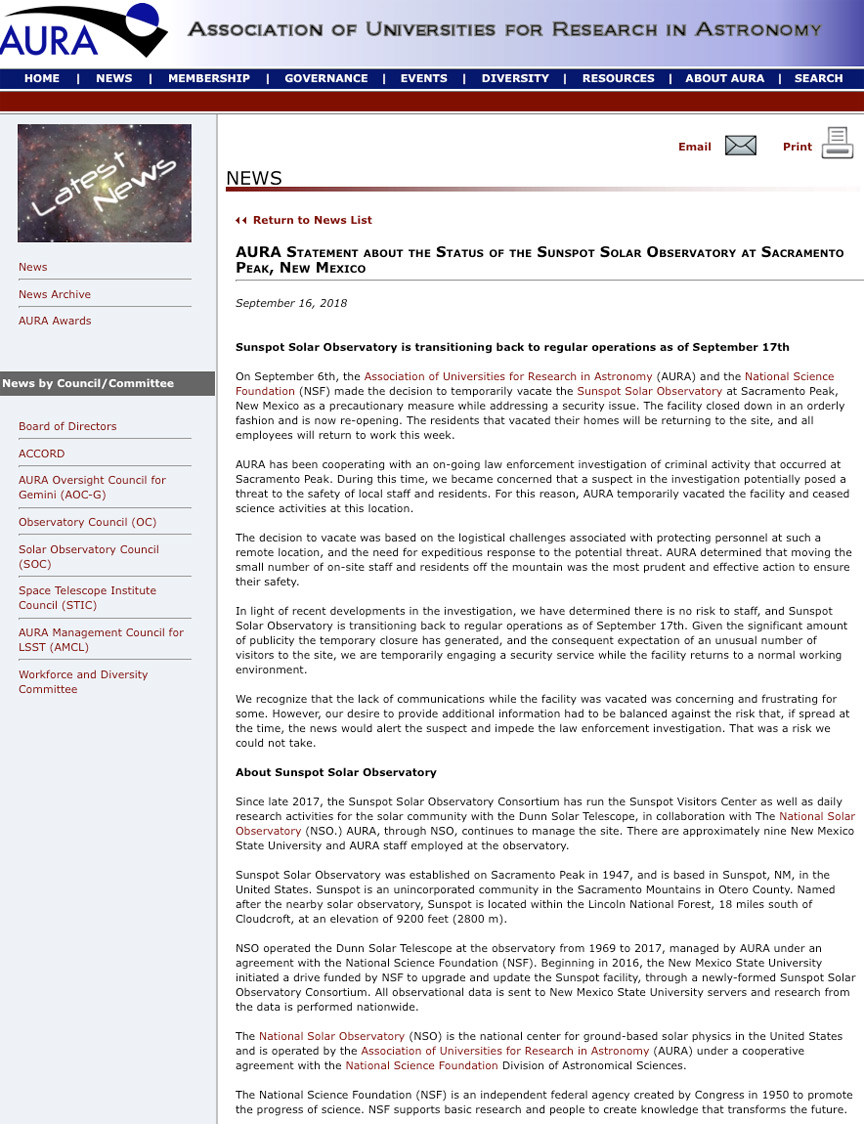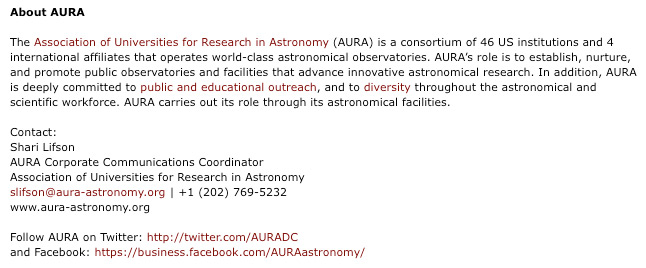 "On Friday, September 14, 2018, the entrance to the National Solar Observatory was blocked by yellow crime scene tape and two security guards, who said even they had been kept in the dark. The guards from Red Rock Security & Patrol in Las Cruces, NM, did not give their names, but said it was the first day the company was guarding the entrance and that only the 'director and an assistant' were allowed in'"
– The Washington Post, September 14, 2018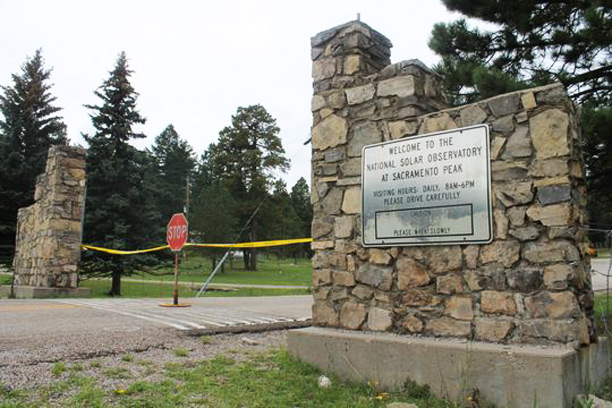 UPDATE Sept. 15-16, 2018  Tune In  Linda Moulton Howe's news update about the Sunspot National Solar Observatory mystery on the Earthfiles YouTube Channel. Included below are list of solar observatories that some websites claimed were shut down — and they are NOT and never were shut down. It's ONLY the Nat'l. Solar Observatory in Sunspot, NM, that the FBI closed on Thursday, September 6, 2018, along with local post office without explanation. Please see my Earthfiles YouTube Channel report for the current facts.   https://www.youtube.com/earthfiles
Here is first tweet issued by the National Solar Observatory on Thursday, September 13, 2018: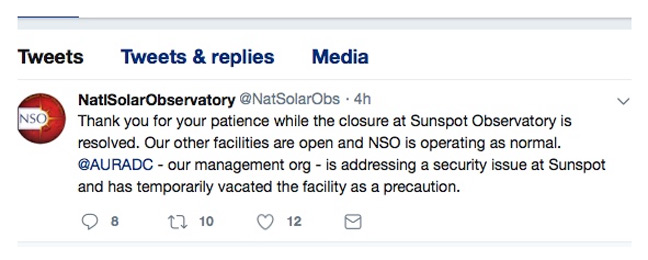 Here are a few global solar observatories wrongly described as shut down along with the National Solar Observatory on Thursday, September 6, 2018. They WERE NOT shut down.  My colleague Peter Levenda checked on Wednesday, September 12, 2018, to verify if any had been closed after the Sunspot Observatory was shut down by the FBI, on September 6th and none of these were:
SOAR Observatory:  This scope in Chile seems to be working fine. The website: http://www.ctio.noao.edu/soar/content/weather-sky-monitoring-tools
BRT Tenerife:  Current Status.  We have recently carried out a servicing mission where the following tasks were completed: changed the PIRATE broad band filter set from Baader LRGB to Johnson BVR, changed the COAST camera to a 3k chip version of the camera already on PIRATE (FLI Proline), changed the COAST broad band filter set from Johnson BVR to Baader LRGB. The COAST focussing issue was resolved. The COAST Schmidt plate received a clean to remove built-up dust and debris as did the PIRATE primary mirror. A further service mission has re-instated the Johnson filters on COAST and added UV and IR for PIRATE. There are some issues with the image size and calibration filters for COAST and we are also aware that PIRATE is currently out of focus and are working to resolve this. COAST is currently unable to be used due to a router failure at the dome. PIRATE is working fine.     No planned outages.
University of Hawaii:   "This camera may be offline on Sept. 12, 2018, due to network or hardware failure."
Canada-France-Hawaii:  "Temporarily out of service on Sept. 12, 2018."
JAT Observatory:  This seems not to have been operational for some time. Their website is no longer up, and a related website says: "The JATObservatory (JATO) was a small, privately owned and operated observatory. JATO was located in Fairless Hills, Pa. Unlike its large professional observatory brethren, that usually reside in high altitude clear dark sky areas, JATO was surrounded by a very light polluted residential neighborhood. The glare from sodium vapor street lights, porch lights, and the local strip mall all contribute to a phenomena known as "sky glow". This made imaging of faint deep space objects at best difficult, and visual observation of them almost impossible. The darkest the sky got at the JAT Observatoty was abount 19.24 MPSAS . For that reason JATO was mainly operated remotely under computer control using special purpose astronomical (high sensitivity) CCD cameras. Visual observing via the eyepiece of the Sun, Moon or planets was done on occasion but it was a rarity."  And that website has not been updated since 2015.

© 1998 - 2018 by Linda Moulton Howe.
All Rights Reserved.