"As you lie in slumber, your spirit body snaps free and drifts upward while your physical shell is left lonely on the bed below, connected only by a fragile, silvery cord. You turn and observe yourself peacefully sleeping. Could this be evidence of the soul? Could it be proof of life after death?"
— Tim Newman, Medical News Today, July 19, 2017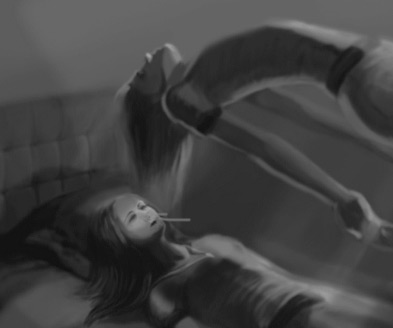 March 10, 2019 Albuquerque, New Mexico – Twelve years ago in March 2007, Science Daily headlined:  "More than 13,000 Europeans — almost 6% of the total population — have had an out-of-body experience." Dr. Kevin Nelson and a research team at the University of Kentucky have studied the link between out-of-body experiences, the sleep-wake transition and Near Death Experiences (NDEs) and have published in the journal Neurology.
Their study showed that some human brains might be "predisposed to these sorts of experiences. They found that an out-of-body experience is statistically as likely to occur during a Near Death experience as it is to occur during the transition between wakefulness and sleep."
Dr. Nelson said: "We found it surprising that out-of-body experience with sleep transition seemed very much like out-of-body experience during  near death."
Further, the researchers found there is a strong association of sleep paralysis with out-of-body experiences in the Near Death Experience phenomenon. "And that," said Dr. Nelson, "is curious and unexplained."

Two years ago on July 19, 2017, the journal Medical News Today headlined, "Out-of-body experiences: Neuroscience or the Paranormal?"  The article began: "As you lie in slumber, your spirit body snaps free and drifts upward while your physical shell is left lonely on the bed below, connected only by a fragile, silvery cord. You turn and observe yourself peacefully sleeping. Could this be evidence of the soul? Could it be proof of life after death?"
No one knows what causes out-of-body — especially why would children around ages 5 to 6? It happened to me over and over when I was 6-years-old. Going to bed most every night that year, I would lie down on my back with my head on my pillow. First, I would try to "see" infinity. That started because my mom and dad had a book about Albert Einstein. Dad had taught me to read early and there was something about Einstein and infinity, going on forever. So at bedtime, I would try to imagine infinity. I would see a grey landscape against a black background and I would keep expanding the grey landscape trying to reach the end. Then I would wait for a specific feeling as if I suddenly became weightless. Then I would separate in two — fully conscious and looking forward to what was coming next.
I knew my solid self was still lying on the bed with my head on the pillow. But the other part was rising up toward the white cottage cheese ceiling my mom and dad had sprayed in my bedroom. I always felt the same wonder and excitement when I saw blue light glowing around each "cottage cheese kernel" in the ceiling. That blue light was like the iridescent blue stripe along the sides of neon tetra fish. I was fascinated with that blue light and wanted to get closer to it, touch it, enter into it.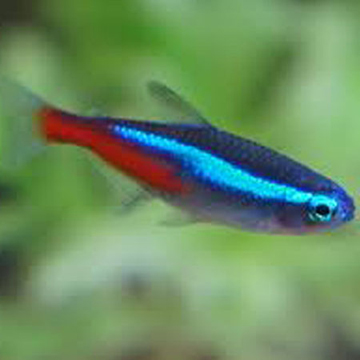 But every time I would get close to that ceiling, a thought voice in my mind telepathically would warn, "No! Danger! You cannot go through the ceiling."
Then I would always find myself instantly back in my body. But instead of lying down with my head on my pillow, I was always sitting straight up with my fingers wrapped around the thumbs of both hands. Next, I would lie back down where I started with my head on my pillow and quickly go to sleep. When I think back to that phenomenon at such an early age — just beginning grade school — it puzzles me that I never talked about this with my parents or brother or friends growing up. I don't know why I was silent about it. In fact, I did not talk about the going-out-of-body as a young child until just the past couple of years.
The first time I ventured outward to a large audience was my Earthfiles YouTube Channel broadcast on September 12, 2018. Because of my own out-of-body experiences as a young child and never talking about them, I finally have reached a point where it feels important to ask my fellow humans how many of you had similar out-of-body experiences when you were young children?  That's when parents and teachers were not involved, implying the experience of splitting in two could be a primal process of soul growth in the evolution of conscious intelligent life. I wonder if children going out of body is evidence that the soul is an active, vibrant recorder and teacher in us, even if the western world today dismisses the soul as something "esoteric" and not real, like a piece of meat in this matter world?
I think when I was 6-years-old that I knew intuitively I would be criticized and made fun of by other people if I talked about splitting in two with one part rising up to the ceiling and then the thought-voice warning of danger if I went through the ceiling. But that warning thought-voice has been with me, protecting me, always. And I trust that voice. I think it comes from the Divine Field that IS the source of all matter worlds and other dimensions. I am also convinced that the truth is that we are a mind in a container body that encases an eternal, evolving soul that cycles through all kinds of life and lives.
What my revolutions around the sun in this life cycle have reinforced for me is that Something Else beyond us humans does NOT want us to know about — or to understand  — the unique power and relationship that our Homo sapiens sapiens souls have to the Divine Field.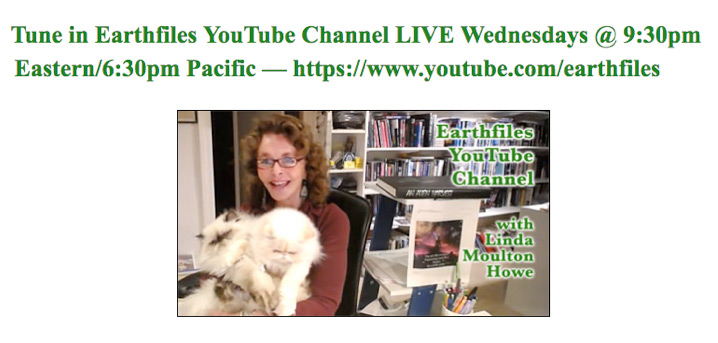 That's why on November 8, 2017, when I did my very first Earthfiles YouTube Channel broadcast — finally, I felt I could open up myself and reach out to my YouTube audience and ask if you have traveled out of body? What dreams haunt you? Why does a dark room scare you? What DOES go bump in the night all over planet Earth, keeping humans dumb and blind while Other Forces harvest our haunted world?
Since then on most Wednesday evenings beginning at 7:30 pm Mountain, and in other time zones around the country and the world, I have been in my office to share news and receive questions from my Earthfiles YouTube audience.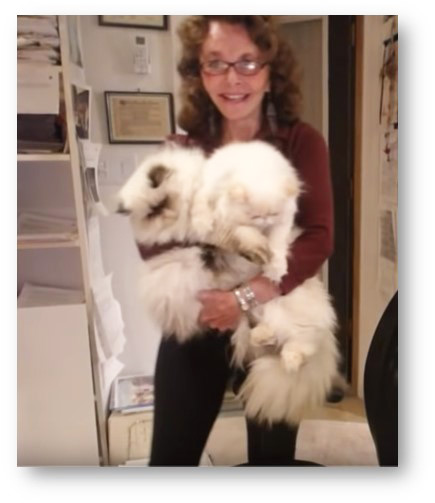 At the beginning of most of my broadcasts, I have had one or both of my Himalayan, long-haired cats Fluffy and Chocolate to celebrate the joy of loving precious life and rejecting irrational violence and death on this planet. This image was taken in September 2018, when I asked the YouTube audience if anyone had young childhood memories of floating out-of-body?
I have received a large number of emails — most beginning, "I have never told anyone this before." During my October 3, 2018, Youtube broadcast, I read some of the extraordinary emails I had received.
None of us knew that one sharp-eyed viewer saw something moving rapidly behind me at 2 minutes and 30 seconds after I began broadcasting on October 3, 2018, livestream at 7:30 Mountain time. The next morning on October 4, 2019, we posted the following video.
October 4, 2019  Video of Strange "Fog" Moving In Earthfiles Book Shelf
To view high res video, click the full screen icon in bottom right of above video.
"A fan called attention to something in your video. I would like to put it out to your experts to review.
Here is an image from the video mystery and a short video segment that I slowed down one-quarter speed."
My first reaction was that it must be an insect blurred in the video process. But the more I replayed it, the stranger it became. The puzzle looks like a piece of fog moving through one of my 2nd story office windows briefly brightening a white painted wood bookshelf and then rising straight up at a 90-degree angle. All of this takes place within ONE second — from 2:32 to 2:33 in my Earthfiles YouTube Channel videotape made directly from the livestream.
I sent the slowed down video to a trusted Photoshop and video analyst, who requests anonymity. The analyst wanted to see the original video and we sent it to him. The analyst looped the rapidly moving substance twenty times in close-up of the rapidly moving puzzle and wrote to me: "The wisp seems to be moving in a straight line, though changing shape to some extent. It's definitely not an insect close to the camera. At this point I'd say it's definitely anomalous."
(Video of moving "fog" repeats in close-up for 20 seconds)
Enlarged and Enhanced Moving "Fog" by Earthfiles Viewer Michael
Another of my Earthfiles YouTube viewers sent me this email a week later on October 12, 2018.
October 12, 2018
Linda –  I looked at your recent video of the one-second puzzle,
and I did some image processing to eliminate everything
in the images except for the puzzle.
I have attached a gif of the results.
The thing that flew through your studio had some
interesting structure. To me it looks like four dots,
all about the same size. The two on its left following
the same track, and the two on its right following the
same track, but the two tracks gradually diverging.
So — I don't know what that is,  but it is NOT a puff of smoke.
————————————— Michael .
Here is his enlarged, enhanced video of the puzzling piece of fog moving rapidly through the window and up my book shelves on October 3, 2018.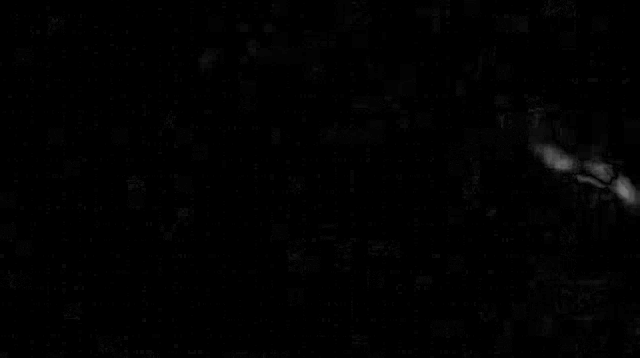 Continued in Part 2.
Also see:
10-30-2018 – What Are the "Smokey Fogs" Sometimes Linked to After-Life Returns?
---
More Information:
05-21-2018 – Part 2: When Portals Open Up With the Deaths of Pets
05-18-2018 – Part 1: When Portals Open Up With the Deaths of Pets
04-29-2016 – Past Life Memories: Independent Consciousness Versus Brain and DNA
05-01-2015 – Power of Souls After Death to Interact with Earth Matter World.
12-19-2014 – "Death Travelers" Confirm Consciousness Survives in Some, After Body Life Ends
12-19-2014 – Human Consciousness Can Recycle In and Out of Matter Containers
12-02-2012 – Part 2:  A Neurosurgeon's "Proof of Heaven" – Evil Necessary in "Soul Schools"?
11-30-2012 – Part 1:  A Neurosurgeon's "Proof of Heaven" – Angelic Beings and Human Families
---
Websites:
Science Channel "Through the Wormhole, Near Death Experience":
http://science.discovery.com/tv-shows/through-the-wormhole/videos/through-the-wormhole-2-near-death-experience.htm
Eben Alexander, M.D.'s Proof of Heaven Website:  http://www.lifebeyonddeath.net/
Top 10 Amazing Facts about the Human Brain:
http://www.prafulla.net/graphics/amazing/top-10-amazing-facts-about-the-human-brain/
"Opening Strange Portals in Physics," December 2011, Smithsonian.com:  https://www.smithsonianmag.com/science-nature/opening-strange-portals-in-physics-92901090/
"Clues That Real-Life Portals to Other Dimensions Do Exist," July 25, 2017, Beyond Science: https://www.beyondsciencetv.com/2017/07/25/clues-that-real-life-portals-to-other-dimensions-do-exist/
"Animals and the Afterlife," May 17, 2018, U. K. Daily Mail:  http://www.dailymail.co.uk/femail/article-2043261/Animals-afterlife-The-dead-pets-touch-owners.html#ixzz4cOaqkqVa
Reincarnation: http://en.wikipedia.org/wiki/Reincarnation
Scientific Proof of Reincarnation by Dr. Ian Stevenson:
http://reluctant-messenger.com/reincarnation-proof.htm
Om (Aum): http://en.wikipedia.org/wiki/Om
The Gospel of Thomas, Nag Hammadi Library: http://gnosis.org/naghamm/gosthom.html
The Gnostic Society Library: The Gospel of Thomas Collection:
http://gnosis.org/naghamm/nhl_thomas.htm

© 1998 - 2019 by Linda Moulton Howe.
All Rights Reserved.