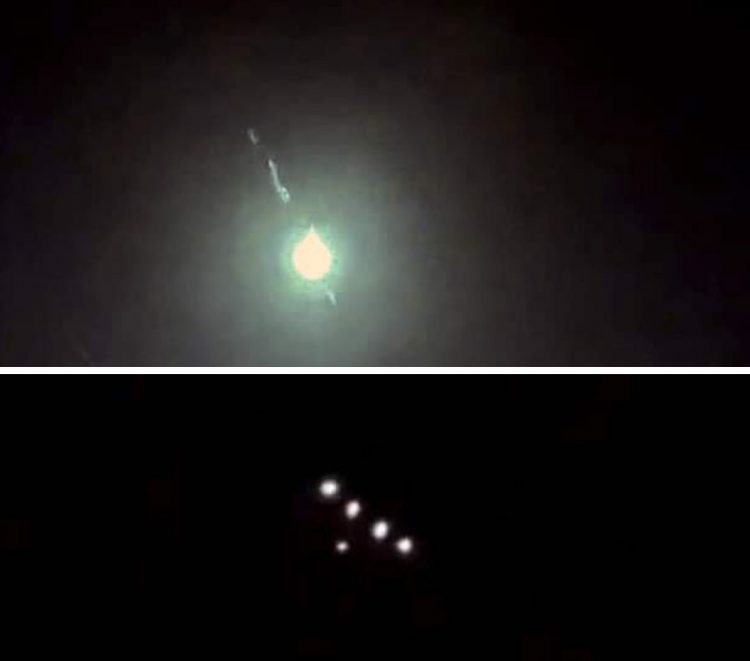 Return to Part 1.
"We're desperately trying to figure out what is going on."
—  Captain Michael Yowell, Lincoln County Sheriff's Office, Hugo, Colorado, Jan. 2, 2020
"We are still working together to try to determine what exactly it is that people are reporting seeing, and if it's drones, who the operator is." 
— Ian Gregor, Spokesman for Federal Aviation Administration (FAA) said on Jan. 8, 2020,  that authorities have still not figured out the source of the drones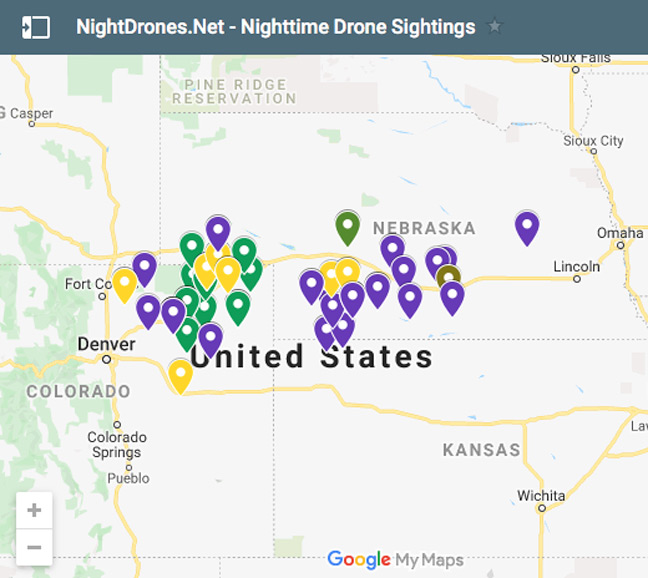 January 10, 2020  Albuquerque, New Mexico – The evolving map above of green, yellow and purple Google markers produced by NightDrones.net shows where strange and unidentified drone-like aerial technology has been haunting the skies of northeastern Colorado and southwestern Nebraska since the middle of December 2019 into January 2020. Facebook sites opened up where dozens of eyewitnesses have been reporting mysterious aerial lights 400 feet to a thousand feet above them, either silent or making a "drone buzzing sound." Some flash red, green and white lights while some are only steady red lights. Local, county, state and federal officials keep saying they have no idea where the drone-like technologies are taking off from or returning to. Or how some seem to remain stationary for a long time in the same place without having to land for battery re-charge.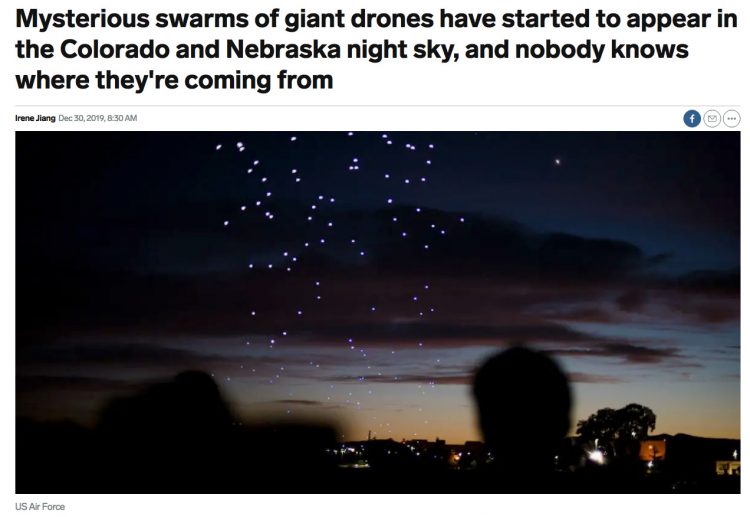 The drone mystery even made the front page of The New York Times on January 2, 2020, with the headline: " 'It's Creepy': Unexplained Drones Swarm by Night Over Prairie."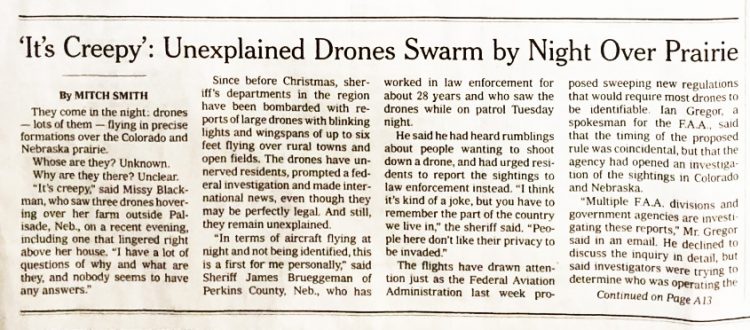 Some people have seen and photographed an all white aerial object that looks like a fixed-wing Cessna small plane, but has no number/letter identification or other markings — just pure white. No one knows where the white fixed-wing planes come from either, or where they go.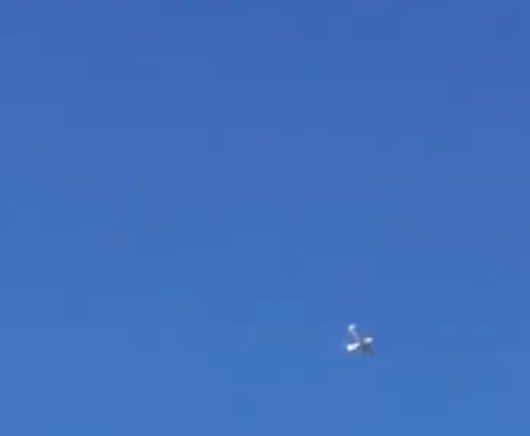 Other aerial sightings have been compared to large commercial octacopters with 8 rotors that can fly for 16 minutes on one battery charge. But some eyewitnesses of the unidentified aerial phenomena in Colorado and Nebraska say some of the flashing or steady lights have remained in one place in the sky for perhaps two hours without moving or landing for battery re-charge.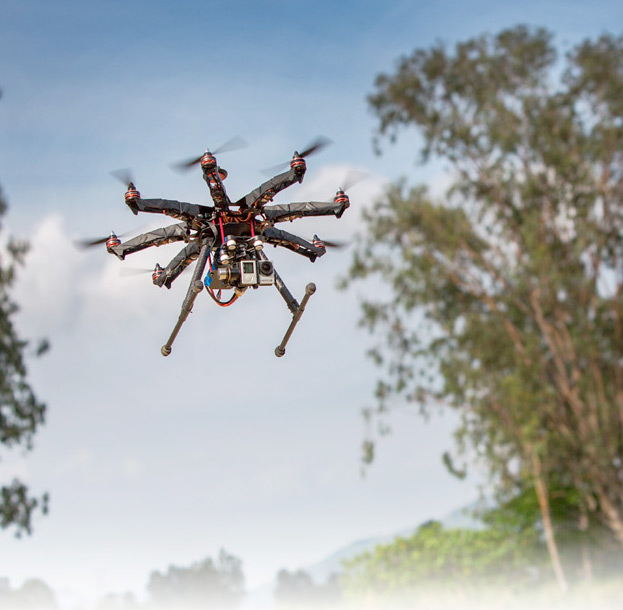 January 6, 2020: "Private Strategy Meeting" by FBI, FAA, AFOSI, U. S. Army, Homeland Security and Law Enforcement
Then on Monday morning, January 6, 2020, there was a private meeting of officials from the FBI, the Federal Aviation Administration (FAA), the U. S. Air Force Office of Special Investigations (AFOSI), the U. S. Army, the Colorado Division of Homeland Security and Emergency Management — and Sheriffs and other law enforcement from many counties in northeastern Colorado and southwestern Nebraska. The reason for the large meeting — held off limits from the public and most media — is the persistence of the unidentified, disturbing and persistent drone invasion.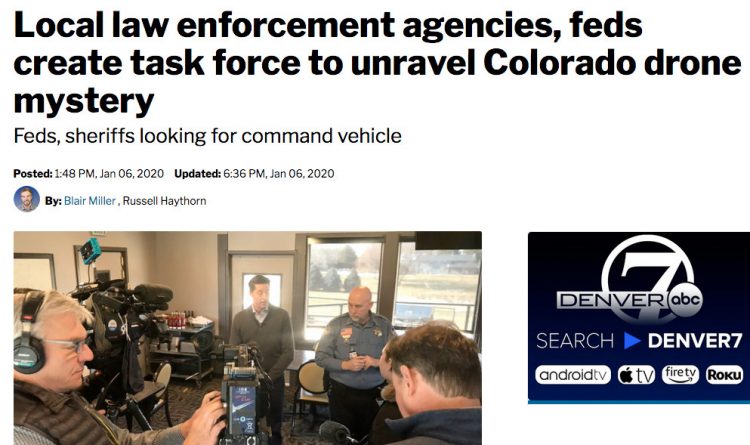 Afterward that same day, the Phillips County Sheriff's Office in Holyoke, Colorado, posted this statement on Facebook that included asking for public help to look for "the command vehicle" that could be controlling all the drone flights. The January 6, 2020, FB post also said, "We are looking for a closed box trailer with antennas or a large van that does not belong in the area," and the Sheriff's Office phone number was given for the public to use "if you see anything that resembles this description."  The drone phenomena is definitely violating an FAA rule that a permit is required to fly drones at night.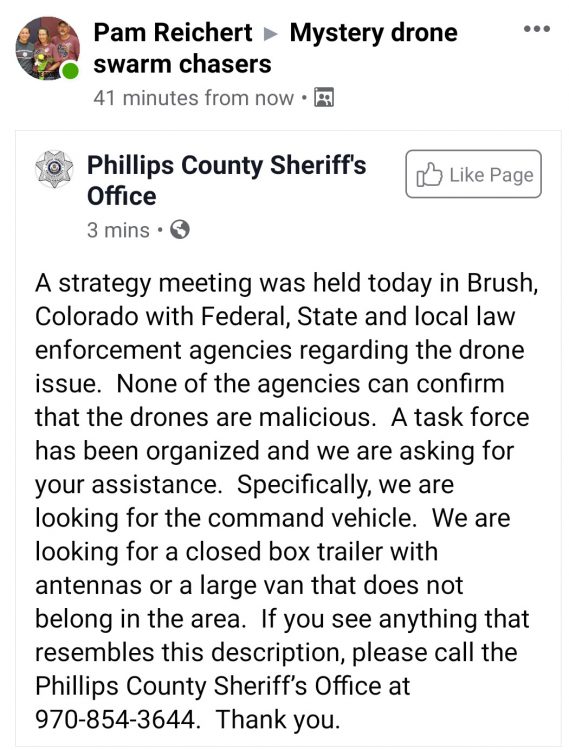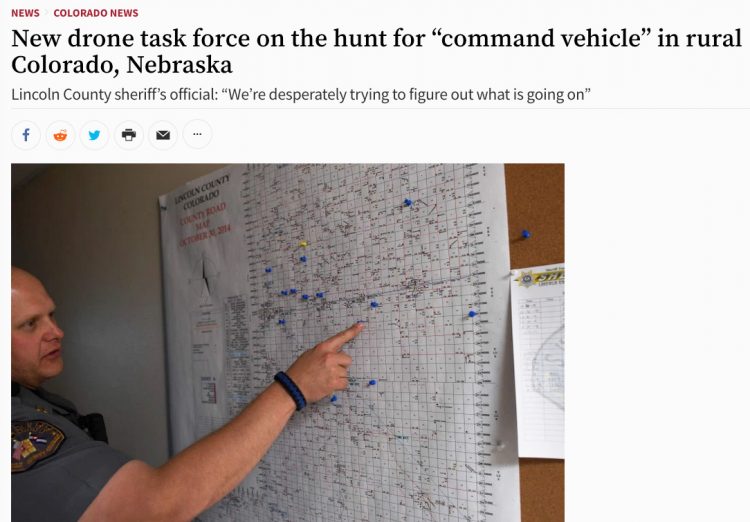 After the private meeting in the morning on January 6, 2020, that evening Colorado sent up a high-tech surveillance plane known as a Multi-Mission Aircraft (MMA) that is normally used to track wildfires and has special cameras and sensors to see through smoke. ABC News reported that, "The MMA flew a spaghetti-like pattern above northeast Colorado for nearly five hours" on that January 6th night, but still no answers discovered in the drone mystery. See Websites below.
Why Did Phillips County, Colorado, Sheriff's Office Pull Back Its Search Alert for Drone "Command Vehicle"?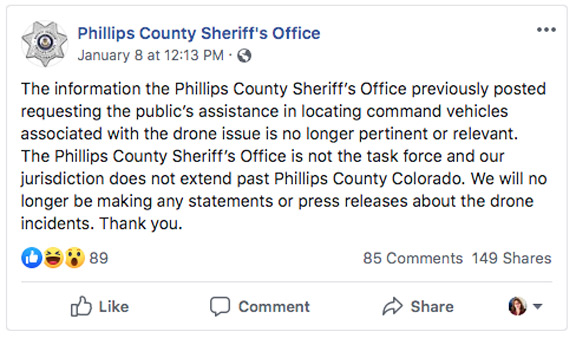 For reasons unknown, Colorado's Phillips County Sheriff's Office on Wednesday, January 8, 2020 (above FB post), pulled back its own alert only two days before about searching for a drone "Command Vehicle."
On January 8th, The Denver Post reported about the rescinding:
Lincoln County sheriff's Capt. Michael Yowell said Wednesday that the topic of "command vehicles" was discussed at Monday's (Jan. 6, 2020) meeting as sheriffs compared notes about various reports they'd received.
"It was brought up that someone has got to be controlling these drones," Yowell said.
But he said he can't speak to what the task force decided to pursue, because after the initial general meeting, members of the newly formed task force stayed in the room while the rest of attendees left. The Phillips County Sheriff's Office is not part of the task force.
Ian Gregor, spokesman for the Federal Aviation Administration, said Wednesday that authorities have still not figured out the source of the drones.
"We are still working together to try to determine what exactly it is that people are reporting seeing, and if it's drones, who the operator is," he said.
---
Haigler, Nebraska Angus Rancher Records Drone with Thermal Riflescope on January 2, 2020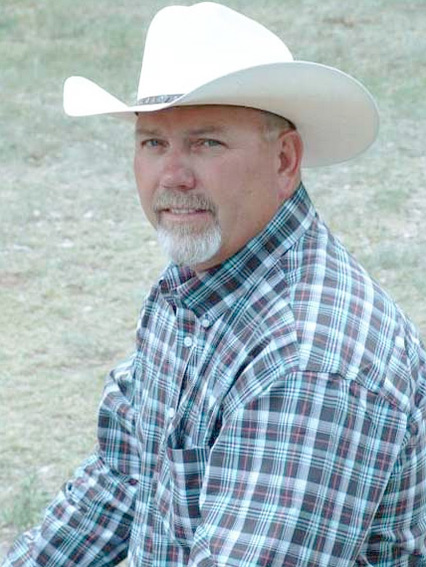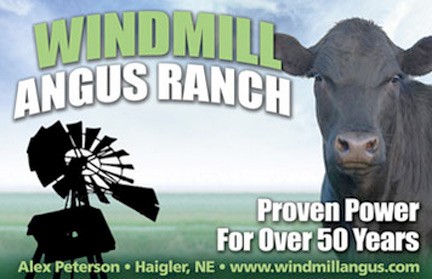 One of the Nebraska eyewitnesses of the strange drones — who noticed early on that some don't seem to land for battery recharging — is Alex Peterson. He is owner of the Windmill Angus Ranch in Haigler, Nebraska, in the southwestern corner where Nebraska, Kansas and Colorado borders meet.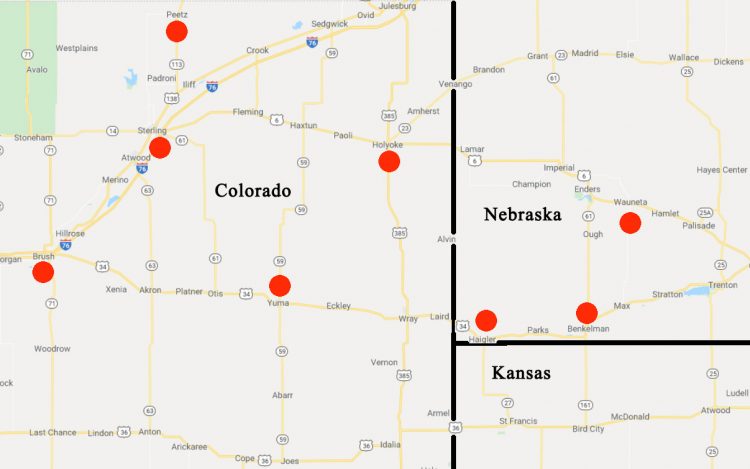 I first worked with Alex in 2013, when he began having a series of bloodless, trackless cattle mutilations on his large Angus ranch in Haigler. Now he is baffled yet again by all the mysterious aerial drones flying in the night sky above his ranch.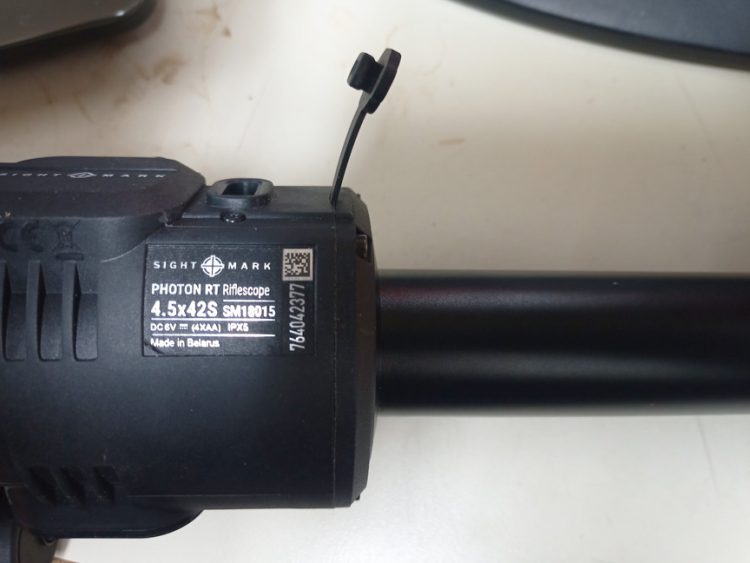 Alex has a thermal Riflescope that ranges from 4.5 to 9 power. Since January 2, 2020, he has been mounting it on a tripod to record some of the highly strange drone-like objects that have been showing up over his ranch almost every night since December 30th.
He sent me three short videos he got with his thermal Riflescope on Thursday, January 2nd as this New Year began. In the first two short clips, you can hear Alex and his ranch hand talk about colors and movement. Alex emphasized that first he looked through his binoculars at the drone-like aerial object that was flashing red, green and white lights. But what he recorded with his thermal Riflescope looks completely different.
January 2, 2020:  Alex Peterson Thermal Riflescope Drone Video # 1  (:08)
January 2, 2020:  Alex Peterson Thermal Riflescope Drone Video # 2  (:15)
January 2, 2020:  Alex Peterson Thermal Riflescope Drone Video # 3  (:47)
January 7, 2020:  Alex Peterson "Crazy Triangle" Recorded Off Tripod ( :47)
Then on January 7, 2020, Alex planned to record with his thermal Riflescope mounted on his tripod firmly on the ground. But suddenly lights showed up unlike anything he has seen before and without getting his camera on the tripod, he struggled to hold the lens focused on the moving unidentified lights he calls the "crazy triangle."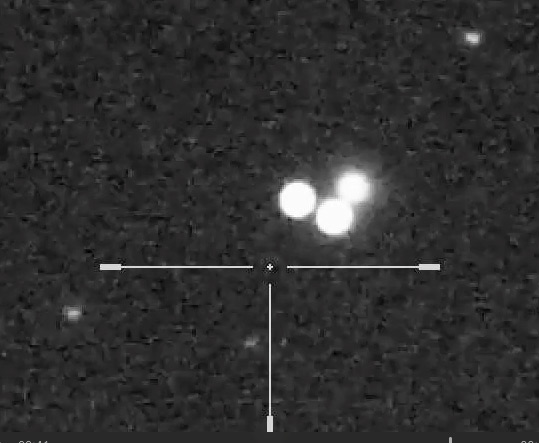 January 7, 2020:  Meg Peterson iPhone Records Similar Change of Lights to Triangle (:08)
That same night, Alex's sister-in-law also videotaped with her iPhone a light in the sky that suddenly morphed into a triangle of lights like Alex's video.
---
Interview, January 6, 2020:
Transcript of Alex Peterson with Linda Moulton Howe, Reporter and Editor of Earthfiles.com. See video recorded interview at Earthfiles YouTube Channel broadcast:
LMH:  Alex, what did you see in your first encounter with the drones back on December 30, 2019?
ALEX:  We were watching it come over. It looked like an 8-rotor drone, maybe 6-foot in diameter, 400 feet high. We could hear the buzzing. Sounded like electric motors and the props running. If you looked to the north – say I'm facing west – there were 4 more and the lowest one was maybe 100 feet above the ground. It looked like a flying stop sign. So, I'm assuming it was either a 5-rotor or 8-rotor drone and the one that one that was maybe 100 feet above the ground that was down by the river — the Republican River. Now, he was a quarter mile away so you could just see him from the side.
LMH: SO THAT'S 2 DRONES – ONE CLOSE OVER YOU AND ONE DOWN BY THE RIVER?
ALEX: The one that went over us was maybe traveling 40 mph, 400 to 500 feet up. I ran to the office and I have some Steiner field glasses. When I looked above, I seen another one that was a solid red light and I'm guessing 1,000 feet, maybe a little more and it was the fixed-wing and it was a lot higher up. It turned and made a U-turn and went back over the drones. And then by the time that a neighbor and I got in the pickup and took off down the highway, the only ones we could see were was the solid red light. It wasn't flashing. There wasn't any white or green lights on it or anything. It was solid red.
LMH: COULD YOU SEE RED, GREEN AND WHITE FLASHING LIGHTS ON EACH OF WHAT YOU THINK WERE THE LOWER DRONES?
ALEX: Yes, there were 8 of them. And they were all spaced between what I would say was a quarter mile to a half mile apart.
LMH: SO THERE WERE 8, WHAT YOU THINK WERE DRONES, THAT WERE BUZZING ABOUT 400 FEET ABOVE THE GROUND ON DECEMBER 30TH, 2019. AND ABOVE THEM, UP MAYBE A THOUSAND FEET, THERE WERE WHAT YOU SAW THROUGH YOUR BINOCULARS, SOMETHING THAT WAS LIKE A SMALLER FIXED-WING AND HAD A STEADY RED LIGHT AND IT WAS CIRCLING ABOVE THE LOWER DRONES?
ALEX: Correct.
LMH: IS THERE ANYTHING ON YOUR ANGUS RANCH PROPERTY OR ON EVEN A NEARBY RANCH WHERE YOU KNOW FOR A FACT THAT THE UNITED STATES HAS A NUCLEAR MISSILE SILO UNDERGROUND?
ALEX: No, there's none in this area. You have to go about 125 miles to get to the first area up around Sterling, Colorado, and across to Sidney.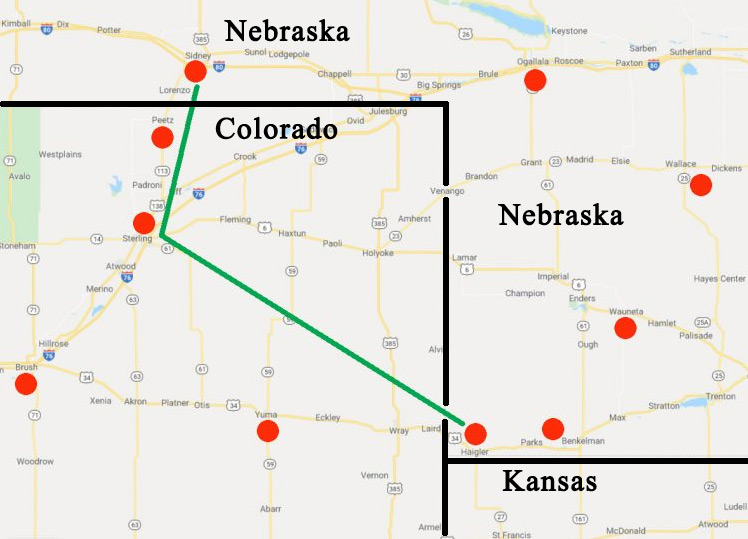 LMH:  CURRENTLY, THE U. S. HAS 400 MINUTEMAN III MISSILES THAT ARE DEPLOYED IN UNDERGROUND MISSILE SILOS AROUND F. E. WARREN AIR FORCE BASE IN CHEYENNE, WYOMING;  MALMSTROM AFB IN GREAT FALLS, MONTANA;  AND MINOT AFB IN NORTH DAKOTA.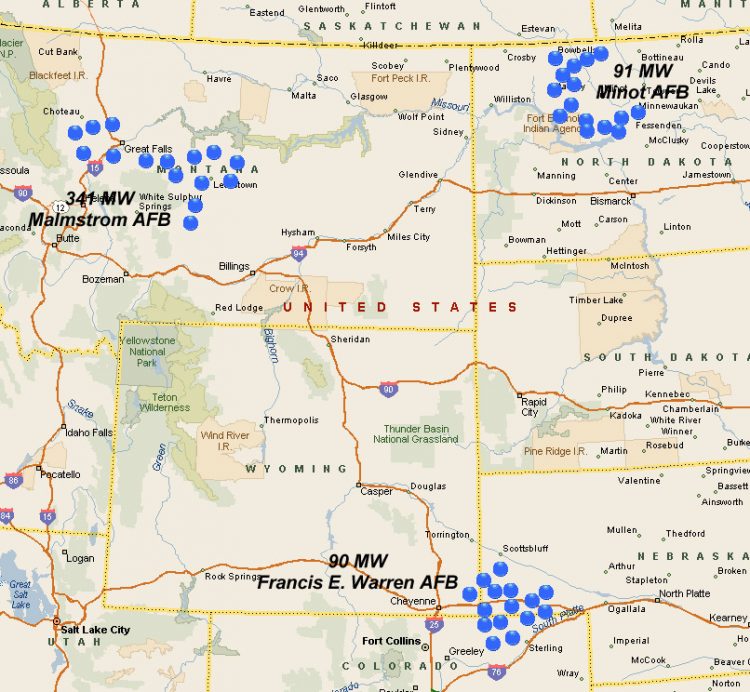 LMH: THIS WHOLE PHENOMENON STARTED IN EASTERN COLORADO IN MID-DECEMBER, AND WE'RE TALKING IN THE FIRST WEEK OF JANUARY 2020, ON THE 6TH. THIS IS THE VERY DAY THAT THERE IS A SECRET MEETING THAT AUTHORITIES DID NOT WANT ANYBODY FROM THE MEDIA OR THE PUBLIC TO ATTEND THE MEETING.
WHY WOULD THEY BE HAVING A SECRET MEETING WITH THE FAA, THE FBI, AND AUTHORITIES RANGING FROM SHERIFFS TO HOMELAND SECURITY?  WHY WOULD THEY WANT TO DO THIS IN SECRET AFTER NEARLY A MONTH OF HEADLINES GROWING AND THE NEW YORK TIMES PUTTING IT ON THE FRONT PAGE OF THE NEW YORK TIMES SAYING  "IT'S CREEPY" ON JANUARY 2, 2020?
ALEX: I come up with scenarios — one is they are seriously testing drones and A. I. technology seeing if they can send a swarm of drones out over an area, map every square foot of it until you find any kind of terrorist threat or any kind of threat — training camps — just to map the ground.
LMH:  IF THAT WERE TRUE, THEN FOR ANY RESPONSIBLE GOVERNMENT — LOCAL, STATE OR FED — THEY WOULD HAVE MADE AN ANNOUNCEMENT TO THE POPULATIONS: THIS IS WHAT WE ARE DOING. THESE ARE GRID A. I. TESTS. DO NOT BE ALARMED. IT WILL BE GOING ON BETWEEN MID-DECEMBER AND MID-JANUARY.
ALEX: Very true, but they haven't said a word.
LMH: NO.
ALEX: And the authorities don't have a word. So, then the 2nd scenario is possibly what are they looking for? They are mapping every square foot with a massive number of drones. So if they are looking for something, the question is: what? Did they lose a nuke? Did a satellite crash, coming out of orbit?
Or the 4th area is that this is to do with the new Space Force that was just launched. Do we, as a Space Force, have technology that the average public has no clue about?
And the thing I'm getting at — there is nobody who seems to find where these take off. Nobody can seem to find out where they are landing. They just show up! Are they being launched from 50,000 or 60,000 feet from — let's say a floating aircraft carrier? (laughs) Or something, I don't know!
I know there are millions and millions and billions of planets out there. Possibly there's other life. And they are here. The government doesn't know what to do. That would explain the secrecy to this whole thing. But the amount of drones and the amount of money that each one of these drones would cost to be able to — we're talking $50,000 to $150,000 drones. To be able to stay airborn the number of hours to fly 500 or 600 mile circles — I mean there isn't anything even closely available to the public right now."
If anyone — including military or gov't. whistleblowers — has more information about what is behind the drone mystery over Colorado and Nebraska, please email Linda:  [email protected]. All requests for confidentiality are honored.
Return to Part 1.
---
More Information:
12-19-2019 – What Is Aerial Mystery Over Las Vegas, Nevada, Early Evening of December 19, 2019?
---
Websites:
High-tech plane joins search for mysterious drones in Colorado," January 8, 2020, ABC News:
https://abcnews.go.com/US/high-tech-plane-joins-search-mysterious-drones-colorado/story?id=68128257
"Conspiracy theories abound despite officials' denial of drone invasion," January 9, 2020, ABC News:  https://abcnews.go.com/US/conspiracy-theories-abound-officials-denial-drone-invasion/story?id=68174539
"Colorado sheriff's office rolls back alert about a drone 'command vehicle," January 8, 2020, The Denver Post:  https://www.denverpost.com/2020/01/08/colorado-sheriff-drone-command-vehicle/
"New drone task force on the hunt for "command vehicle" in rural Colorado and Nebraska," January 6, 2020, The Denver Post:  https://www.denverpost.com/2020/01/06/colorado-mystery-drones-investigation/

© 1998 - 2023 by Linda Moulton Howe.
All Rights Reserved.