"These are not just wildfires, they are (changing) climate fires."
— Governor Jay Inslee, Washington
September 11, 2020    California, Oregon and Washington –  California Governor Gavin Newsom reported today that the August Complex Fire at 472,185 acres has merged with the Elkhorn Fire at more than 255,000 acres to produce the largest wildfire in California history now some 750,000 acres. On September 11, 2020, Governor Newsom told NBC Nightly News that "California, the West Coast of the United States, that includes Washington and Oregon, are experiencing what people predicted would occur in 2040, 2050, but we are experiencing it now, today."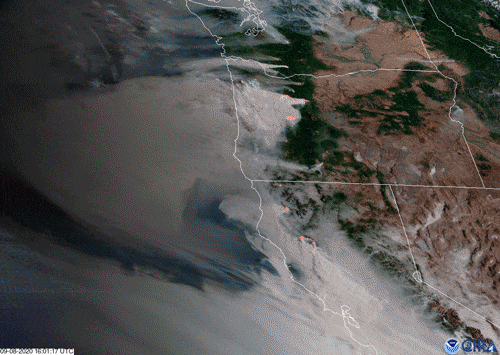 Friday, September 11, 2020 — California, Oregon and Washington Burning
—  17  people dead and dozens more missing.
—  In California, the U. S. Forest Service closed all 18 national forests, making 20 million acres of national parkland off limits to the public.
—  In Oregon, 5 million acres have burned and now a 36-mile-wide line of flames is moving around Portland, Oregon. 500,000 people — more than 10% of the state's population — have been forced to evacuate their homes as uncontrolled wildfires are burning the entire West Coast.
—   In Washington, 10 large fires have burned 930 square miles and town of Malden's post office, fire department, City Hall and library were burned up this week. Governor Jay Inslee told reporters, "These are not just wildfires, they are (changing) climate fires."
---
More Information:
01-06-2020 – UPDATE: Death Toll in Australia Fires Now At Least 25 People and Half A Billion Animals.
09-26-2019 – Why Are So Many Earth Insects Dying?
08-30-2018 – Why Are 2018 Wildfires So Ferocious?

Websites:
"Stark new imagery reveals the scary extent of West Coast wildfires," September 8, 2020, LiveScience: https://www.livescience.com/west-coast-wildfires-seen-from-space.html
NASA's Earth Observatory: https://earthobservatory.nasa.gov/images/147261/a-wall-of-smoke-on-the-us-west-coast

© 1998 - 2020 by Linda Moulton Howe.
All Rights Reserved.