"I thought we'd just be able to rule out extreme scenarios, like the Venus clouds being stuffed full of organisms. When we got the first hints of phosphine in Venus' spectrum, it was a shock!"
— Jane Greaves, Ph.D., Astronomy Group, Cardiff University School of Physics and Astronomy

"Either this Venus phosphine discovery is a mistaken identity, that we don't know what the chemical is? Or some strange chemistry that we are not aware of? Or biology."
— Sanjay Limaye, Ph.D., Sr. Scientist, Solar System Planet Atmospheres, Space Science and Engineering Center, Univ. of Wisconsin-Madison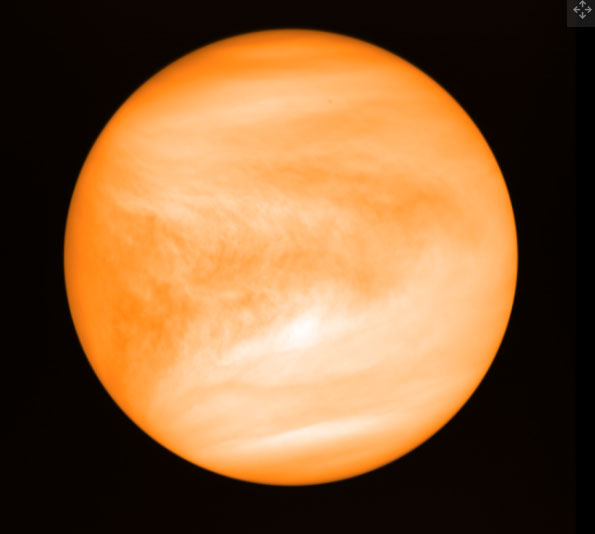 September 14, 2020 Cardiff, U. K. – For the past week there have been media hints that today, Monday, September 14th, there would be science news about possible life evidence beyond Earth. Then today came an announcement from Jane Greaves, Ph.D., an astronomer at the U. K.'s University of Cardiff and lead author of a phosphine investigation of the atmosphere around Venus.
"Looking for phosphine in Venus might be really peculiar, but it's not hard to do and it wouldn't take that many hours of telescope time," Prof. Greaves told reporters. "So why not give it a go?"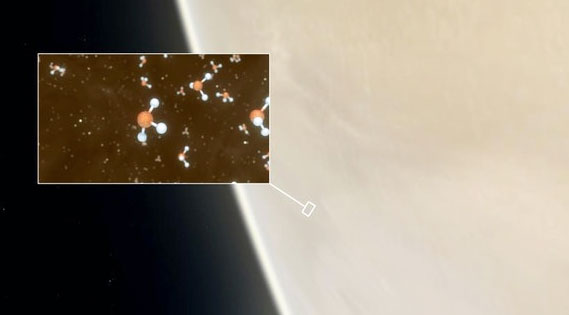 Phosphine is a constituent of the Earth's atmosphere at variable concentrations and is thought to result from the phosphorus biochemical cycle related to the reduction of phosphate in decaying organic matter on Earth. Phosphine is also found in Jupiter's atmosphere, a discovery that scientists think relates to formation in the huge planet's hot interior that rises into the upper atmosphere by the huge convection currents of enormous storms. The new Prof. Greaves phosphine research on Venus suggests the chemical might be produced by unknown photochemistry, geochemistry or biological production seen in Earth life.
Prof. Greaves's search began three years ago in June 2017, when she used the James Clerk Maxwell Telescope in Hawaii on five different mornings to look at Venus. But she didn't have time to study the data. Then in March 2019, she went to another telescope to gather more data from the Atacama Large Millimetre/Submillimetre Array (ALMA) in Chile. That work caught her attention because it revealed more phosphine than expected — about 20 particles out of every billion at about 30 miles (50 km) above the Venus surface. That's also the altitude that other scientists have suggested microbial life could survive as spores in Venusian clouds.
Another atmospheric scientist, Sanjay Limaye, Ph.D. and Senior Scientist in Space Science and Engineering Center at the University of Wisconsin – Madison says about the Venus atmosphere phosphine discovery: "Either this Venus phosphine discovery is a mistaken identity, that we don't know what the chemical is? Or some strange chemistry that we are not aware of? Or biology."
Also see:
06-25-2019 – A Mysterious White Spot in Martian Sky and Surprising Methane Spike On the Red Planet.
---
More Information:
12-22-2017 – Did NASA/JPL Fudge Xenon-129 Data for Both Mars and Venus?
03-27-2015 – What Heats the Bottom of the Enceladus Moon's Ocean to 194 Degrees Fahrenheit?
03-12-2015 – Saturn's Moon Enceladus Might Have Warm Ocean Water Up to 194 Degrees Fahrenheit
12-20-2008 – Carbonate Finally Found On Mars

---
Websites:
"Hints of life on Venus," September 14, 2020, U. K. Cardiff University News: https://www.cardiff.ac.uk/news/view/2445204-hints-of-life-on-venus

© 1998 - 2020 by Linda Moulton Howe.
All Rights Reserved.