"As we emerge from Cycle 24 solar minimum and approach Cycle 25's maximum in 2025, it is important to remember solar activity never stops; it changes form as the pendulum swings." 
— Lika Guhathakurta, Solar Physicist, Heliophysics Division, NASA, Washington, D. C.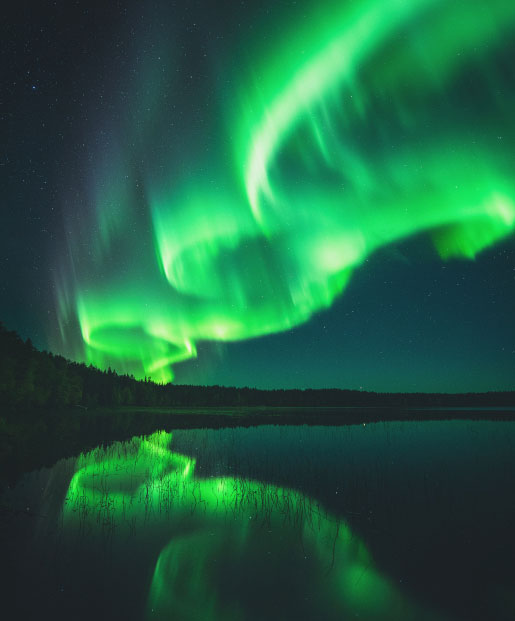 September 15, 2020 Washington, D. C. – NOAA and NASA today officially announced in a media teleconference that Solar Cycle 25 has begun in the sun after its often blank face in December 2019 with zero or few sunspots. But now sunspots are increasing again and one consequence is the beautiful green aurora photographed on September 14, 2020, in Rovaniemi, Finland above. Auroras are produced when the Earth's magnetosphere is agitated by solar winds. The strongest auroras, or "northern lights," come roughly every 11 years as our sun alternates its sunspot activity from solar maximums to solar minimums.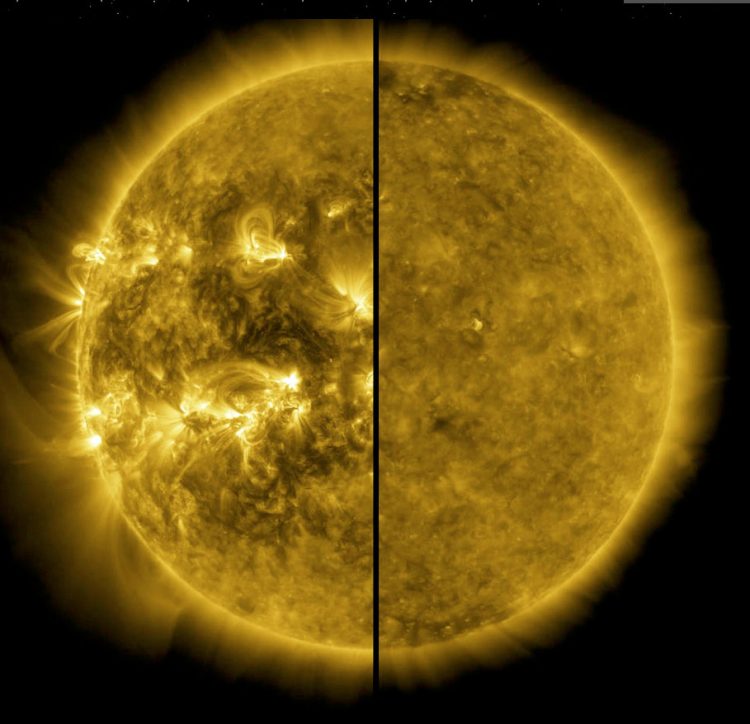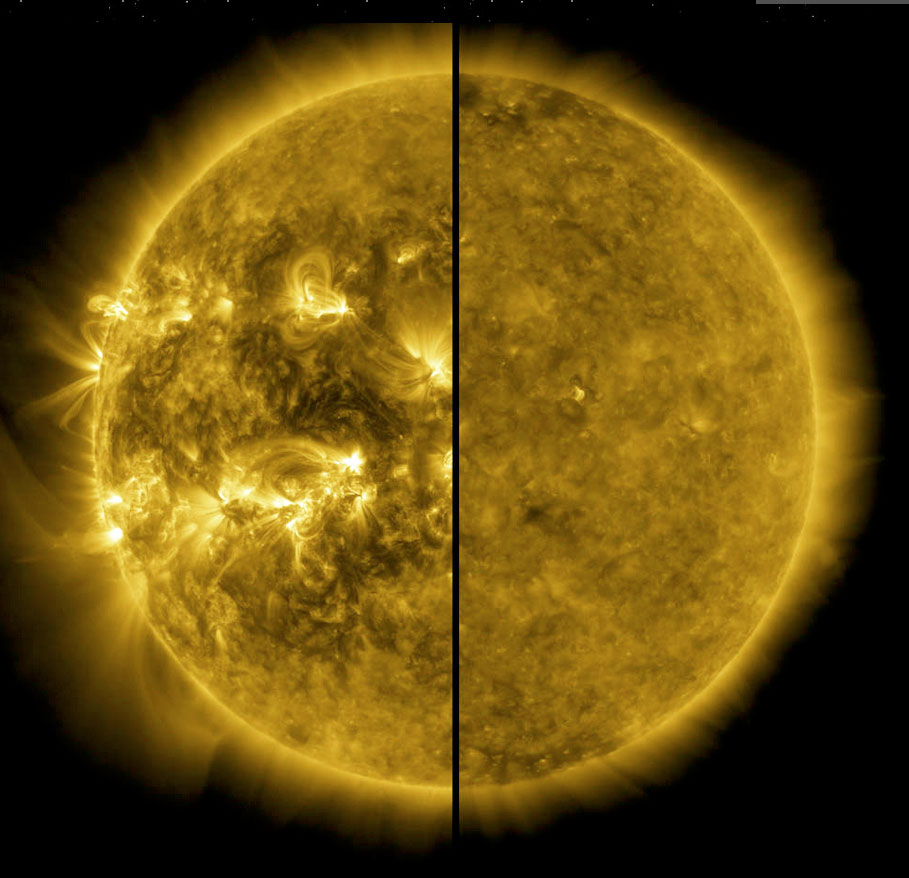 Our sun's most recent solar minimum was especially quiet. Some solar physicists were even expecting the sun to go into another Maunder Minimum-type period between 1645 and 1715, in which there were no sunspots for long periods of time. That's also when the Earth's temperature seemed to get colder and it became known as the Little Ice Age.
This current graph of international sunspot numbers from 2008 to 2020 shows the new Solar Cycle 25 has begun.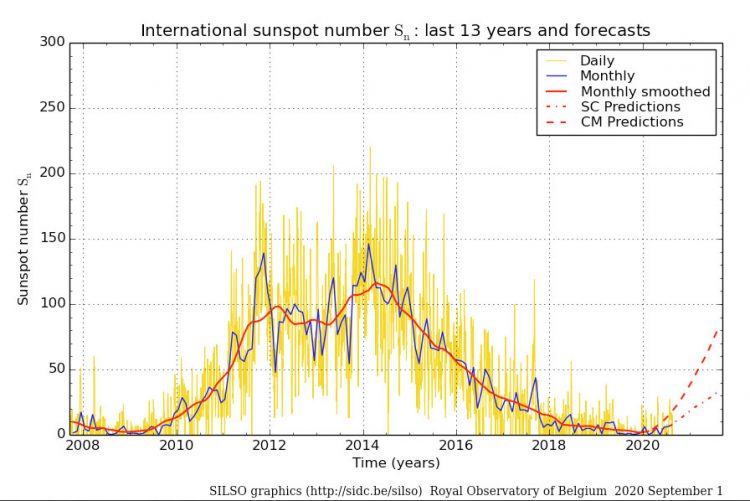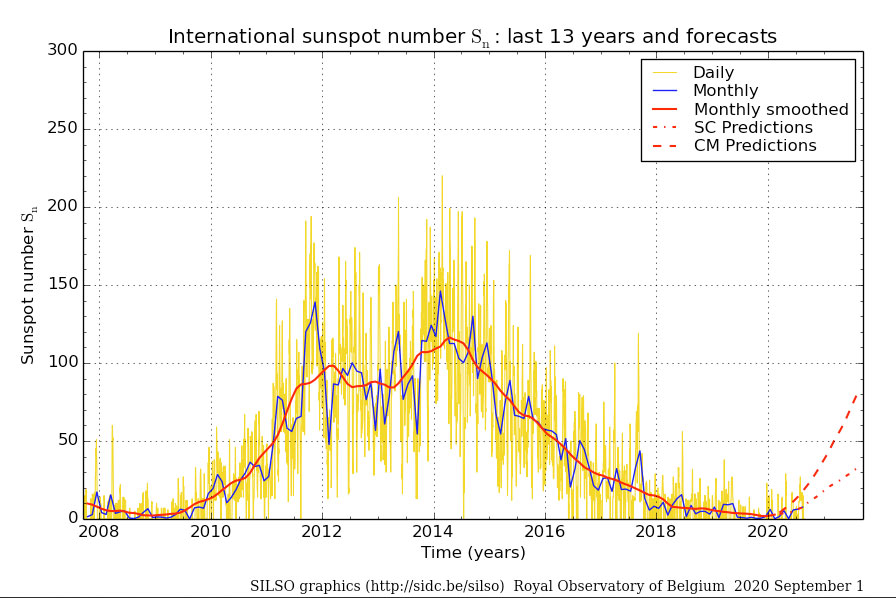 Also see:
03-08-2018 – Cosmic Ray Radiation Is Dangerous and Getting Worse As Sun Is Often Spotless
---
More Information:
09-02-2015 – Is Our Sun "Going to Sleep" in 2030?
12-19-2014 – Invisible, Mysterious Force Field Protecting Earth from "Killer Electrons"
06-26-2014 – Oceans of Water Locked Up in Mantle Rocks 400 Miles Deep
09-27-2013 – Weakest Solar Max in 100 Years. Is A Grand Minimum Next?
---
Websites:
Sunspot Index and Longterm Solar Observations (SILSO):  http://www.sidc.be/silso/

© 1998 - 2020 by Linda Moulton Howe.
All Rights Reserved.