"During the July 22 total solar eclipse observation, China had discovered
near the sun an unidentified object, it's physical nature remains to be further studied."
- Ji Haisheng, Dir., Jijinshan Astronomical Observatory, Nanjing, China,
as quoted on September 7, 2009, by U. K. Daily Mail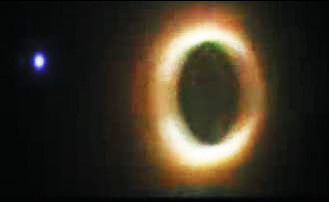 September 13, 2009  Nanjing, Jiangsu, China -  Ji Haisheng, Director of the Jijinshan Astronomical Observatory in Nanjing, China, is upset that on September 7, 2009, U. K.'s Daily Mail used his quotes in an article headlined:  "UFO 'filmed for 40 minutes' by Chinese scientists during solar eclipse." Dr. Haisheng told CHINAdaily.com on September 12, "Obviously, there have been misunderstandings. That's false news. I said 'an unidentified object,' not 'an unidentified flying object.'" Dr. Haisheng explained further that the bright spot might be "some coronal activity filmed during the total eclipse" and it could take a year to analyze and identify. Dr. Haisheng confirmed his observatory recorded 40 minutes of the solar corona during the total solar eclipse, not 40 minutes of a UFO.
Click here to subscribe and get instant access to read this report.
Click here to check your existing subscription status.
Existing members, login below:

© 1998 - 2023 by Linda Moulton Howe.
All Rights Reserved.