January 4, 2020: Penrith, Australia, Hit Record Breaking 120 Deg. F. on Jan. 4th, As 60,000 Square Miles Had Burned in Australia and the Death Toll of People Estimated At 20.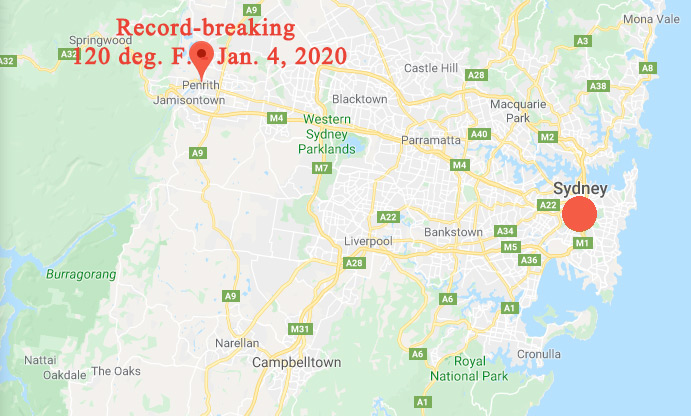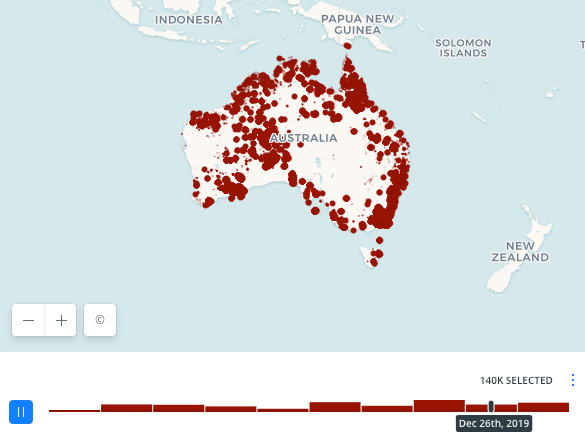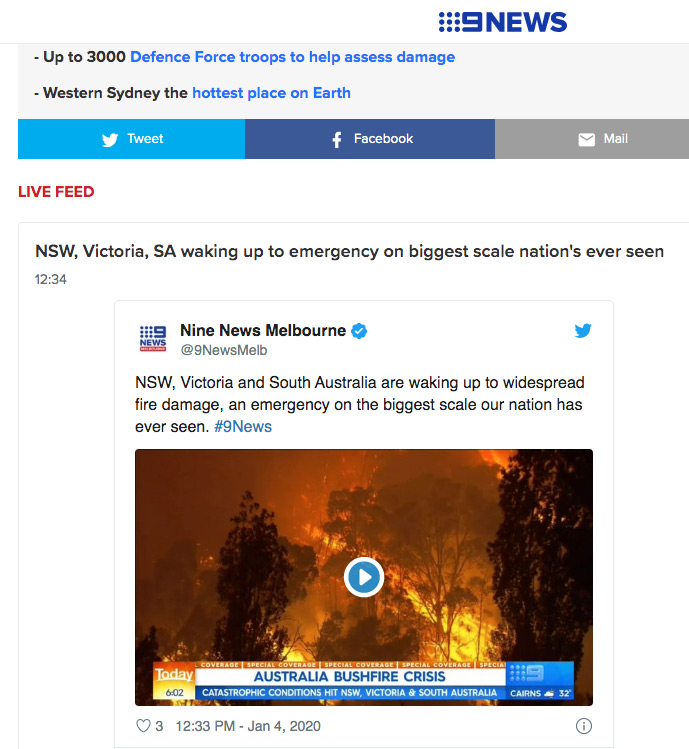 "Southeastern Australia is going to be a blast furnace the weekend of January 4-5, 2020."
— Andrew Constance, Transport Minister, New South Wales, Australia
Update January 4, 2020 / January 3, 2020  Sydney, Australia – Saturday, January 4, 2020, was the hottest day on record in metropolitan Sydney, Australia, where 37 miles northwest the suburb of Penrith (map above) hit 120 degrees F., according to the Australian Bureau of Meteorology. The national capital, Canberra, set a record high with a temperature of 110 degrees F.
Those high temperatures and worst fires in Australian history are forcing thousands of people from homes. More than 1,000 people and 113 dogs reached Melbourne on Saturday after two Navy ships rescued them from New South Wales seaside towns ringed by fires in southeastern Australia.
The day before on January 3, 2020, more than 130 fires were burning across NSW. Volunteer firefighters have put their lives on the line to at least contain many of the fires, but today more than 60 are still out of control, are a risk to animal and human lives as the weekend of January 4 – 5, 2020, is expected to be a "blast furnace," according to Andrew Constance, Transport Minister in New South Wales.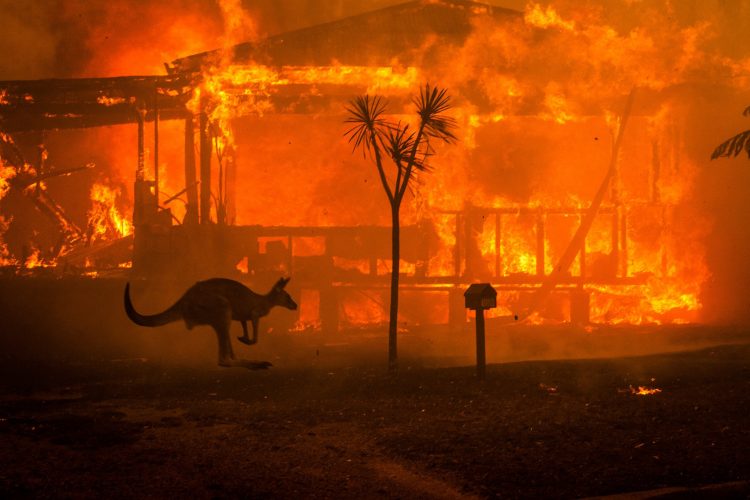 Authorities in New South Wales have closed parks, trails and camping grounds and tourists have been told to urgently leave a 160-mile-long stretch of the NSW coast before the January 4-5, 2020, weekend as temperatures and fires are expected to be the most extreme to date.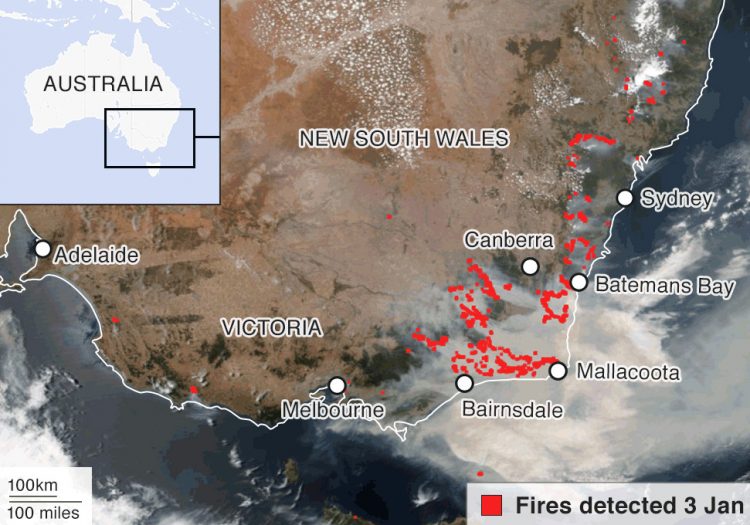 Height and Intensity of Flames Greater Than Normal As Australia Has Warmed Since 1980s
The NSW rural fire service and the BBC estimate now that the New South Wales fires since July 1, have burned at least 15,444 square miles (4 million hectares) compared to 3,475 square miles (900,000 hectares) in the 2019 Amazon raging fires and 3,088 square miles (800,000 hectares) in the 2018 California blazes. Firefighters also report that the new Australia flames have risen to at least 230 feet high (70 m), higher than the Sydney Opera House that is 213 feet high (65 m).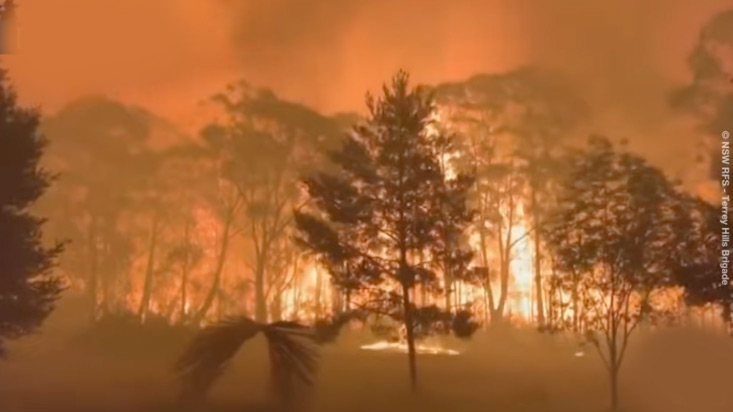 The Australian Bureau of Meteorology reports that Australia has been getting warmer and warmer since the 1980s.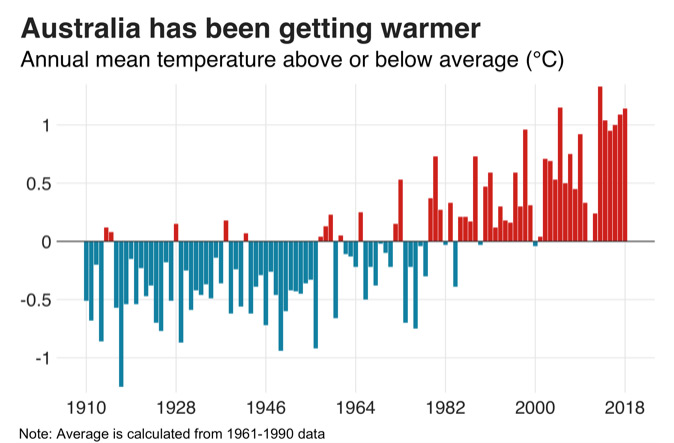 ---
More Information:
09-26-2019 – Why Are So Many Earth Insects Dying?
08-30-2018 – Why Are 2018 Wildfires So Ferocious?
09-29-2017 – Storms Keep Getting Stronger With More and More Water
03-30-2017 – 93% of Australia's Great Barrier Reef Suffering Coral Bleaching.
---
Websites:
Jan. 2, 2020 Satellite View of Australian Fires: The Himawari-8 satellite's view of the Australian bushfires and smoke clouds: http://rammb.cira.colostate.edu/ramsdis/online/images/hi_res/himawari-8/full_disk_ahi_true_color/full_disk_ahi_true_color_20200101022000.jpg
"Ferocious Fires in Australia Intensify," NASA:  https://www.nasa.gov/image-feature/goddard/2020/ferocious-fires-in-australia-intensify
Australia Bureau of Meteorology:  http://www.bom.gov.au

© 1998 - 2023 by Linda Moulton Howe.
All Rights Reserved.