"What was weird is … this (UFO) was bright all the way around. It was so bright, you couldn't make it out, what shape it was. … It didn't look anything like an airplane."
— Pilot of American Airline Flight 1095 on February 24, 2018, near 3:30 PM local Arizona time, right after an American Airlines Learjet pilot reported a UFO only a minute before
February 28, 2021  Albuquerque, New Mexico – According to radio logs recorded by the Albuquerque Center air traffic control on February 24, 2018 — three years ago — two different airline pilots flying over Arizona radioed sightings of either the same, or two different, bright, unidentified flying objects. It wasn't until March 9, 2018, that TheDrive.com published an article that included FAA audio recordings of the February 24, 2018, radio recorded pilot comments.

February 24, 2018:   First Pilot Eyewitness of UFO in Learjet Operated by Phoenix Air Group and American Airlines.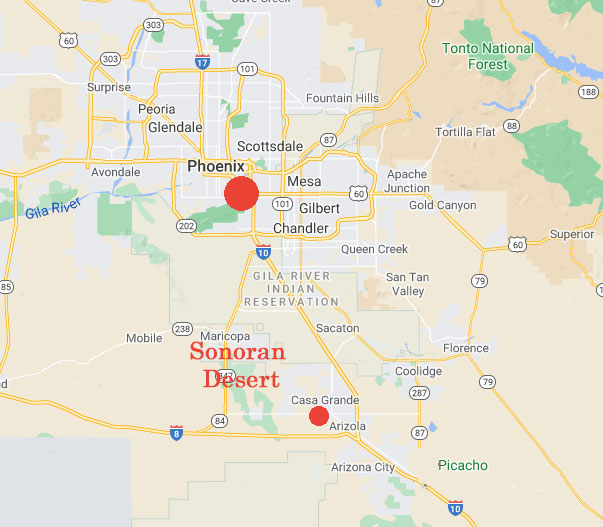 The first pilot, who did not want to be named, was flying a Learjet operated by American Airlines and Phoenix Air Group, Inc. That afternoon, the Learjet was working as an air ambulance for the military's Air Mobility Command. At the time of the sighting, the pilot was described as a "seasoned captain," who was a retired B-1 pilot with more than 14,000 hours of flying time. He and his co-pilot were flying from California back to  Georgia. At around 3:30 PM local Arizona time, the Learjet was over the Sonoran Desert a little south of Phoenix near Casa Grande, when Albuquerque Center air traffic control recorded that first pilot asking about a strange aerial object.
Learjet Pilot:  "Was anybody above us that passed us like 30 seconds ago?"
FAA Reply:  "Negative."
February 24, 2018:  Second Pilot Eyewitness in American Airlines Flight 1095
That exchange with the Learjet pilot provoked the FAA in Albuquerque to alert American Airlines Flight 1095 also flying over Arizona the opposite direction en route to San Diego.
According to the Albuquerque Center air traffic control recording, less than a minute after the Learjet pilot's question, the pilot of AAF 1095 radioed:
"Yeah, something just passed over us. I don't know what it was, but it was at least two to three thousand feet above us. Yeah, it passed right over the top of us." The AAF 1095 pilot, Blenus Green, also reported that the UFO had a "big reflection" and was moving "in the opposite direction" of his flight to San Diego. "This was bright all the way around. It was so bright, you couldn't make it out.
March 28, 2018 — American Airlines Flight 1095 Pilot Blenus Green Interviewed by KTAB/KRBC-TV (CBS), Abilene, Texas
When asked if he could have seen a Google mylar balloon, AAF1095 pilot Blenus Green told reporter Pheban Kassahun of BigCountryHomePage.com, the Abilene CBS affiliate,  "Doubtful," and explained why it was "weird." He told Kassahun, "You almost really wanted to look at it, to try to figure out what it was. It didn't look anything like an airplane."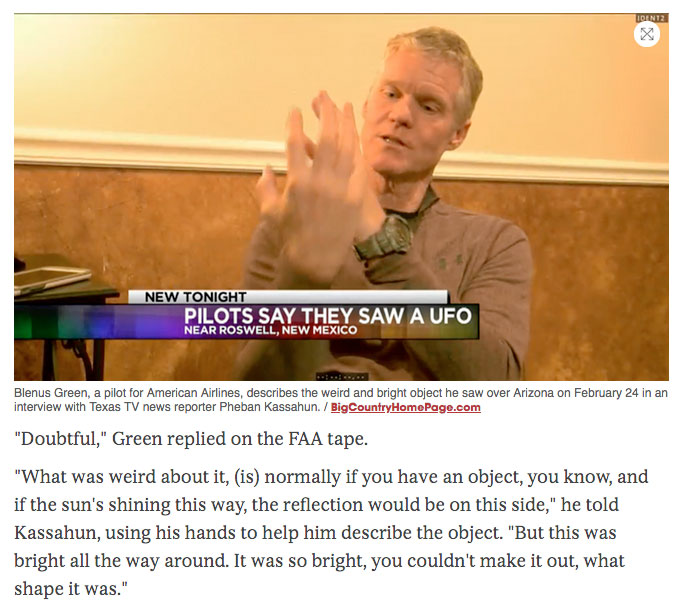 Learjet Pilots Estimated UFO to Be At 50,000 Feet
The Learjet pilot and copilot were reported by the Phoenix New Times as putting "their fingers on the window to estimate how high the UFO was in the sky. They concluded it might have been flying at nearly 50,000 feet, which would have been more than 10,000 feet above them."
FAA Spokesperson Lynn Lunsford: "Other than the brief conversation between two aircraft (Learjet and AAF 1095), the controller was unable to verify that any other aircraft was in the area.We have a close working relationship with a number of other agencies and safely handle military aircraft and civilian aircraft of all types in that area every day, including high-altitude weather balloons."
Return to Part 1.
Also see:    Glowing Disc Encounter with Military in Albuquerque, NM, 3-parts.
---
More Information:
11-15-2016 – What Was Large "Balloon"-Shaped Aerial Object Over Lake Ontario That Forced Pilots to Dive Below It On November 14th?
09-23-2010 – Part 6:  Beyond Aztec and Wright-Patterson – John Smith's Sexual Encounter with Black-Haired Female
09-20-2010 – Part 5:  Beyond Aztec and Wright-Patterson – John Smith's Sexual Encounter with Black-Haired Female
09-15-2010 – Part 4:  Beyond Aztec and Wright-Patterson – John Smith's Dream Encounter with Blond Children
09-10-2010 – Part 3:  Beyond Aztec and Wright-Patterson – John Smith's Encounter with "Nordic" Non-Humans
08-17-2010 – Part 2:  Aztec, New Mexico – Was Disc Taken to Building 828 in Wright-Patterson AFB, Ohio?
08-13-2010 – Part 1:  Aztec, New Mexico – Was Disc Taken to Building 828 in Wright-Patterson AFB, Ohio?
---
Websites:
Phoenix New Times, March 29, 2018: https://www.phoenixnewtimes.com/news/american-airlines-learjet-pilots-describe-seeing-ufo-over-arizona-10280978
Kinross AFB Jet Disappearance November 23, 1953:
http://www.ufoevidence.org/cases/case610.htm
History of Lake Ontario "Shining Waters" UFOs:
http://ufodigest.com/article/lake-shining-waters-–-historical-perspective
"Porter Plane Narrowly Avoids Collision With Mystery Object," November 14, 2016, TheStar.com: https://www.thestar.com/news/canada/2016/11/14/porter-plane-in-near-miss-with-drone.html
Drones: Unmanned Aerial Vehicles: https://en.wikipedia.org/wiki/Unmanned_aerial_vehicle

© 1998 - 2021 by Linda Moulton Howe.
All Rights Reserved.