"We just had something go right over the top of us. I hate to say this, but it looked like a long cylindrical object that almost looked like a cruise missile type of thing – moving really fast right over the top of us."
— Pilot of American Airlines Flight 2292, en route from Cincinnati, Ohio, to Phoenix, Arizona,  February 21, 2021
February 27, 2021  Albuquerque, New Mexico – On Sunday, February 21, 2021, at approximately 12:19 PM Mountain/1:19 PM Central time — something long and cylindrical coming right toward the front window of American Airlines Flight 2292 — flying at an altitude of 36,000 to 37,000 feet — surprised the pilot  as the cylinder passed right over the front window and nose of the plane.
Illustration of American Cruise Missile in Flight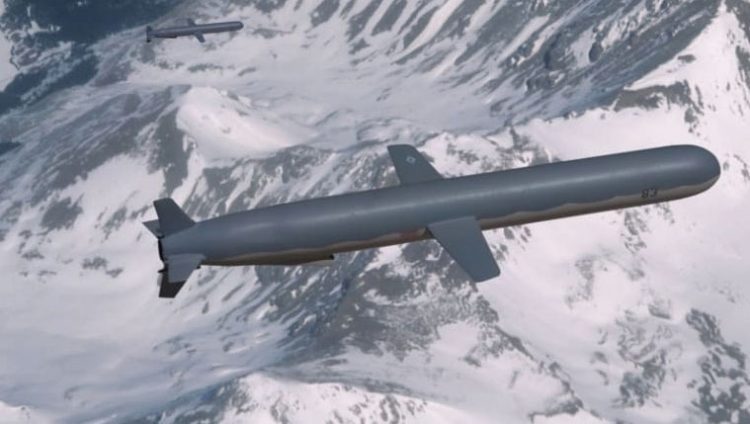 The town below them at that moment was Des Moines, New Mexico, about 264 miles northeast of Albuquerque. Flight 2292 came from Cincinnati was headed for Phoenix, Arizona.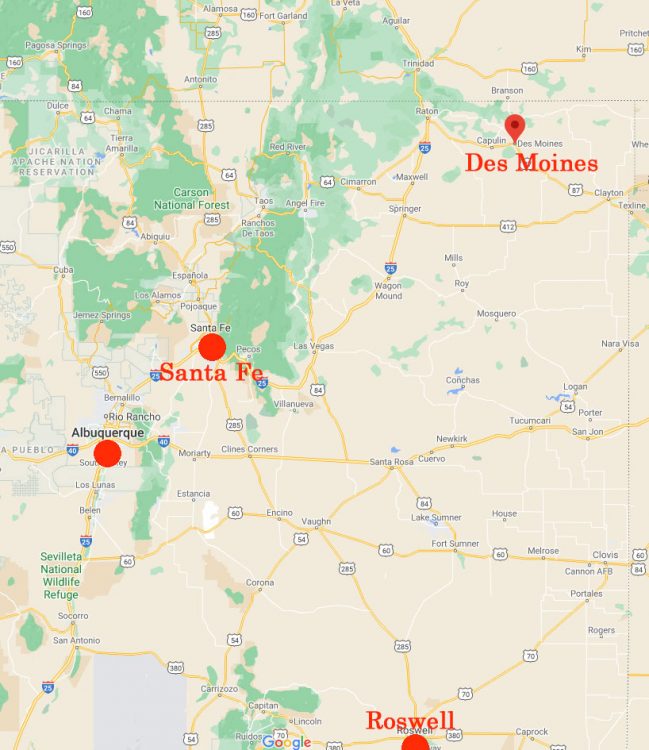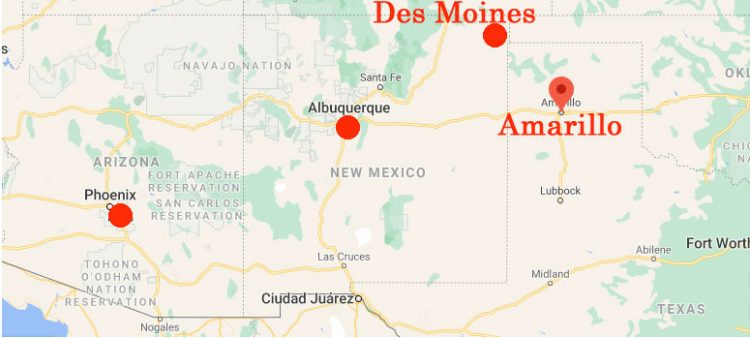 At that same moment in Amarillo, Texas, 174 miles southeast of Des Moines, Steve Douglass,  Amarillo's Channel 7  Head Photographer,  heard from his bank of fifteen voice-activated, scanning receiver radios — each on different frequency bands — a male voice: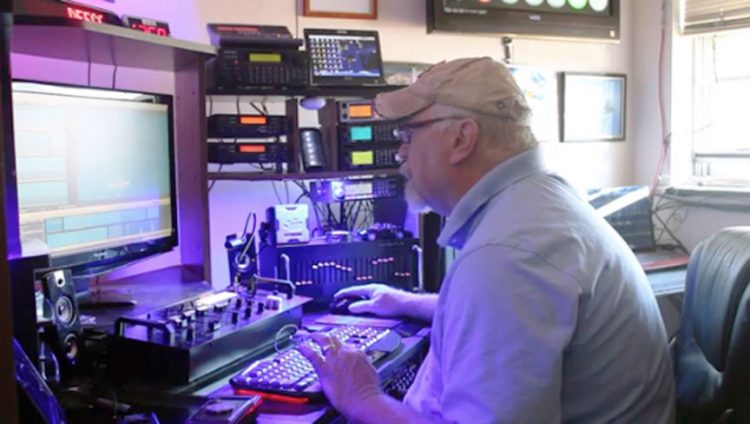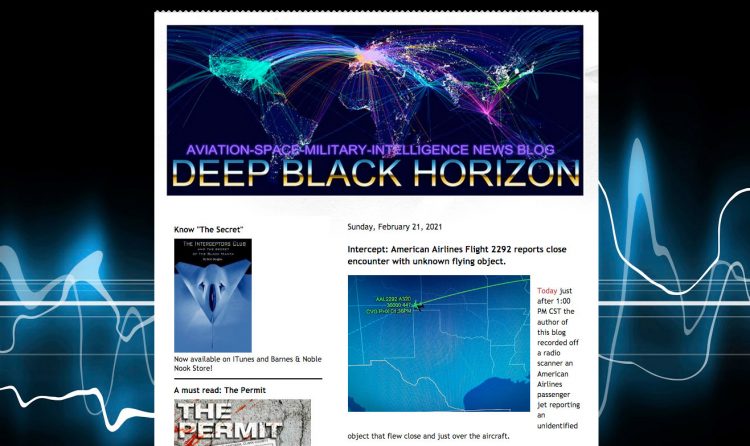 Steve immediately tried to find out what plane might have been the source of the pilot's recorded voice at the approximate 1:19 pm Central Standard Time on the Albuquerque Center frequency that Steve's radio scanner picked up in the 127.850 Megahertz range.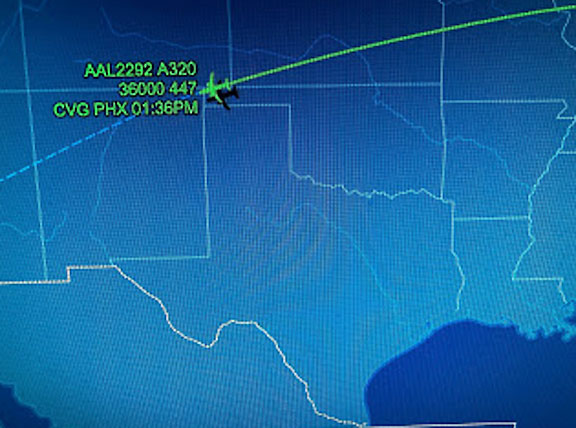 Steve narrowed down to American Airlines Flight 2292 flying at 36,000 to 37,000 feet altitude en route to Phoenix, Arizona, from Cincinnati, Ohio. But adding to the mystery is the fact that NO ONE ANSWERED the American Airline Flight 2292 pilot's question — "Do you have any targets up here?" referring to the cylindrical, Cruise-missile-type  "unknown flying object."
Steven Douglass began listening to radio scanners 42 years ago when he was 15 years old. He was fascinated with intercepting the voices of police and pilots and eventually would become interested in listening to air traffic control centers to see if UFOs ever came up in discussions with pilots. After high school, Steve went on to Amarillo College to get a degree in Mass Communications and began working as a Press Photographer for the local newspaper.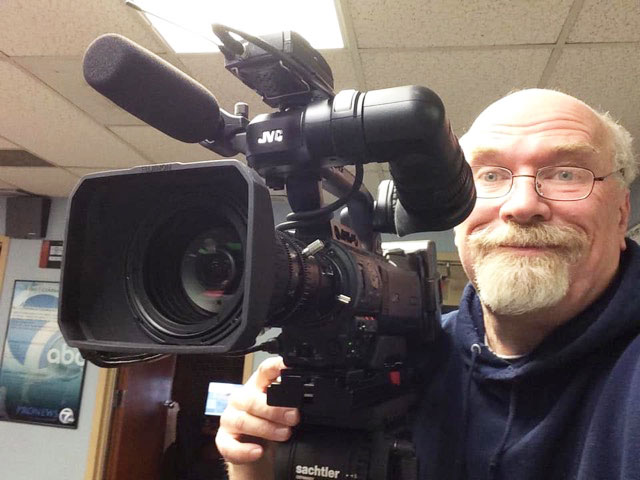 He evolved to television where today he is the Chief Head Photographer at KVII-TV, the Channel 7 ABC affiliate in Amarillo, Texas. He has also done freelance projects for Popular Science and the Discovery Channel. As his career evolved, so did his expansion of commercially available voice-activated scanning receiver radios. Now he has fifteen, each set to different frequency bands, covering about a 500 to 700 miles distance.
Interview with Steve Douglass, Deep Black Horizon:
We began our interview on Monday, February 22nd, 2021, about the puzzle of complete silence after Steve's voice-activated radio scanner recorded the pilot.
Earthfiles Linda Moulton Howe interview with Steven Douglass, Owner, Deep Black Horizon Blogspot:  "Sunday morning, I just happened to be in here. I got a new radio in. Just after I got it installed, I started recording on it for about   an hour setting all the levels.   That's when I heard the call:
American Airlines Flight 2292 Pilot:  "Have any targets up here? We just had something go right over the top of us that I hate to say this, but it looked like a long cylindrical object that almost looked like a cruise missile type of thing – moving really fast right over the top of us."
Steve:  Right after I heard this, it was actually pretty dead quiet right afterwards. It was as if the Air Traffic Control Albuquerque Center did not know how to answer them. It was like silence. Like nobody talked. I automatically record all the air traffic that my receivers can receive within probably a 500 to 700 mile area on several scanning radios that I have. And they all fit into a computer where they are automatically recorded. And it was one of those moments that is very rare! It's one of the reasons I do what I do is to hear stuff like that. And the silence after that was palpable. It was like everybody just shut up, and then chatter came back in again back to normal.
As soon as I heard the call and let it record for awhile, I listened for any reply. I le t it go for another 10 or 15 minutes and heard nothing! No replies. No replies from air traffic control or the aircraft describing this any further. Then I made sure I saved it. And then I started recording again after that — and still for the rest of the day, no mention of it.
While I'm doing that,  I will call up a flight tracking software where I can in real time track aircraft on my computer. It's called EDSB Change. It's a pretty cool website. You can actually go on there and track air carriers and some military aircraft. I went there and took street shots and took a street shot of what was flying there at the time.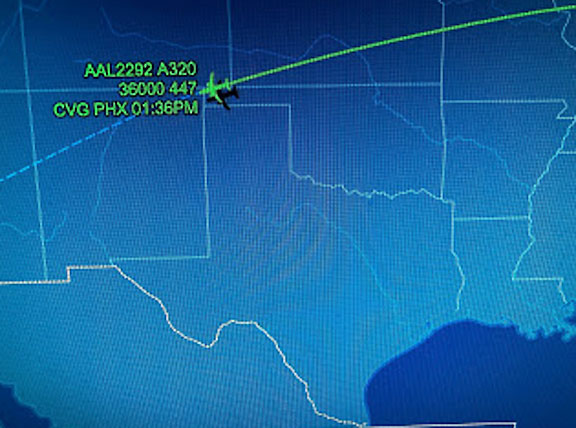 And then I started going through it and the tape  piece by piece to figure out who the call came from. I found the aircraft call sign and reported it. And it was an American Airlines aircraft going into Phoenix. And after that, I tracked it going all the way into Phoenix on the website, which shows the track and looked up their altitude and speed and where they were when they made the call. And it's pretty easy these days to figure out where aircraft are and how high they are flying, where they are flying to and where they are flying over in any given moment. It's a pretty amazing piece of technology that anybody has access to now.
THIS WAS AMERICAN AIRLINES FLIGHT 2292. AND YOU HAVE IT IN YOUR REPORT HIS SAYING, QUOTE – "DO YOU HAVE ANY TARGETS UP HERE? WE JUST HAD SOMETHING GO RIGHT OVER THE TOP OF US. LOOKED LIKE A CRUISE MISSILE TYPE OF THING MOVING REALLY FAST RIGHT OVER THE TOP OF US."
Yeah. And that's very, very unusual to even phrase it that way.  They (pilots and air traffic controllers ) kind of downplay it. But whoever this was, you can tell he was almost hesitant to report it because it seemed to him like maybe it was something military.
Or as I have discussed with some military pilots that I know, if something had got off the leash or off the chain, and for an aircraft pilot to report that, is a major thing because it starts a chain of events that begin when they land the aircraft. Because now, the FAA has it recorded. They've made a report of an object that obviously came close to their altitude, maybe closer than they wanted it to and had no time to react. Then the FAA gets involved and they have to start filling out reports and paper work and witness statements and all that sort of thing. That's a major headache for a commercial pilot. That's one of the reasons you don't hear these reports very often is because they become — you really don't want to start all this red tape and we really just want to fly to our next destination and go home. Don't say anything!
And usually when they say something, they are told, 'Well, what you saw was military.' Or, 'What you saw was none of your business.' Or, 'Don't talk about it.'
WHAT KIND OF SYSTEM WOULD BE IN PLACE THAT WHEN AN AMERICAN AIRLINES PILOT WOULD SAY THAT SOMETHING LOOKED LIKE A LONG CYLINDRICAL OBJECT, ALMOST LIKE A CRUISE MISSILE TYPE OF THING, WHY COULD THE RADIO GO COMPLETELY SILENT FOR THE WHOLE REST OF THE PERIOD? IS THERE SOME KIND OF SECRET BLOCK SYSTEM  NOW THAT IS IN PLACE?
I think it's more that flight controllers are looking at screens and talking among themselves saying, 'Did we miss something? Is there something we're supposed to know? Did we have notice from the military that they are firing a rocket or anything? Which is probably not the case because this aircraft was not flying near like White Sands Missile Range where they fire those things.
RIGHT. I PRINTED OUT A MAP BECAUSE YOU SAID IT WAS IN DES MOINES, NEW MEXICO. THAT'S ALL THE WAY UP IN THE FAR NORTHEASTERN CORNER OF NEW MEXICO. AND THERE IS, TO MY KNOWLEDGE, NO MILITARY INSTALLATIONS AROUND THAT IMMEDIATE AREA.
No, there is not. There's some military flight routes, which the military take to some re-fueling trucks in this area. But there is nothing that they would fire a rocket through.
It's almost as if they ignored the call. It's like, 'We don't know how to react to this. Let's just act like it didn't happen.'
And then they went back to regular air traffic control. They didn't ask him what it looked like? Which way it was headed? It was a very strange call in deed.
Now there are other ways they can communicate with aircraft — digital ways — which can be recorded and intercepted. But it takes a lot more technology like what's called ACARS system. It's almost like a texting system for aircraft. Companies like American Airlines communicate with text messages. And it's also an automatic system. It will tell the company what your fuel status is; what winds are hitting; how the engines are operating — that whole thing. It's all automatic. But it can also be used to pass messages back and forth that aren't going over an open channel.
WITH ALL YOUR EXPERIENCE OF RUNNING MULTIPLE SCANNERS AND RECORDING, HAVE YOU EVER HAD ANY OTHER INCIDENT LIKE THIS?
I've heard several, actually. I heard an aircraft not too long ago talk about what he thought was a Space X launch and he said, 'Well, isn't that pretty?!  That must be the Space X launch.'
He saw it coming streaking across the sky and the Space X launch didn't happen until the next day. He said, 'Wow, that's really pretty — the moon is really lighting that up. It must be the Space X launch.'
Space X didn't launch until 24 hours later and down by the Florida coast. It wasn't anywhere near New Mexico or Texas. He was a civilian pilot flying around. It wasn't a commercial pilot.
I have 15 different scanning radios that all feed into several computers that record everything. Fifteen radios and each radio probably has the capacity for 25,000 frequencies. I'm scanning military, civilian, civil aircraft. I'm scanning military satellites. I'm scanning discreet UHF military channels like would be used by Air Force One and Air Force Two — scanning just about everything I can really.
So, there are a lot of guys like me, who do this as a hobby.
FROM ALL OF YOUR PERSPECTIVE OVER THE PAST FOUR DECADES, WHY DO YOU THINK THAT UFOS — OTHER LIFE IN THE UNIVERSE INTERACTING WITH THIS PLANET IS ALWAYS A BIG, HUGE SECRET? SOMETHING TO DENY AND LIE ABOUT?
Well, there's the standard answer that we couldn't handle it as mere Earthlings. We couldn't handle disclosure, which I think is kind of not real. I think we could.
We could adapt to knowing there is other life in the universe. There is also the fact that maybe we are gleening technology. Maybe it gives us an edge over our enemies. We seem to have made a quantum leap in technology. It's very hard to walk backwards the technology and see how we came on these Eureka! moments that kept us ahead of everybody else.
AND THE ANSWER IS BACK-ENGINEERING ADVANCED TECHNOLOGY FROM THE TECHNOLOGIES RETRIEVED IN UFO CRASHES SINCE THE 1940s.
That's the idea that everybody has. This hobby has taken me down some very strange roads."
The next day after our interview, FOX News had this follow up headline:  "American Airlines Not Denying Possible UFO spotting, and says: 'Talk to the FBI.'  
 FOX TV news reported on February 23, 2021,  "American Airlines confirmed for FOX  that the radio transmission is authentic, but did not give any further comment on the possible alien encounter."
An American Airlines spokesperson gave FOX News this statement:  "Following a debrief with our Flight Crew and additional information received, we can confirm this radio transmission (the one I've played for you recorded by Steven Douglass)  was from American Airlines Flight 2292 on February 21, 2021. For any additional questions on this, we encourage you to reach out to the FBI."
FBI and White Sands Missile Range Do Not Respond to FOX News Inquiry
FOX TV news did reach out to the FBI for comment, but to date the FBI has not responded with information. FOX also contacted White Sands Missile Range — which the Department of Defense calls the "largest, fully-instrumented, open air range in the United States." But White Sands Missile Range has not responded either with a comment on the cylindrical, Cruise-missile-looking unidentified aerial object that flew so rapidly and close over the front window and the top of American Airlines Flight 2292 above northeastern New Mexico around 1:19 PM Central time on Sunday, February 21st, 2021.
Another brief update came February 24, 2021,  from an FAA spokesperson in reply to The Drive.com War Zone website:  "A pilot reported seeing an object over New Mexico shortly after noon local time on Sunday, Feb. 21, 2021. FAA air traffic controllers did not see any object in the area on their radarscopes."
Comment by Retired U. S. Navy Captain Mark Wood, February 28, 2021: 
"The fact that the pilot compared the object he saw to a Tomahawk cruise missile is a very important description as to what the object looked like. However, the Tomahawk cruise missile has an operational altitude of 30-50 meters (98-164ft). Its' operational use is to attack long distance targets from the sea either from a surface ship or submarine. The missile is designed to remain at low altitude to evade enemy radars so that when it strikes the designated target, no one has seen it coming.
"Although it is possible for the Tomahawk to be tested over land based weapons ranges, having one end up at 36,000 ft over New Mexico in my mind is not possible, even for a test launch gone completely wrong. Since the US Air Force has a completely different set of cruise missiles that have a completely different and unique shape than the Tomahawk, I don't believe this is another model of US cruise missile as a result of the pilot's description. I think that this would indicate that the object seen was definitely "unknown" and not a US Cruise missile unless it is something new and classified."
Continued in Part 2:   UFO airline sightings February 24, 2018, three years before.
Also see:    Glowing Disc Encounter with Military in Albuquerque, NM, 3-parts.
---
More Information:
11-15-2016 – What Was Large "Balloon"-Shaped Aerial Object Over Lake Ontario That Forced Pilots to Dive Below It On November 14th?
09-23-2010 – Part 6:  Beyond Aztec and Wright-Patterson – John Smith's Sexual Encounter with Black-Haired Female
09-20-2010 – Part 5:  Beyond Aztec and Wright-Patterson – John Smith's Sexual Encounter with Black-Haired Female
09-15-2010 – Part 4:  Beyond Aztec and Wright-Patterson – John Smith's Dream Encounter with Blond Children
09-10-2010 – Part 3:  Beyond Aztec and Wright-Patterson – John Smith's Encounter with "Nordic" Non-Humans
08-17-2010 – Part 2:  Aztec, New Mexico – Was Disc Taken to Building 828 in Wright-Patterson AFB, Ohio?
08-13-2010 – Part 1:  Aztec, New Mexico – Was Disc Taken to Building 828 in Wright-Patterson AFB, Ohio?
---
Websites:
Kinross AFB Jet Disappearance November 23, 1953:
http://www.ufoevidence.org/cases/case610.htm
History of Lake Ontario "Shining Waters" UFOs:
http://ufodigest.com/article/lake-shining-waters-–-historical-perspective
"Porter Plane Narrowly Avoids Collision With Mystery Object," November 14, 2016, TheStar.com: https://www.thestar.com/news/canada/2016/11/14/porter-plane-in-near-miss-with-drone.html
Drones: Unmanned Aerial Vehicles: https://en.wikipedia.org/wiki/Unmanned_aerial_vehicle

© 1998 - 2021 by Linda Moulton Howe.
All Rights Reserved.