"I heard a faint droning from the south and then a violent boom that shook my windows and walls. I jumped up and ran out of the house to see what had hit my roof, but nothing was there."
— Pj Adams, Urbana, Dallas County, Missouri
July 17, 2021 Johnson County to Dallas County, Missouri – The Johnson County Emergency Management in Missouri turned to Facebook (below) on Wednesday, July 14th, 2021, and asked:  "Did anyone hear a large boom earlier today??"
Residents as far away as Douglas County replied and said not only did they hear the huge boom, but it shook their houses and windows. When USGS was contacted, seismologists reported there has not been any earthquake in Missouri "of any magnitude" in the past few days. Further, Whiteman AFB located in Knob Knoster, Missouri, about 60 miles southeast of Kansas City, Missouri, in rural Johnson County replied to reporter inquiries that "flight planners right away said it was not one of our aircraft (breaking sound barrier)."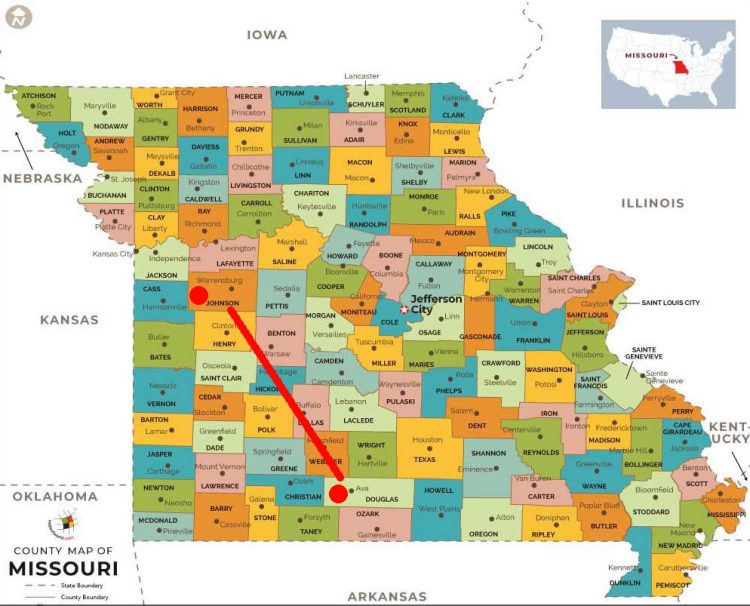 Then confusing the mystery, a Boeing spokesperson added the following statement to the confusing situation:  "We can confirm that it was an F-15 aircraft operating out of St. Louis Lambert Airport under contract to the USAF conducting a test flight required by the contract to verify system performance."
Boom Recordings?
Earthfiles would like to hear from earwitnesses and people who might have the boom recorded on their home security systems. Please let Linda Moulton Howe know by emailing her directly:  [email protected]. All requests for anonymity are honored.
Also see:
— More Mysterious Booms in Arkansas and Missouri.
— Mysterious Booms Hit South Wichita, Kansas, On January 16th. "Sky Quakes" Were Linked to UFOs in 1950s.
---
More Information:
12-10-2017 – From Booms to Animal Mutilations to Aliens and Genetic Engineering
11-30-2017 – Notes About MJ-12 Project Sigma and LANL WX Division
06-03-2017 – Part 1 – Viewer Feedback About High Strangeness Encounters
06-01-2017 – Another Loud, Mysterious Boom — This Time in Georgia
02-06-2017 – Green Fireball Over Lake Michigan Early Feb. 6, 2017, While Other Lights with Loud Booms Puzzle Eastern Quebec.
01-19-2017 – Unexplained, Loud, House-Shaking Boom Reported by Dozens to Mt. Holly, N.C. Police Night of Jan. 17th
---
Websites:
"Did you hear it?" July 15, 2021, The Kansas City Star:  https://www.kansascity.com/news/state/missouri/article252818243.html

© 1998 - 2023 by Linda Moulton Howe.
All Rights Reserved.