UPDATE:  February 11, 2020 – World Health Organization and CDC report: 28 countries, 1,107 Deaths, 43,101 Cases
Deaths and cases: 108 people in mainland China died on Monday, the biggest single-day death toll yet. 2,478 new cases were identified in mainland China, bringing the number there to 42,708. As of Tuesday, 43,101 people were infected worldwide.
Heads roll in Hubei: Two senior health officials in the Chinese province at the epicenter of the outbreak were fired on Tuesday, state media reported.
Pipe fears: A Hong Kong apartment building was partially evacuated over concerns that the virus may have been transmitted through the piping system.
Cruise ship crisis: 135 cases have been confirmed on a ship quarantined in Japan. Another ship carrying more than 2,000 people is still searching for a port after being denied entry to at least four ports.
Totals have doubled in one week ago over totals on Feb. 6, 2020:  28 countries; 28,018 cases and 563 deaths.
"This Wuhan coronavirus has literally only existed on planet Earth in humans for maybe two months. There is so much we don't know about it that it leads us to take additional precautions."
—  Kenneth T. Cuccinelli, Acting Dep. Secy., Department of Homeland Security, Washington, D. C., February 5, 2020
CDC Global Map February 10, 2020 – 28 Countries and 4 Continents Now Infected with Wuhan Coronavirus
1,107 Deaths, 43,101 Cases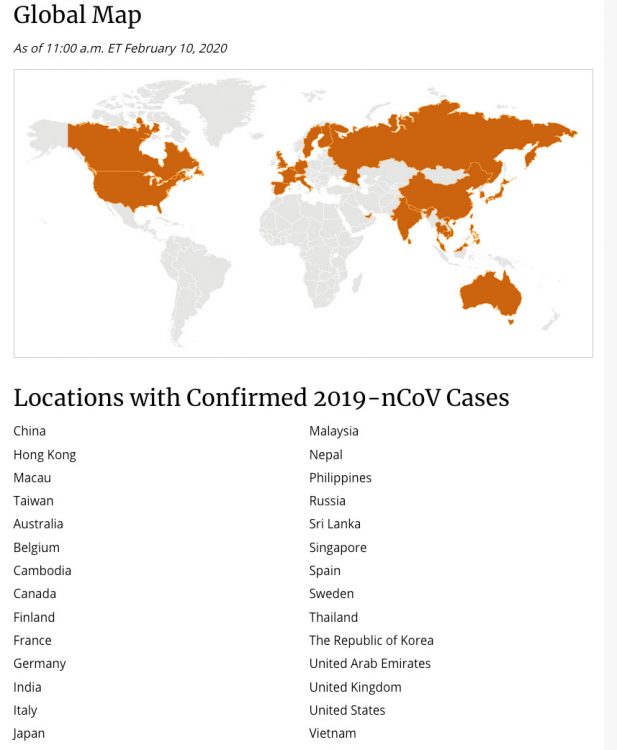 Previous February 6, 2020 Albuquerque, New Mexico –  On February 5, 2020, Kenneth T. Cuccinelli, the Acting Deputy Secretary of the Department of Homeland Security told reporters:  "This Wuhan coronavirus has literally only existed on planet Earth in humans for maybe two months. There is so much we don't know about it that it leads us to take additional precautions."
U. S. 12 Confirmed Cases of Wuhan Corona Infections on February 6-11, 2020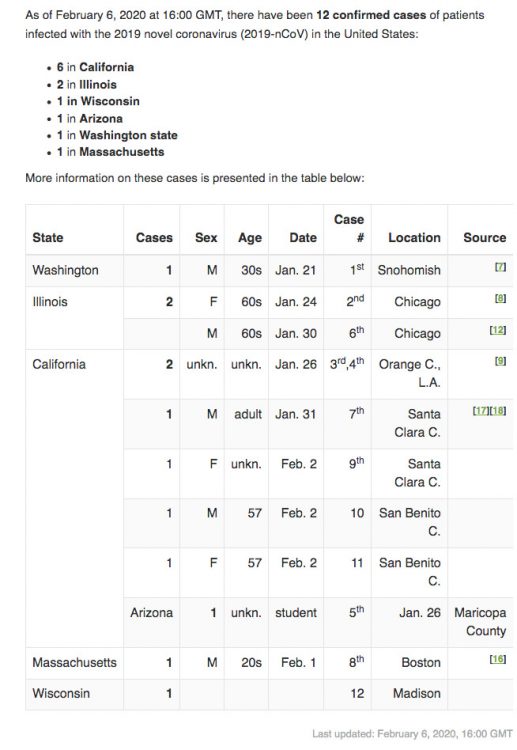 And one of those precautions has been implementing new travel restrictions to and from China as the coronavirus death toll keeps rising and there is more evidence that some infected people show no symptoms, but are transmitting the coronavirus to close family.  In one alarming case this week, did the coronavirus transmit from a mother to her unborn baby?
Did Wuhan Coronavirus Move from Mother to Unborn Baby?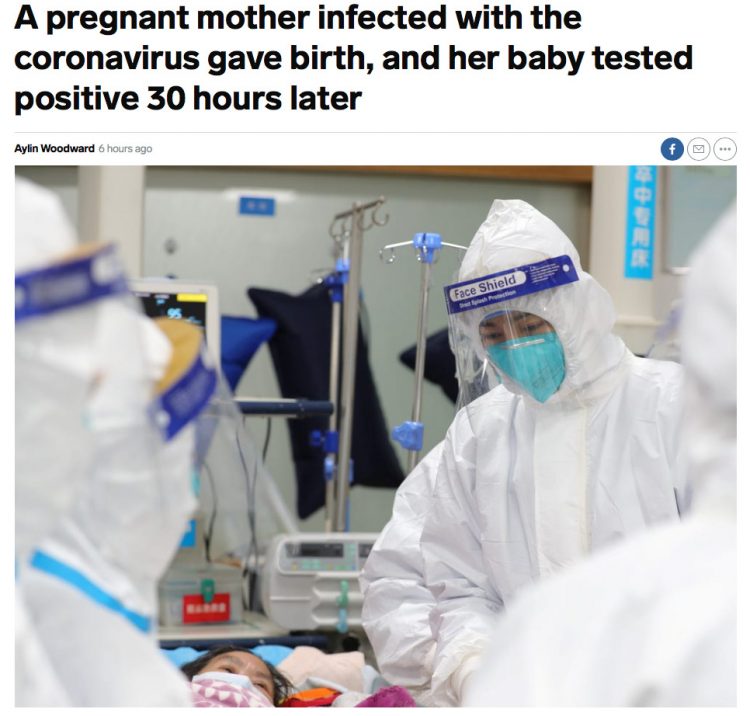 This week at the Central Hospital of Wuhan, a mother of a newly born infant tested positive for the Wuhan coronavirus — and then only 30 hours later, her new born tested positive for the coronavirus as well. What no one yet knows is: did the coronavirus jump from the mother to the unborn baby in the womb? Dr. Zeng Lingkong, a senior physician at the Wuhan Children's Hospital told reporters, "We should be concerned about the possible new transmission route of the coronavirus from mother to unborn baby."
Ten Passengers On Cruise Ship Tested Positive for Coronavirus in Japan,  Feb. 5, 2020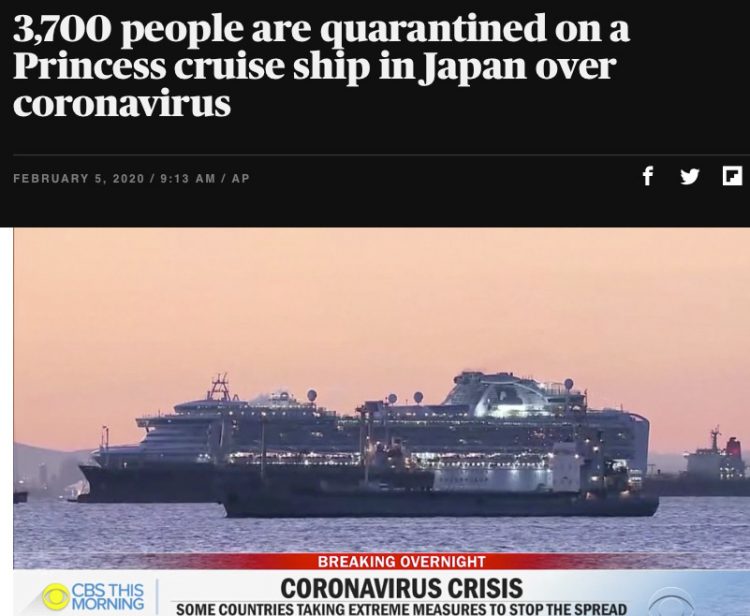 Japanese health officials confirmed on February 5, 2020, that ten people on a Carnival Diamond Princess ship in Yokohama port near Tokyo, Japan, have tested positive for coronavirus — and more cases were possible as 273 more people were tested on the ship. The infected patients were transferred by Japan's coast guard to hospitals on the mainland, while around 3,700 other passengers were placed in quarantine on the cruise ship for the next two weeks.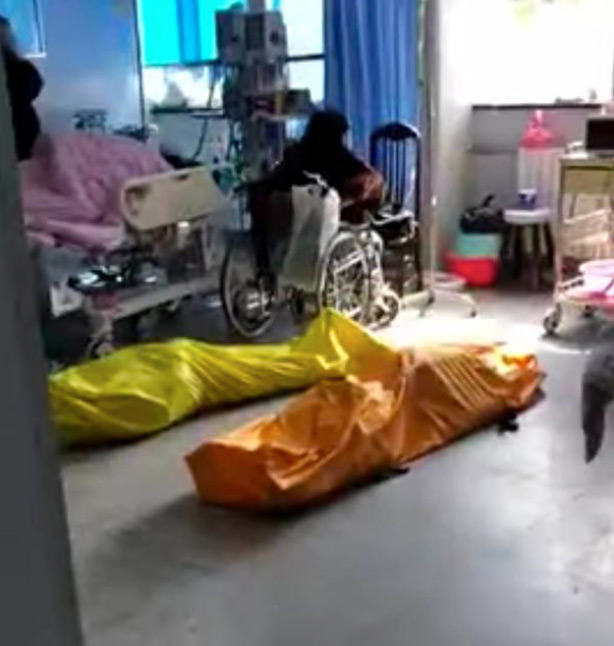 Some Wuhan workers are reportedly working around the clock because they are constantly sent dead bodies of Wuhan coronavirus victims for cremation. It is claimed that at least 100 bodies every day since January 28, 2020, are being burned up in Chinese crematoriums.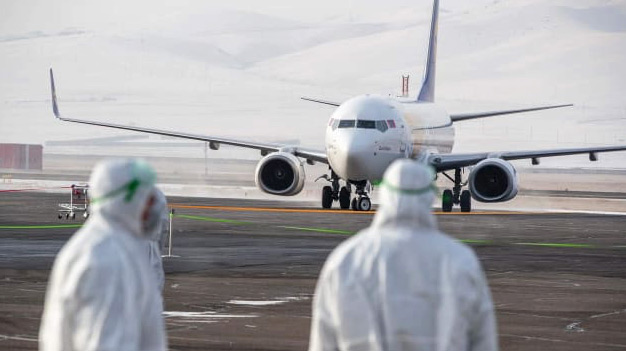 Americans flying into the United States who have been in China's Hubei Province since the middle of January 2020, where Wuhan is the capital, may be subject to mandatory quarantine up to two weeks. U.S. citizens who have been in other parts of mainland China in the past 14 days will undergo screening at one of 11 American airports now designated for coronavirus screenings. Homeland Security Acting Secretary Chad Wolf said, "Once back in the U. S., it's imperative that individuals honor self-quarantine directives for two weeks to help protect the American public." The new rules also mean foreign nationals who were recently in China will be temporarily denied entry into the United States. Meanwhile, most airlines around the world have canceled all flights in and out of China, some through March and others through April.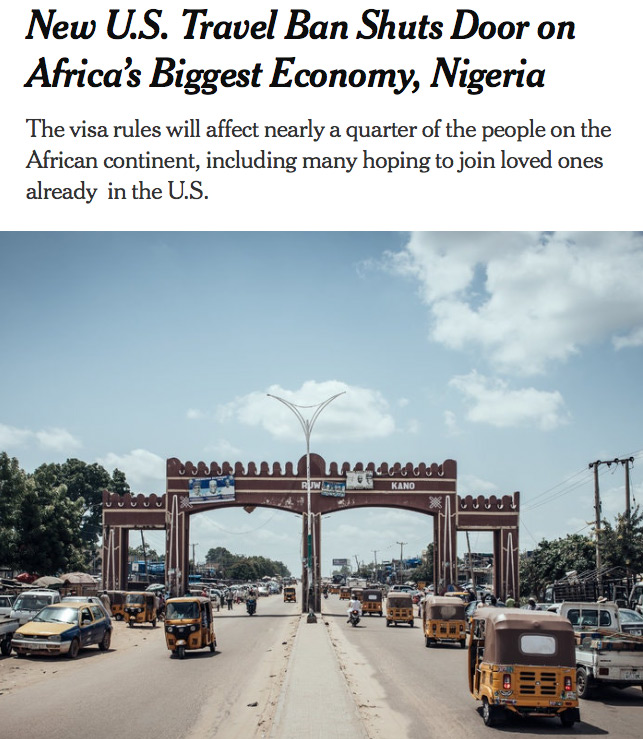 On Friday, January 31, 2020, the Trump Administration added six African countries with substantial Muslim populations to stringent travel restrictions: Nigeria, Myanmar, Eritrea, Kyrgyzstan, Sudan and Tanzania. Thousands of Chinese laborers work in Africa on the Belt and Road Initiative sponsored by China to build new railroads, sea ports and other infrastructures. So that is a huge population commuting in cycles from China to Africa and back with a potential explosion of more Wuhan coronavirus cases. So the goal in blocking that travel is to stop the Wuhan coronavirus spreading in Africa as it is in China.
But with the new Wuhan coronavirus spreading from person to person, possibly including transmission from people not showing any symptoms, and now reaching four continents and traveling around the world faster than SARS did — can this Wuhan coronavirus be driven out of existence? On February 4, 2020,  I talked about this question with Sharon Begley, Senior Science Writer at STAT.com in Boston, that reports from the frontiers of health and medicine. I asked Sharon what the future looks like if the new coronavirus is not contained?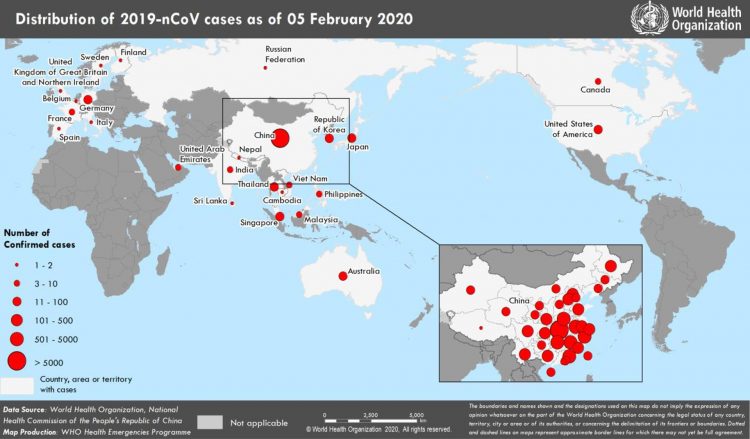 ---
Linda Moulton Howe interview with:
Sharon Begley
Senior Science Writer, STAT.com
Boston, Massachusetts
February 4, 2020
SB:   We're not giving up all hope yet. There is still a possibility that the health authorities in China will contain this and eradicate it. That has been done before with the SARS epidemic in 2002-2003 — killed 800 people and sickened 10 times that many. And yet, we do not have SARS in the human population anymore. There are four coronaviruses that people around the world get all the time and they usually cause nothing worse than the common cold. Every year in the United States, something between 12,000 and 60,000 people die of flu. So, if this coronavirus became like seasonal flu, then you could be looking at a toll in the tens of thousands every year.
LMH: ISN'T IT TRUE THAT SINCE THIS IS A NEW CORONAVIRUS, WE DON'T HAVE A HUMAN POPULATION THAT IS IMMUNE TO IT? AND THAT THIS MIGHT BE, IF THIS CONTINUES TO SPREAD AT THE RAPIDITY WITH WHICH IT IS SO CONTAGEOUS — MORE PEOPLE COULD DIE BECAUSE THERE IS NO IMMUNITY TO THIS.
No one is immune — exactly as you say. The question is: if lots of people are exposed to it this time around, if you have been exposed to this corona virus and survived, the immunity that you got — much like if you caught measles as a child. So if you are exposed to this coronavirus in 2020, will you be immune to it in 2021 and 2022 and on and on and on? And there, partly because the science of this is so new that experts disagree on how long such acquired immunity would last.
THE CASE SPREAD IN CHINA KEEPS GOING UP AND UP AND UP RAPIDLY. AND THEY HAVE WHAT? — 60 MILLION PEOPLE NOW ESTIMATED IN 12 OR 13 CITIES THAT ARE LOCKED DOWN. SO THE CONTAINMENT THAT CHINA HAS AGGRESSIVELY BEEN TRYING TO IMPOSE, DOESN'T SEEM TO BE HAVING MUCH OF A SLOW DOWN ON THE NUMBER OF NEW CASES.
Well, the reason for that is before Wuhan and the other cities were quarantined before travel out of them was stopped — 5 million people traveled elsewhere in the country. So, closing the barn door after the horse is half way across the country — Beijing, Shanghai, and other major cities in China almost certainly have travelers there and that's why we're seeing these big numbers. And I'm looking at the latest count — 20,704 with 427 deaths. We have not seen the tops of those numbers at all.
WOULD YOU EXPECT THAT WE'RE GOING TO START SEEING RISES IN CASES IN EUROPE AND AFRICA AND NORTH AMERICA BECAUSE THIS IS SUCH A NEW CORONAVIRUS AND IT DOES SEEM TO BE SO CONTAGEOUS?
China has a huge presence in Africa as part of the Belt and Road Initiative. A lot of infrastructure development, which is being done by Chinese laborers. People from China go to countries in Africa to build the highways, to build the, the ports, everything else. Some of those workers rotate in and out of those projects. Hundreds are there. Then they rotate back to China and hundreds more replace. So somebody carrying the corona virus, that would definitely be extremely worrisome.
WHAT DO YOU THINK IS THE WORST CASE FOR THE WORLD?
Well, you know, unfortunately we have been thinking SARS is an example of a new virus that spread quickly within the population. SARS killed about 800 people worldwide. Now it seems very likely that we will blow right past that. So then you have to look at other examples from history and ask how bad could this get? And people are invoking the famous, or infamous, 1917-1918 Spanish flu, which came at the very end of World War I and killed and estimated 50 million people worldwide. I think it's not too early to look at the lessons of a century ago.
But again in countries where vibrant health care systems, who know how to put people on respirators, who are not turning them away as unfortunately is happening in Wuhan and elsewhere in China.
LET ME ASK YOU ABOUT SOMETHING THAT WAS FORWARDED TO ME TODAY. IT'S FROM REDDITT.COM. AND IT IS A SERIES OF REDDITT NOTES BEGINNING WITH — THIS IS ACTUAL HARD NEWS JANUARY 28TH, 2020.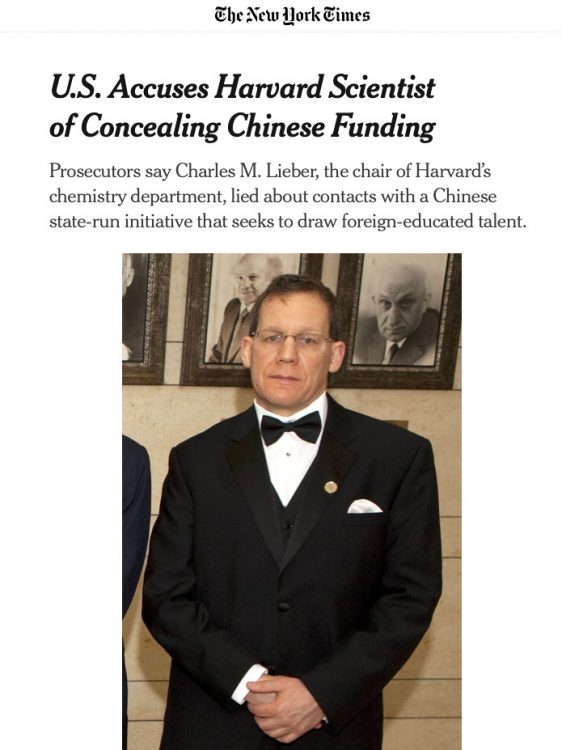 "Dr. Charles Lieber, the Professor and Chair of the Department of Chemistry and Chemical Biology at Harvard University, was arrested and criminally charged over a contract that he had made with a university in Wuhan, China." And these are several pages with many comments about the Justice Department arresting him and saying in their filing, QUOTE – "Dr. Lieber, 60, lied about his contact with the Chinese program known as the Thousand Talents Planned, which the U. S. has previously flagged as a serious intelligence concern. He is also accused of lying about a lucrative contract he signed with China's Wuhan University technology."
WHAT IS YOUR PERSPECTIVE — YOU LIVE AND WORK AND REPORT IN BOSTON — ON THIS SHOCKING ARREST OF DR. LIEBER? AND THEN SO MUCH OF WHAT WAS WRITTEN ABOUT ON JANUARY 28TH – 29TH WAS ABOUT HIS CONNECTION TO WUHAN AND THE FACT THAT IN WUHAN WAS FROM ONLY 2015 ON A BIO-SAFETY LEVEL IV-BSL4 LABORATORY DESIGNED TO WORK WITH VIRUSES AND MICROBES?
I would bet a great deal of money that hhis work there has nothing to do with coronavirus. He's a Materials scientist and the reason he has been charged is because he did not disclose his connections to Chinese universities. But I think in this panic atmosphere, we're going to see all sorts of conspiracy theories that have no basis in reality.
DO YOU HAVE ANY INSIGHT ABOUT WHY WOULD HE EVEN LIE ABOUT HIS CONNECTIONS IN CHINA?
That I have no insights to (laughs).
IS THERE A TIMELINE GIVEN TO REPORTERS ABOUT HOW THIS CASE IS GOING TO UNFOLD AND WHAT'S GOING TO HAPPEN WITH HIM?
No, but again, nothing to do with coronavirus.
WHAT IS YOUR OWN PERSONAL GREATEST CONCERN NOW, BOTH AS A REPORTER AND A HUMAN LIVING IN THE UNITED STATES AND THIS WORLD?
I have virtually no concern for what is going to happen in this country. But all the reports out of China with people unable to get into hospitals, unable to be seen by doctors. That is just a human tragedy."
---
---
Websites:

© 1998 - 2023 by Linda Moulton Howe.
All Rights Reserved.