"In the most general sense, a home is a box and it resonates at different frequencies. A two story wood-frame house will experience a different shake and sound than a ranch brick house."
—  Alan Sealls, Chief Meteorologist, WPMI NBC 15, Mobile, Alabama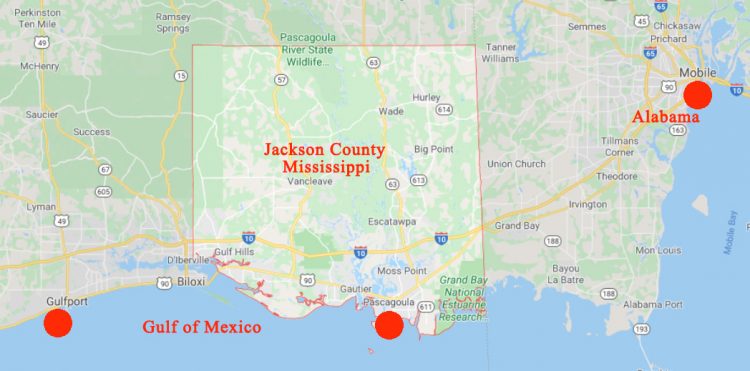 January 25, 2020  Jackson County, Mississippi – Dozens of people called media and authorities to report a mysterious, still-unexplained, very loud house-shaking "boom" that broke window glass and rattled homes in parts of South Mississippi and Alabama on Friday morning, January 24, 2020, just before 10:30 AM Eastern.
No agency from Mississippi to Alabama to Florida claims responsibility for, or knows the origin of, the sound, including military sonic booms. But whatever caused the huge boom, it broke out a window of the old Hancock Bank in Pascagoula, Mississippi, on the Gulf.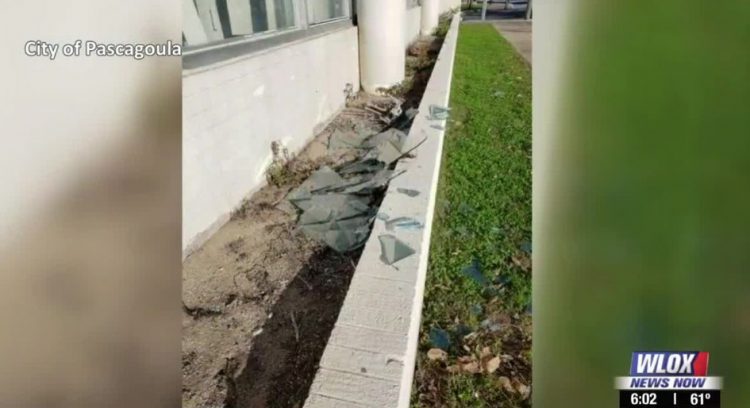 No meteorite coming into the Earth's atmosphere above the Gulf has been reported either, but it's always worth remembering that some 25 million meteors enter the Earth's atmosphere every day! Most burn up without booming explosions, but occasionally a meteorite can explode with a boom.
What happened in Mississippi and Alabama was definitely not the upcoming Southern Strike 2020 military exercises planned for January 30 – February 15, 2020, at the Combat Readiness Training Center in Gulfport, Mississippi. That's when increased military activity exercises will include "loud or increased noise, low-flying helicopters and increased presence of aircraft."
And according to the USGS, it was not an earthquake either. Their seismometers are able to detect the smallest of underground earthquake activity. But what they picked up below, "is not an earthquake."
Also see:
08-04-2018 – Huge Mysterious Booms in Maryville, TN from July 30 – Aug. 4
06-01-2017 – Another Loud, Mysterious Boom — This Time in Georgia
---
More Information:
11-10-2019 – UPDATED —  Why Are People Hearing Strange Jet-like Sky Sounds, But Not Seeing Planes?
08-16-2019 – Strange Jet-like Sky Sounds, But No Planes?
04-27-2019 – Singapore Residents Report Loud "Explosion-Like," House-Shaking Sounds On Saturday
04-26-2019 – More Mysterious Booms in Arkansas and Missouri.
03-18-2019 – Mountains Bigger Than Everest Inside Earth's Mantle.
12-18-2018 – Mysterious Explosions Persist in Phoenix and Glendale, Arizona. Listen to audio.
---
Websites:
Officials Are Silent as Unexplained Mystery Booms On the Rise Around the U.S.:  https://mysteriousuniverse.org/2019/02/officials-are-silent-as-unexplained-mystery-booms-on-the-rise-around-the-us/
"Bama Boom: Mysterious Noises Go Loud Across the World, Terrify People All Over":  https://www.indiatoday.in/fyi/story/bama-boom-mysterious-loud-noise-explosion-planet-scientists-nasa-1094214-2017-11-25
"Clintonville officials stymied by loud booms" by Nick Penzenstadler, Post-Crescent Staff Writer:
http://www.postcrescent.com/article/20120320/APC0101/203200419/
Clintonville-officials-stymied-by-loud-booms?odyssey=tab%7
Ctopnews%7Ctext%7CAPC-News
Unexplained Skyquakes, Wikipedia:  https://en.wikipedia.org/wiki/Skyquake

© 1998 - 2023 by Linda Moulton Howe.
All Rights Reserved.