"The Centers for Disease Control and Prevention (CDC) has confirmed on February 26, 2020, that an infection with the virus that causes COVID-19 in California in a person who reportedly did not have relevant travel history or exposure to another known patient with COVID-19. At this time, the patient's exposure (how infected) is unknown."
— CDC Newsroom, Atlanta, Georgia, February 26, 2020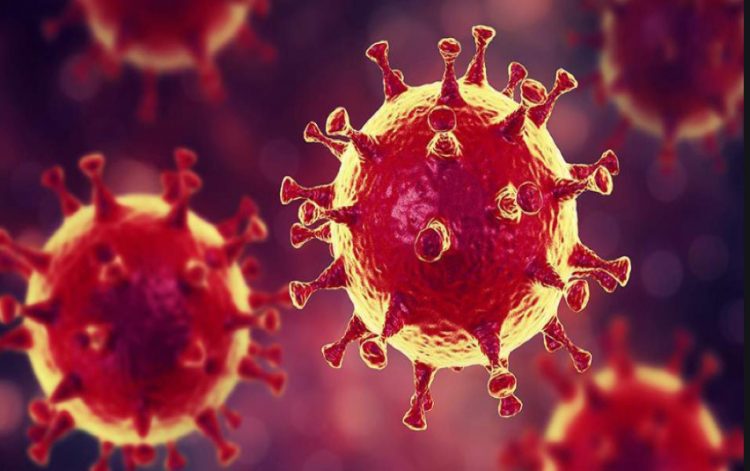 February 27, 2020 Atlanta, Georgia – The United States now has 60 confirmed cases of the COVID-19 coronavirus, of which 42 were passengers on the Diamond Princess cruise ship quarantined in Yokohama, Japan, while the coronavirus spread rapidly among passengers. 17 other confirmed cases are people who had been in Wuhan or other China locations a few weeks ago, or their spouses were in China and returned with the infection.
Yesterday, the Centers for Disease Control and Prevention's newsroom in Atlanta, Georgia, released this news that the first known case in the United States of "community spread COVID-19" is confirmed. The Solano County, California, resident had not traveled anywhere known to have the dangerous coronavirus. Further, the patient says there has not been any interaction with anyone sick. So, where did the COVID-19 infecting coronavirus come from? And how has it infected the northern California resident.
University of California Davis Medical Center infectious disease specialist Dean Blumberg, M. D., told CNN: "That suggests that the virus is out there in the community (of northern California), and that means pretty much that everybody is at risk. We don't know who might be carrying it. We don't know who we can get it from. And  you have to realize that this virus is so new, that none of us have any immunity to it. So, anybody who's exposed is at high risk of getting infected with this."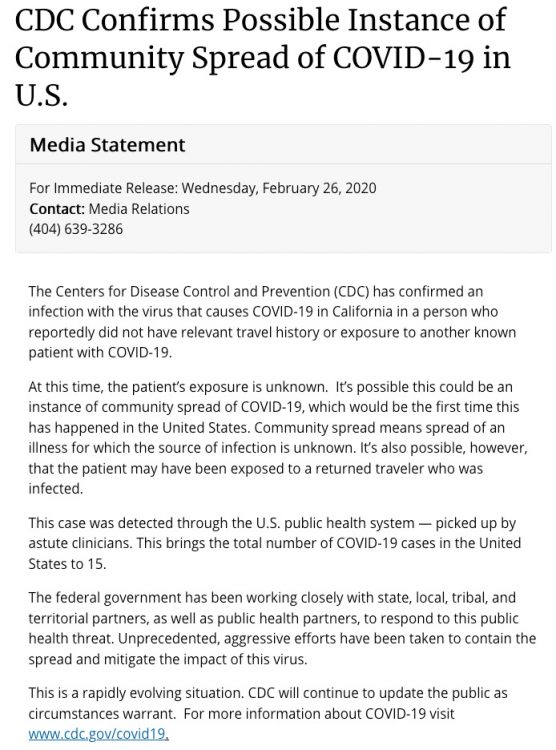 ---
More Information:
02-26-20 – 8:30 AM Mtn Feb. 26th Update — CDC to Americans: "Prepare for Expectation That This COVID-19 Might Be Bad." WHO: "World Must Prepare for Pandemic." See Earthfiles YouTube Livestream Tonight for Latest Details.
---
Websites:
"Coronavirus: Italy hunts for coronavirus superspreader as '7th person dies' of COVID-19," Sky News, February 24, 2020:  https://news.sky.com/story/coronavirus-austria-considers-border-controls-over-coronavirus-outbreak-11941438
Worldometers Active COVID-19 Cases and Deaths:  https://www.worldometers.info/coronavirus/
"Lung biopsy of deceased China patient shows SARS-like damage," February 18, 2020, Japanese Times:  https://www.japantimes.co.jp/news/2020/02/18/asia-pacific/science-health-asia-pacific/lung-biopsy-deceased-china-patient-shows-sars-like-damage/#.Xky-KUN7k6c
"Stocks fall after Apple's coronavirus warning; analyst says 'worst is yet to come' for markets," February 18, 2020: https://www.cnbc.com/2020/02/18/coronavirus-latest-updates.html

© 1998 - 2023 by Linda Moulton Howe.
All Rights Reserved.